Every man likes to look good, but not all of them do something about it. It's easy to be stylish and look good if men pay more attention to details. Since the majority of men are straight, they care how women look at them when they are out and about.
Unlike women who have an unlimited choice of clothes and styles, straight men are more or less conformed to a few styles that they need to choose depending on the occasion. That means one needs to know what the occasion requires and act accordingly.
Looking great is not hard; if every man learns how to dress, it would be much easier to win over the hearts of the women they love. In this article, we will try and help them by sharing the five things women love seeing in men. Follow up to see what they are, and rush to the stores to get a new wardrobe.
1. Fabulous shoes
Most men feel like shoes are shoes, but there's so much more than this. Every person, especially women, will first look into the men's feet before focusing on something else. The muscles and the haircut are the last things women will look at when meeting a new man.
Paying more attention to shoes and wearing a spectacular pair of shoes is essential. An excellent pair of leather shoes is a must if you're dressed formally. Go through the options thoroughly and find a pair that will represent your taste and make you feel comfortable. Most men pay the least attention to their shoes; they must change this and first mind the shoes.
2. White t-shirt and jeans
If we're talking about a more relaxed occasion and think about casual wear, then one thing that no straight woman will resist is the combination of a white shirt and jeans. Of course, we're talking here about men in good physical shape, not those dad bod types.
A white t-shirt, jeans, cool shoes, and an unbuttoned shirt on top is a winning combination. Dress this way if you're going for an early date, brunch with friends, or a sporting event, and you can be sure that the woman you laid eyes on will be yours.
3. A perfect suit
Women love the formal business look. That means a suit and tie will always sweep women off their feet. Mind your suit and ensure that you picked the rise. There's nothing more embarrassing than trying to look perfect and not picking the right suit size.
If you choose it perfectly and the material suits your physique, be sure that women will be stunned by your looks. At a cool tie that matches the belt and the shoes, and you're going places. There are many options regarding the choice of suit, so pick carefully until you find the ultimate best for the particular occasion. In other words, don't wear a white suit to a funeral, for example.
4. Classic shirts with rolled sleeves
There's something about rolled-up sleeves during the summer. Don't buy shirts with short sleeves; they've never been and never will be a fashionable design. Instead, get standard sleeves and roll them up above the elbow. Women love this man's look.
Get yourself a great shirt that will look excellent first. Many excellent manufacturers provide amazing shirts, and it's your job to find the ones that you feel are best for you. You might want to consider some Tommy Hilfiger shirts, as they have this casual look perfect for rolling the sleeves up.
5. V-neck sweaters
It's unknown why women love the V-shape of literally any man's item. From ordinary t-shirts to sweaters, women love that V-line from the neck down. It may be something that reminds them of the man's chest – the place where they love to lay their heads to feel protected and safe.
Whatever the reason behind this feeling, if you're a straight man, you should take advantage of this moment and get some V-shape sweaters. Mind the colors and know what you'll match the weather with. You don't want to look silly when wearing it, but exactly the opposite.
Conclusion
These five pieces of clothing will win every girl out there if you dress properly and know how to wear them. Men's clothes are not complicated to match, and there are only a few rules to follow. Read the tips above, and you can't make a mistake.
A few things are certain winners in women – a great combination of suit and tie, excellent looking shirt, and fabulous shoes. If you're rolling a bit more casual, a white t-shirt with jeans or a V-neck sweater for the colder months will get the job done. Pick what is best, and get that girl you like.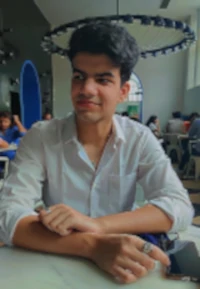 My name is Alex Higson and I am the founder of Magic Of Clothes. I have worked in the fashion industry for many years, and clothes and style are a huge part of my life.