Magic Of Clothes is an independent reader-supported blog. We may earn commissions from every qualifying purchase made through our links, at no additional cost to you.
Hoodies do not belong to the casual business category. They are usually worn outside work and office spaces.
I understand hoodies are incredibly comfortable, and many prefer them for light winters. Unfortunately, they are not suitable as work wear unless you work from home.
Some industries, like e-commerce and retail outlets, allow hoodies, but only a handful exist. In most corporate workplaces and MNCs, people are mostly advised to wear shirts and suits for work combined with coats and blazers.
Casual clothing is usually frowned upon in the workplace, so wearing a hoodie might create a wrong impression on your employer. Additionally, they are also unsuited for interviews unless it is for back office jobs.
Can hoodies Be Considered business casual?
Hoodies are not considered business casual. They are strictly informal wear and unsuitable for office settings.
In clothing, hoodies are mainly meant for casual settings, that is, situations outside work premises. However, some companies and positions may allow people to wear hoodies for work.
For managerial and higher-up positions, I recommend abstaining from wearing hoodies. If your company policy does allow jeans and tees as workwear, hoodies are also okay to be worn.
The best way to make yourself aware of the dress code is to approach your HR about it directly. Most HR reps are usually given an itemized list of clothes people are not allowed to wear.
Can you wear hoodies to work?
There are better choices than hoodies when it comes to work wear. Hoodies are best for casual situations and unsuitable for workplaces.
When selecting outfits for the workplace, it is better to opt for a formal jacket or blazer for winter. Hoodies are not allowed in most workplaces.
Usually, a workplace has a dress code that goes over if hoodies are allowed on office premises.
The media and entertainment industry, however, do allow hoodies.
Back office jobs also tend to allow hoodies as workwear. Moreover, gyms and fitness studios employees are permitted to wear hoodies with gym wear.
Law enforcement and attorney offices also do not accept hoodies as work wear. Additionally, they are unsuitable for places that have uniforms assigned to employees.
Medical offices and educational institutions also do not allow hoodies as work wear. Most corporate and public offices do not allow employees to wear hoodies.
Can you wear a hoodie to a job interview?
There are better choices than hoodies when appearing for job interviews. They are considered casual clothing and are unsuitable for an interview setting.
It is best to avoid wearing hoodies to job interviews as it might create an unfavorable impression on your interviewer. They are usually suitable for casual wear outside office premises.
However, in some cases, like in the media and entertainment industry or even at clothing and food outlets, you can get away with wearing hoodies.
Avoid them in general if you are interviewing for a managerial position or applying to work in a corporate company.
Best hoodie colors to wear in a business casual setting
Suppose you want to wear hoodies to work (if your organization allows hoodies in the office). In that case, you need to buy specific colors to maintain the semi-formal standards of work attire.
Here is a list of colors best suited for hoodies if you wear them in an office setting.
1. White
White is one of the best hoodie colors in a business setting. It emits positive vibes and gives your attire a clean and crisp look.
Ensure the hoodie is free from graphic images or quotes as they are not suitable for the workplace. If you are someone who interacts with clients, you should select a plain hoodie with a small brand logo at most.
2. Black
Black is another top color in hoodies, suitable for casual business settings. The color is bold but also symbolizes power and sophistication.
Among neutrals, it is safe to say that black is the perfect hoodie color for a business setting. It looks pretty good and is preferred by many people in a formal setting.
3. Navy
Navy is a dark neutral, acceptable as a hoodie color in an office. The color suits all skin tones and can be a good color that does not attract a lot of unwanted attention.
It is an excellent color that can be worn across skin tones. The color is generally accepted as workwear, which helps keep some formality in hoodies.
4. Brown
Brown is a good color for hoodies in business casual settings. The color belongs to the neutral palette and doesn't draw too much attention to your attire.
Among solid-colored hoodies, it is also a top preference. The color doesn't stand out much and gives the semi-formal appearance that many workplaces strive for in their employees.
5. Grey
Grey is a monotone color that is ideal for work hoodies. It signifies neutrality which is essential in a business casual setting.
The color is inconspicuous and less bright than red, blue, green, etc. Therefore, it can be easily worn at offices which allow casual clothing.
Final remarks
Hoodies are probably not the best option to wear at the office. Some workplaces tend to allow hoodies, especially for work-from-home settings.
However, it is better to avoid them altogether if you can purchase better options like down jackets and coats.
Here is a quick recap of what we have discussed so far.
Hoodies are not suitable for business or work purposes. They are casual and can only be worn in select companies and positions.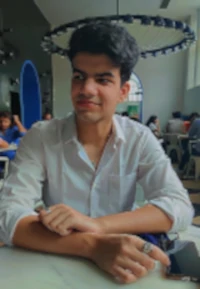 My name is Alex Higson and I am the founder of Magic Of Clothes. I have worked in the fashion industry for many years, and clothes and style are a huge part of my life.