Magic Of Clothes is an independent reader-supported blog. We may earn commissions from every qualifying purchase made through our links, at no additional cost to you.
Sweaters are acceptable in the business casual category. They can be worn to work on their own or with a blazer.
In winter wear, sweaters are incredibly comfortable and can be layered under suits and coats. They are suitable as workwear and can be worn even in a highly formal setting.
Most industries allow employees to wear sweaters because they are less casual than sweatshirts and jackets. They can be worn with collared shirts as a layering piece too, depending on the climate.
I will discuss whether you should wear sweaters to work in this article. I will also explain the styles and colors of sweaters that are acceptable in the workplace.
Can we consider sweaters business casual?
Sweaters are considered business casual and can be worn to the office. They are perfect for winter and look best when paired with collared shirts.
In clothing, Sweaters are suitable for both formal and casual settings. No matter the company policy, you can carry Sweaters to work as long as they don't look too flashy.
For managerial and higher-up positions, sweaters are best worn under suits. You should only wear them directly if you have an important position at the office.
When wearing sweaters to work, it must be noted that sweaters with zips and front pockets are not ideal in a business setting. Additionally, only neutral or light colors in sweaters suit the workplace.
Can you wear sweaters to work?
Sweaters are a good choice when it comes to work wear. They tend to look pretty sophisticated, which is ideal for work.
When selecting outfits for the workplace, it is better to opt for a formal jacket or blazer for winter. However, sweaters are a good option and can even be worn underneath for extra warmth.
Sometimes, a workplace may need a dress code or allow sweaters to be worn. However, nitpicky companies like these are very few, so your chances of being in one are slim.
The best thing about sweaters is that they can be worn across industries, including legal, medical, and educational sectors. However, your overall getup should always look formal and professional.
You should avoid wearing jewel tones and bright colors like red and yellow. Additionally, you need to opt for solid colors, light checks, and stripes for a more formal look.
Can you wear a sweater to a job interview?
Sweaters are well suited for candidates appearing for job interviews. They are considered formal enough to be suitable for a business setting.
You can carry a sweater to job interviews without looking shabby or unprofessional. It is ideal for layering it up with a coat or a suit, but you can also wear it as it is.
Depending on the position you're applying for, you can decide to top it off with a suit or wear a shirt underneath. Make sure you add a pair of formal shoes for a more professional outfit.
Additionally, you can wear half sweaters under suits. Remember to buy v-necks with half sleeves so that the neckline looks pretty.
Best sweater colors to wear in a business casual setting
Suppose you wear sweaters to work or job interviews. In that case, you need to buy very neutral and solid colors to maintain the formal standards of work attire.
Here is a list of colors that will be best suited for sweaters at the office:
1. White
White is one of the best colors in a business setting. It looks both crisp and sophisticated and gives out positive vibes.
However, it would help if you ensured that the sweater is well-maintained and does not have stains or thread pulls anywhere. If you interact with clients, you should select a solid white sweater or one with light stripes or cheques.
2. Powder blue
Powder blue is a definite winner among light colors for casual business settings. The color is ideal for sweaters worn under dark suits and jackets.
A sweater with a powder blue color and light stripes would look amazing with navy blue and silver suits. Additionally, they would look good on all skin tones if you wear a dark-colored coat.
3. Almond brown
Almond brown is a light neutral, acceptable sweater color in an office setting. The color is perfect to wear under suits and with white shirts.
Among light-colored sweaters, almond brown is a good choice for formals. The color doesn't stand out much and gives a formal appearance when paired with a brown or black jacket and suit.
4. Navy
Navy is a good color for sweaters in business casual settings. The dark neutral is excellent to pair with light coats and suits.
It is an excellent color that can be worn across skin tones. The color is formal and can be paired with silver or light blue suits.
5. Grey
Grey is a great neutral color that is ideal for work sweaters. It can be an excellent replacement for white in a business casual setting.
The color (in my opinion) is much better than white and pairs well with all colors. Therefore, sweaters in grey can be easily worn at the office no matter where you work.
Final remarks
Sweaters are a good option if you want to wear them at the office. They can be worn with suits and even on their own as long as the color and style look neutral.
Here is a quick recap of what we have discussed so far.
Sweaters are suitable for business or work purposes. They belong to both formal and casual wear, so they can be worn to work without any problem.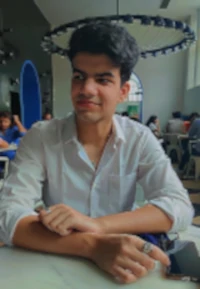 My name is Alex Higson and I am the founder of Magic Of Clothes. I have worked in the fashion industry for many years, and clothes and style are a huge part of my life.