Magic Of Clothes is an independent reader-supported blog. We may earn commissions from every qualifying purchase made through our links, at no additional cost to you.
With constant rising heat, it often feels like one is being fried on a cast iron pan, with literally no way to escape it.
Wearing comfortable clothes that allow your body to breathe thus becomes really important. And this is where shorts come to our rescue!
Every one of us has a pair of shorts deep down in our closets that we might be hesitant to wear, but chances are, we rock it pretty well.
Beige shorts have the world raving about them, and trust me; the hype is pretty real.
So, let's dive deeper into how to wear beige shorts and what goes well with them.
How To Style Your Beige Shorts?
Avoid wearing beige shorts for interviews, business meetings, and formal events, as they may look lousy for the setting. Instead, wear them for casual everyday looks around your friends and family.
1. Everyday casual look
The simplest way to ease into a new style form is to let it become a part of your ordinary day.
So, whip out those beige shorts and wear them for a casual errand run.
Pair your beige shorts with a simple crew neck t-shirt and some casual athletic shoes with no-show socks to be as comfortable as possible. Add a tote bag as an accessory, and you are ready to get a coffee.
On a sunny day out, you can also add a light shirt on the top and a cap to get some extra protection from the sun. A pair of sunglasses would also look good!
Also, this is every dad's go-to look, and considering that the 90s are back in fashion, you can never go wrong with this.
2. Athletic look
Shorts are the best item to wear on a trekking trip or a trip to the golf course.
Pair a short sleeve polo shirt with your beige shorts. Blue, white, grey, or orange tend to look best with beige shorts. So, don't be shy about experimenting with different colors.
A polo tee, beige shorts, and some flawless athletic shoes would be suitable for your field trip or a light trekking trip with friends.
Remember to carry some sunglasses and a cap to keep the sun out of your eyes!
3. Vacation look
Beige shorts are so classy yet laid-back that they should be a staple for your vacations!
There are several ways to style your beige shorts when on vacation.
To give that 'I am a tourist' vibe, pair your beige shorts with just a statement shirt. It could be a bright-colored eccentric shirt or something else that floats your boat.
Accentuate the look with some suede shoes or beige canvas shoes. Pair with a sling bag or tote, a hat (because it is fancier than a cap), some sunglasses, and a watch!
A pair of corduroy beige shorts are also an excellent idea for vacation trips, and you should consider them. Style them with an oversized round-neck tee and a pullover jumper wrapped around your torso for a relaxed look. Footwear is up to you, but this relaxed fit looks best with a pair of slides. 
4. Dressed-up look
You can also style a beige pair of shorts with a formal jacket.
This might be a little tricky to venture into, so be cautious and try not to go too overboard with the colors.
A pair of shorts with a shirt and a jacket would also look nice. Partner with it a pair of suede shoes that are not too dressy, a watch, and a pair of sunglasses. No-show socks in this fit are a must!
You can also wear this fit with a pair of leather shoes and a round-neck t-shirt underneath your suit jacket.
This look is laid-back yet gives off the chic young entrepreneur vibe!
What To Wear With Beige Shorts?
Knowing what kind of garments look good with your shorts is crucial. Therefore, here's a list of clothing items that you can wear with a pair of beige shorts. 
1. Shoes
Understanding what kind of shoes go well with an outfit is very important.
Generally, canvas or athletic shoes go well with almost every beige short outfit. But to amp up some style, you could add suede or leather shoes to the mix.
2. Shirts and Tees
Shirts and tees are a necessity for any look. Make sure to stock up on some oversized pairs as well.
To give an aesthetic vibe, wear you beige shorts with a relaxed tee and a sturdy tote bag.
3. Jackets
Jackets and blazers look pretty impressive with a pair of beige shorts.
I suggest that you go for more neutral jacket colors such as brown, navy, and black. This will help your beige shorts 'pop' more.
Beige Shorts Outfit Ideas
Final Remarks
In this article, we went over the versatility of beige shorts and how you could style them in different ways for different occasions.
So here's a quick recap:
How to wear beige shorts? Beige shorts can be styled in different ways with different accessories, whether it is an athletic look, business casual, or a laid-back vacation look.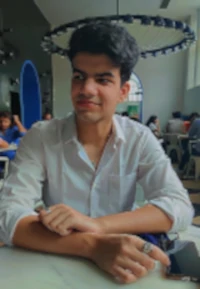 My name is Alex Higson and I am the founder of Magic Of Clothes. I have worked in the fashion industry for many years, and clothes and style are a huge part of my life.