Magic Of Clothes is an independent reader-supported blog. We may earn commissions from every qualifying purchase made through our links, at no additional cost to you.
Jeans are highly versatile and go well with all kinds of clothing styles.
These kinds of pants are super comfy and stylish, which is why countless people go for them. Additionally, they are durable and can come in various colors and fits to match your style preference.
Since jeans come in so many different colors, choosing the best ones for your wardrobe is challenging.
If you are still looking for the best jeans colors to buy, this article is for you. I will go over the most popular colors for denim, along with a few underrated options.
Top Jeans Colors For Women
Here is a list of jean colors that you should buy, in order.
1. Dark blue
Dark blue is a classic denim color that suits everyone. It is the most versatile color in jeans which everyone prefers.
The dark blue stone-washed denim will be enough if you want to own only one pair of jeans. This color goes great with light and dark-colored tops, which is a significant plus point.
Additionally, dark blue jeans are easy to maintain and do not look dirty quickly. They can be perfect for everyday use since the color rarely fades and still looks good even if it does.
2. Black
Black jeans are a must-have if you are a fan of white tops and tees, as the two colors go perfectly well.
Of course, black looks good in all colors, so I don't need to elaborate. Additionally, the color suits all skin tones are can be paired with different styles.
Also, if you like leather jackets, then black jeans should definitely be in your wardrobe. This combination is the uniform of the edgy crowd.
However, remember that black jeans look dirty quickly and fade pretty fast.
3. Light blue
Light blue jeans are trending, so it is good to have one in your wardrobe. These jeans look terrific in the summer, and give a light, carefree vibe.
Now, many people think that light jeans are for youngsters. While teens can look amazing in light-colored jeans, they are a garment that can be worn by all ages and genders (provided that you style them well).
Light blue jeans also look extremely good in indigo and pastel colors. If you are a fan of dark tops, you should buy light blue jeans to match your outfits.
4. Navy
Navy is another classic color that has been popular for ages. Navy jeans can be worn across generations and look good on most skin colors.
These jeans can look amazing with light-colored clothing. They are also easy to maintain and style, which is why most people consider them a must-have.
If you are going for ripped jeans, navy looks pretty cool paired with accessories and boots.
5. Grey
Grey may not be the first choice for many people, but it is a beautiful color for jeans. Grey jeans look formal with light shirts and tees, and can also be used in formal events.
These jeans can look extremely good with light-colored shirts. The color is unique and sure to turn heads when paired with the right top and jacket.
Additionally, grey jeans can be worn for many occasions. They may save you money for suits and expensive formal wear. They also look pretty cool with polos, so grey denim is perfect for outdoor events.
Jeans For Darker skin tones
While everyone can wear all colors no matter their skin tone, there are certain colors that can bring out the natural beauty of your particular body.
1. Navy blue
Navy blue is a color that flatters everybody. It suits even darker skin tones pretty well. My personal favorite way to style them is by pairing them with jewel tones to create a regal look.
2. Black
This color suits darker skin tones and pairs well with everything. In my opinion, a black jeans should be a staple in every person's wardrobe.
Classic black jeans and white polo can be the ultimate go-to casual outfit for semi-formal and informal events.
3. Dark blue
Dark blue is universally flattering and looks great on darker skin. These are classic jeans colors and can be found in various styles and washes.
Everyone should own a pair of dark blue jeans with a light wash. It brings out the natural color of your skin and gives the perfect everyday look.
4. Avoid acid wash
Acid-wash jeans are unsuitable for darker skin. They makes a person look quite dull and contrast too heavily with their skin tone.
In my opinion, even colors such as grey can be avoided as they wash out the darker skin.
Jeans For Lighter skin tones
Here are some jean colors that look great on lighter skin tones.
1. White
White jeans can be a great choice for those with lighter skin tones as they create a bright and fresh look. They are especially perfect for the warmer months and can be paired with many different tops and accessories.
2. Light blue
Lighter shades of blue can also be a great option for lighter skin tones, especially during the summer months. A pale or pastel blue can give a fresh and youthful look.
What is the most popular color for jeans?
Black jeans are the most popular color of jeans in the US.
A quick search on Google Trends revealed that black jeans are the most trending jean color in the US. Other colors like dark blue, light blue, grey, and navy jeans are are also popular.
Grey jeans can be a great way to change your regular blue jeans look and add a fun element to your getup. Since colorful jeans are not always trendy, grey ones are more popular in the colored jeans category.
Therefore, it's safe to say that you can buy black jeans without worrying about fashion norms.
Final Remarks
Picking jeans colors can be tricky if you are not a fashion expert. However, you can follow the pointers I have discussed to find the right shade of jeans for your outfits.
Here are the jeans colors which you should buy when you go shopping:-
Black
Dark blue
Light blue
Navy
Grey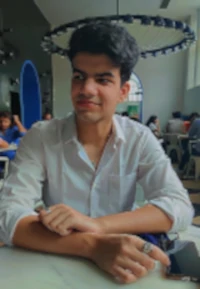 My name is Alex Higson and I am the founder of Magic Of Clothes. I have worked in the fashion industry for many years, and clothes and style are a huge part of my life.