Linen is a great material for shirts, shorts, trousers, and even t-shirts. But do you know that linen is also a great material for jackets?
In fact, linen jackets are probably the only jackets that you can use in the summers, depending on where you live and how hot it gets there.
Nevertheless, linen jackets provide a great opportunity for experimenting with layering. Because linen is a cool fabric, you won't be suffocated if you wear more than one layer.
In this article, I will be recommending to you my 5 favorite linen jackets that are available right now. In order to make sure that most of you are actually able to buy the products I list, I have decided to only list linen jackets that are available on Amazon.
Here we go!
Top 5 Linen Jackets In The Market
Here are the top 5 linen jackets among the dozens I tried; ranked in the order of how good they are:
Features
55% Linen + 45% Cotton.
This blazer is dry clean only.
2 button closure.
Lined; and available in 6 different colors.
---
Goodthreads, one of the biggest names in blazers, manages to provide great quality at an equally great price point in this standard fit linen blazer. It is the best linen blazer out there in terms of quality.
Although they don't define it anywhere, Goodthreads' standard fit is sort of halfway between a regular fit and a slim fit. You can think of it as a slim-straight fit too.
But the thing that I was most impressed with was the quality.
I had heard of Goodthreads, but never had the pleasant experience of trying them on. The material is thick and durable, but it has been made in such a way that it does not impact the breathability of the fabric at all.
And because of the breathability, you can go for a darker color like chocolate brown too, without burning your skin off.
That's a win in my books.
Features
70% Rayon + 30% Linen.
Machine-washable and hand-washable. No need to dry clean.
Relaxed Fit.
Extremely lightweight.
---
This is probably my favorite casual linen jacket of all time, and considering the fact that it costs less than 50 bucks, you aren't going to find better quality at a similar price point.
It is a very light jacket, to the point that it can almost be categorized as an overshirt. The fit is slightly relaxed, which is great because it allows proper flow of air; a must for summer layering.
I went with dark green as the color of the jacket, but the green is very unsaturated. To be honest, it looks more of a grey.
But because the color is so unsaturated, the PJ linen jacket lends a lot of versatility to your wardrobe.
Features
A cotton and linen blend.
Available in 30 different colors and designs.
No closure; neither buttons nor zipper.
Japanese Kimono style jacket.
---
If you are on the right side of 35, and you are looking for some statement pieces, the Prijouhe kimono style linen jacket has been made for you.
Available in a mind-boggling 30 different designs, this jacket is great for casual occasions. It is a loud piece, so you should be ready to accept some compliments that are surely going to come your way.
With these kinds of jackets, I don't like to recommend particular colors or fits. These should be an expression of your creative sensibilities, an extension of your personality. Go for the jacket that you think looks best.
But still, if you want to know my favorite among the 30, here it is.
Features
30% linen + 70% rayon.
2-button closure.
Slim Fit and Lightweight.
Classic notched lapel to match the traditional tailored fit.
---
The Paul Jones brand makes it to the list again, albeit for a very different jacket.
This linen sport coat by the brand is great for attending business brunches and meetings without sweating like a pig. It has been advertised as a blazer and a suit jacket too.
If you don't know, there are some minor differences between sport coats, suit jackets, and blazers, but it's mostly the same thing.
Available in a bunch of different colors, I decided to go for a beige linen jacket, and I would recommend that you do the same. For whatever reason, beige lends itself to linen fabric, and it is a very summer-appropriate fabric too.
If you are looking for a formal jacket, the PJ linen blazer is definitely the best choice in the market at this price point.
Features
52% Linen + 48% Cotton.
A unique bomber style jacket.
Mock collar, with dual front-angled pockets.
Machine washable; no need to dry clean.
---
If your style falls somewhere between the formality of a Goodthreads blazer and the craziness of a Prijouhe kimono, you can go for a bomber jacket by Isle Bay.
First of all, linen bomber jackets are extremely hard to find. And finding a quality linen bomber is next to impossible.
Unless we're talking about Isle Bay's jackets.
There's no lining underneath this jacket, which prevents the wearer from suffocating due to the heat. The fabric is almost featherweight, which makes it a great layering piece for the summer.
The fit is almost true to size, and the jacket can be machine-washed and tumble-dried.
This is a jacket is made for the summers.
So if you love your bomber jackets in the winter, and are looking to get something similar for the warmer months of the year, go for Isle Bay's linen jackets.
---
Linen Jacket Buying Guide For Men
When to wear linen jackets?
Linen jackets can be worn in the summer, spring, and early months of the fall season. They are not great for the winter season though.
Linen is a very breathable and light fabric. It is due to this lightness that linen jackets work as great layering pieces for the warmer months.
They add an extra oomph to the outfit without making you sweat like a pig.
But their breathability is what makes them awful for the winter season because the jackets allow cold winter air to seep in through their pores. They are not great insulators.
Are linen blazers suitable in the workplace?
Linen blazers are suitable in most workplaces. They are still very high on the formality scale despite keeping you cool and sweat-free the entire day.
Most companies, even in fields where there is a strict dress code such as the finance and law industry, allow their employees to come to the workplace wearing linen blazers.
However, just talk to the HR department of your firm to gain confirmation before you come to the office wearing a dashing linen sport coat.
What colors work best for linen jackets?
Lighter colors such as beige, white, and stone grey work really well on linen jackets. The reason for this is that the colors manage to visually convey the lightness and breathability of linen.
Another reason is that linen jackets are usually worn in the summer and in daytime, and lighter colors work really well for these occasions.
Pastel colors such as baby blue and baby pink also look great on linen jackets. However, I would recommend you to avoid black jackets because, for some reason, linen and black don't really work well when combined.
Do linen jackets wrinkle?
Linen jackets do wrinkle, but the amount of wrinkling depends upon the quality and the make of the particular jacket.
Higher-quality linen jackets tend to wrinkle very less, while cheap jackets wrinkle like there's no tomorrow.
Another interesting thing is that linen blends don't really wrinkle all that much compared to 100% linen garments.
If you are buying any of the jackets that I have mentioned, you don't really need to worry. All of these wrinkle very negligibly, and have been personally tested by me.
What kind of linen jacket is best?
This is a highly subjective question, but I will try to break it down for you so that you can come to an objective answer on your own.
If your style is very dapper, that is, you wear a lot of suits and tailored clothing, then a linen blazer is going to give you the most bang for your buck.
If you are a big believer in street style, then a kimono-style linen jacket is probably your best bet.
And if you are somewhere in the middle, go for linen overshirts, bombers, and trucker jackets. Paul Jones and Isle Bay make a ton of these.
Conclusion
If you are looking for the best linen jackets out there, look no further than the five that I have mentioned, because they cover a wide range of prices and features.
Over the years, I have tried a lot of different linen jackets, and these ones are literally the best of the best. Here's a quick rundown of the list for you.
Overall best – Goodthreads.
Best for streetwear – Prijouhe.
The Best pick if you are on a budget – Paul Jones.
Best linen bomber jacket – Isle Bay.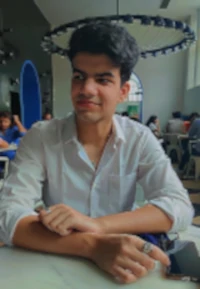 My name is Alex Higson and I am the founder of Magic Of Clothes. I have worked in the fashion industry for many years, and clothes and style are a huge part of my life.