Suede belts have long been taken for granted. They are an excellent alternative to leather belts, and in my opinion, a wardrobe essential that works exceedingly well in both summer and winter.
There are tons of options in the market, and some of them are absolutely fantastic and worth your money. Thus, for the purposes of this article, I decided to order a lot of suede belts off of Amazon and pitted them against each other.
The pieces that were left in the end were the best of the best; the cream of the crop. Here are 5 such pieces that should definitely be a part of your wardrobe.
From what I've found, Ground Mind appears to be the gold standard in suede belts in the $15-25 price range. It has extremely great quality, and in my opinion, it is the brand that cares the most about its customers.
When I ordered this belt off of Amazon, I also got a free screwdriver and a free puncher in elegant and luxurious packaging. I am a sucker for good packaging, and things only got better from here.
The suede belt itself was great in quality and color. The shade was slightly lighter than what was shown in the picture, but the piece still looked quite beautiful. I put it on, and it was great at keeping my pants at my waist.
Moreover, the color of this belt is quite unique, which makes me even more excited to wear it.
This belt is made in China, but at this price point, that's to be expected. However, the quality rivaled some of the finest USA-made belts that I own.
Speaking of belts made in the USA, another belt I really loved out of the tons that I ordered was the Edge Heel Suede Belt. The great thing about this belt is that it is not made by some big corporation; it is made by a small dedicated leather shop in Anaheim, CA.
If you are looking for the best belt out there, this one has probably beaten every other belt on this list in this regard.
It is offered in a ton of colors, most of which would look absolutely horrendous on you. In fact, they even sell a bright pink version!
If you want your pants to stay up and not be compared with my little pony, my suggestion to you would be to go for neutral colors like beige. That's what I went with, and I have no complaints.
Take a look at the sizing chart before you buy, because small independent manufacturers like these often use different measurement systems.
If you are looking for a suede belt specifically for casual occasions, look no further than the Florsheim suede belt.
The main thing that I like about this belt is how summer-friendly it is, both in terms of design and in terms of looks.
I bought a navy blue belt which would look particularly good during daytime events because it has contrast stitching, which makes any item more casual. This is the perfect belt for a family brunch.
The quality is excellent, and the belt is available in three different colors that all have contrast-stitching. If you are the type of guy who mostly wears his belts to casual occasions, the Florsheim belt is going to provide you the greatest value.
But if you are someone who belongs to the corporate world, the world of dress codes and business attires, this might not be the best choice for you.
Ground Mind strikes again.
If you are looking for something that is going to work well in a professional environment, check out the thick brown suede belt from Ground Mind.
The belt's subdued color works well with most shoes and boots that you would be allowed to wear in an office. The structure of the belt also gives an added layer of dressiness to the belt.
Thin straps are usually a sign that the belt you are about to purchase is only suited to casual occasions. This belt has extremely thick straps made of high-quality suede, and even the buckle looks classy and elegant.
I subjected this belt to a bunch of different tests to ascertain its durability and quality, and its performance was excellent in each individual test.
The back is genuine cowhide leather and is hard but bendable, which would ensure that no creases appear in the back for a long period of time. 10/10 would recommend again.
And just like the other Ground Mind belt, this one also comes with a hole puncher and a screwdriver to customize the belt even further.
The final belt on my list is the perforated suede belt by Stacy Adams. This belt is available in two colors – ocean blue and chocolate brown.
I ordered the chocolate brown one and was immediately stunned by the soft feel of the suede. I don't know how to describe it, but this belt feels luxurious. Its USP is its rich and elegant look.
But putting it through some tests made me realize that this belt is not a bestseller because of its utilitarian purposes, it's a bestseller because of its looks.
If you are buying a belt simply because you want your pants to stay up, choose any of the four belts above.
But if you are a man who is deeply into fashion, for whom a belt is another way to add depth to an outfit, to define the vibe of the entire look, then this belt is for you.
The quality is good for the price point, and the suede on this belt will make you look extremely good.
Final Remarks
After going through 30 different suede belts, half of which were pure trash, I have narrowed down the list to 5 options for you.
Take a look at the Amazon listing for these 5 and go for the one that you like the most. If you want my recommendation, I would say that you go for the Ground Mind blue suede belt.
I hope you have an awesome time rocking these bad boys!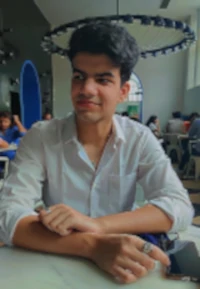 My name is Alex Higson and I am the founder of Magic Of Clothes. I have worked in the fashion industry for many years, and clothes and style are a huge part of my life.