Magic Of Clothes is an independent reader-supported blog. We may earn commissions from every qualifying purchase made through our links, at no additional cost to you.
What's the most versatile color for a polo shirt, or any item of clothing in general?
Black.
Having a black polo shirt is pretty much essential if you want to build a solid wardrobe. It goes with literally every color on the color wheel and can be dressed up or down depending upon the situation.
In this article, I will be going over the different ways that you can style a black polo shirt, and what are the exact garments that you should wear with it in order to increase your style quotient.
Remember, style is subjective and these are my personal recommendations after being in this business for a few years. So take what you like and chuck out the rest!
How to Wear a Black Polo Shirt?
There are numerous ways to wear a black polo shirt, and what look you go for depends on the formality of the occasion you are attending.
Here are a few different ways to style a black polo shirt as a man:
1. Business Casual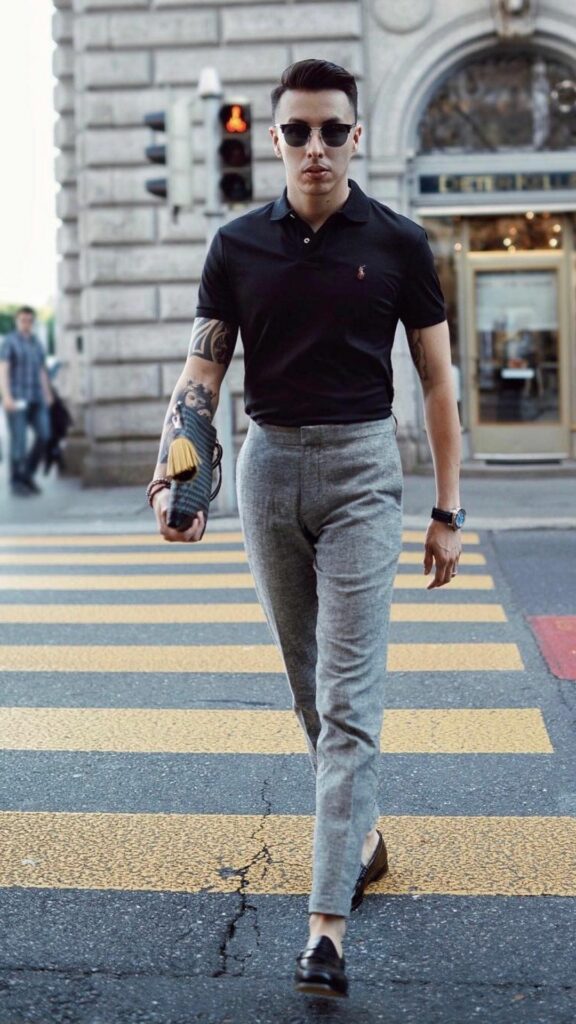 Hanes Men's Short Sleeve X-Temp W/ FreshIQ Polo, Black, Small
SO SOFT - Midweight pique fabric feels super-soft up against your skin.
KEEPS YOU COMFORTABLE - X-Temp technology is designed to keep you cool and dry, no matter...
ODOR CONTROL - FreshIQ advanced odor protection technology attacks the odor-causing...
STAY-FLAT COLLAR - Classic polo style featuring a ribbed stay-flat collar.
The simplest way to style a black polo is to wear it as part of a business casual look.
The polo shirt has long been synonymous with the business casual dress code, and going this route is a relatively safe bet stylistically. This means that there are fewer chances for you to screw it up.
Wear your black polo with a pair of fitted grey chinos. You can also go for a khaki pair, but I personally think that grey chinos pair best with black polos. Tuck in the shirt for bonus style points.
Make sure that the polo shirt fits you right; otherwise you need to get it tailored.
As for footwear, a black pair of tassel loafers is the obvious choice. It does not deviate from the color scheme of the outfit and manages to bring in the "business" aspect of business casual.
Accessorize with a classy watch and boom! Your outfit is complete.
2. Dressed Up or Dapper Look
Another way to wear a black polo shirt is by dressing it up with the help of a blazer. This look works particularly well with offices that have a stricter dress code, where wearing a jacket is absolutely necessary.
For this outfit, you need to layer a dark blazer over your black polo. Try to go for unsaturated shades of navy, grey, and brown. I personally think a midnight blue blazer will look great in this context, but you do you.
If you want to keep things simple, just wear a black pair of dress pants. This will make the blazer the statement piece of your outfit. Alternatively, you can go for a neutral pair of trousers such as grey or navy.
And of course, ditch the tie with this look. No matter how much fashion designers have tried, a tie has just never worked with a polo shirt.
3. Everyday Casual Look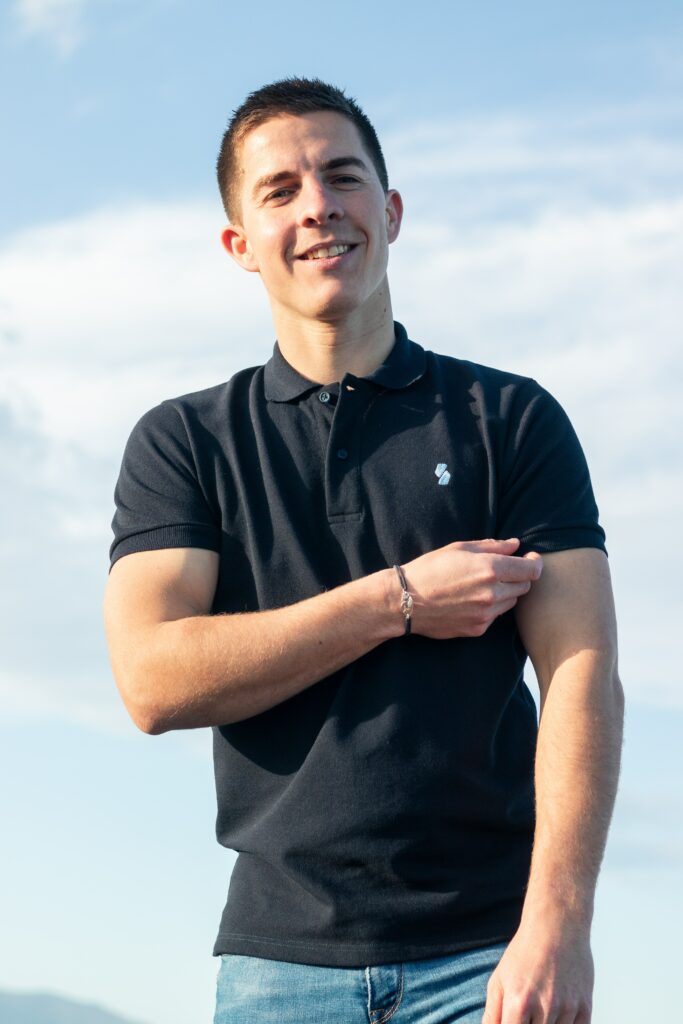 Amazon Essentials Men's Slim-Fit Quick-Dry Golf Polo Shirt, Black, Medium
SLIM FIT: Fits close to the body for fitted, slim silhouette.
PERFORMANCE FABRIC: This lightweight, breathable performance polyester is specially knit...
GOLF POLO: This short sleeve golf polo is not just for the links, wear it for activities...
DETAILS: Flat knit rib trim at collar, contrast back neck taping, three button placket and...
This is the outfit that you would wear to a coffee date, to hang out with friends, or maybe when you are just running some errands.
The key thing in this outfit is simplicity. You don't want to look like you are trying too hard, but at the same time, you want to look drool-worthy.
To make this outfit work, wear your black polo with a pair of medium-wash jeans. You can choose to tuck it in, but I would personally advise against it because of the chill, relaxed vibe of the entire outfit.
A pair of white sneakers will go very well here, but you can also mix it up according to your personal taste. I, for one, tend to wear a lot of New Balance sneakers when going this route with my outfit.
Accessorize with rings and chains, or maybe a simple watch. Simplicity is the key here guys.
Note: This outfit will only look good if you nail the fit. If your polo shirt looks like it is three sizes too big for you, then no amount of style advice can make it look good.
What to Wear with a Black Polo Shirt?
It is very important to know what kind of garments look good with your shirt. Therefore, here's a list of clothing items that you can wear with a black polo.
1. Chinos
Chinos look great with a black polo shirt. And because of the achromatic color of the top, you can go for a range of different colors too.
Anything from a simple pair of navy chinos to something more out there like a pair of dusty pink chinos.
2. Suit Jacket
If you want to dress up your black polo, the simplest thing you can do is pair it with a suit jacket.
Also called a blazer or a sport coat (there are some minor differences, but that's for another day), such a jacket is going to add a lot more structure to your outfit.
This look is great for situations where a tie would be too much but you still need to wear a formal jacket.
3. Denim Jacket
If your style falls on the more casual side of the spectrum, you can pair your black polo shirt with a denim jacket.
The color of the denim jacket doesn't really matter here, but a dark-wash jacket looks particularly good with a black polo.
Black Polo Outfit Ideas
Final Remarks
In this article, I went over a few different ways in which you can style a black polo. The versatility of this piece is what makes it a must-have in my opinion. And what else can I say – Buying non-black clothing is extremely hard.
Here's a quick recap.
There are three different ways in which you can style a black polo shirt as a man:
Business Casual
Dressed Up or Dapper Look
Everyday Casual Look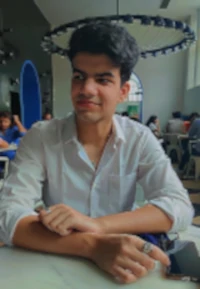 My name is Alex Higson and I am the founder of Magic Of Clothes. I have worked in the fashion industry for many years, and clothes and style are a huge part of my life.