As summer is getting around soon, I decided to take out some of my linen clothing from the back of my wardrobe for a quick examination. And as always, a couple of things didn't fit me well. I didn't really know if linen can be tailored, so I did some digging to find out.
I called up every major tailoring house in the NYC region and asked them if they can tailor linen garments. And I am talking about linen suits, linen trousers, linen shirts; the whole shebang. Here's the short answer.
Can linen be tailored?
Linen can definitely be tailored. Most professional tailors will not have a problem dealing with this fabric, and the cost of tailoring linen is also quite less. However, make sure to not make the garment look too tight, as linen can stretch over time.
There are also a few other considerations that you need to keep in mind, depending on the type of garment you are tailoring. There are some general rules, as well as some linen-specific issues. To ensure that you don't make any mistakes when tailoring linen, make sure that you read the entire article.
Can Linen Shirts Be Tailored?
Linen shirts can definitely be tailored. An experienced tailor can alter the length and breadth of sleeves, the chest, and even the length of a linen shirt. The cost of tailoring linen shirts is around $20-100, depending on what exactly you want to be tailored.
There are a number of things that you need to keep in mind when getting linen shirts tailored; there's just so much that can go wrong! In fact, the entire topic is slightly outside the scope of this article, and that's why I have created a separate post about tailoring a linen shirt.
What cannot be tailored in a linen shirt are the shoulders. In fact, even shoulder seams can be altered by experienced professionals, but it would end up costing you more than what you paid for the shirt in the first place.
Apart from the shoulders, pretty much everything else on a linen shirt can be tailored relatively inexpensively. But I would still recommend you to go a bit looser with your linen shirts, as linen is prone to change in size.
Can Linen Pants Be Tailored?
Linen pants can be tailored to reduce waist size and change the overall fit. They can also be hemmed pretty easily.
But ensure that you aren't making your trousers too fitted because doing so would not be good for your garment in the long run. Linen is a stiff fabric; if it's too tight, that may lead to tears and cuts in your linen pants.
Alterations in regard to waist and fit are not that expensive, and will cost you anywhere between $20 to $50 depending on your particular requirements.
Apart from that, linen pants have always been worn slightly loosely. That has always been the vibe of linen, and oversized clothing is seeing a comeback in general.
Can You Alter A Linen Suit?
Yes, linen suits can be tailored by a professional who has expertise in suiting. Most high-end sellers offer alterations right off the bat.
An example of such a seller would be Oliver Wicks.
When getting your linen suit altered, try to get the jackets and trousers at least 1/2 inch longer than where they should end up. You do not want to start with a tight fit with linen; it will only get tighter.
Depending on what you want to be changed in the suit, tailoring it can cost you anywhere between $20 to $200.
If you have a suit that fits you well, I would simply base your linen suits on that but make the length adjustment.
Linen trousers can have wider openings than regular suit trousers, but I think it looks a bit unnatural. I would recommend you to go with the same leg opening that you normally use.
Read: Is Water Harmful For Linen?
Can Linen Be Tailored At Home?
Linen is the easiest fabric to alter after cotton, and thus linen garments can be easily tailored at home.
You can make garments tighter, looser, and can even make entire clothes from scratch! This is also true for linen blends.
However, there are a few considerations that you need to keep in mind before you begin your next sewing project with linen.
Thread and sewing machine selection
Linen is one of the easiest fabrics for any sewing machine to handle, so no need to buy some heavy-duty equipment just for dealing with linen. And the same advice goes for threads too; all kinds of threads work equally well with linen garments.
Linen does not slip under the sewing machine; and more importantly, it can be pin basted. And it is much better under the needle than knitted fabrics (all of you know which fabric I am talking about here).
Press as you sew
Iron every seam that you finish immediately. And if you do it while sewing, the look of the finished garment is going to be enhanced.
Make sure that you use a pressing cloth, and iron on both sides of the seam flat, and then press the seam open for best results. Linen tends to shine when ironed, so use the pressing cloth to minimize this effect.
Final Remarks
Linen can be tailored pretty easily by most professional tailors. It is in fact pretty inexpensive. But you need to ensure that you don't make the linen garment too tight, as this can lead to increased wrinkles and minor tears over time.
But unless you are going to a fancy event or a business meeting, there's no real need to tailor linen. Its slightly boxier fit is its USP. Linen is meant to be worn in a way that it drapes on the body a bit loosely, and molds itself, and becomes softer over time.
If you are going to a dressy occasion, you can still wear linen, but you would just need to spend some time or money tailoring it to fit your body.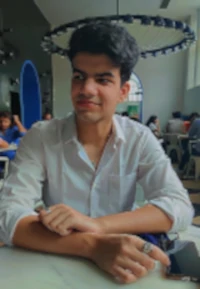 My name is Alex Higson and I am the founder of Magic Of Clothes. I have worked in the fashion industry for many years, and clothes and style are a huge part of my life.