Magic Of Clothes is an independent reader-supported blog. We may earn commissions from every qualifying purchase made through our links, at no additional cost to you.
Champion clothes have a tendency to run small as compared to their counterparts. You are going to need to size up in most cases.
Champion has been around for more than a century and in that time, they've brought us some of the freshest & most iconic sporty, casual wear! They're especially known for their hoodies & sweatpants, but they also offer tons of other products for the American audience.
The brand's clothes promise to provide maximum comfort without compromising on style and quality. A great comparison would be Nike or Adidas, although, Champion is a bit on the pricier side as compared to them!
However, there are some sizing inconsistencies when it comes to their clothes and depending on the category, you may need to make small adjustments.
In this article, we'll go over those issues and try to solve them. But if you directly want to see the Champion products that are currently on sale, you can click on the button below.
How Does Champion Clothing Fit?
Champion tends to run a bit smaller than most of its counterparts. If you are going for a baggier, streetwear look, you will need to size up.
What I like about Champion's fit is something that I have struggled to find in other streetwear brands – the right amount of "oversizedness" (forgive me for inventing a word).
There are brands that try to go for the oversized silohuette but either end up being too long or too wide (I am looking at you Bape).
Champion's hoodies are in the sweet spot, that is, they can be worn in an oversized manner without making it look like you are drowning in fabric.
Add to that the quality of Champion clothing, and one can easily see why the brand has become a household name at this point.
They use excellent materials and their process of making clothes has been continuously refined for decades which translates to a fabulous piece of clothing.
Champion's patented reverse-weave technology ensures that their clothes retain their shape & size for a long time so that you don't have to worry about replacing them every season!
Their clothes do have a certain 80-90s vibe with its famous brand logo & the iconic baggy aesthetics that we've all come to see and love. The fits may vary based on the type of clothing.
What size should you buy from Champion?
A general rule of thumb is to size up while shopping from Champion. Most of their products tend to be on the smaller side, so you could do with the extra room. 
Refer to the size chart
To make sure you select the correct size, take your measurements and compare them by clicking on the size chart button on this page.
The brand conjures up an image in one's mind which is of a sporty aesthetic, which obviously includes the classic baggy & relaxed look.
If you are going for that more relaxed, streetwear vibe, you can even go up two sizes. But I would avoid sizing up any more than that.
Which Champion items run small?
| Champion Clothing | Sizing |
| --- | --- |
| Hoodies | Run small. |
| Sweatpants and Joggers | Run small. |
| T-shirts | True to size. |
| Shoes | Run large. |
Hoodies
Champion hoodies tend to run small when compared to rivals such as Nike and Adidas. This is especially true if you want to layer underneath your pullovers.
Champion would not be as popular as it is without its iconic collection of hoodies & sweatshirts. For decades, they've mastered their designs and patterns, alongwith working on their quality.
Sweatpants and Joggers
Champion sweatpants run smaller than expected and you should size up for a more comfortable, relaxed fit.
These are essential activewear but double up as comfort clothing when it gets cold! It never hurts to have a couple of fresh-looking pairs of Champion joggers & sweatpants in your wardrobe.
T-shirts
Champion t-shirts almost always run true to size so that you don't have to worry about sizing up or down in this particular department.
These t-shirts offer great comfort and look. You can pair them up in multiple ways and they're bound to enhance your style quotient.
Shoes
Champion shoes do tend to run large when compared to something like Nike. A good comparison for fit would be New Balance whose sizing is the same as Champion when it comes to shoes.
The shoes from Champion have a separate fanbase of their own! They are super comfortable and light on your feet and look fabulous!
Does Champion make plus-size clothing?
Champion has an entire line of clothing for both men and women that comes in extended sizes, called Big, Tall, and Plus Sizes respectively. These include sweatshirts, t-shirts, hoodies, sweatpants, and much more!
Champion has really come through with regards to the quality & sizing of their plus-size clothing. They're available in sizes up to 4XL for women & 6XL for men.
These clothes fit great too as they are almost always true to size & offer a comfortable experience, without compromising on style!
The collection is also quite vast, so if you are a plus-sized individual, I would recommend you to take a look at Champion for casual clothing.
Champion Size Chart For Women
All measurements are in inches.
| Champion Size | Size | Bust | Waist | Hips |
| --- | --- | --- | --- | --- |
| S | 4–6 | 32.5–34.5 | 24.5–26.5 | 34.5–36.5 |
| M | 8–10 | 35–37 | 27–29 | 37–39 |
| L | 12–14 | 37.5–39.5 | 29.5–32.5 | 39.5–42.5 |
| XL | 16–18 | 40–42 | 33–36 | 43–46 |
| 2XL | 20–22 | 42.5–44.5 | 36.5–39.5 | 46.5–49.5 |
Champion Size Chart For Men
All measurements are in inches.
| Champion Size | Chest | Waist |
| --- | --- | --- |
| S | 34–36 | 28–30 |
| M | 38–40 | 32–34 |
| L | 42–44 | 36–38 |
| XL | 46–48 | 40–42 |
| 2XL | 50–52 | 44–46 |
| 3XL | 54–56 | 48–50 |
Final remarks
Champion has been a major player in the industry with its wide range of casual clothing. They're a cultural icon & a big part of the American fashion identity as they've helped define it for many decades.
Let's summarize how their clothes fit.
Champion clothes generally run small as compared to other brands. This is true in the case of hoodies, sweatpants & pullovers.
T-shirts from Champion run true to size and don't need any adjustments on the part of the wearer. Their shoes tend to be a bit larger than expected and I'd suggest sizing down if you're in the market for a pair or two.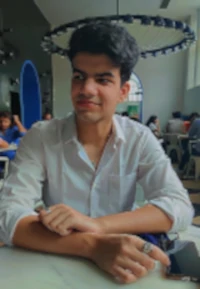 My name is Alex Higson and I am the founder of Magic Of Clothes. I have worked in the fashion industry for many years, and clothes and style are a huge part of my life.