ASOS products generally run small. Therefore, it is recommended to opt for a larger size than your usual size to achieve a perfect fit.
ASOS (which actually stands for As Seen On Screen) is a giant fashion retailer from the UK which has been around for over 20 years. They have a ton of premium brands and sell everything from dresses and shoes to shirts and boots.
The retailer has currently stocked over 80,000 products split across 850 brands.
But the problem with having so many brands is clear – inconsistent sizing. Despite their best efforts, ASOS still hasn't been able to stop some of their product categories from running small.
In this article, I will walk you through the sizing issues at Asos and help you figure out what size item you need to buy. But if you want to directly check out the limited-time sale running at ASOS, you can click on the button below; it leads to an ASOS search result page where I have applied a combination of filters and sorting systems that will give you the best discounts.
Does ASOS Clothing Run Small?
ASOS shoes, dresses, and bikinis run small, but their shirts and coats run a little big. Everything else is true to size.
This inconsistency in sizing can get frustrating, but since they are a distributor for so many brands, it is understandable that not all of them will follow the same size chart.
And again, the above has been my general experience when shopping from them. There might be some obscure brand on their page that may fit you true to size, but more or less, you will also find that some of their product categories simply run small, across brands.
So here's what I recommend. Take a look at the official ASOS size chart, and compare your measurements with it. If you are buying shirts and coats, go one size down than what the size chart recommends. If you are buying swimwear, shoes, or dresses, go one size up. For pretty much all other product categories, you can just follow the size chart.
A way to combat this inconsistent sizing is using the ASOS Fit Assistant Feature. It is basically a form that you fill with your body measurements, and their advanced algorithm decides which size is going to fit your best. It's pretty handy, and is actually able to get you sizes that fit like a glove.
Plus, the return policy of ASOS is also pretty chill, so you can even order your favorite item in two sizes and keep the one that fits you best, and return the other. This will make your shopping experience hassle-free.
Quick Tip 👉 Sometimes the ASOS website shows discounts on products only after going through the clearance section and not if you directly go to the product page. Thus, make sure that you always check for your product in the sale section on the ASOS website.
Which ASOS products run small?
| ASOS Clothing | Sizing |
| --- | --- |
| Shirts | Run large. |
| Shoes | Run one size small. |
| Swimwear | Run small. |
| Coats | Run large. |
| Dresses | Run half size small. |
Shirts
ASOS shirts have a reputation for running large, so it's worth considering sizing down when selecting your perfect top. For casual t-shirts and sweatshirts, it's recommended to size down one size for a more fitted look. For dress shirts and blouses, sizing down may also be necessary to achieve a flattering fit, especially if you're looking for a more tailored look.
Shoes
ASOS shoes run small, so it's important to keep in mind that sizing up might be necessary for a comfortable fit. When it comes to sneakers, it's best to size up a half size, while for boots, a full size up may be needed to accommodate for thicker socks. If you're eyeing a pair of sandals or heels, sizing up a half size should do the trick.
Swimwear
ASOS swimwear tends to run small, so it's worth considering sizing up for a comfortable fit. With their extensive selection of sizes and styles, you're sure to find a swimsuit that makes you feel confident and fabulous.
Coats
If you're in the market for a new coat, let me tell you about my experience with ASOS coats. Here's the deal: they tend to run large. Now, I'm not saying this to discourage you – on the contrary, I want to make sure you get the perfect fit! So, if you're looking for a more snug and fitted coat, I recommend sizing down.
Dresses
As someone who has purchased ASOS dresses before, I can confirm that they tend to run small in size. In my experience, opting for a larger size has always resulted in a better fit. I also highly recommend checking the size chart provided on the website before making a purchase.
ASOS Size Chart For Women
All measurements are in inches.
| | | | |
| --- | --- | --- | --- |
| SINGLE SIZE | Bust | Waist | Hips |
| UK 4 | 30 | 22¾ | 32¾ |
| UK 6 | 31 | 23¾ | 33¾ |
| UK 8 | 32 | 24¾ | 34¾ |
| UK 10 | 34 | 26¾ | 36¾ |
| UK 12 | 36 | 28¾ | 38¾ |
| UK 14 | 38 | 30¾ | 40¾ |
| UK 16 | 40 | 32¾ | 42¾ |
| UK 18 | 43 | 35¾ | 45¾ |
| UK 20 | 45½ | 38½ | 48½ |
| UK 22 | 48 | 41 | 51 |
| UK 24 | 50½ | 43½ | 53½ |
| UK 26 | 53 | 46 | 56 |
ASOS Size Chart For Men
| SIZE | INCHES (CHEST) | CM (CHEST) |
| --- | --- | --- |
| XXS | To Fit 32-34 | 81-86 |
| XS | To Fit 34-36 | 86-91 |
| S | To Fit 36-38 | 91-96 |
| M | To Fit 38-40 | 96-101 |
| L | To Fit 40-42 | 101-106 |
| XL | To Fit 42-44 | 106-111 |
| XXL | To Fit 44-46 | 111-116 |
Again, if you want to use their great Fit Finder tool, here's the link.
ASOS Sizing Tips and Tricks
Asos has four categories when it comes to women's clothing. These products are specifically designed and cut to give the perfect fit depending on a person's size.
Asos Petite is their line of clothing designed for individuals shorter than and up to 5'3 in height. On the other hand, Asos Tall is catered towards individuals above 5'3. 
Asos Curve includes plus-size products for ladies on the curvier side of things. And finally, Asos Maternity are clothes designed for pregnant women who don't want to compromise their style.
Here are some general tips to remember while shopping from Asos.
Make use of the ASOS Fit Assistant Feature. It's excellent and will ensure you get a perfect fit.
The ASOS sizing guide is based on UK standards. Still, there's a conversation table next to every product to help you figure out your corresponding US/Euro size.
ASOS has an excellent returns policy, and it's pretty user-friendly. You can make use of this by ordering two products of the same size if you need clarification and returning the one that doesn't fit!
A bonus tip would be to look for reviews on websites other than ASOS for the particular product you're looking to buy.
Does ASOS sell plus-size clothing?
They do, indeed! They have a separate line for curvy ladies, and it's called ASOS Curve & Plus size.
This retailer offers sizes from UK 16 up to UK 30 and include some of the cutest pieces of clothing I've seen online, and they don't cost an arm and a leg!
ASOS excels in this category of clothing in terms of both style and sizing. The Curve line is true to size and will be an excellent fit for you, as is.
Final remarks
Due to the sheer number of products and brands ASOS offers through its website, navigating its sizing system can be pretty complicated.
Let's summarize the article once.
Does ASOS run small?
ASOS tends to have inconsistent sizing across its product lines. While shoes, dresses, and bikinis have a tendency to run small, their shirts and coats often run a little big. However, everything else is generally true to size.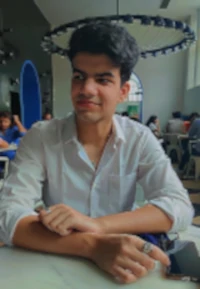 My name is Alex Higson and I am the founder of Magic Of Clothes. I have worked in the fashion industry for many years, and clothes and style are a huge part of my life.