When it comes to sizing, Cotton On tends to run small. I recommend sizing up in most product categories.
Cotton On is a popular Australian brand that offers a wide range of clothing options made from high-quality cotton materials. Their products are affordable, stylish, and comfortable, making them a great choice for anyone looking to update their wardrobe.
When shopping for clothing, it's important to take note of the sizing. Some brands tend to run small, while others are true to size or run large. This can make a big difference in how the clothing fits and whether or not it's comfortable to wear.
Cotton On is no exception, and to be honest, their sizing system is just a big mess.
In this article, I will be going over Cotton on sizing and how to choose the perfect size for you.
How Does Cotton On Fit?
Cotton On sizing is really inconsistent. While their jeans are true to size, their tops run large and their dresses run small.
In fact, I don't think I have seen such a widely inconsistent sizing system like… ever. Sure, we all know Zara is pretty shitty when it comes to sizing, and Moncler has a sizing system that makes you feel like you need a Ph.D. just to order a puffer jacket, but Cotton On is different.
What's special about them is that the disorder has some order. With Zara, you don't know what size you are getting. With Cotton On, you just need to know your product categories, and you can be somewhat confident in getting a decently-fitting garment.
Here's what I recommend. Check out the official size guide on the Cotton On website and compare your body measurements with it. If you are ordering jeans, just stick to the size chart. With tops, go one size smaller and with dresses go one size larger.
One more thing 👉 Before you make a purchase, look for your product in the clearance section at Cotton On. Some discounts on products are only available after going through that page. If you directly go to the product page, you might not see the discount and end up paying a bigger price. I think this happens because of a glitch in their system, but I am not really sure.
What size should you get at Cotton On?
There is no one-size-fits-all answer to this question, and it actually depends on what kind of product you are ordering. However, there are some general guidelines you can follow when shopping for clothes at Cotton On.
First, if you are ordering a dress that's meant to be form-fitting, go one size up. It is the only way that that dress is ever going to fit you.
Next, if you are ordering a cute top and you are in between sizes, you may want to size down, as I have observed that Cotton On tops run just a tad bit big.
Finally, if you are ordering a pair of jeans or some other trousers, you can just go with your original size. There is no need to size up or down.
Remember that you can always return or exchange an item if it does not fit properly. So, don't be afraid to experiment and find the perfect size for you!
Which Cotton On Items Run Small?
| Cotton On Clothing | Sizing |
| --- | --- |
| Tops and Shirts | Run large. |
| Dresses | Run small. |
| Shoes | Run small. |
| Jeans and Pants | True to size. |
Tops and Shirts
Tops and shirts tend to run about half a size big, so keep that in mind if you are in-between sizes.
This holds true for both men's and women's departments, at least in my experience. Button-up shirts are a special culprit at Cotton On, so definitely size down when buying them.
Jeans and Pants
Cotton On jeans tends to run true to size. There is a wide variety of fits at the brand, so pay close attention to the size chart.
Therefore, you don't need to size up or size down.
Dresses
It depends on the style of dress, but most Cotton On dresses run one to two sizes small.
In fact, I would not be surprised if you order a Cotton On dress and it turns out to be as much as two sizes small. That's how bad their sizing is, especially in jumpsuits and maxi dresses.
Shoes
This is a difficult question to answer, as sizing can vary depending on the style of shoe. However, many people find that Cotton On shoes tend to run slightly small. 
Some styles of shoes may run small, while others may be true to size. It is always best to try the shoes on in-store before purchasing to ensure the best fit. That's what I always recommend.
Cotton On Size Chart For Men
All measurements are in inches.
SIZE
CHEST
WAIST
HIP
XS
28
33
29
34
S
30
35.5
31.5
26.5
M
32
38
34
39
L
34
40.5
36.5
41.5
XL
36
43
39
44
XXL
38
45.5
41.5
46.5
Cotton On Size Chart For Women
All measurements are in inches.
| SIZE | BUST | UNDER BUST | WAIST | HIPS |
| --- | --- | --- | --- | --- |
| XXXS | 29.6 | – | 21.6 | 31.6 |
| XXS | 31.6 | – | 23.6 | 33.6 |
| XS | 33.6 | 27.6 | 25.6 | 35.6 |
| S | 35.6 | 29.6 | 27.6 | 37.6 |
| M | 37.6 | 31.6 | 29.6 | 39.6 |
| L | 39.6 | 33.6 | 31.6 | 41.6 |
| XL | 41.6 | 35.6 | 33.6 | 43.6 |
For more sizing information, you can check out their complete size chart here.
Does Cotton On make plus-size clothing?
Yes, Cotton On does make plus-size clothing. The brand offers a range of sizes that cater to different body shapes and sizes, so you are bound to find something that you love.
Plus size clothing can be hard to find, but with Cotton On plus size clothing, the job gets a little bit easier. The brand offers different styles and cuts that are perfect for curvy women.
So, whether you're looking for a dress or a pair of jeans, Cotton On has got you covered. Plus size clothing from Cotton On is fashionable and stylish, so you can rock any look with confidence.
Their plus-size sizing is surprisingly accurate, so I don't think that you will be disappointed.
Final remarks
Cotton On has cemented its place as the lifestyle brand of choice for most people. This has been on the back of an increase in product offering, diversity of styles, and excellent customer service.
But one area that still needs a lot of improvement is their sizing system.
Here's a quick recap of the article.
Does Cotton On run small?
Cotton On dresses run small, their jeans run true to size, and their tops and shirts run a bit large.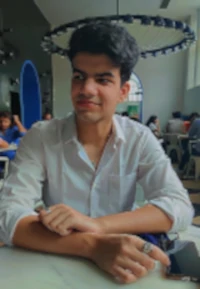 My name is Alex Higson and I am the founder of Magic Of Clothes. I have worked in the fashion industry for many years, and clothes and style are a huge part of my life.