Magic Of Clothes is an independent reader-supported blog. We may earn commissions from every qualifying purchase made through our links, at no additional cost to you.
Romwe runs small, and in most cases, you would need to size up. Many customers have found that their clothing items from Romwe are often too small, even when ordered in the correct size according to the size chart.
Romwe (often compared to Shein, and owned by the same parent company) is known for its trendy and stylish designs. The brand offers a wide range of clothing items, including tops, bottoms, dresses, outerwear, and swimwear at super-affordable prices.
But sizing issues have constantly plagued this brand, and that's the topic that we're going to talk about today.
In this article, we will discuss Romwe sizing issues and how to find the perfect fit. But if you directly want to shop the ongoing Romwe sale at Amazon, you can click the button below.
How Does Romwe Clothing Fit?
For most people in America, the clothing at Romwe is going to run small. This has to do with the brand's Asian origins and the sizing differences between these places.
Let's be honest here. No one buys Romwe clothes because they expect great quality. People buy stuff from Romwe because the brand offers designer-level clothing at dirt cheap prices.
Discount Tip 👉 You can also check for your favorite Romwe products on third-party retailers, as many of them sell products at a bigger discount. For example, I always find a great deal through the Romwe collection on Amazon.
However, this does not mean that they don't suffer from rampant sizing issues.
For tops, it's generally best to size up if you're between sizes. This will ensure that the top isn't too tight or constricting and that you'll be able to move and breathe comfortably.
When it comes to bottoms, the fit will depend on your body type. If you're pear-shaped, for example, you may want to size up in bottoms to accommodate your hips and thighs.
On the other hand, if you're more apple-shaped, you may want to stick to your true size or even size down. Again, it's always a good idea to consult the size chart before making a purchase.
What size should you get at Romwe?
There are a few things to keep in mind when shopping on Romwe. First, the sizes tend to run smaller than US or European sizes. Second, the products are divided into three categories, designed to fit the following body types:
Petite (height 5'3″ and under, weight 100 lbs and under)
Regular (height 5'4″ to 5'7″, weight 101-150 lbs)
Plus (height 5'8″ and up, weight 151 lbs and up)
If you're not sure which size to order, I recommend checking the size chart for each item. The size chart can be found on the product page, under the "Size & Fit" tab.
Refer to the size chart 👉 To make sure you select the correct size, take your measurements and compare them by clicking on the size chart button on this page.
Still not sure which size to order? No problem! You can always reach out to the customer service team for help.
Which Romwe Items Run Small?
| Romwe Clothing | Sizing |
| --- | --- |
| Tops and Shirts | Most pieces run small. |
| Dresses | Run small. |
| Swimwear | Run small. |
| Jeans and Bottoms | Run small. |
Tops
Most Romwe tops run small, and you would need to size up in order to obtain the perfect fit. Their button-down shirts are an exception though, and you can go true to size when buying them.
Before shopping at Romwe, you need to be aware of the sizing charts and ratings so that you can buy with confidence.
Dresses
Romwe dresses and rompers tend to be on the shorter side, so if you're tall or have a long torso, you may want to size up. This is especially true of the company's plus-size offerings, which often don't fit larger customers at all.
If you're considering ordering a dress from Romwe, be sure to check the size chart carefully. You may need to order a size or two up from what you normally wear in order to get a dress that actually fits.
And be prepared for the possibility that even then, the dress may not fit as you hoped.
Swimwear
This is a difficult question to answer, as there is no standard size chart for Romwe swimwear, and sizes vary hugely from piece to piece. However, based on customer reviews, it appears that Romwe swimwear runs slightly smaller than average.
If you are unsure of your size, it is recommended to order a half or whole size up.
Jeans
Romwe jeans do tend to run small. This is likely due to the fact that Romwe is not an American company and their sizes tend to be smaller than what Americans are used to.
Additionally, their leggings and pants can also run small, so if you're in between sizes, it's best to size up in those as well.
Romwe Size Chart For Women
All measurements are in inches.
| | | | | | | | |
| --- | --- | --- | --- | --- | --- | --- | --- |
| SIZE | XS | S | S/M | M | M/L | L | XL |
| US | 2 | 4 | 6 | 8 | 10 | 12 | 14 |
| UK | 4 | 6 | 8 | 10 | 12 | 14 | 16 |
| EUROPE | 32 | 34 | 36 | 38 | 40 | 42 | 44 |
| BUST (IN) | 33 | 34 | 35 | 36 | 37 | 39 | 40 |
| WAIST (IN) | 24 | 25 | 26 | 27 | 28 | 30 | 31 |
| HIP (IN) | 36 | 37 | 38 | 39 | 40 | 42 | 43 |
Romwe Size Chart For Men
All measurements are in inches.
| | | | | | | |
| --- | --- | --- | --- | --- | --- | --- |
| SIZE | XS | S | M | L | XL | 2XL |
| US | 34 | 36 | 38 | 40 | 42 | 44 – 46 |
| UK | 34 | 36 | 38 | 40 | 42 | 44 – 46 |
| EUROPE | 44 | 46 | 48 | 50 | 52 | 54 – 56 |
| CHEST (IN) | 34 | 36 | 38 | 40 | 42 | 44 – 46 |
Does Romwe make plus-size clothing?
While the company does not explicitly state that they make plus-size clothing, they do offer a wide range of sizes that should accommodate most women.
This is something that the brand really needs to work on, especially to capture the American market the way brands such as Shein have.
Also, even if you are going for the larger sizes, I recommend sizing up in order to get a better fit.
Final Remarks
As we can see, Romwe definitely runs small.
However, this sizing issue doesn't seem to be a dealbreaker for most customers, as the majority of reviewers report that the clothes still fit, albeit snugly.
So, if you're considering ordering from Romwe, make sure to size up! Other than that, Romwe is a great place to find stylish, affordable clothes. So why not give them a try?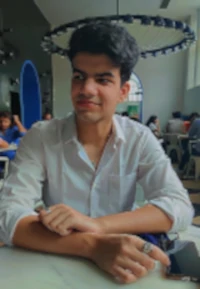 My name is Alex Higson and I am the founder of Magic Of Clothes. I have worked in the fashion industry for many years, and clothes and style are a huge part of my life.