Magic Of Clothes is an independent reader-supported blog. We may earn commissions from every qualifying purchase made through our links, at no additional cost to you.
Most Stone Island products are true to size. However, it is essential to remember that the label follows Italian sizing standards, which are smaller than American, French, and German. So, chances are you need to size up in almost all cases.
Stone Island is a high-end luxury Italian fashion label known for its athleisure collection since the 90s. As a subculture of diehard football supporters, Stone Island is slowly entering the mainstream fashion world, despite not being your conventional label.
The contemporary pieces from the brand are generally cut slim and fit tight. However, if you're looking at retro or vintage pieces, especially pre-2000, they run larger than the current fit.
But if you directly want to check out the ongoing sale at Stone Island products, you can click on the button below.
How Does Stone Island Fit?
Stone Island generally runs true to size. If you prefer oversized over their general slim cut and tight fit, you can size up as needed.
Stone Island might run smaller if you are accustomed to US sizing. So even though a size 11 in the US is a size 45 in European size charts, chances are it still runs on the smaller side.
Their return policy is pretty liberal, which makes picking the right size a piece of cake.
One last thing.
Pants and trousers from Stone Island are true to size but seem to run a little long on the legs if you're below average height. Hoodies, sweaters, and knitwear run about half a size smaller than expected.
Refer to the size chart
To make sure you select the correct size, take your measurements and compare them by clicking on the size chart button on this page.
Which Stone Island Items Run Small?
| Stone Island Clothing | Sizing |
| --- | --- |
| Jackets and Coats | True to size |
| Pants and Trousers | True to size |
| Sweaters and Hoodies | Run small |
| Overshirts and T-shirts | Run small |
Jackets and Coats
Stone Island has a fantastic collection of luxury coats and jackets that generally run true to size.
With self-insulation technology, they are popular among young people who wish to beat the cold winds in style. The parkas have been a major hit amongst their customers in the past couple of years.
However, due to their slim fit cut, they might be a tight fit for someone who wishes to layer. Consider going for a size bigger if you want to layer and not look bulky!
Pants and Trousers
As shown on the website, Stone Island pants run true to size and are comfortable yet stylish with enough room for movement.
However, the difference in the US and European sizing measurements is only noticed through the pants. A size 11 in the US is a size 45 in European charts, but chances are they still run about half a size smaller than anticipated.
If you want a more relaxed oversized fit, consider going a size up as you prefer.
Sweaters and Hoodies
Sweaters, knitwear, and hoodies seem to run small; thus, you need to size up. Fleecewear, while it might run a little smaller than other sweaters, is their best collection in terms of quality.
Vibrant knitwear is always a treat for the eyes in cold, dreary winter, so if you plan to add some colors to your winter wardrobe, this luxury label might become your favorite. 
As for Stone Island hoodies; they run true to the size. Only consider sizing up if you are looking for an oversized fit.
Overshirts and T-shirts
Stone Island overshirts generally fit a bit slimmer than expected. It would be best if you sized up because the nylon metal fabric might be sticky otherwise.
In my opinion, overshirts are one of those pieces that look better when they're a little bit oversized too.
Stone Island t-shirts, on the other hand, are straight fit, so you do not necessarily need to size up unless you want the oversized look.
Does Stone Island Make Plus-Size Clothing?
No, Stone Island does not offer plus-size clothing.
While Stone Island does not offer a plus-size collection, most of their products run up to size XXXL OR 56(EU). This is better than most luxury brands, which have XXL or less as their biggest available size.
While many plus-size buyers stick to buying retro pieces for themselves (due to their roomier fit), it would still be nice to see Stone Island offer some inclusivity.
Stone Island Size Chart For Men
All measurements are in inches.
| | | | | |
| --- | --- | --- | --- | --- |
| Size | US Size | Neck (In) | Chest (In) | Waist (In) |
| XS | 32 | 14.2 | 31.5-33.5 | 25.6-29.9 |
| S | 34 | 14.6-15 | 33.9-35.8 | 28-32.3 |
| M | 36-38 | 15.4 | 36.2-38.2 | 30.3-34.6 |
| L | 40 | 15.7-16.1 | 38.6-40.6 | 31.9-37 |
| XL | 42 | 16.5 | 41-43.5 | 34.5-40 |
| XXL | 44 | 16.9-17.3 | 43.5-46.5 | 37-43 |
| XXXL | 46-48 | 17.7 | 47-49 | 38.5-46 |
Final Remarks
Stone Island, a luxury label, has managed to sway away from the image of football jersey manufacturers.
Despite not being a contemporary fashion label (they do not host stage runway shows to introduce new collections!), Stone Island is a favorite amongst men looking for a classic athleisure look.
They have carved their niche in men's fashion with their vibrant collection, useful details, and hard-wearing construction.
Here is a quick recap of the article:
Does Stone Island run small? Stone Island's contemporary pieces are slim and fit tighter than the oversized retro ones. While their jackets and pants run true to size, the knitwear and overshirts always run small.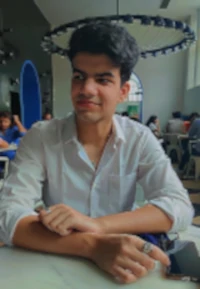 My name is Alex Higson and I am the founder of Magic Of Clothes. I have worked in the fashion industry for many years, and clothes and style are a huge part of my life.