Magic Of Clothes is an independent reader-supported blog. We may earn commissions from every qualifying purchase made through our links, at no additional cost to you.
You need to go one size up when buying from Superdry. Their clothes tend to be fitted, which is why they run small.
The brand is famous in the USA and started in 2003 as a clothing company. They mostly make casual clothing and are preferred by teens and college-going youngsters.
I'm sure you know the brand pretty well. They make some fantastic casual clothing and are well-known for their jeans. Personally speaking, my boyfriend and I are huge fans of Superdry, and we have a separate collection of clothes only from here.
However, even though the brand makes excellent clothing, their sizes could be more manageable. Let me dive into their sizing issues to help you understand the problem better.
How do Superdry Clothes Fit?
Superdry clothes run small and fit tighter than average. The brand has recognized that its sizes run small and asked people to size up.
All clothes from Superdry are consistently small in size. You will have to size up once or even twice, depending on your fit preferences.
So, what size should you purchase when ordering from Superdry?
Here's the official size chart on the Superdry website. Compare your measurements with the size chart, and just order one size larger than what the size chart recommends. Basically if you are an S according to the chart, order an M. If you are an M, order an L.
You get the idea.
The brand has said that they design their clothes to be tight-fitted, which is why the sizing issue crops up for every clothing category. However, if tight clothing makes you uncomfortable, you can order a size up for comfort.
If you are skinnier, you can make do with your regular sizes. However, the shoulder and armhole sections may continue to be a problem.
Their shoes, on the other hand, actually run big. The shoe sizing confused me because most people would assume that the shoes would also run small.
Quick Tip 👉 Sometimes the Superdry website shows discounts on products only after going through the clearance section and not if you directly go to the product page. Thus, make sure that you always check for your product in the sale section on the Superdry website.
Which Superdry Run Small?
| | |
| --- | --- |
| Superdry Clothing | Sizing |
| Tops | One size small |
| Bottoms | One size small |
| Dresses | Half size small |
| Shoes | Half size large |
Tops
Superdry tops run small. This is applicable in products for both men and women.
Let me get this straight; their tees are super tight in all aspects—your better size up if you want to avoid exchange issues.
All their top designs run incredibly small, so they always go for the next size no matter what they advertise. Trust me; you will save time and energy this way rather than running around trying to get replacements.
Men also need to size up once or twice, depending on their style. For tall and bulky men, we recommend you size up twice, or you will be stuck at the shoulders.
Bottoms
Superdry bottoms run small in size. Their undersides run one size small, just like the rest of their clothing.
You must think their bottoms would be true-to-size since brands rarely get waist sizes wrong. Well, this brand does, and you will never size up here.
I know how annoying it can be to size up for clothes constantly. I have to say that this brand overdid its fitting targets and has made tiny clothes that don't make sense.
Even for their bottoms, you need to be skinny to fit your regular size. It would help if you sized up when buying the brand trousers, jeans, joggers, and shorts.
Men should also size up if they want to fit into the bottoms they buy. My boyfriend tried ordering his regular and has suffered, so be wise and don't be like him.
Dresses
Superdry Dresses can be tight and run small. It would help if you sized up when buying dresses from the brand.
Yes, I own a couple of dresses from Superdry, and surprise, I had to size up. By this point, I'm sure you know that sizing up is the only way to go when buying clothes from this brand.
Their t-shirt dresses can be super tight, so ladies with curves must go up one or two sizes. Some of you may pull off your regular size if you are skinny, but I'll say not to risk it.
Shoes
Superdry shoes run big. So it would be best if you sized down when ordering their stuff online.
Since shoe fittings have a lot to do with the shape of your foot, I recommend buying them at the store. Some of you may even need to size up more, so it's better to try them out before investing.
Does Superdry Make Plus Size Clothing?
Superdry doesn't have a dedicated plus-size line, but their regular clothes run up to size 18 or 3XL.
The brand has a variety of collections for plus-size customers. Since their clothes run small sizes up to 18, please don't cut it for plus-size people.
It's a shame that the brand hasn't done anything about the issue. They need to bring more plus sizes for their clothing so more people can buy from it.
Final Remarks
So, I hope you have realized that Superdry sizing can be tricky if you don't know the brand's sizing system. However, following my guide can help you get a perfect size and avoid exchange drama.
Here's a recap of what I've explained in this article.
Superdry clothes run smaller than regular US and UK sizes. Their shoes, however, run slightly larger than usual.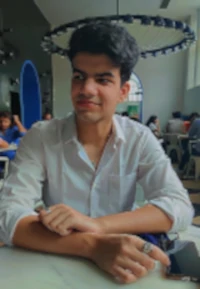 My name is Alex Higson and I am the founder of Magic Of Clothes. I have worked in the fashion industry for many years, and clothes and style are a huge part of my life.