Magic Of Clothes is an independent reader-supported blog. We may earn commissions from every qualifying purchase made through our links, at no additional cost to you.
Dress shirts are awesome. They are crisp, stylish, and make you look like a million bucks. In fact, there's only one issue that makes dress shirts pretty uncomfortable to wear – their collars are too tight, especially when buttoned up all the way.
But it's not that big of a deal, because tight shirt collars are very easy to fix.
There are a number of solutions you can go for. Some of them are DIY, some of them require a product, and some just require your presence of mind.
In this article, I will be giving you over four ways to loosen your shirt collar.
Let's begin!
How To Fix A Tight Shirt Collar?
Fixing a tight shirt collar is very much possible. There are a number of methods you can adopt depending upon the shirt and your budget, but here are a few options that you could go for:
1. Use a collar extender
The simplest way to loosen a tight shirt collar is to use a little device called a collar extender. These extenders basically alter the position of the top button of your shirt, which automatically makes your collar larger.
They are dirt cheap, and effectively solve the entire problem of stretching out the shirt collars. Here's the one I recommend:
Sale
Collar Extender - 12pcs
COMFORT & BREATHE EASY: Those neck extenders are can made your shirts more comfortable...
EASY TO USE: Simply attach stretch collar extenders to the existing button on the shirts...
PREMIUM & HIGH-QUALITY :These button are made of environmental protection plating and...
EASY TO MATCH: There are 3 colors to match with different clothes, Black, white, and...
And you also do not require any kind of sewing knowledge to use these devices. All you need to do is loop one of these bad boys over the top button of your shirt collar, and you are done.
2. Go to a dedicated tailor
Depending on how your shirt is made, it might be possible to loosen the collar by the tailoring process. This works especially well if there is an abundance of extra fabric in the collar region.
A good quality tailor would be easily able to make such a simple adjustment, which means that you won't have to pay a lot. Depending on where you live and which tailor you approach, you can get this procedure done for $10-30.
However, this method won't work for every shirt, as it requires the presence of extra fabric in the neck region of the garment.
3. Use a skirt hanger to stretch the collar out
If you have a skirt hanger – a hanger that has adjustable and sliding clips, then it is pretty easy to stretch out the collars of any shirt.
Wash your shirt in cold water, and while it is still wet, use the adjustable clips on the collar of your shirt. After clipping the collar, simply slide the clips outward and let the fabric dry.
Make sure that you don't stretch it too much as that can lead to breakage and tears. You can also repeat the process to stretch the shirt collars even further.
4. Don't button the top button
Okay, this is cheating, but hear me out. The tightness of the collar mainly arises when you decide to button up the top button of the shirt.
But it is not necessary to do so in the first place! Even ties can be worn without buttoning up the top button. Sure, it takes some time getting used to, but it is really the simplest solution to such a problem.
Especially on casual occasions, keeping the top button unbuttoned is actually going to be a better choice.
Add to that the fact that this method does not require any money or time to work, and it becomes a no-brainer.
How To Make Your Shirt Collar More Comfortable?
Sometimes your shirt collar can simply be too uncomfortable. This can happen due to a multitude of reasons, such as cheap quality fabric, wrong proportions, stiffness, sharp care labels, and much more.
To make your shirt collar comfortable, soak it in hot water. Regular soaking is going to make your shirt collar a lot softer and comfortable over time.
Just wearing the shirt more often is also a good idea. Every time you wear the shirt, you are going to wash it (presumably). This will make the shirt collar softer and therefore a lot less uncomfortable.
If you are still facing problems, you can simply cut off the collar and convert your shirt into a mandarin-collared shirt. The process is quite simple.
How Tight Should A Shirt Collar Be?
It is quite important to know how tight a shirt collar should be. It would help you in making better clothing decisions and might even save you some tailoring expenses down the road.
A shirt collar should be loose enough that it is easy to put a finger between the collar and the neck. The collar should also be tight enough so that no more than two fingers can be placed between the collar and the neck.
Slight deviations are fine, but the closer you are to this range, the better.
If you are going for a casual shirt that is meant to be worn with the top button unbuttoned, you can go for an even looser collar. However, for dress shirts, snug collars are going to be much better.
How To Fix A Loose Shirt Collar?
The best way to fix a loose shirt collar is to simply go to the tailor and get the collar size altered.
There are a few ways to shrink collar size at home, but they are going to be quite risky because you can't control the level of shrinkage. Therefore, it will be a much simpler option to get your shirt collar tailored.
The price for such an alteration is probably going to be under $30, depending on where you live and what tailor you decide to go to.
Remember to not get your shirt collar so tight that it becomes uncomfortable to wear. A one-finger gap is the sweet spot that you are looking for.
Final Remarks
Loosening a tight shirt collar can be boiled down to these 4 essential steps:
Use a collar extender.
Go to a dedicated tailor and get the collar loosened professionally.
Use a skirt hanger and hot water to stretch out the collar.
Avoid buttoning up the top button.
You might need to use a combination of these four methods to get your collar to where you want it.
A well-fitting and snug shirt collar represents a sense of orderliness. It looks great on formal occasions; especially when you have to wear a tie. And given that the process of making a shirt collar looser is so simple, there's really no reason to not do it.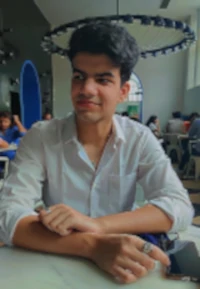 My name is Alex Higson and I am the founder of Magic Of Clothes. I have worked in the fashion industry for many years, and clothes and style are a huge part of my life.