Magic Of Clothes is an independent reader-supported blog. We may earn commissions from every qualifying purchase made through our links, at no additional cost to you.
Gymshark does run slightly smaller compared to other brands. While Gymshark leggings, shorts, and tanks are notorious for their small sizing, the fit of their clothes also depends on the style and fabric choice.
For a number of years now, Gymshark has been the best in the activewear market due to its fantastic collection.
Like any other brand, Gymshark tries to follow a standard sizing system. However, they sometimes are not as successful at it.
In this article, I will guide you through the sizing pattern of Gymshark to help you understand it better.
How Do Gymshark Clothes Fit?
Gymshark clothes can be a little small. Snug-fit clothes are a must for activewear, but some of Gymshark's clothes can be too tight for comfort.
Gymshark tends to make their leggings a little tighter than usual. They aim to provide a snug fit without restricting the body too much.
So here's what you need to do. Go to a page on the GymShark website that has a size chart button, such as this one. Now, at the right, you will see a small link that says Size Guide.
Click on it, and the size guide would open. Compare your measurements with the size chart. Now, if you are buying leggings or tanks, go one size up from what the chart recommends. If you are buying anything else, just follow the chart and stick to your size.
Speaking from experience, sizing up in leggings and tanks is always a must when purchasing from this brand. A few of my gym mates have had similar problems, so it's standard for their leggings to be tight.
You don't need to size up when picking other activewear like tees, joggers, bras, etc. The rest of their clothes fit really well.
And I know that this review is not about the quality of their clothing, but I just have to say that it is the best that I have seen in the activewear market.
One more thing 👉 Sometimes the Gymshark website shows discounts on products only after going through the clearance section and not if you directly go to the product page. Thus, make sure that you always check for your product in the sale section on the Gymshark website.
Which Gymshark Clothes Run Small?
| | |
| --- | --- |
| Gymshark Clothing | Sizing |
| Leggings | One Size Small |
| Joggers | True to Size |
| Tees and Tanks | True to Size/One size Small |
| Bras | True to Size |
| Shorts | One Size Small |
Leggings
Their leggings run small in size, like most activewear brands. People who buy leggings from Gymshark should opt for a bigger size.
Let's talk about the Gymshark leggings first. Gymshark has a sizing issue for women's leggings. I have already suffered in the past by ordering my regular size and feeling almost choked in their leggings.
When buying leggings, please be wise and size up for a more comfortable fit. Additionally, sizing up will avoid all those unwanted rips that only embarrass you in public.
You won't have to worry about Gymshark's waist sizes since their waistbands usually mold into the skin; however, if you want high-waisted leggings, size up regardless of your fitting preferences.
Joggers
Joggers from Gymshark have a very comfortable fit and remain true to size. Their joggers are super comfortable to wear and don't stick to the skin like their tight-fit leggings.
If you are looking for joggers, men or women, you can order your regular size. You can size up for a baggy fit, but you don't really need to.
Tees and Tanks
T-shirts from Gymshark also stay true to size. Their tanks, however, tend to run small and require sizing up.
My best friend prefers wearing tees at the gym, so she buys them a lot. She told me she ordered her regular size and is pretty happy with the fit.
Moving on to the tanks, there are lots of things that need to be said. Most men's tees from Gymshark fit true to size, but the tanks tend to run smaller on men.
I have encountered multiple friends who can barely contain their torsos even after ordering their regular size. Most of them recommend men to size up when buying tanks.
Bras
Gymshark makes some of the best quality sports bras. People who want to purchase sports bras from the brand can order their regular sizes for the best fit.
They have nailed the sizing on this product. Their bras are super comfy and have removable pads for a custom fit.
Gymshark has a wide range of bras, most with high coverage. I own more than three different types of bras, so I can vouch for their excellent fit.
I have only one complaint about their beginner bras; they need more support and coverage. However, that is more of a design flaw than a sizing problem.
Shorts
Gymshark shorts are not really favorites due to their sizing issues. Their shorts tend to be too tight and not very flexible for exercising. 
Gymshark makes shorts in thin materials that stick to the skin like glue. The fitting can be a nightmare for both men and women.
When purchasing shorts, size up to avoid unpleasant tears near your thighs. Additionally, make sure you can freely squat in those shorts to know if you need to size up even further.
Does Gymshark Make Plus Size Clothing?
Gymshark has no dedicated section for plus-sized customers. Their sizing does not go beyond XXL.
It is a great shame that even in this day and age, Gymshark is not able to serve their customers with a dedicated plus-size line. Because their clothing tends to run smaller, the brand should have added a few more sizes above XXL.
Sadly, many plus-sized men and women won't be able to fit into Gymshark's clothes. Hopefully, the brand will notice the problem and add a plus-size line soon.
Final Remarks
Gymshark is doing an excellent job in making activewear. However, like any other brand, it also has a few sizing issues to combat.
Here's how the sizing issues play out in Gymshark clothes.
Gymshark leggings, tanks, and shorts run small. It would help if you tried to size up when you buy these particular products from the Gymshark website.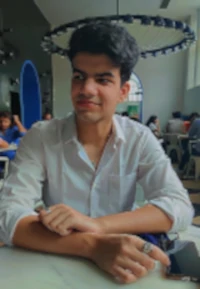 My name is Alex Higson and I am the founder of Magic Of Clothes. I have worked in the fashion industry for many years, and clothes and style are a huge part of my life.