Magic Of Clothes is an independent reader-supported blog. We may earn commissions from every qualifying purchase made through our links, at no additional cost to you.
As fall rolls around, it is time to dust off your black turtleneck sweaters and put them into your rotation again.
Turtleneck sweaters are classic pieces that are always going to remain in style. Men have been rocking them for decades and are probably going to continue doing so for a long time to come.
Black turtleneck sweaters, in particular, are absolute wardrobe-essentials. They are versatile, muted, elegant, and can be styled in a number of ways ranging from absolutely casual to extremely dapper.
In this guide, I would show you the various avenues you can explore when it comes to styling black turtleneck sweaters, along with a few tips and tricks to make your turtleneck outfits look even better.
How To Wear A Black Turtleneck For Guys?
A black turtleneck sweater can primarily be worn in three different ways – dapper, smart casual, and streetwear. The versatility of the black turtleneck makes it the perfect piece for all kinds of formality levels.
1. Dapper look
If you are going to a business meeting or a work-related event, and you want to spice up your look, you can pair your suit with a black turtleneck sweater.
Simply replace the shirt with a turtleneck and the entire vibe of your outfit will change. You would also manage to stand apart from a sea of guys wearing a button-up shirt under their suit jacket.
Black turtlenecks tend to look best with darker suits such as charcoal gray and navy. As for footwear, depending on the formality of the event, you can go for anything from a pair of patent leather shoes to a pair of black chukka boots.
Add an elegant watch and a pocket square to complete the look. If you wear glasses, they can take the entire outfit to a whole other level.
This is one of the easiest ways to wear a turtleneck because you only have to replace one item with another.
2. Smart Casual
The traditional way to wear a black turtleneck is by incorporating it in a smart-casual outfit. This is the kind of outfit you should wear on first dates, on semi-casual events, or when you have no idea what the dress code is and you don't want to be too dressed up (or too dressed down).
For pulling off this look, pair your black turtleneck sweater with a pair of dark jeans. Bonus points if they are raw denim. Chelsea boots and white sneakers are the best options for footwear, and as always, make sure that your entire fit is on point.
Add a classic watch (I personally like diver watches) to take the outfit up a notch. Depending upon your personal style, you can even add a couple of basic rings and bracelets.
If it gets particularly cold where you live, you can throw a structured jacket (such as a denim jacket) over the sweater. Avoid going for a double denim look, as that can look bizarre at times.
3. Streetwear Outfit
If you are someone who is more into the streetwear side of things, there are still a lot of ways to style the black turtleneck.
You can go for an oversized sweater for a unique look. A really cool way to make the entire outfit a lot more interesting is by throwing on a graphic tee over the black turtleneck sweater. Vintage tees and band tees look the best in my opinion.
As for pants, you can go for a variety of different options. You can go for relaxed jeans (also known as the Steve Jobs look) as well as high-waist trousers.
If you are willing to try something that's a little bit out-of-the-box, you can also tuck in the sweater. The tuck can be as uniform or unruly as you want.
For footwear, nothing beats a pair of chunky dad sneakers. Complete the outfit by putting on a cuban chain and a few assorted rings.
Best Black Turtleneck Sweaters For Men
All of the style advice above goes down the drain if you buy the wrong turtleneck. You need to be aware of the sweater you want, your budget, and the quality that comes at that price.
Here are a few manufacturers who make great black turtlenecks:
1. Uniqlo (Best overall)
If you want a black turtleneck that's going to last you an extremely long time, and you don't want to go broke doing that, then Uniqlo is going to be your best option.
Their extra-fine merino wool sweaters are of extremely high quality and available in most stores as soon as September rolls around.
The sweater does not lose its color and remains black, which is great because no other brand can boast of this feature at such a low price point.
2. H&M (Best affordable option)
Don't get me wrong; I hate H&M as much as the next guy. But there's no denying that their rates are super affordable.
If your budget is really tight, you should consider getting a black turtleneck from H&M. They look good, are decent in quality, and are available in a wide variety of sizes.
But be aware that H&M sweaters will not last you more than three seasons, so plan accordingly.
3. SuitSupply (Best in terms of quality)
I know that SuitSupply isn't really known for its turtlenecks (it's in the name), but the quality of these pieces is out of this world.
I purchased a black turtleneck from SuitSupply recently, and if I had to describe it in one word, it would be perfect. It's just the right materials, the right weight, and the right fit.
These sweaters can get a bit pricey though, so I would recommend that you wait for a sale.
Black Turtleneck Outfit Ideas
Final Remarks
A black turtleneck is a wardrobe essential at this point. This versatile piece can be styled with anything; be it wide-leg jeans or a tailored suit. In essence, there are three ways to wear a black turtleneck for men:
Dapper – Wearing it with a suit.
Smart Casual – Wearing it with a pair of jeans and some boots.
Streetwear – Throwing on a tee over it and some dad sneakers to complete the aesthetic.
This list is not exhaustive by any means. Although most outfits can be divided into these three categories, there are bound to be a few exceptions. And that's okay, because fashion is subjective, right?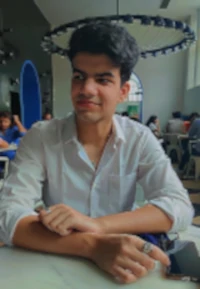 My name is Alex Higson and I am the founder of Magic Of Clothes. I have worked in the fashion industry for many years, and clothes and style are a huge part of my life.