Magic Of Clothes is an independent reader-supported blog. We may earn commissions from every qualifying purchase made through our links, at no additional cost to you.
Say hello to the latest trend in men's fashion – Sweater Vests!
Thanks to the rise of new-age social media platforms, the men's fashion scene is changing very rapidly. Long gone are the days of slim fit and minimalism, the new buzzword in town is "aesthetic".
And sweater vests, which a few years ago were regarded as an old man's clothing item, are leading the charge of aesthetic vintage fashion.
These vests are incredibly versatile and serve a great practical purpose – keeping your chest warm if you aren't going to be buttoning up your jacket.
Styling sweater vests is not that complicated either. In this article, I will be showing you a few different ways in which you can rock a sweater vest without looking like an old man.
How to Wear a Sweater Vest as a Guy?
There are three primary ways to wear a sweater vest – You can go for a street style look, a business or formal look, or an everyday casual sort of look. All three work great, and have the power to generate a lot of compliments.
Here is how I would go for each of these outfits in some more detail:
1. Streetwear look
Pink Sweater Vest
Pullover school uniform sweater vest
Stretchy ribbed neckline, cuffs and hem, not easy to deform
V neck, sleeveless, classic cable knits
Soft and cozy for a spring and fall wearing
This is the look that is trending the most right now. Tons of influencers are adopting the "soft boy" aesthetic, and they are doing this by pairing a sweater vest with an unusual top – the classic white tee.
To obtain this look, pair your sweater vest with a boxy white tee and some wide-leg pants. These can be jeans or chinos, depending on your own personal preferences. For footwear, Air Force 1s or the Adidas Supercourts are going to be a great budget option.
There are a few important details that you need to pay attention to though.
Don't wear a t-shirt that hugs your biceps. Remember, this is a street style look and thus you can bend the rules of menswear. Instead, opt for a boxy tee.
Also, don't go for a sweater vest that is very fine. This look requires a thicker vest, and it is even better if the garment happens to have a cable-knit design. Go crazy in terms of accessories. I would load up on rings and bracelets, and maybe even a pearl necklace.
2. Formal or Dapper Look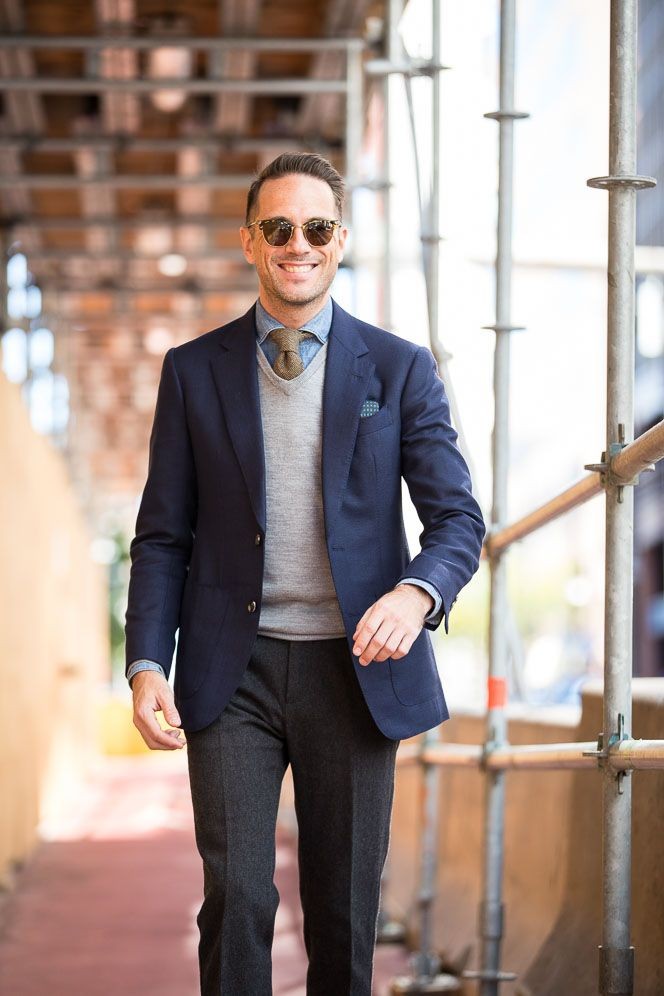 Grey Sweater Vest
【Mens Sweater Vests 】: Our sweater vest featires v neck, sleeveless, ribbed trim,...
【Quality Material】: The sleeveless sweaters are made of high-quality and comfortable...
【Unique Pairing】: You can match this knitted sweater vest with formal pants, jeans,...
【Wide Occations】-- This Mens Sleeveless Sweater vest is suitable for varies occasions...
This is the more classic way of wearing a sweater vest, and it will work well in formal situations.
To pull off this look, pair your sweater vest with a two-piece suit and a white dress shirt. If possible, throw on a tie that has a nice pattern, something to make the look pop. And for footwear, a pair of classic Derbys are going to be hard to beat.
Basically, this outfit is the antithesis of the first look. Therefore, go for the inverse of the choices that you made previously.
Pick a sweater vest that is a bit finer in nature, because we're going to be throwing another layer over it. If possible, keep the entire outfit devoid of color, except the tie which is going to provide a pop of color.
And it is necessary to go for a complete suit. You can just wear a sports coat and some regular chinos depending upon the dress code.
Add a classy watch to complete the outfit.
3. Everyday Casual Look
Sale
Charcoal Sweater Vest
Material: Our knitted vests pullover is made of soft, stretchy, lightweight, comfortable...
Excellent Design: Coofandy casual sweater vest uses rhombus and twisted cable pattern to...
Wearing: Our v-neck sweater vest is easy to match with any pants and shirt. We recommend...
Occasions: The fashion sweater vest is suitable for golf, sports, office working, party,...
This is the kind of outfit you would wear on a first date – not too out there, but not too stuffy either.
For this outfit, wear a white button-down shirt under your sweater vest. Don't tuck in your shirt, and let the ends of it be visible from underneath the vest. For the bottoms, go for a pair of chinos in an earth tone like beige.
There are tons of options for footwear – you can go for everything from a pair of work boots to Converse Chuck Taylors. I personally prefer a pair of New Balance shoes with this look for a retro vibe, but again, the options are endless.
You can go for any color for your sweater vest, but make sure that the fit is on point. We don't want the garment to be too long or wide. The same goes for your shirt – go for something that isn't super tight as that would ruin the vibe of this look.
If you really want to dial up the retro vibes, wear an old-timey Casio watch, preferably digital. You can also add a pendant or chain if that floats your boat.
Are Sweater Vests in Style?
Sweater vests have seen a huge comeback, and as of now, they are definitely in style. These sweater vests are being worn by every influencer and celebrity out there, and the sales of these pieces have also skyrocketed.
Many people had written off sweater vests as unflattering pieces reserved for college professors over the age of 55, but that's clearly not true. They are being increasingly worn by younger people, albeit not in the traditional way.
Streetstyle has seeped into fashion culture and created a bunch of sub-niches. One such niche of fashion, the "soft boy fashion" category, has played the primary role in bringing this classic piece back into the mainstream.
Should a Sweater Vest be Tucked In?
A sweater vest should never be tucked in. It is much better to leave it out in the open.
The reason for this is that sweater vests tend to be thick in nature, and tucking them in can cause the pants to billow out, which gives the entire outfit a weird vibe.
The only time you should be tucking in a sweater vest is when your belt buckle is an integral part of the outfit and you want to make it stand out.
A french tuck or a partial tuck, however, is completely okay.
Can you Wear a Sweater Vest with Short Sleeves?
Yes, you can definitely wear a sweater vest with a short sleeves t-shirt. However, don't wear it with a half-sleeved button-up shirt, as that can look a bit off-putting.
In fact, the current resurgence of the sweater vest is partly based on the short sleeves t-shirt and vest look. This is the look that is being rocked by every influencer, actor, and musician out there.
You can wear a sweater vest with a short-sleeved button-down too, but in my personal opinion, it makes you look like a 50-year-old calculus teacher, and not in a good way. The same goes for polos; it does not make sense to wear your sweater vest over a polo shirt.
It would be much better to either pair your vest with a short sleeves t-shirt or a long sleeves shirt.
Sweater Vest Outfit Ideas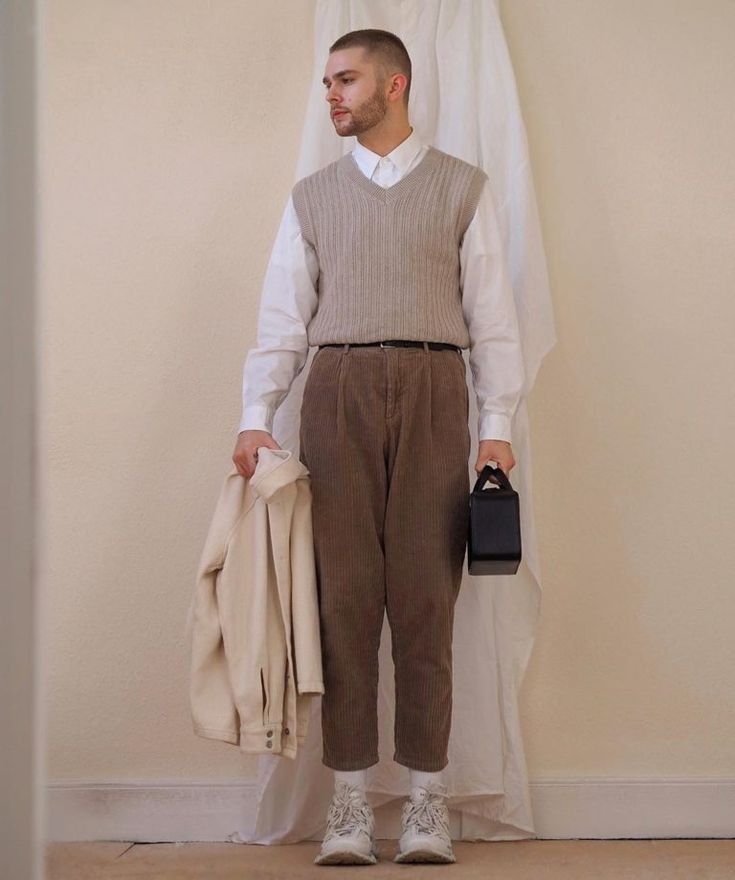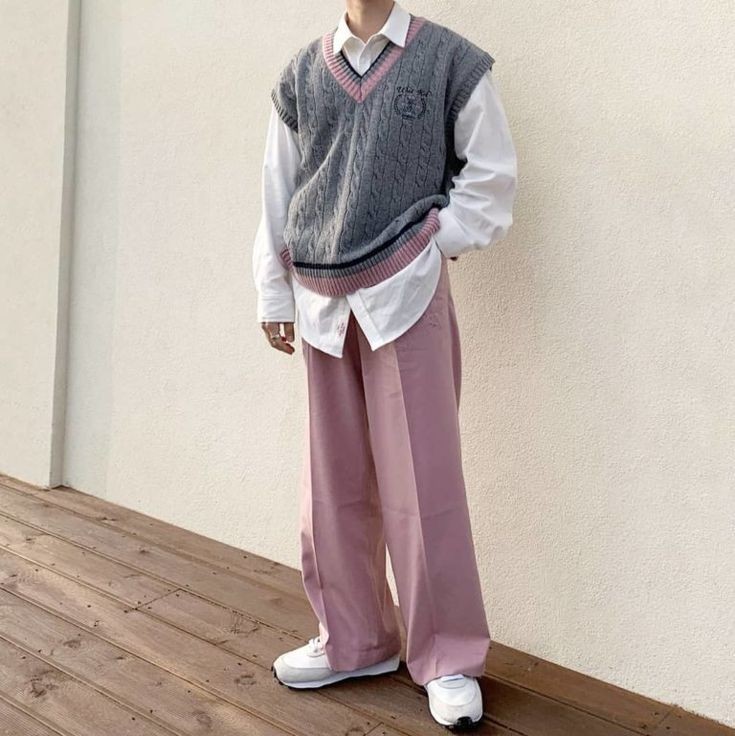 Final Remarks
Whether you like it or not, sweater vests are officially back in style. In fact, they may actually be the trend of the year in men's fashion.
There are numerous different ways to style a sweater vest, and all of them look amazing. However, the three main categories in which wearing a sweater vest makes sense are:
Street style.
Formal or business looks.
Everyday casual attire.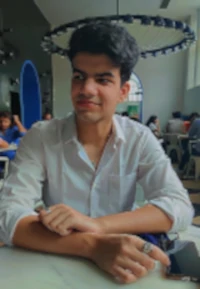 My name is Alex Higson and I am the founder of Magic Of Clothes. I have worked in the fashion industry for many years, and clothes and style are a huge part of my life.