Magic Of Clothes is an independent reader-supported blog. We may earn commissions from every qualifying purchase made through our links, at no additional cost to you.
The revival of 90s fashion has led to the comeback of one of the most "aesthetic" pieces in men's clothing – the oversized sweater.
Only a few years ago the fashion influencers were telling you to ditch looser garments and start getting sweaters that fit right. But the same people are now rocking the oversized sweater on Instagram for a "vintage" look.
In this article, I will tell you everything that you need to know about wearing an oversized sweater, ranging from which one is best to what pieces should it be paired with.
Let's begin.
How To Wear An Oversized Sweater?
Although there are numerous outfits that you can create using an oversized sweater, they can all be roughly narrowed down to three categories:
1. Vintage or Aesthetic Style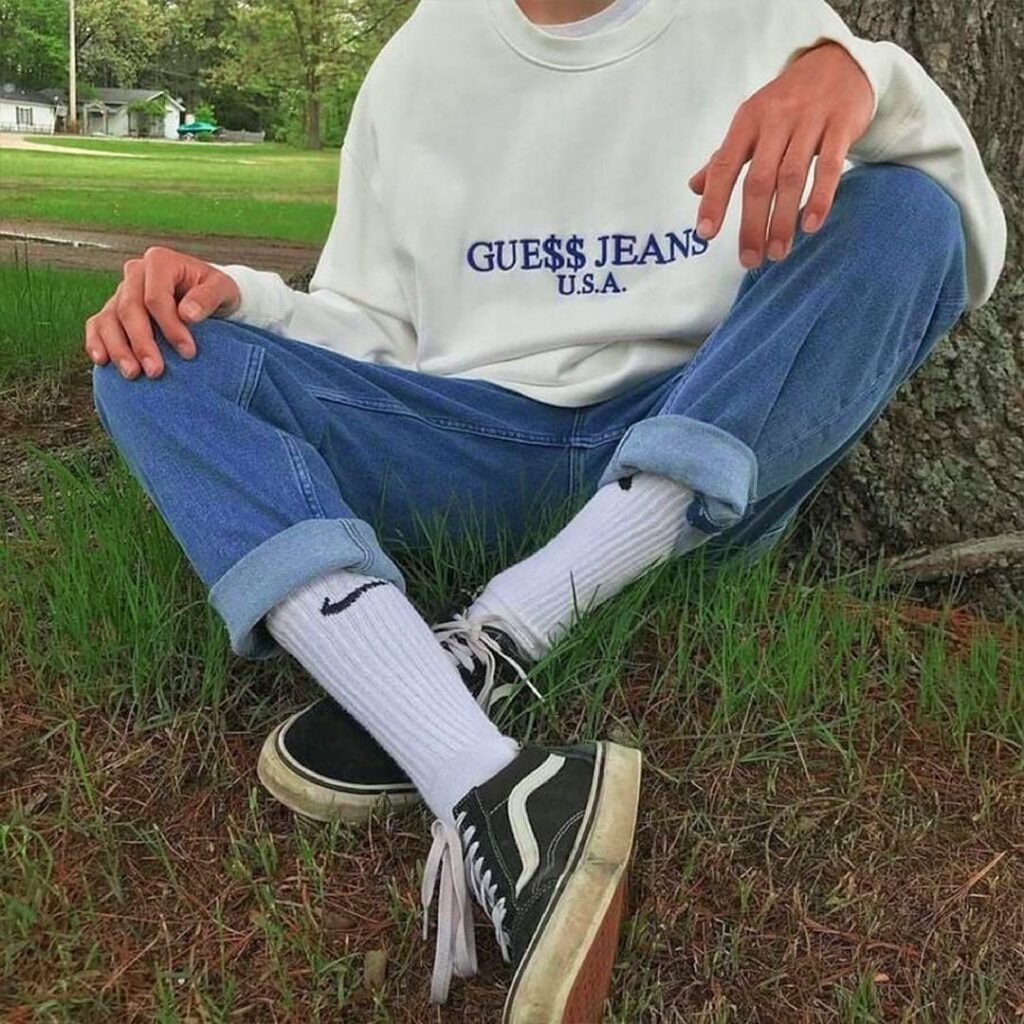 Sale
Vintage White Sweatshirt For Men
MADE FOR COMFORT - Our Champion Men's Crewneck Sweatshirt is made of a heavyweight 12oz....
EXCEPTIONALLY SOFT AND RELIABLE - Our comfortable men's crewneck sweatshirts are made with...
CONSCIOUSLY CREATED - A percentage of recycled fibers were used in the making of this...
SWEATS THAT WORK WITH YOU - Our men's sweatshirts features signature ribbed sides, along...
My personal favorite way to style an oversized sweater is to pair it with some garments that give a vintage or aesthetic vibe. Vintage here refers to the 80s and 90s (and sometimes even early 2000s).
So to style this look properly, go for a colored sweater that's not too saturated. Pastel colors work best in my opinion. As for the sweater, it would be great if you can thrift and get something that's actually vintage, but either way, go for a sweater that gives off a slightly retro vibe.
It would be cherry on the cake if your sweater also has a retro graphic or an old logo. Baggy sweaters usually tend to be statement pieces, so you don't need to worry a lot about versatility.
As for the rest of the look, go for a straight fit or baggy denim jeans. Chunky sneakers such as Airforce 1s would work best with this look. And make sure that you wear some white tube socks to complete the 90s aesthetic.
2. Streetwear Look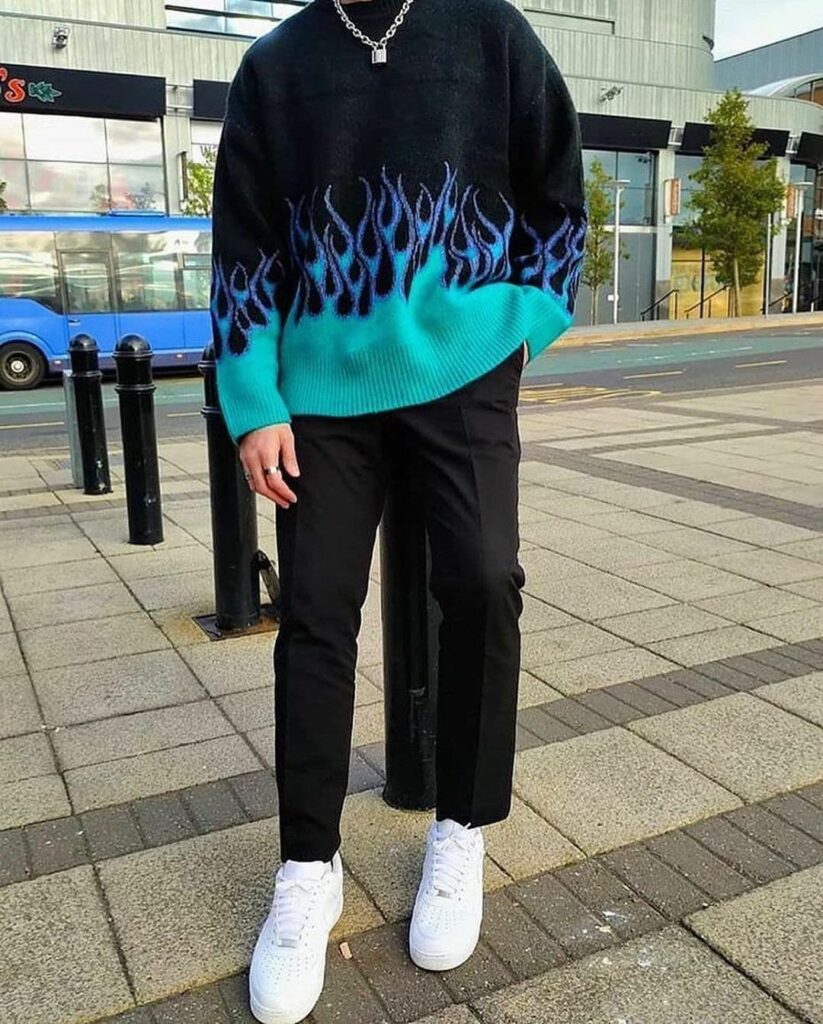 Another cool way to style an oversized sweater is to go for more of a streetwear look. Streetwear gives you a lot more flexibility in terms of sweater selection, so feel free to go absolutely crazy here.
In terms of bottoms, you have two basic options. You can go for a pair of skinny jeans to accentuate the juxtaposition of the look, or you can go for a pair of baggy denim jeans to go full-on match the oversized aesthetic.
If you are wearing skinny jeans, chelsea boots are going to be a great option for your feet. For baggier pieces of denim, you can go for a hyped sneaker such as the Retro Jordan 1s or any such high-top chunky sneaker.
Add a cap and some rings to complete the look.
3. Preppy Look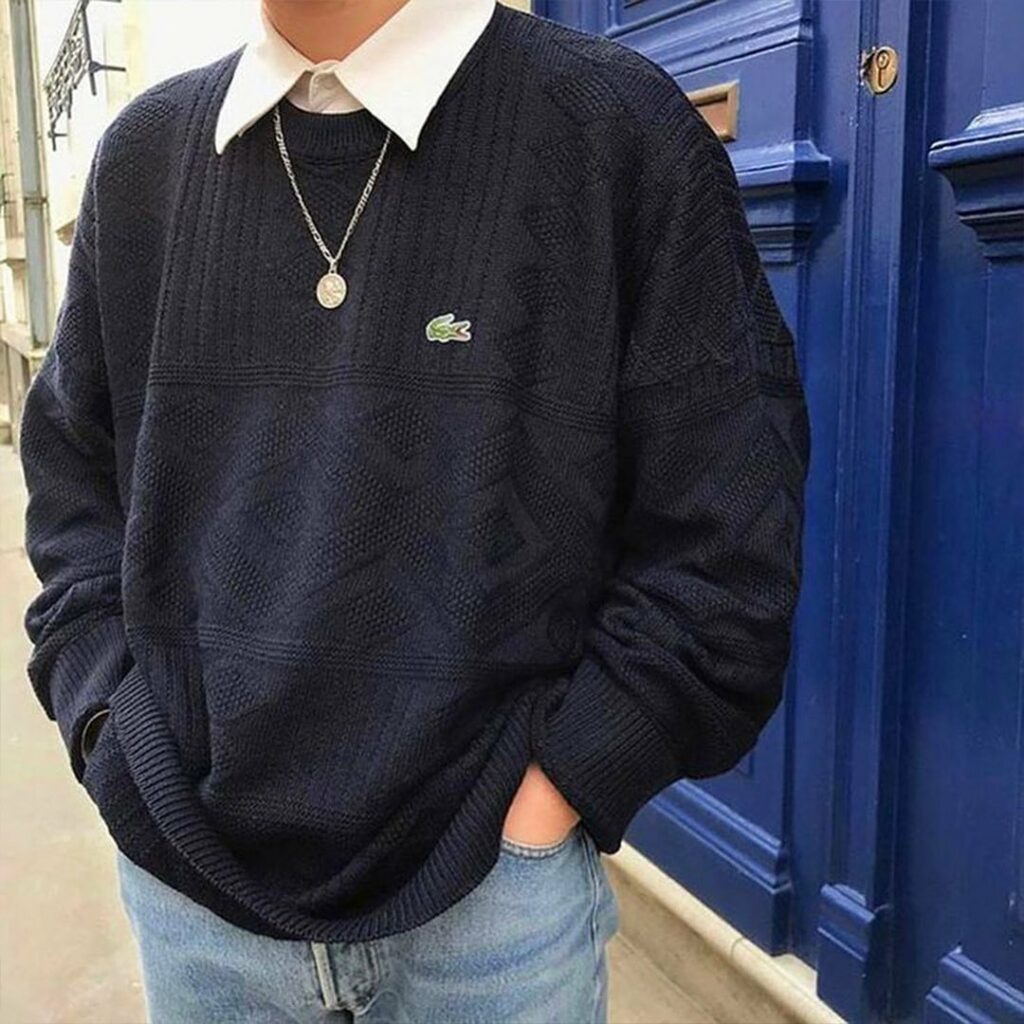 The third and final way of wearing an oversized sweater is adopting a preppy aesthetic. This goes well with the collegiate nature of the oversized sweater and adds an interesting flavor to the outfit.
For this look, wear a shirt under your sweater. The shirt's collars should be big enough to come out of the neckline of the sweater. Add a small pendant to emphasize focus on your chest. In terms of sweaters, go for a sweater that has something written on it, some cool typography.
Pair the sweater with a pair of fitted chinos and white leather sneakers. If you want extra style points, you can even use the French tuck to tuck in some portions of your sweater. Wear a nylon belt and a thick diver watch to complete the look.
Tips For Styling Oversized Sweaters
You must have a ton of questions about styling oversized sweaters. In this section, I will try to clear all your doubts in this matter, along with a few extra style tips for bonus points.
How oversized should an oversized sweater be?
When it comes to styling sweaters, there is such a thing as too oversized.
While it all comes down to personal taste, a great way to determine how oversized you should go is to take a look at your own body proportions. Here's a simple rule of thumb – the skinnier you are, the more oversized clothing you can rock.
Another important thing to mention here is that you should look for pieces that are meant to be oversized. Don't pick a sweater that's meant to be slim fit and buy it a couple of sizes bigger than your actual size.
That strategy can work, but it can also make the garment flow unnaturally. Instead, save yourself some trouble and go for sweaters that are oversized by design. You can opt for your regular size in such pieces.
What pants to wear with an oversized sweater?
There are two basic ways to associate a pair of bottoms with an oversized sweater:
You can go for a pair of skinny jeans to accentuate the baggyness of the sweater.
You can go for something that's slightly looser and relaxed to compliment the baggy nature of the sweater.
Both are great options, and it comes down to your personal style and what kind of bottoms do you prefer.
But just as with any other thing in life, make sure that you don't go to an extreme level. Don't wear jeans that are so skinny that they are a pain in the ass to put on, and don't wear trousers that are so loose that you appear to be swimming in fabric.
When to wear an oversized sweater?
The final thing you need to know about oversized sweaters is simply when to wear them.
See, oversized sweaters are inherently casual. And therefore, they should never be worn on formal occasions such as business meetings and work-related events. That would just seem sloppy.
Similarly, you shouldn't just wear oversized sweaters. If your entire wardrobe is just made of oversized pieces, the fashion aspect of it would be gone and people would just assume that you don't know how a sweater should fit.
Instead, it would be much better if you use oversized sweaters sparingly so that they retain their charm. Think of them as Thanksgiving turkey; you might love turkey, but eating it every day is going to be terrible for your body.
Final Remarks
The best way to style oversized sweaters is to make them the statement piece of any outfit. Keep the rest of the outfit subtle and add a few accessories to complete the look. Chunky sneakers and dad shoes work great with oversized sweaters and accentuate their vintage vibe.
Oversized sweaters are hot like fire right now. They look good, keep you warm, and are extremely comfortable to wear. What else do you need?
And styling them isn't complicated either. All you need to do is follow the rules and tips that I have mentioned in this guide, and you would be on your way to a great outfit.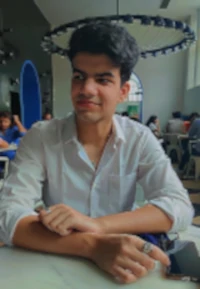 My name is Alex Higson and I am the founder of Magic Of Clothes. I have worked in the fashion industry for many years, and clothes and style are a huge part of my life.