Quarter zip sweaters are one of the most underrated pieces of clothing for the fall season. They look stylish, work well with everything, and can be styled up or down depending upon the occasion.
And they are also not as common as crewnecks and turtlenecks, which means wearing a quarter zip is going to help you in standing out.
But styling them can sometimes be tricky because some people still hold the ancient belief that quarter zips are meant for only old people. This is absolutely not true, and in this article, I will talk about a number of ways that you can style your quarter zips.
These looks will include formalwear, casual wear, and street style.
Let's begin!
Three Ways To Wear A Quarter Zip Sweater
A quarter-zip sweater is a very versatile piece of clothing. It can be dressed up, it can be dressed down, and it can do everything in between. Here are three ways to style a half-zip sweater as a man:
1. Dressed Up or Dapper Look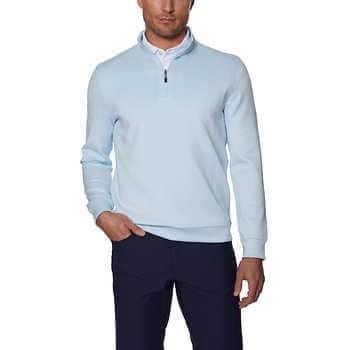 Quarter-zip sweaters can be paired with a shirt and a pair of chinos to dress them up.
When selecting the shirt, go for something that has strong collars. A flimsy collar would not look very good next to the strong structure of the quarter-zip sweater. Go for a small pattern such as gingham checks.
You can even put on a tie, but make sure that it remains inside the sweater. Don't zip up the collar entirely, and make sure that the tie and the shirt collars are clearly visible.
As for the rest of the look, go for a pair of neutral chinos. Beige and grey work with almost anything. For footwear, nothing beats a pair of classic derbys, but a lot will depend on the formality levels of the occasion.
You should never wear a quarter zip sweater with a suit. It just looks wrong.
2. Casual
Quarter zips also work great in casual and semi-formal environments. They are sufficiently dressed down as to not look snobbish and sufficiently dressed up as to not look sloppy.
For this look, swap out the shirt underneath the quarter-zip for a basic t-shirt. White tees work best, and everyone has one in their closets, so this is really a no-brainer. For the sweater, go with something that has a bit more color such as olive or navy quarter-zips.
Keep the zipper down enough that the collars of your quarter-zip remain standing but not down enough that they fall flat to the sides.
For the bottoms, go with a pair of raw denim jeans in a straight or slim cut. A pair of brown lace-up boots will do wonders to complete this outfit.
And finally, accessorize with a cool leather watch.
3. Streetwear
Sale
An often underexplored way to wear a quarter-zip is to incorporate it into streetwear looks.
You can have fun with the fits and silhouettes when going this route because there really are no rules when it comes to streetwear. But here's how I would style this look.
First, pick an oversized sweater in a pastel color. Bonus points if it has a cool graphic or logo. Wear a longline tee under it so that the bottom portion of the t-shirt peeks out from underneath the quarter zip.
Relaxed-fit denim would be great as bottoms. Make sure that you go with a light wash. As for your shoes, you can go for a pair of hyped sneakers such as the Jordan 1s or the Nike Dunks.
You can accessorize heavily with streetwear, so I would recommend you to wear at least a couple of rings and a bracelet.
Best Colors For Quarter-Zip Sweaters
Neutral colors such as navy, beige, olive, and grey work best for quarter-zip sweaters.
Olive quarter zips are particularly trendy, and can be paired with most other colors as olive is an earth tone. Similarly, neutral colors such as black, white, and grey are also extremely versatile because they go with literally anything.
However, you should avoid oversaturated sweaters, as they can sometimes be too much. Even for streetwear looks, it would be much better if you go for pastel colors. Subtle graphics also work really well here.
Also, make sure that the hardware on your quarter zip is either silver or black. I have seen some pieces where the designer decided to go with gold hardware, which is a flashier choice. The end product looked hideous.
So just stick to the basics and you would be fine.
How Should A Quarter-Zip Sweater Fit?
A quarter-zip sweater traditionally fits like any other sweater. The shoulder seams should line up with your actual shoulder. The chest should be snug but not tight. The collar of a quarter zip should come up to the bottom of your jaw.
But depending on what kind of look you are going after, the fit can vary here and there. For example, an oversized quarter zip with dropped shoulders may work a lot better when it comes to streetwear.
On the other hand, if you prefer going for more dapper looks, you should opt for a quarter-zip that's slightly tighter around the torso. This will keep you from looking sloppy.
So, in the end, the fit comes down to what kind of style you are going after.
Final Remarks
There are primarily three ways to wear a quarter-zip sweater:
Formal or dapper look
Casual look
Streetstyle look
But this is just the beginning. You can explore tons of subcategories in all three of these broad niches, and figure out new ways to style your quarter zip sweater.
So, in conclusion, don't be afraid of the zipped neck. It's not that difficult to style, especially if you know your basics and follow the tips and tricks mentioned in this guide. They aren't that expensive either, so you can definitely buy a piece to experiment.
And in my opinion, experimentation is the real magic of clothes.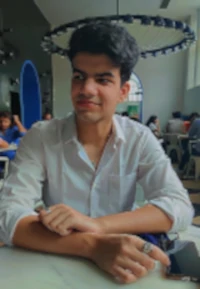 My name is Alex Higson and I am the founder of Magic Of Clothes. I have worked in the fashion industry for many years, and clothes and style are a huge part of my life.