Maje products tend to run quite small compared to its competitors. You will need to size up for a better fit.
On a general note, the fact that a majority of Maje clothes run small makes their sizing consistent in a weird sort of a way where you're guaranteed to get the right fit if you size down by default. That's not something you get to say about every brand out there.
Maje is a Paris-based clothing brand that was founded just over 20 years ago by Judith Milgrom. Having lived in the French capital for most of her life, she envisioned her brand to spread Parisian chic and style through its apparel.
Their apparel exudes sophistication. The outfits are supposed to give off a classic Parisian vibe and despite having to keep up with the trends, Maje has managed to retain its core values that have made the grand so popular throughout the world.
Maje operates in over 35 countries and has become a symbol of style and class. They're a luxury brand that is accessible to more people as compared to its counterparts, courtesy of a more affordable price point, without compromising the quality of clothing.
In this article, I'm going to go over some of Maje's sizing issues and try to offer solutions. But if you directly want to shop the sale at Maje (some of the items are selling at 70% off!), you can click on the button below.
How do Maje clothes fit?
Maje's clothing is quite tighter if ordered in your original size. Therefore, I would recommend you to size up when ordering from this brand.
Maje is known for making high-quality clothes that are made from top-tier raw materials. This combined with years of experience in knowing how to do things the right way makes it stand out from its competition.
In terms of fit, all of their items exude a sense of style whilst being comfortable and easy on the skin. There is no harsh or itchy material, and (when sized up), the clothing generally fits you really well. 
Quick Tip
Sometimes the Maje website shows discounts on products only after going through the clearance section and not if you directly go to the product page. Thus, make sure that you always check for your product in the sale section on the Maje website.
The cuts and silhouettes are all proportional, so you won't end up with a top that fits right on the shoulders but is too wide in the torso.
From its beautiful dresses to bold tops and classic jeans, Maje excels at producing apparel that will fit you great and make you stand out from the crowd. As an added bonus, the brand offers sustainable options, too!
Discount Tip
You can also check for your favorite Maje products on third-party retailers, as many of them would sell products at a bigger discount. For example, I always find a great deal when I go through the Maje collection on Outnet and Bloomingdales.
What size should you Get from Maje?
Maje's sizing is not consistent, even within the brand. Depending on the category and type of garment, you may have to size up or size down.
As a luxury brand, Maje has to ensure its clothes fit great and feel good on the skin. The price they command should be justified and consumers should feel satisfied with their purchase.
As a rule of thumb for Maje, you should go for a larger size when in the market for tops, jackets, and trousers, especially if you're muscular or on the taller side. This minor adjustment is going to pay dividends when it comes to having a sleek and attractive silhouette!
For shoes, on the other hand, I'd actually suggest sizing down because you don't want a pair that doesn't fit well and is going to hamper your movement. This is especially true if you have slimmer feet!
As far as plus-size clothes are concerned, Maje, unfortunately, doesn't make any. The largest size they offer is XL which, to be honest, is quite unimpressive. For a brand that operates in tens of countries worldwide, not having a dedicated plus-size line of clothing is quite a hole in its portfolio.
Which Maje items run small? 
| Maje Items | Sizing |
| --- | --- |
| Tops | Run small. |
| Jackets | Run small. |
| Dresses | True to size. |
| Shoes | Run large. |
| Jeans and Trousers | Run small. |
Tops and Shirts
Maje tops and t-shirts run quite small, however, compared to a contemporary brand such as Everlane. You can manage this by simply sizing up.
Maje's top-wear is truly something to behold! They have everything from modern-looking tops to casual tees and classy shirts. These undeniably fantastic clothes come in a wide range of colors and patterns.
Jackets
Maje jackets themselves tend to run smaller than expected. I'd suggest sizing up, especially if you're going to add layers underneath your jacket.
Have you ever looked at a piece of clothing and felt it is edgy and sexy but at the same time, classy and modern? Well, a really good example of that would be any one of Maje's stunning jacket collections,
Jeans and Trousers
Maje's jeans and trousers often run smaller than expected. This can be quite uncomfortable and the best way to avoid it is by simply getting a larger size than your usual one.
Maje excels at making trousers and denim that are stylish but at the same time, practical and comfortable to wear. They have a wide range of chinos, pants, and classic jeans to choose from!
Shoes
Generally, any pair of shoes you may buy from Maje tends to be a bit larger than expected. This doesn't bode well in terms of practicality and usage. I'd suggest sizing down to get a snug fit for your feet.
This Paris-based brand certainly knows how to make some fantastic shoes! They're eye-catching and edgy and certainly know how to make a statement.
Dresses
Maje's dresses are actually true to size. This means you can go for your usual size and not have to worry about sizing up or down.
Maje is quite famous for their dresses, and truth be told, they are perhaps the only brand that offer great designs while SIMULTANEOUSLY giving great quality.
Maje size chart for women
| | | | | | |
| --- | --- | --- | --- | --- | --- |
| EU Sizes | Maje Sizes | Bust | Waist | Hips | Leg Length |
| 34 | 0 | 32.3 | 24.4 | 35.4 | 41.7 |
| 36 | 1 | 33.9 | 26.0 | 37.0 | 42.5 |
| 38 | 2 | 35.4 | 27.6 | 38.6 | 42.9 |
| 40 | 3 | 36.2 | 29.9 | 40.9 | 43.3 |
| 42 | 4 | 37.8 | 32.3 | 43.3 | 44.1 |
Final remarks
Maje has made a name for itself as a luxury brand that makes chic, vibrant, and modern-looking clothes that exude a classic Parisian vibe! At the same, they're accessible to more people as compared to brands like Gucci or Versace.
In this article, we glanced at Maje and some of its sizing inconsistencies. Let's recap.
Maje tops, jeans, and jackets run small while their dresses are true to size. Their shoes and heels actually run large.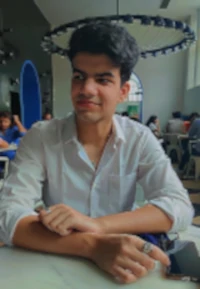 My name is Alex Higson and I am the founder of Magic Of Clothes. I have worked in the fashion industry for many years, and clothes and style are a huge part of my life.