White pants, whether a pair of jeans or some dress pants are essential in everyone's wardrobe.
And styling them for different occasions is not as difficult as it sounds, that is, once you have figured out how to keep them looking as white as they came.
Their versatility makes them an indispensable piece of clothing that is a must-have for nearly every wardrobe.
You can find white pants for pretty cheap, but I would still recommend you to buy something that's more durable and high-quality.
Now that that's out of the way, let's dive deep and cover the basics of styling white pants.
How To Style Your White Pants?
Styling your pants, especially something as general a color as white, can be a fairly easy task.
Knowing the kind of occasion and dressing up or down according to it is as important as high-quality pants that do not fade easily. So let's cover styling a white pair of pants in different contexts.
1. Formal or Dapper Look
The simplest way to style a pair of white pants is to dress them up for a business formal look.
Whether it is a business meeting with potential investors or a lecture on the economic situation during the great depression period, a suit jacket with dress pants looks amazing.
Pairing a double-breasted classic plaid jacket with a pair of white dress pants is an amazing choice. Add flavour to the fit with a tie in the same shade as your jacket and a pair of black/brown leather loafers. Complete the look with a nice watch.
Make sure you nail the fit if you are going for a business meeting. Otherwise, you might look unorganized or unplanned.
2. Business Casual Look
For a little less formal look, losing the tie should be the first choice.
Instead of a dress shirt, try pairing the white pants with a turtleneck or a crew neck sweater.
Style your turtleneck with a pair of proper dress pants for a serious and polished look, without being too formal.
Layer the turtleneck underneath a casual pea coat, which could be about half a size bigger. Pair it with some formal dress shoes and you're good to go.
To keep things even simpler, you could also pair your white pants with either a button-up or a classic shirt jacket, or even lose them all and just style the pants with a nice, solid shirt.
3. Everyday Casual Look
Styling a pair of white pants for an everyday look is a piece of cake. Whether it is for a coffee date with friends, an errand run, or just a little nerdy library visit, layering is going to get you a long way.
Since this is the kind of outfit you will be wearing every other day (or even more), simplicity is the key.
Choosing casual pants like baggy cargo or white jeans etc is a more practical option.
Pair a baggy white cargo with a hoodie or a crew neck t-shirt. Layer it with something like a puffer jacket, a windcheater, or just a simple flannel for a casually refined yet neat fit.
Add a tote bag and a pair of casual athletic shoes and you are already looking better than 90% of the men out there.
You can also style your white linen pants with a white shirt and top it with a sweater vest. Since this outfit would otherwise be all white, you can choose a different color for the vest (my recommendation is beige).
For this laid-back look, you can pair the outfit with a brown satchel bag and suede loafers.
What To Wear With Your White Pants?
It is very important to know what kind of footwear/jacket looks good with your pants. Therefore, here's a list of clothing items that you can wear with a pair of white pants.
1. Suit Jackets
The simplest way to dress up is to throw a suit jacket over a shirt for a formal look. Trench coats and car coats do the job just as well.
Any color, from a classic brown to something eccentric like hot pink would look amazing with a pair of white pants which leaves room for creativity.
2. Loafers
Loafers are my go-to piece of footwear when styling a pair of white pants.
As for the color, I think nothing beats the combo of a nice, fitted white trousers and a pair of brown loafers.
White Pants Outfit Ideas
Final Remarks
In this article, we went over a few ways you can style your white pants. Remember there is no hard and fast rule to fashion and styling, do whatever feels the most comfortable to you.
Here's a quick recap.
How to style a pair of white pants?
There are three most basic ways to style white pants:
Business Casual Look
Dressed Up or Dapper Look
Everyday Casual Look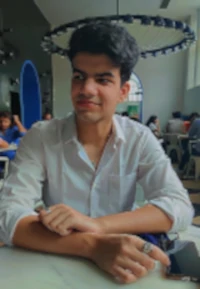 My name is Alex Higson and I am the founder of Magic Of Clothes. I have worked in the fashion industry for many years, and clothes and style are a huge part of my life.