Magic Of Clothes is an independent reader-supported blog. We may earn commissions from every qualifying purchase made through our links, at no additional cost to you.
Chinos tend to shrink when they are exposed to high heat in the washing machine or the dryer. However, they rarely stretch on their own.
I love chinos.
As a man, you don't really have a lot of options when it comes to your pants, especially in casual situations. Most people just wear a pair of jeans or some of their work trousers.
And then come chinos.
The epitome of business casual clothing, chinos are one of the easiest ways to add some color to your wardrobe. They are often lighter than denim, and thus are a much better option for the warmer months of the year.
In this article, I will be answering the age-old question – "Do chinos stretch or shrink?". I will also go over how you can actually stretch (or shrink) your pants if you want a better fit.
Do Chino Pants Stretch or Shrink?
Chino pants don't stretch on their own. However, they can shrink if they are washed and dried at high temperatures.
Chinos are made from cotton, and the main downside of cotton is that it shrinks quite a bit if you don't care for it properly. And unlike denim, which tends to stretch out a bit over time, chinos stay in their original shape.
A good way to keep your pants in their original shape would be washing and drying them properly.
Wash your chinos in cold water, preferably using a setting that gives low agitation. Similarly, instead of tumble-drying your chinos, hang-dry them on a clothesline. This will make sure that they do not shrink or stretch out in weird proportions.
How to Know if your Chinos are Too Tight?
A simple way to know if your chinos are too tight is by performing a set of squats. If you are able to comfortably squat in your chinos, then they aren't too tight.
This method will ensure that your chinos never tear upon you. In fact, it will also effectively check the elasticity and stretch of your pants.
Another way to know if your trousers are too tight, especially at the waist, is using the finger test. If you are able to fit one finger through the waistband of your chinos, they are perfect in size. Any more fingers and the waist is too loose, and any less and the pants are going to be very tight for you.
How to Stretch Chinos?
Stretching chinos is an arduous process. You are going to need to be patient and sometimes things might not work out exactly how you want. That's the risk you have to take when stretching any garment.
Nevertheless, here's how you can stretch different parts of your chino pants.
1. Waist
In order to stretch the waist of your chinos, fill up your bathtub with water and sit in it while wearing your chinos.
I know this sounds kind of stupid, but trust me, this method works.
Hot water can also stretch your pants out. If you are already wearing them, the waist of the chinos is going to mold to your waist. For an additional stretch, you can also try to pull apart the waistband with your fingers in opposite directions while sitting in hot water.
The whole procedure will take about 15 minutes, but it will stretch the waist of your chinos by a good 10-20%.
2. Length
In order to stretch the length of your chinos, you are going to have to visit a tailor.
This will give you complete control over how long you want your pants to actually be, and an expert tailor will have no problem in dealing with a pair of chinos that are too short.
Also, most chinos have some additional fabric near their leg opening. This can be sewn open to increase the length of your pant legs.
The whole procedure will cost you less than 10 bucks.
3. Thighs
To stretch the thighs of your chinos, spray the thigh region of your chinos with hot water. This will prime it to alter its shape.
Next, slowly, grab either end of one pant leg's thigh and start pulling outwards. You also have to pull the material upwards and downwards in order to get a uniform stretch.
Do this for about 10 minutes until the chinos are a bit stretched out. Use a hairdryer to blow hot air on it as you further stretch the thighs. Do this until the pants are completely dry.
How to Shrink your Chinos?
Shrinking your chino pants is extremely easy. Here's how you can go about doing that:
Wash your chinos in the washing machine, with a setting that offers high agitation.
Only use extremely hot water during the wash. Hot water shrinks cotton (from which chinos are made) a lot easily than cold water.
After you take out the chinos, immediately throw them in the dryer.
Select the highest heat setting available on your dryer. Dry them for aboyut 10-15 minutes.
Your chinos should have shrunk compared to their original size.
How much do Chinos Shrink?
Being exposed to high temperatures shrinks chinos by about 15%. Therefore, they are going to be 15% smaller than their original size.
This number is a result of tons of chinos I have shrunk in the past few years, but this is still quite subjective.
As to how much your favorite pair of chinos is actually going to shrink, a lot depends on the brand, quality, fabric, composition, and style of your garment.
Final Remarks
In this article, I covered all the questions related to stretching and shrinking a pair of chinos. Doing so can help with minor adjustments in size, but as always, I recommend that you tailor your pants instead.
Here's a quick recap of the article.
Do chinos stretch?
Chinos do not stretch on their own. However, they can shrink after being put in a dryer that has high heat. To make sure that your chinos stay their original size, wash them in cold water and dry them on a clothesline.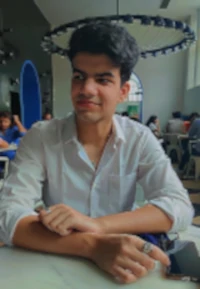 My name is Alex Higson and I am the founder of Magic Of Clothes. I have worked in the fashion industry for many years, and clothes and style are a huge part of my life.