Ladies, it's time to embrace your inner baddie this season! As plus size women, we sometimes shy away from showing a little skin or opt for looser, more covered up styles. But your curves were meant to be celebrated, so I'm sharing 30 outfits to unleash your inner bombshell.
In this article, I'm giving you outfit ideas that are sexy, confident and emphasize all the right places. From date night looks to girls' night attire, these ensembles are designed to make you feel like the curvy goddess that you are. I've included crop tops, bodycon dresses, mini skirts and more to show off your assets.
All of the pieces can be mixed and matched for day or night. I chose styles and colors that flatter different body types so whether you're an apple, pear or hourglass, your curves will be on full display.
Outfit Ideas for Plus size baddies
It's time to own your sex appeal and rock these baddie vibes without compromise. Scroll through for some sizzling hot plus size fashion inspiration that is sure to turn heads. Get ready to feel – and look – like the vixen you were born to be!
Daring snake-print top, high-waisted trousers, black longline coat.
The outfit showcases a bold and confident style, pairing a daring snake-print top with high-waisted trousers for a contemporary, structured silhouette. The black longline coat adds a touch of elegance and creates a cohesive look that balances edge with sophistication.
Oversized denim and leather jacket, crisp white sneakers.
The outfit seamlessly blends comfort with trendiness; the oversized denim and leather jacket offer an effortlessly cool vibe, while the crisp white sneakers add a fresh, contemporary touch. The playful balance of proportions and textures showcases a relaxed, yet put-together, fashion-forward aesthetic.
Stylish one-piece design with bold print, long sleeves.
The outfit features a stylish and modern one-piece design with a bold print that creates a dramatic contrast, accentuating the body shape flatteringly. Additionally, the long sleeves add an elegant touch that balances the ensemble, making it suitable for a variety of occasions, from poolside gatherings to beach outings.
Bright orange top, tied-up white shirt, classic denim.
The bright orange top adds a pop of vibrant color, while the tied-up white shirt offers a trendy, laid-back touch to the ensemble, complemented by classic denim for a balanced and stylish casual look.
Cohesive color palette, figure-hugging design, denim material.
The outfit chosen has a cohesive color palette that harmonizes well with the person's skin tone; its figure-hugging design highlights the silhouette elegantly, while the accessory choice adds a chic touch to the overall look. The denim material offers a casual but stylish vibe that is versatile for various occasions.
Monochromatic leather ensemble, sleek silhouette, glamorous accessories.
This ensemble exudes sophistication with its monochromatic leather, creating a sleek and modern silhouette. The fit accentuates the figure, while the choice of accessories adds a touch of glamour, making it a chic choice for a fashion-forward look.
Sleek black bodysuit, sheer fabric, sparkling accessories.
This outfit features a sleek black bodysuit that creates a streamlined and modern silhouette, while the sheer fabric adds a touch of bold elegance. Paired with sparkling accessories, the look achieves a balance between edgy sophistication and glamour.
All-black ensemble, zebra-striped bag for a bold pop.
The all-black ensemble offers a sleek and flattering silhouette, while the zebra-striped bag adds a bold pop of print, providing an eye-catching contrast that elevates the overall look.
Vibrant colors and bold patterns, cinched waist, statement furry handbag.
The outfit features a harmonious blend of vibrant colors and bold patterns that create a striking visual impact, while the cinched waist and flared bottom accentuate the silhouette in a flattering and stylish manner. The accessorizing with a statement furry handbag adds a playful touch to the ensemble that is both trendy and chic.
Cropped camo T-shirt, high-slit skirt, statement necklace, strappy heels.
The outfit showcases a bold blend of casual and edgy elements, with the cropped camo T-shirt and high-slit skirt creating a trendy, street-style look. The choice of accessories, like the statement necklace and strappy heels, adds a touch of glamour, balancing the ensemble's laid-back vibe with a polished finish.
Crisply tailored white top, intricately patterned maxi skirt, complementary earrings, purse.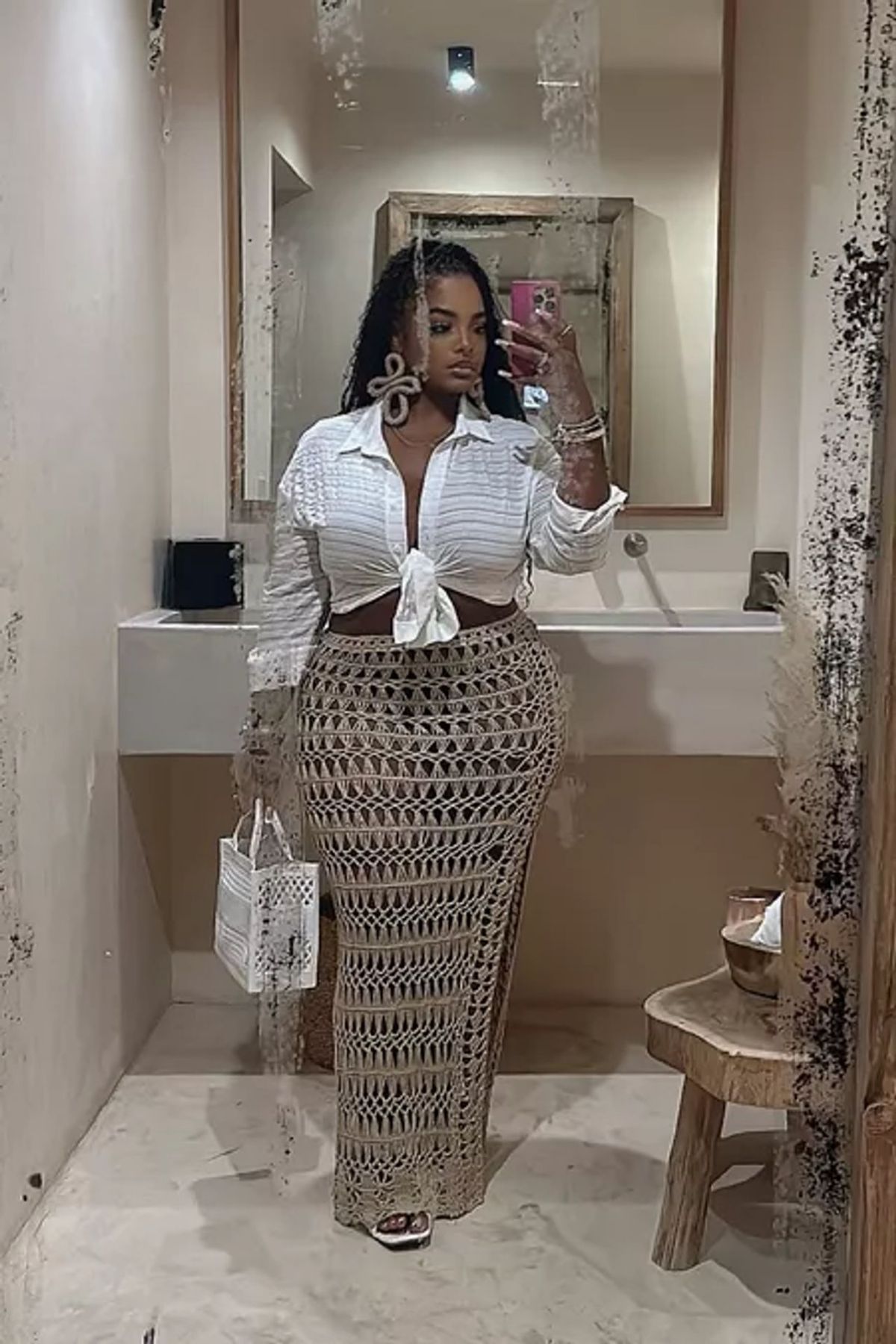 The outfit strikes a stylish balance with a crisply tailored white top that adds a touch of polished sophistication while the intricately patterned maxi skirt offers a bold, statement-making contrast. The ensemble is well-accessorized with complementary earrings and purse, harmonizing fashion-forward elegance with a hint of playful allure.
Fitted waist, bodycon design, olive green color, necklace, handbag.
The outfit showcases a flattering silhouette with a cinched waist and bodycon design that accentuates curves. The olive green color is versatile and the button detail, along with accessories such as the necklace and handbag, add a touch of sophistication.
Monochromatic leather, feathery shoulder details, fitted silhouette, chic heels, clutch.
The outfit features a striking balance between elegance and boldness, with the feathery shoulder details adding a touch of drama to the sleek black ensemble. The fitted silhouette compliments the figure, while the choice of simple, chic heels and a clutch perfect the balance between sophistication and statement-making style.
Bold color, flattering cut, side slit, monochromatic palette.
The outfit exudes confidence and elegance with its bold color and flattering cut that accentuates the figure. The side slit adds a touch of allure, while the monochromatic palette keeps it chic and cohesive.
Fitted waist, flowing skirt, textured top, neutral color palette.
The outfit features a flattering silhouette with a fitted waist and a flowing skirt that enhances the wearer's curves, while the textured top adds a touch of sophistication and visual interest. The neutral color palette is versatile and elegant, making it suitable for a variety of occasions.
Crop top, high-waisted jeans, oversized jacket, stylish sunglasses.
The outfit is fashion-forward, combining a crop top that accentuates the figure with high-waisted jeans for a classic yet trendy look. The layers and accessories are well-chosen, adding an edgy touch with the oversized jacket and stylish sunglasses, creating a cohesive and modern ensemble.
Floral blue dress, form-fitting silhouette, side slit.
The floral blue dress complements the outdoor setting with its fresh, spring-inspired pattern, creating a harmonious blend with nature. Its form-fitting silhouette and side slit elegantly accentuate the wearer's curves, adding a touch of sophistication and femininity to the look.
Patterned blouse, cream trousers, minimal jewelry, silver heels.
The outfit offers a fresh and vibrant summer look with a beautifully patterned blouse that provides a pop of color, complemented by the chic simplicity of the cream trousers. The ensemble is well-accessorized with minimal jewelry and silver heels, which add a touch of elegance without overwhelming the look.
Crisp white graphic tee, bold green trousers, oversized jacket.
This outfit showcases a tasteful contrast with a crisp white graphic tee that adds a playful element, paired with bold green trousers that provide a pop of color. The ensemble is balanced with classic white sneakers and a chic neutral bag, creating a fresh and modern look.
Graphic tee, oversized glasses, layered sweater, casual joggers.
This outfit showcases a bold and trendy style by combining a graphic tee with oversized glasses, adding a touch of edginess and personality. The layered sweater and casual joggers balance comfort with a fashionable, street-style aesthetic, perfect for a casual yet stylish look.
Bright pink textured coat, structured denim corset, fluid white shirt.
This ensemble showcases a creative layering technique that combines textures innovatively, with the bright pink textured coat providing a bold pop of color that enhances the visual appeal. The juxtaposition of the structured denim corset with the fluidity of the white shirt beneath adds an element of edgy sophistication to the overall look.
Playful pastel tie-dye crop top, white cargo pants, statement handbag.
This outfit exudes a refreshing spring vibe with a playful pastel tie-dye crop top that adds a pop of color, while the white cargo pants provide a relaxed yet trendy silhouette. The accessorizing with minimal jewelry and a statement handbag gives the ensemble a chic finish, perfect for a casual outing.
Oversized leather jacket, form-fitting denim skirt, black boots.
The oversized leather jacket paired with the form-fitting denim skirt strikes a balance between edgy and feminine, while the black boots add a sleek touch to complete the look with a sense of confidence and trend-awareness. The neutral color palette ensures versatility and the cropped top adds a modern, youthful flair to the ensemble.
Cropped leather jacket, stylish white top, high-waisted denim pants.
The combination of a cropped leather jacket with a stylish white top creates a dynamic, edgy-meets-chic look, while the high-waisted denim pants offer a trend-aware nod to classic fashion, providing a flattering silhouette. The accessories, including the necklace, add a personal touch that ties the ensemble together with a hint of elegance.
Pastel and bright colors, tie-dye crop top, light blue jeans, orange shoes.
This outfit presents a harmonious play of pastel and bright colors, creating a fresh and vibrant look perfect for a casual sunny-day outing. The loose-fitting light blue jeans paired with the snug, floral top combine comfort and style, while the bold orange shoes add a fun pop of color, accentuating the wearer's confident and trendy fashion sense.
Oversized jacket, pleated skirt, patent loafers, cap, bag.
The outfit presents a stylish blend of casual and chic elements with the oversized jacket adding an edge, while the pleated skirt and patent loafers offer a preppy touch that balances the look. The color palette is cohesive, and the accessories, like the cap and bag, complement the overall aesthetic nicely.
Contrasting blue and cream jacket, distressed jeans, mix of textures.
The jacket's contrasting blue and cream colors add a bold, sporty touch to the ensemble, while the distressed jeans lend an edgy, contemporary vibe that complements the relaxed streetwear aesthetic. The playful mix of textures and proportions creates a fashion-forward and confident look.
Cohesive color palette, fitted top, relaxed overalls, crossbody designer bag.
The outfit features a cohesive color palette that is flattering and on-trend, while the fitted top paired with relaxed overalls creates a balanced silhouette that accentuates the wearer's shape in a stylish and comfortable manner.
Comfortable fitting cargo pants, snug-fitting top, crossbody designer bag.
The outfit achieves a relaxed yet stylish look with its comfortable fitting cargo pants paired with a snug-fitting top, creating a balance between ease and form. The addition of the crossbody designer bag adds a luxe element to the ensemble, elevating the overall aesthetic.
Oversized denim jacket, sparkling mini dress, metallic pointed-toe boots.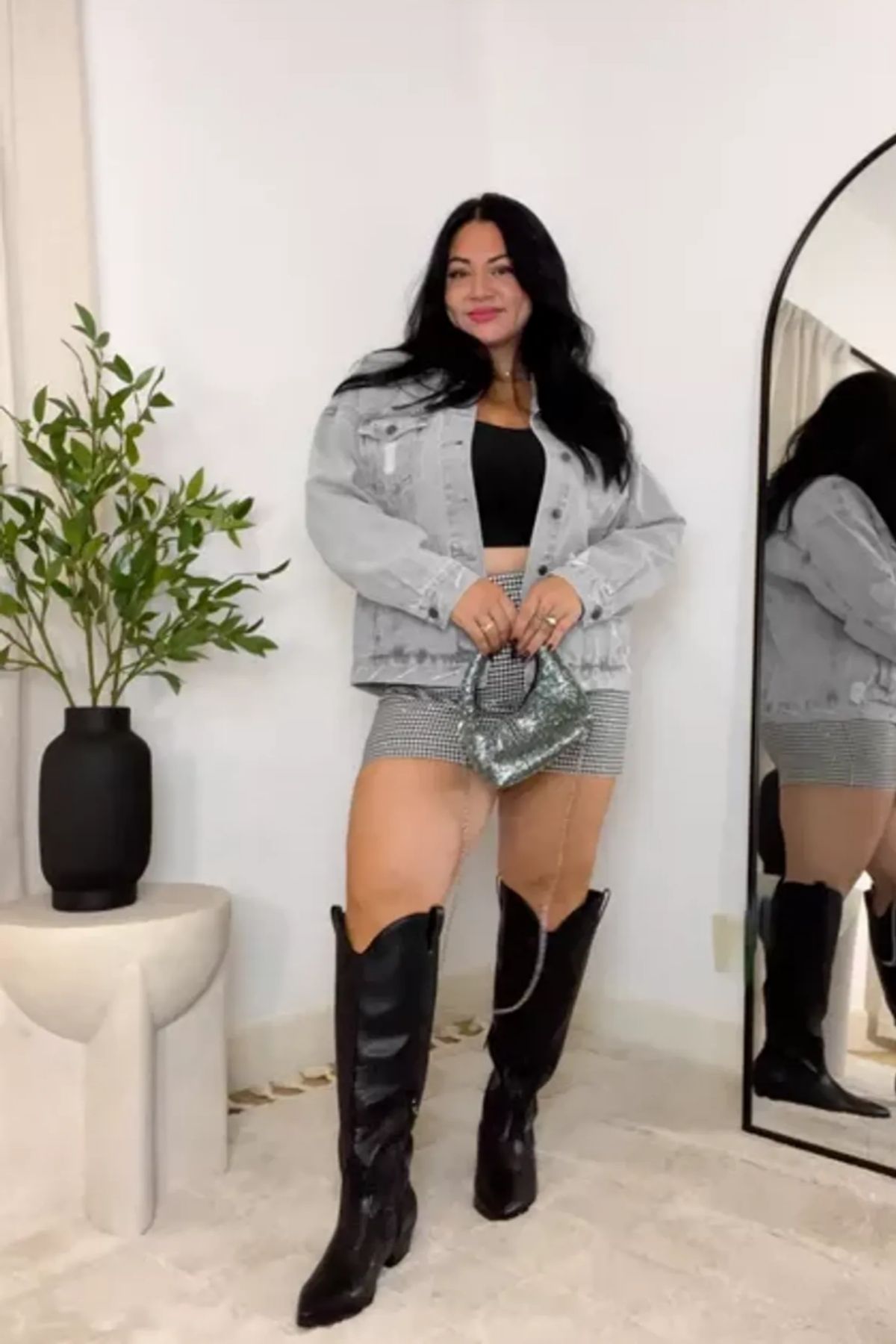 The ensemble effortlessly balances edgy and chic with its oversized denim jacket and sparkling mini dress, creating an interesting texture contrast. The high black boots add a sleek and bold touch, elevating the whole look with a sense of modern sophistication.
Bold mesh top, high-waisted wide-leg trousers, metallic pointed-toe boots.
This outfit features a bold mesh top paired with high-waisted, wide-leg trousers that create a harmonious balance between edgy and chic. The combination of textures and the monochromatic palette is modern and stylish, while the metallic pointed-toe boots add an eye-catching element of glam.