Concert season is in full swing and it's time to show off your personal style while rocking out to your favorite artists! As curvy music lovers, we want comfortable outfits that also showcase our unique flair. In this article, I'm sharing 30 fun and flattering ensemble ideas perfect for any plus size woman attending a show.
Whether you're moshing in the pit or dancing the night away, these looks are designed to keep you feeling confident without compromising on fun. I've included band tees, bodysuits, miniskirts and more trendy pieces that flatter different body types. With options for every music genre and venue, you'll find something to express your individuality and inner fangirl.
I chose lightweight fabrics, versatile silhouettes and trendy prints that can be mixed and matched throughout the night. From indie to EDM, these outfit inspirations have you covered no matter the lineup.
Best Plus Size outfits for concerts
Get ready to strut your stuff and sing your heart out in style this season. Scroll through for concert-ready looks that are sure to have you rocking your curves in the name of music.
Vibrant pink cropped cardigan, classic black skirt, boots, simple jewelry.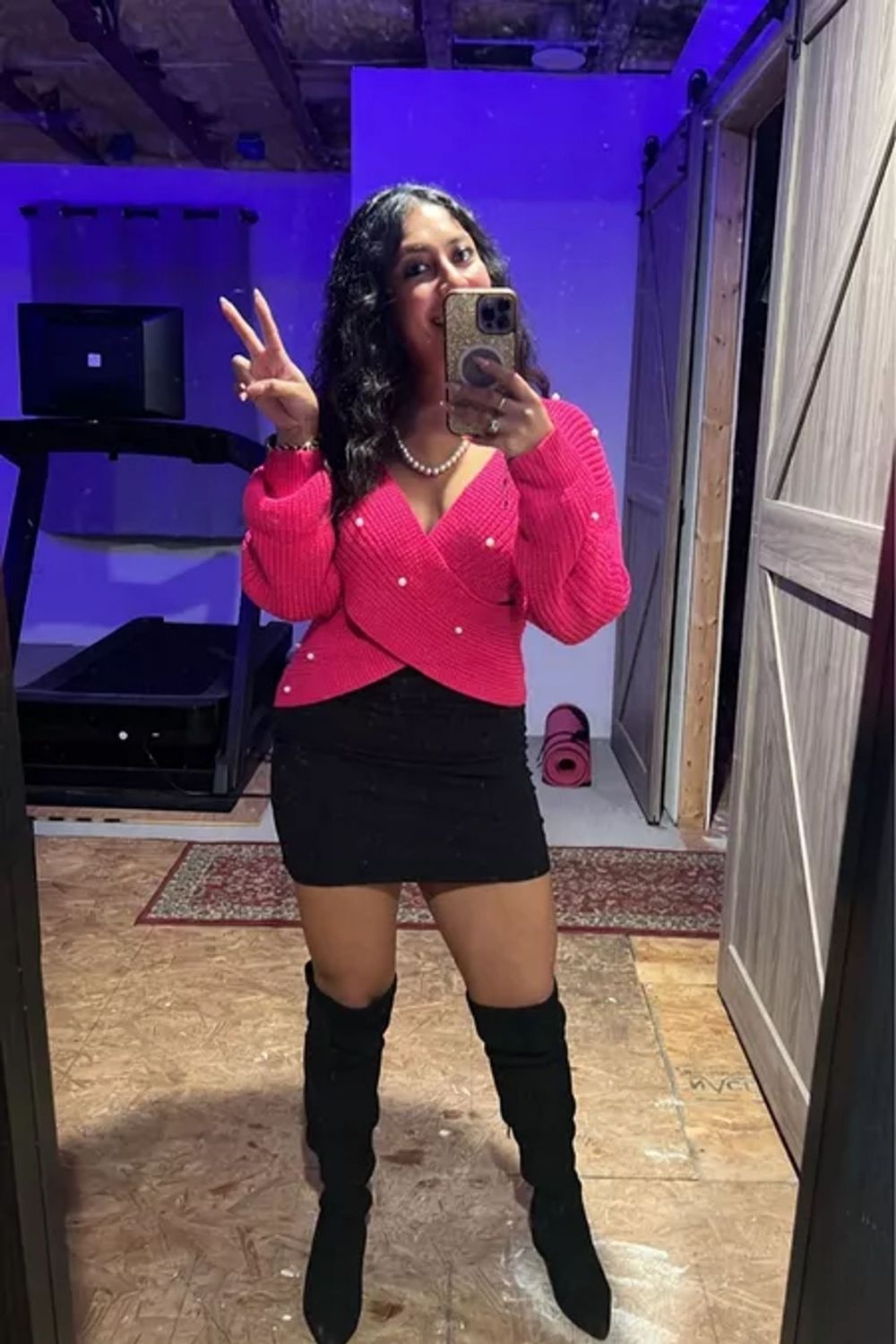 This outfit showcases a playful yet chic style with its vibrant pink cropped cardigan providing a pop of color which is nicely balanced by the classic black skirt and boots for a streamlined silhouette. The ensemble is thoughtfully accessorized with simple jewelry adding a touch of elegance without overwhelming the look.
Vibrant pink crop top, coordinating skirt, high-top sneakers.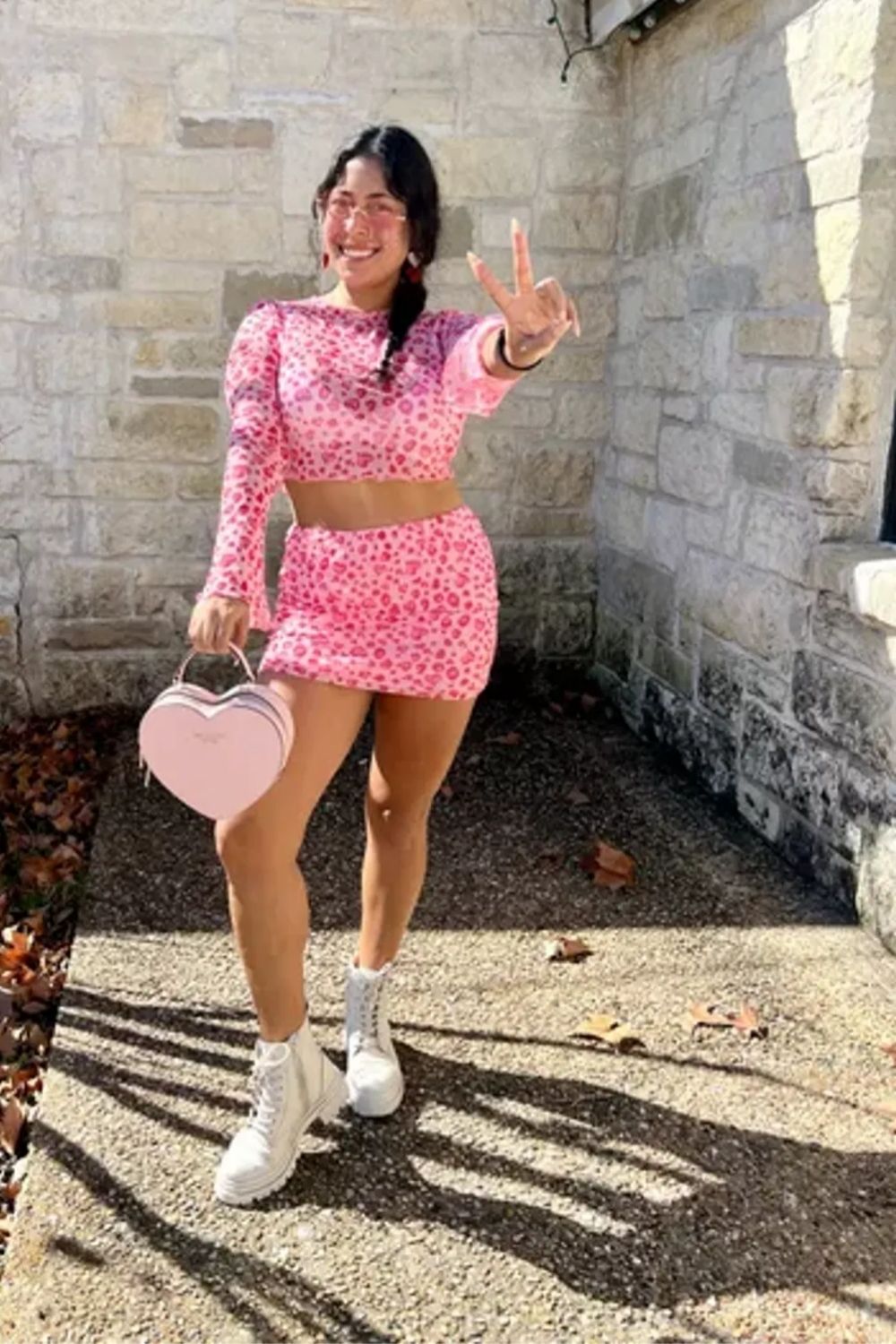 This outfit is playful and youthful with its vibrant pink hue and fun print, while the coordinated crop top and skirt create a chic, cohesive look. The high-top sneakers add a casual, street-style edge, perfect for a day out.
Sleek black one-piece, white sneakers, pink shoulder bag.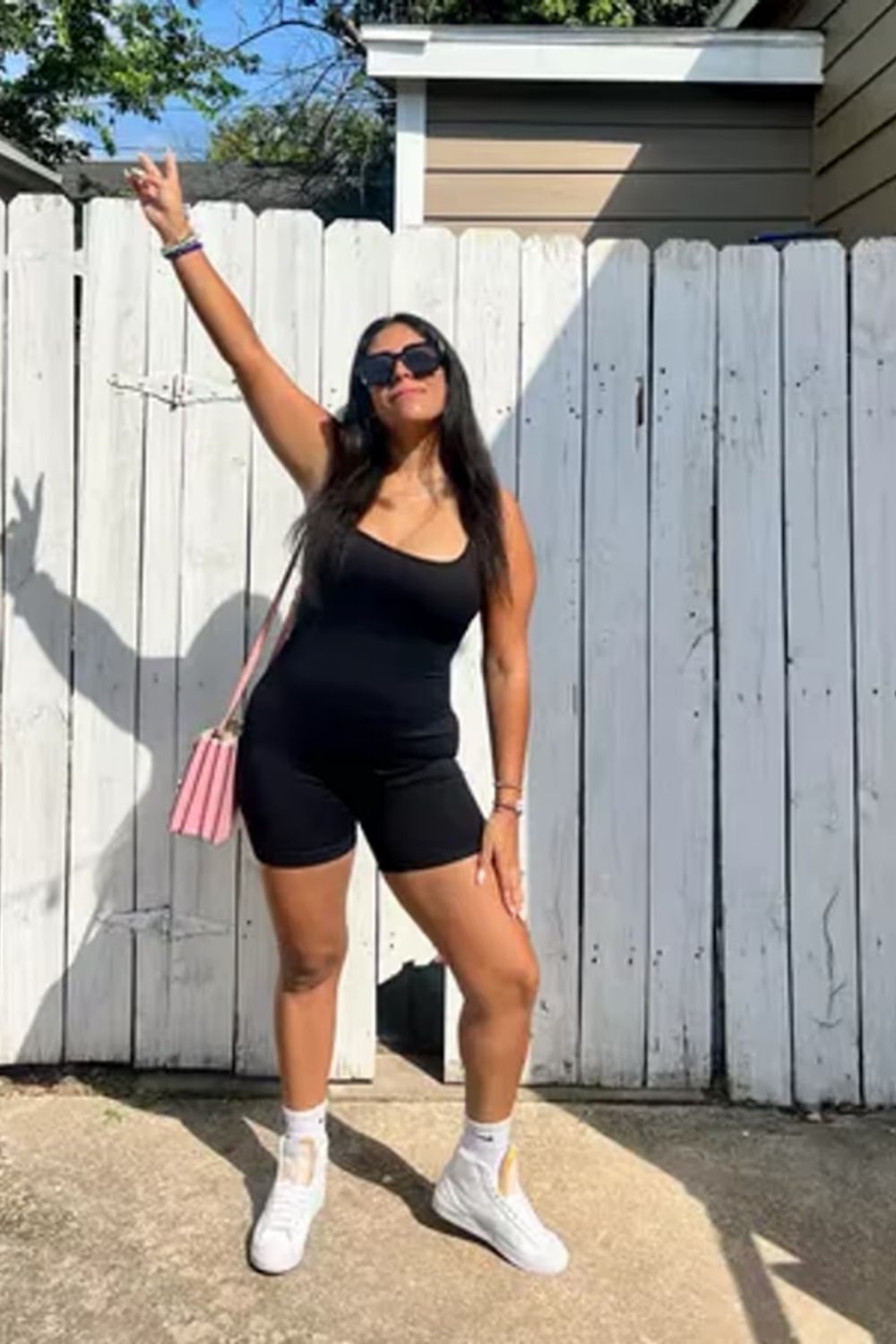 The outfit is stylish and sporty, with a sleek black one-piece that provides a versatile and flattering base. The addition of the white sneakers adds a casual, street-style vibe, while the pop of color from the pink shoulder bag offers a playful touch and a nice contrast.
Classic little black dress, high-top sneakers.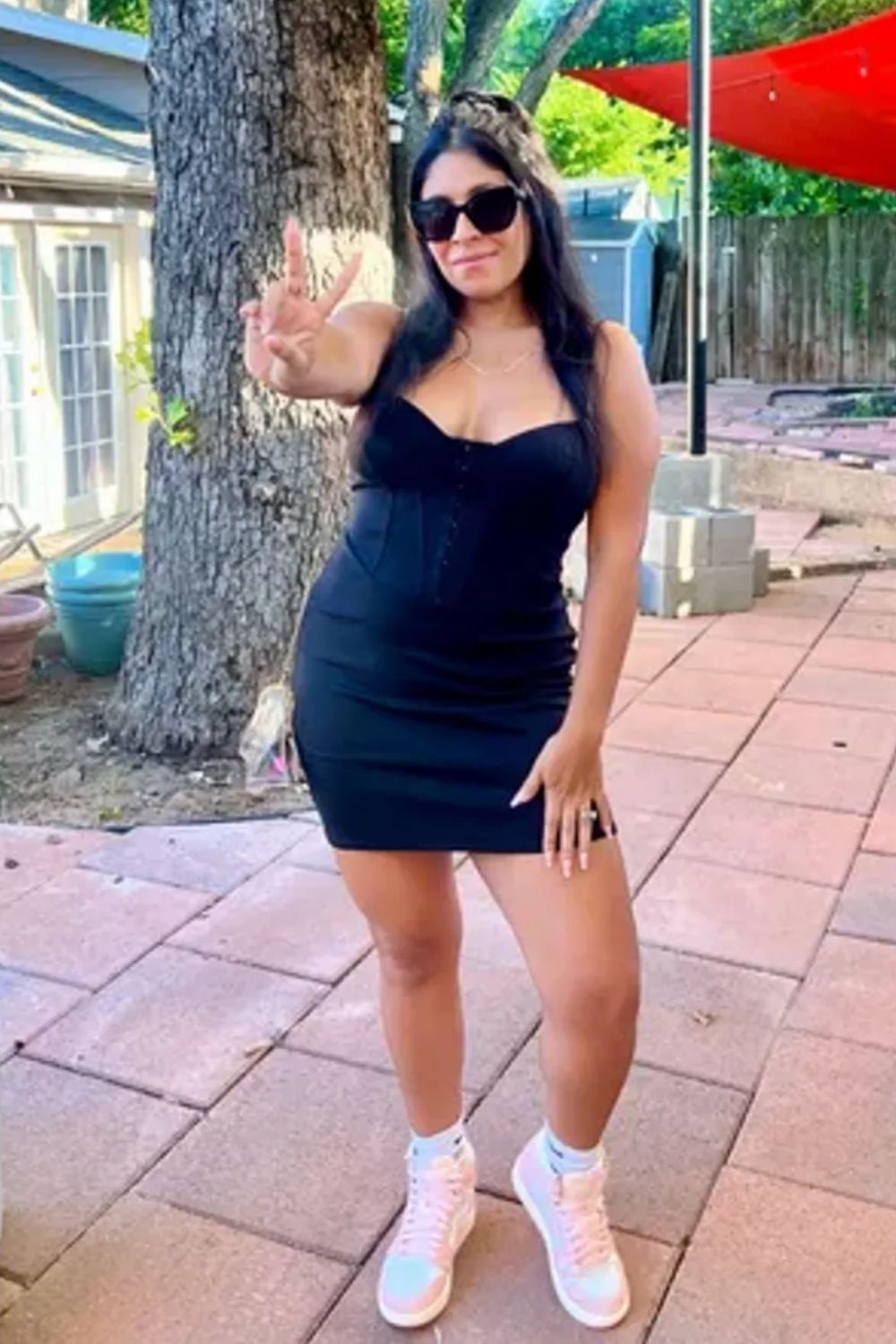 The outfit features a classic little black dress that offers a sleek and timeless look, paired with high-top sneakers to add a playful and casual twist to a traditionally elegant attire. The combination exudes a confident street-style vibe while maintaining a sense of effortless chic.
Bold green oversized blazer, sleek black shorts, boots.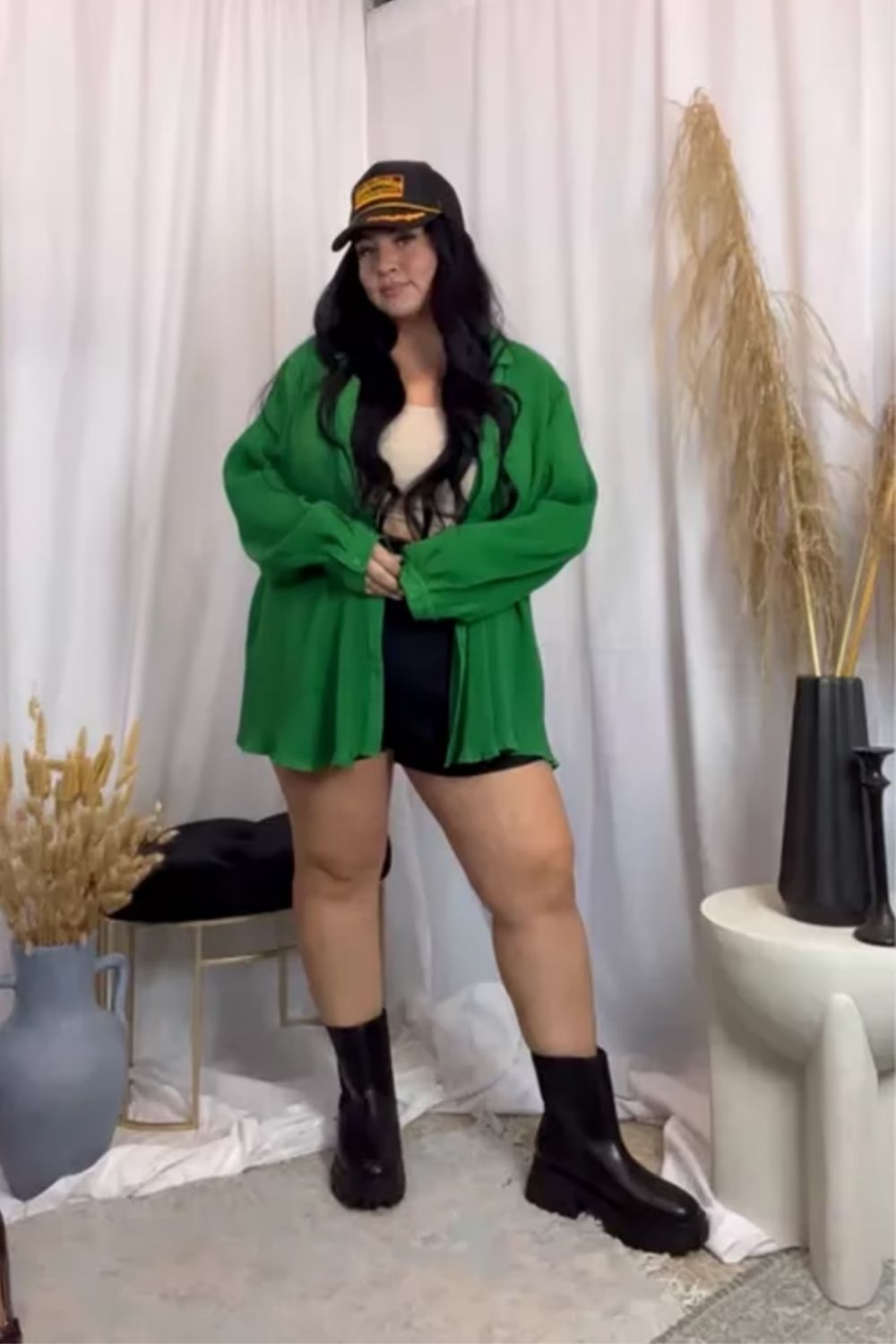 The outfit features a bold green oversized blazer that stands out and makes a statement, paired with sleek black shorts and boots, which creates a chic and balanced look. The contrasting colors and the mix of casual and dressy elements provide a trendy and versatile style suitable for various occasions.
Classic black top, trendy animal print skirt, chunky sandals, coordinating bag.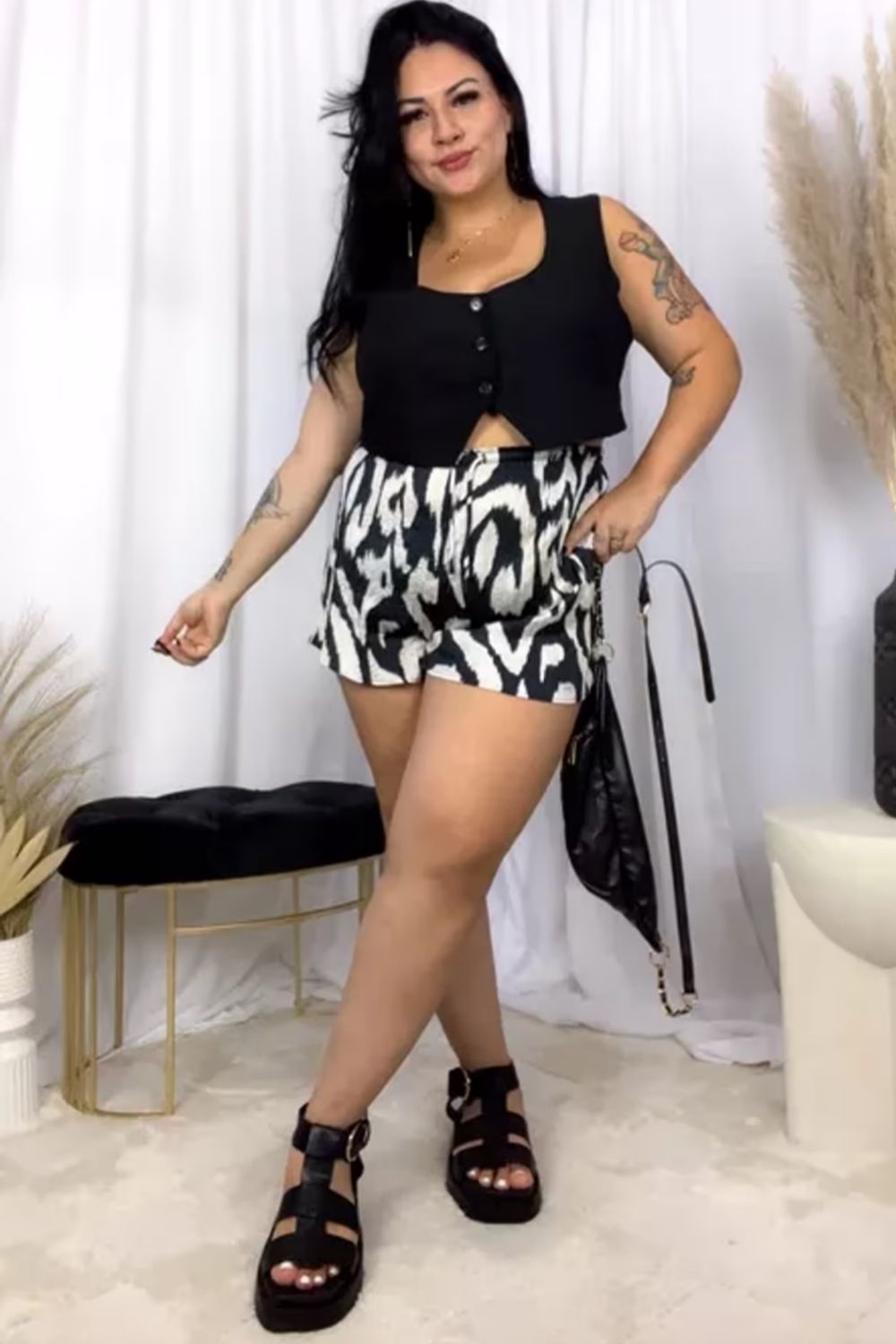 The outfit creates a bold contrast with a classic black top and a trendy, animal print skirt, offering a chic and striking look. The ensemble is well-accessorized with chunky sandals and a coordinating bag, exuding a confident, fashion-forward vibe.
Light-wash jeans, neutral sleeveless top, flannel shirt tied around the waist.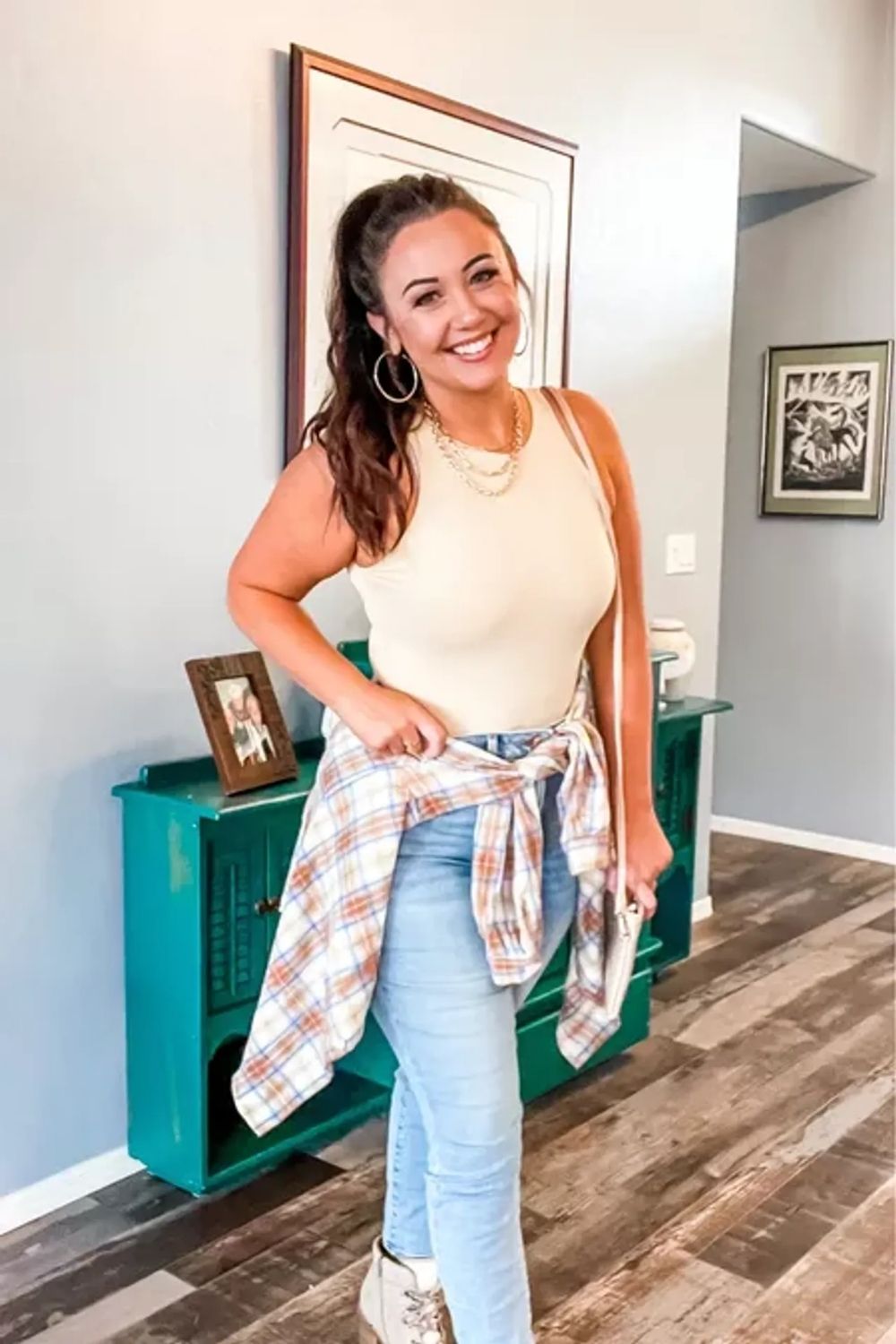 This casual ensemble is effortlessly chic, with the light-wash jeans and neutral sleeveless top creating a timeless base. The flannel shirt tied around the waist adds a pop of pattern and color, providing an excellent contrast and a laid-back, stylish layering technique.
Leather jacket, distressed jeans, fitted top.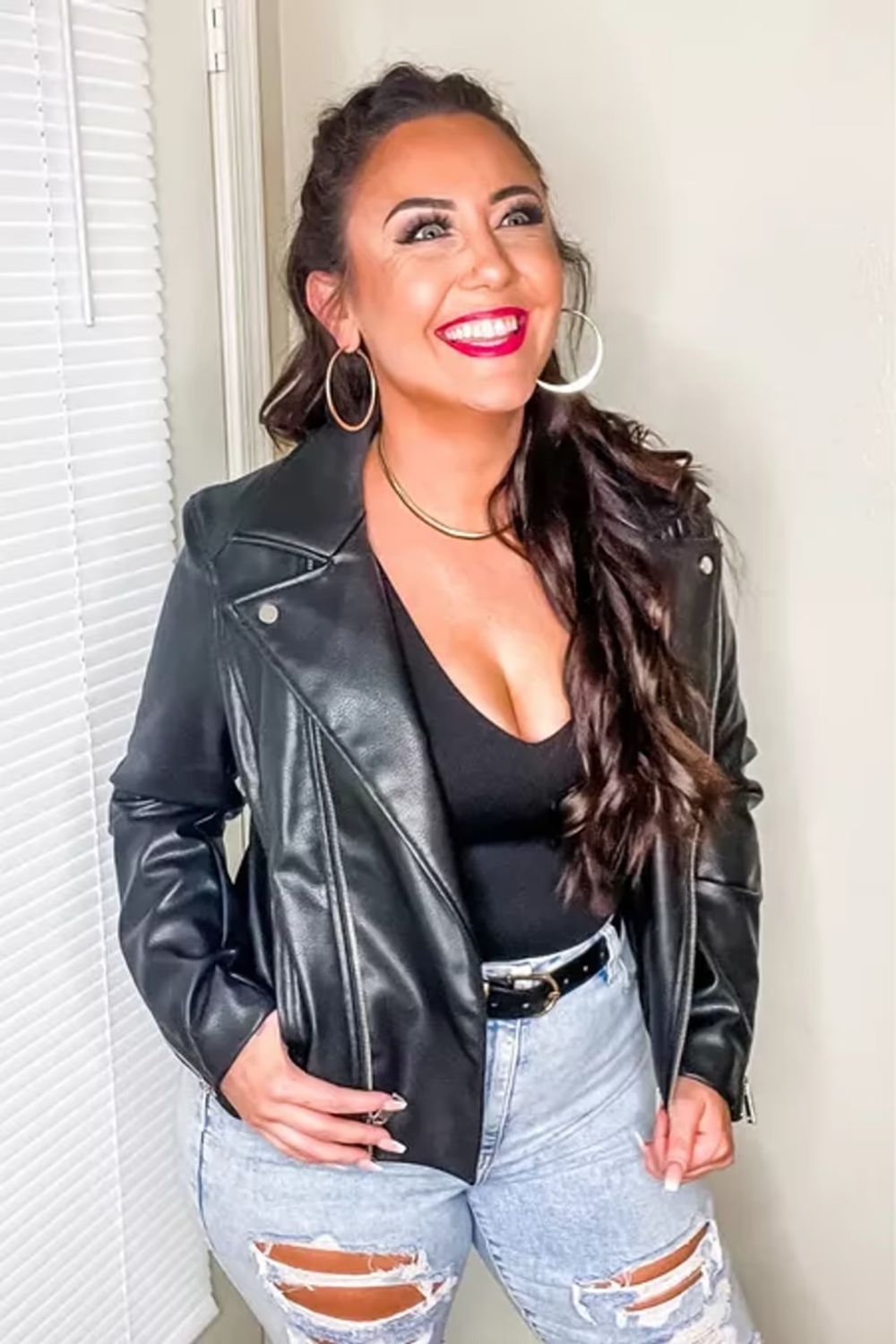 This outfit presents a classic yet edgy vibe, with the timeless leather jacket offering both style and an attitude, while the distressed jeans provide a trendy and casual flair. The contrast between the fitted top and the jacket defines the silhouette, making it a chic, versatile ensemble suitable for various occasions.
Graphic tee, denim skirt, belt.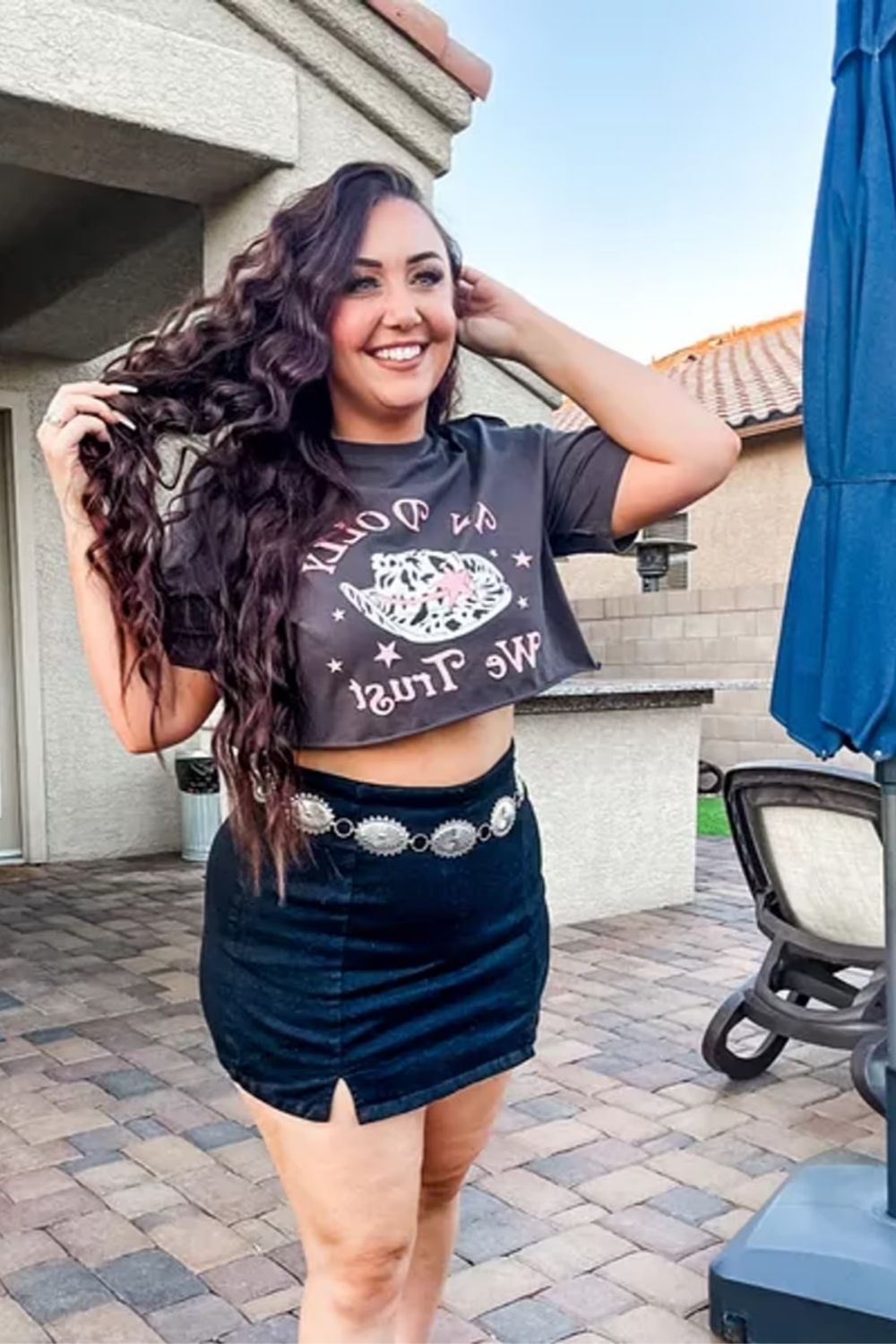 The outfit strikes a balance between casual and chic, with the graphic tee adding a laid-back, playful vibe, while the denim skirt and belt create a sleek, fitted silhouette that flatters the figure. The choice of accessories, with the belt's detail, complements the simplicity of the ensemble, making it versatile and stylish.
Bold red top with cut-out detail, white boots.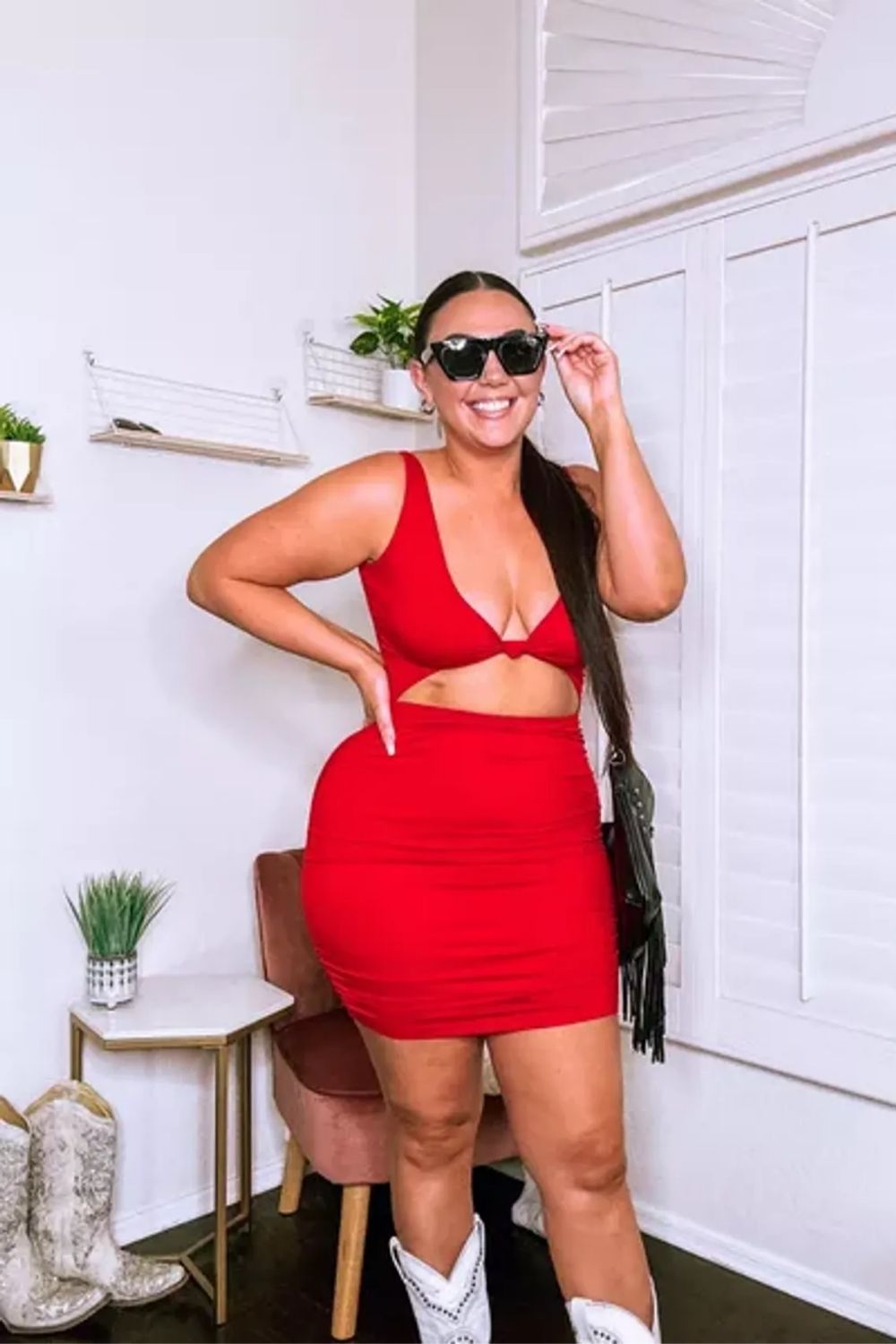 The bold red color of the outfit makes a strong, confident statement, and the cut-out detail adds a trendy and alluring touch, highlighting the wearer's figure with a modern flair. The white boots offer a striking contrast that adds an edgy twist to the overall look.
Bright pink top, classic high-waisted jeans, statement belt.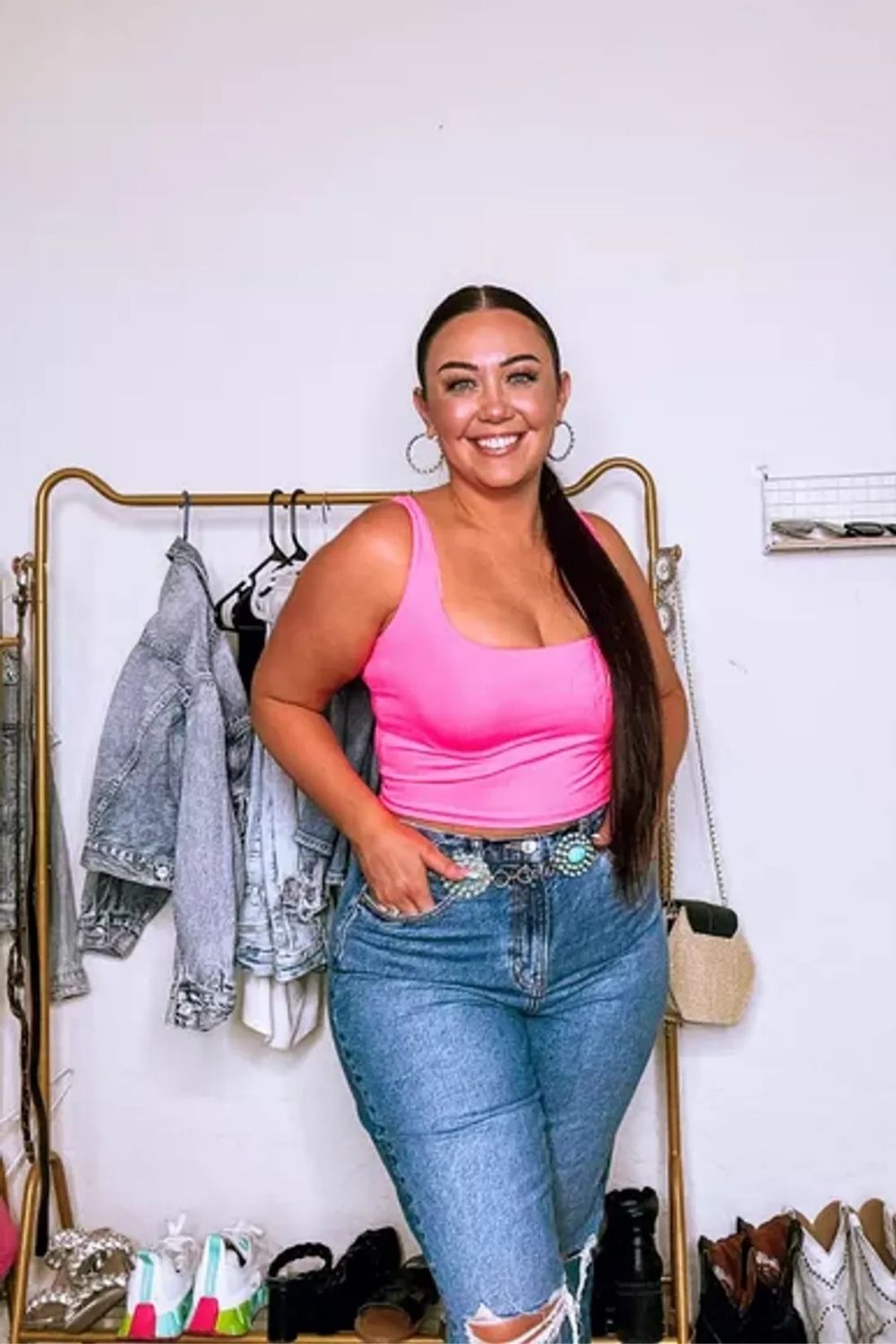 The outfit features a bright pink top that adds a pop of color and exudes a vibrant, youthful energy, perfectly complemented by the classic high-waisted jeans for a balanced and trendy look. The addition of a statement belt gives the ensemble a touch of personality and accessory flair.
Fitted black mini skirt, relaxed graphic tee.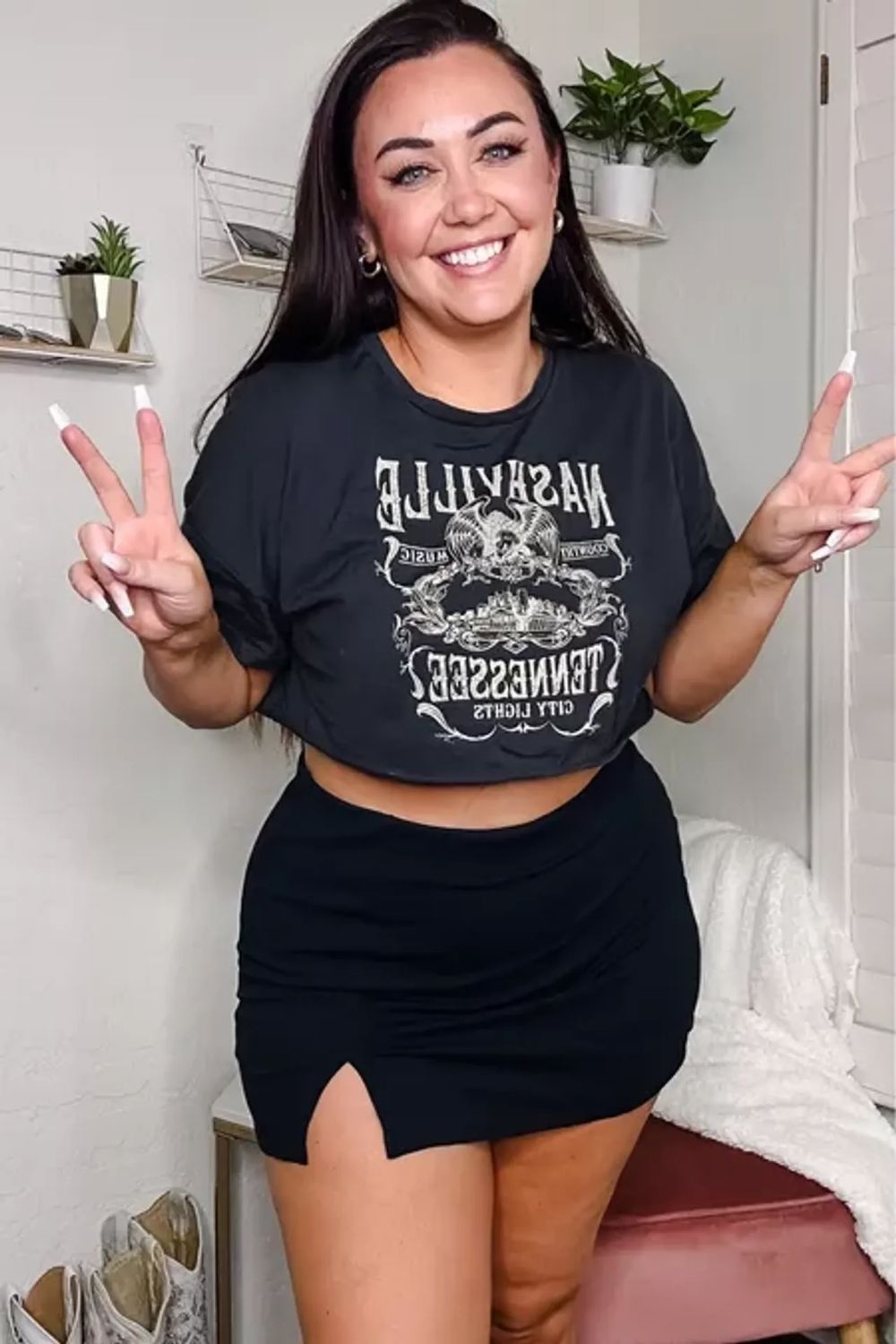 The outfit displays a chic, casual aesthetic with a well-fitted black mini skirt that offers a flattering silhouette, paired with a relaxed graphic tee for a touch of edgy, personal style. The overall look balances comfort with trendiness, making it both versatile and fashion-forward.
White puffer vest, monochromatic burgundy, quilted bag.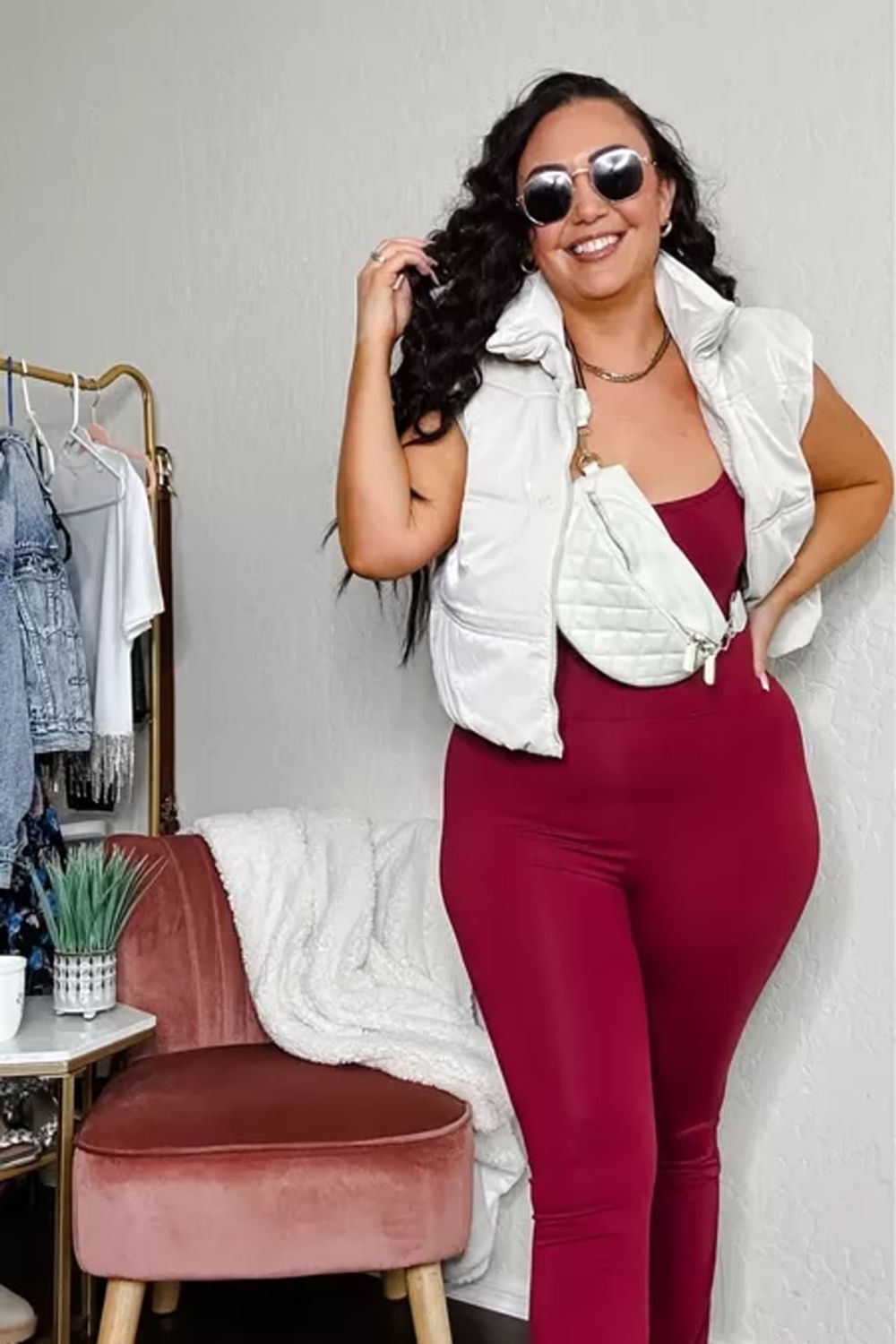 The white puffer vest adds a trendy, sporty touch to the outfit, while the monochromatic burgundy gives it an elegant, streamlined look. The quilted bag matches the vest, adding cohesiveness and a touch of luxury to the ensemble.
Light-wash jeans, black top, oversized sunglasses, chain necklace.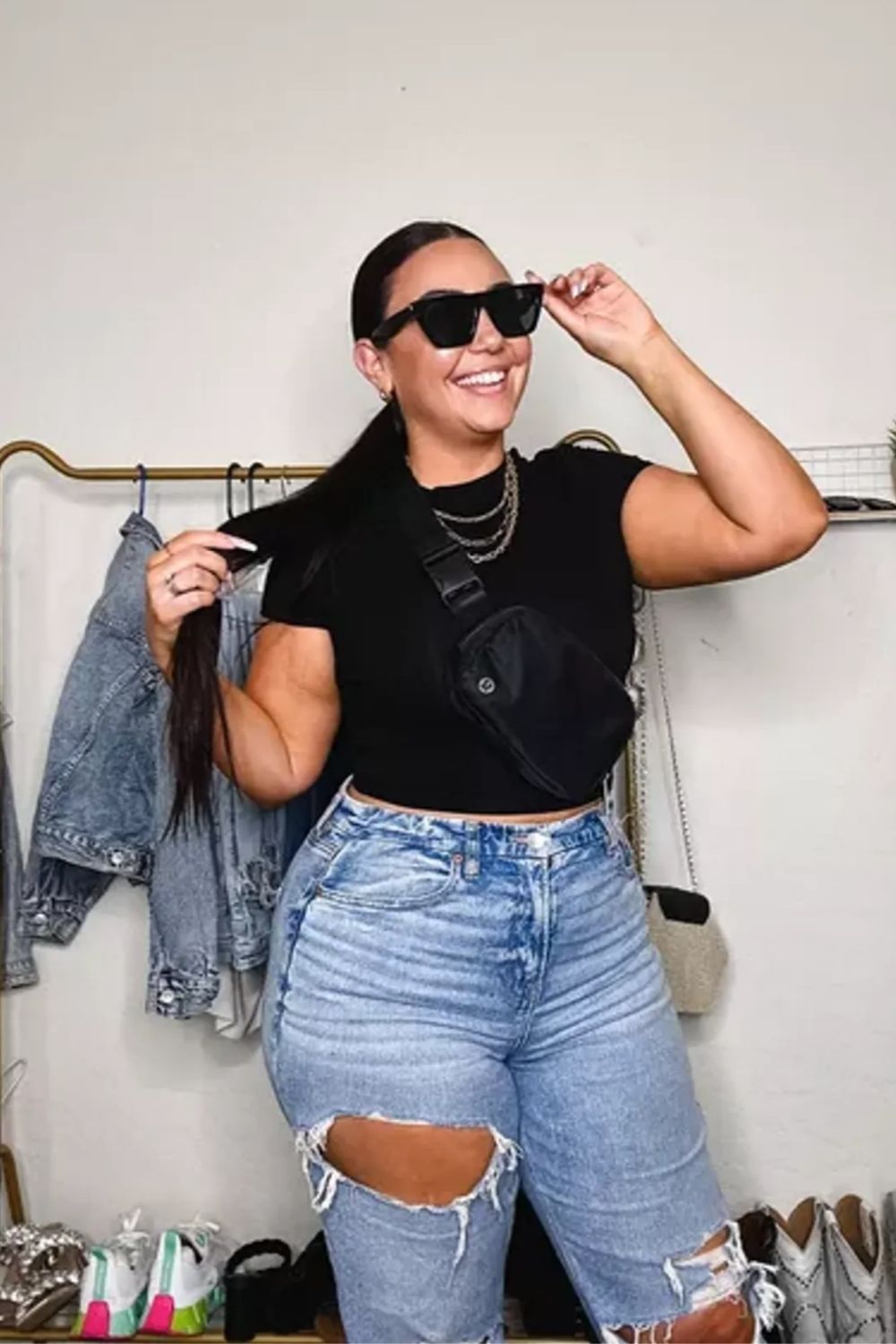 The outfit presents a trendy, casual style with a well-balanced play of textures—the crispness of the denim contrasting with the soft black top. Accessories like the oversized sunglasses and chain necklace add a touch of urban chic, enhancing the overall cool and contemporary vibe.
Bold pink hue, fitted silhouette, tied plaid shirt.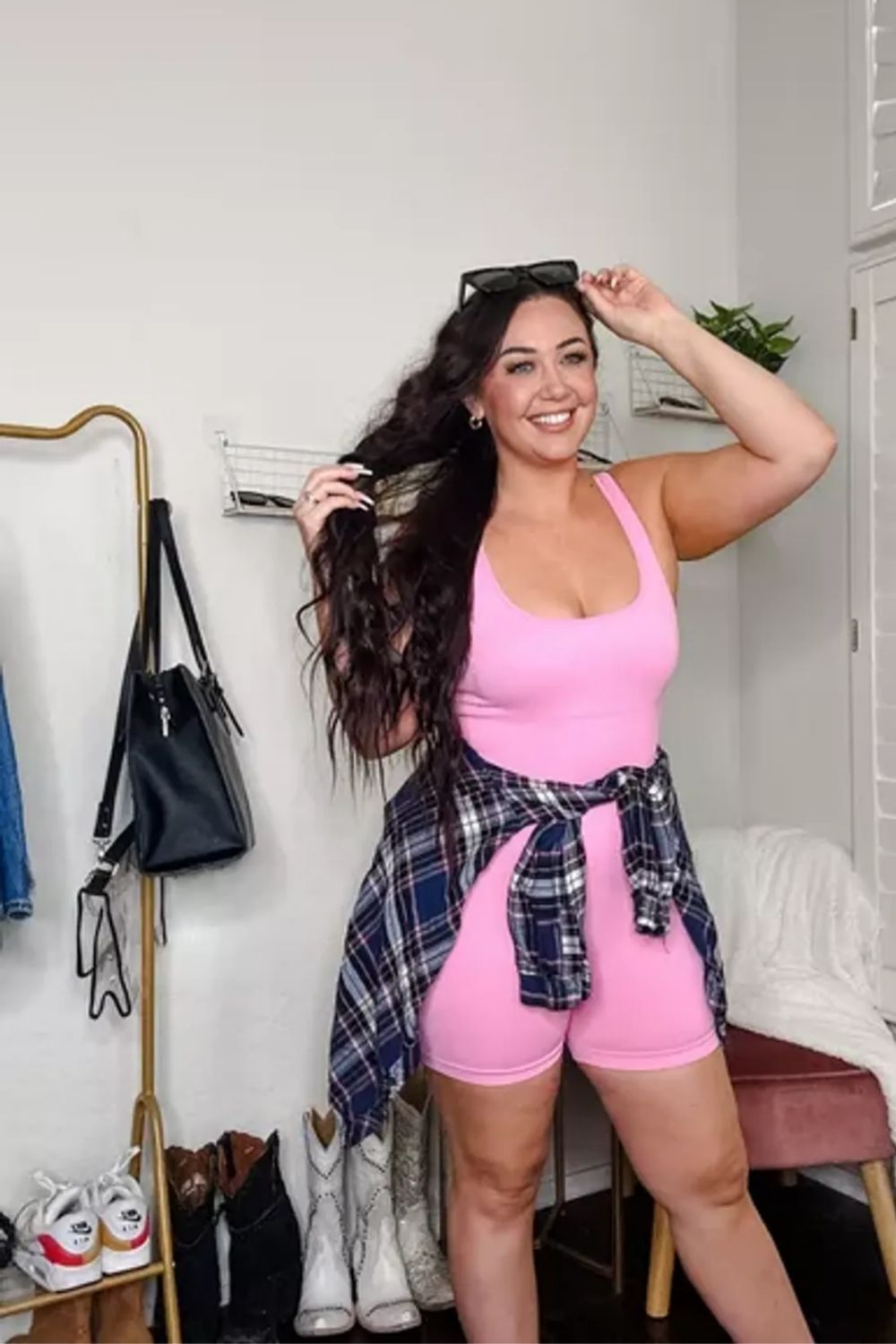 The outfit is vibrant and playful, with a bright pink hue that makes a bold statement. The fit is form-flattering, complemented by the casual flair of the tied plaid shirt, adding a touch of relaxed, versatile style.
Black dress, thigh-high boots, hat, sparkling sleeves.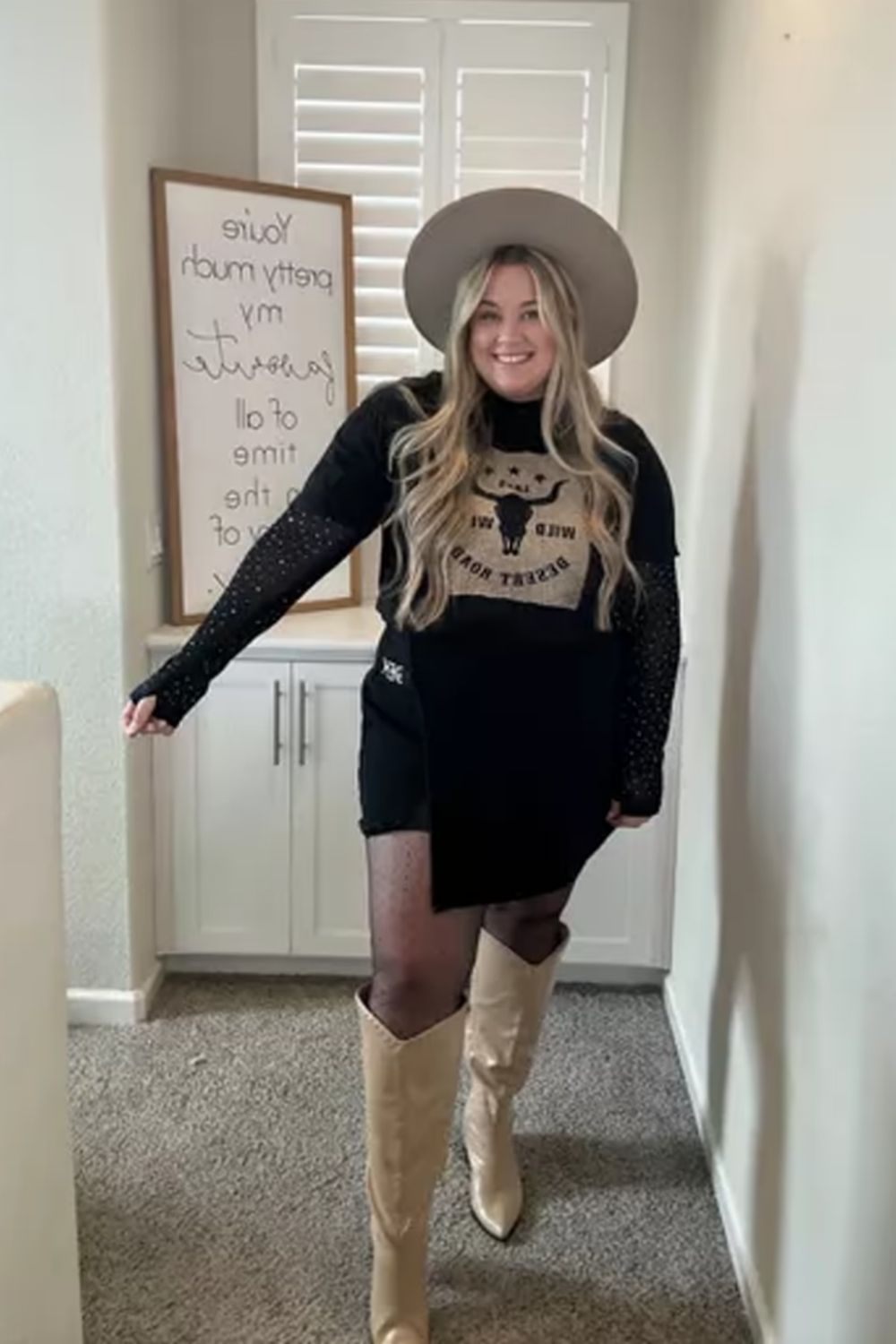 The outfit presents a stylish contrast with the black dress and light-colored, thigh-high boots, creating a bold and fashionable statement. The hat adds a bohemian touch, while the sparkling sleeves bring a playful hint of glamour to the ensemble.
T-shirt dress, high white boots, hat.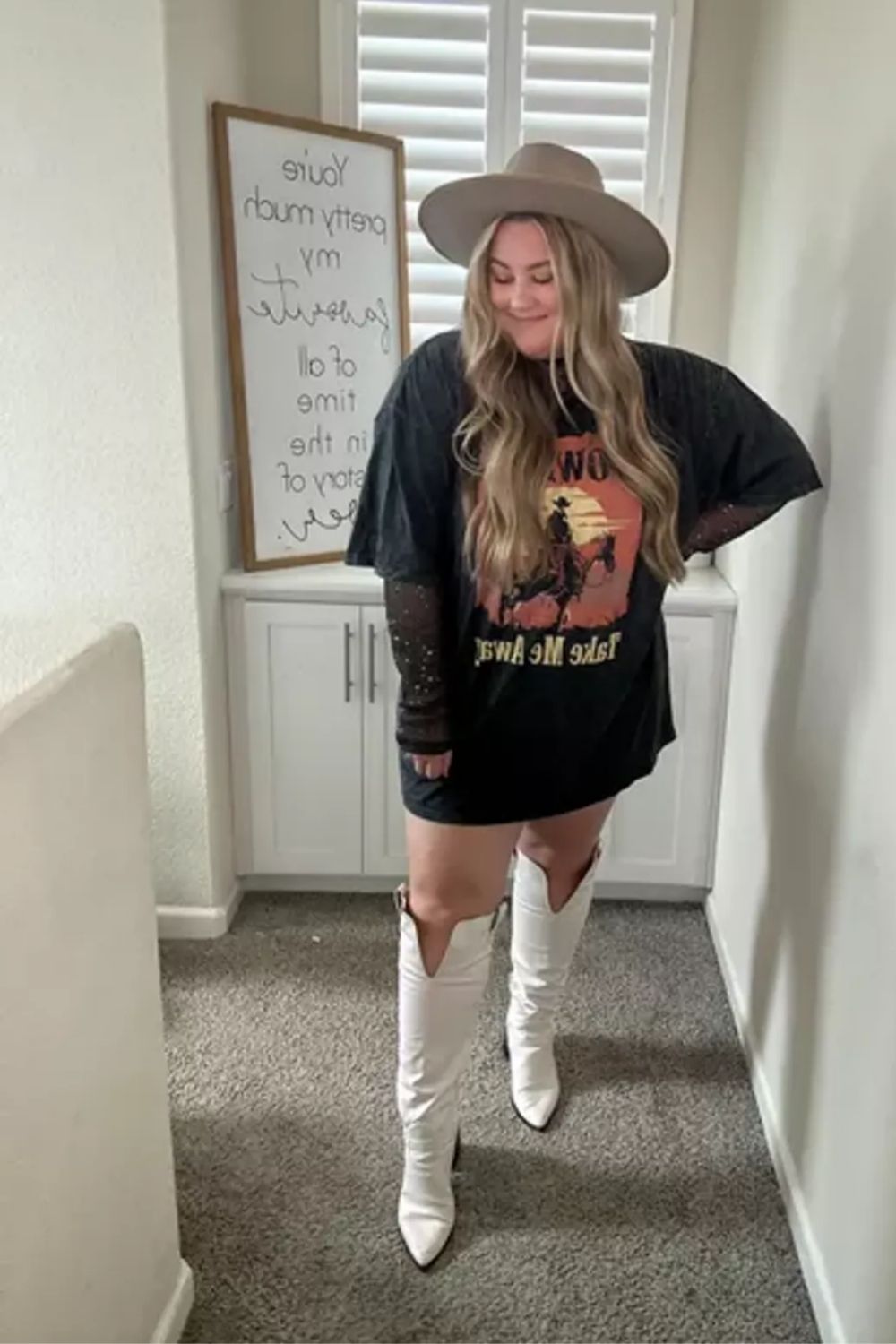 The outfit presents a chic, casual look with a statement T-shirt dress that makes for a bold, yet relaxed attire. The high white boots add a touch of elegance and the hat completes the ensemble with a trendy bohemian flair.
Single denim jumpsuit, white pointed-toe flats.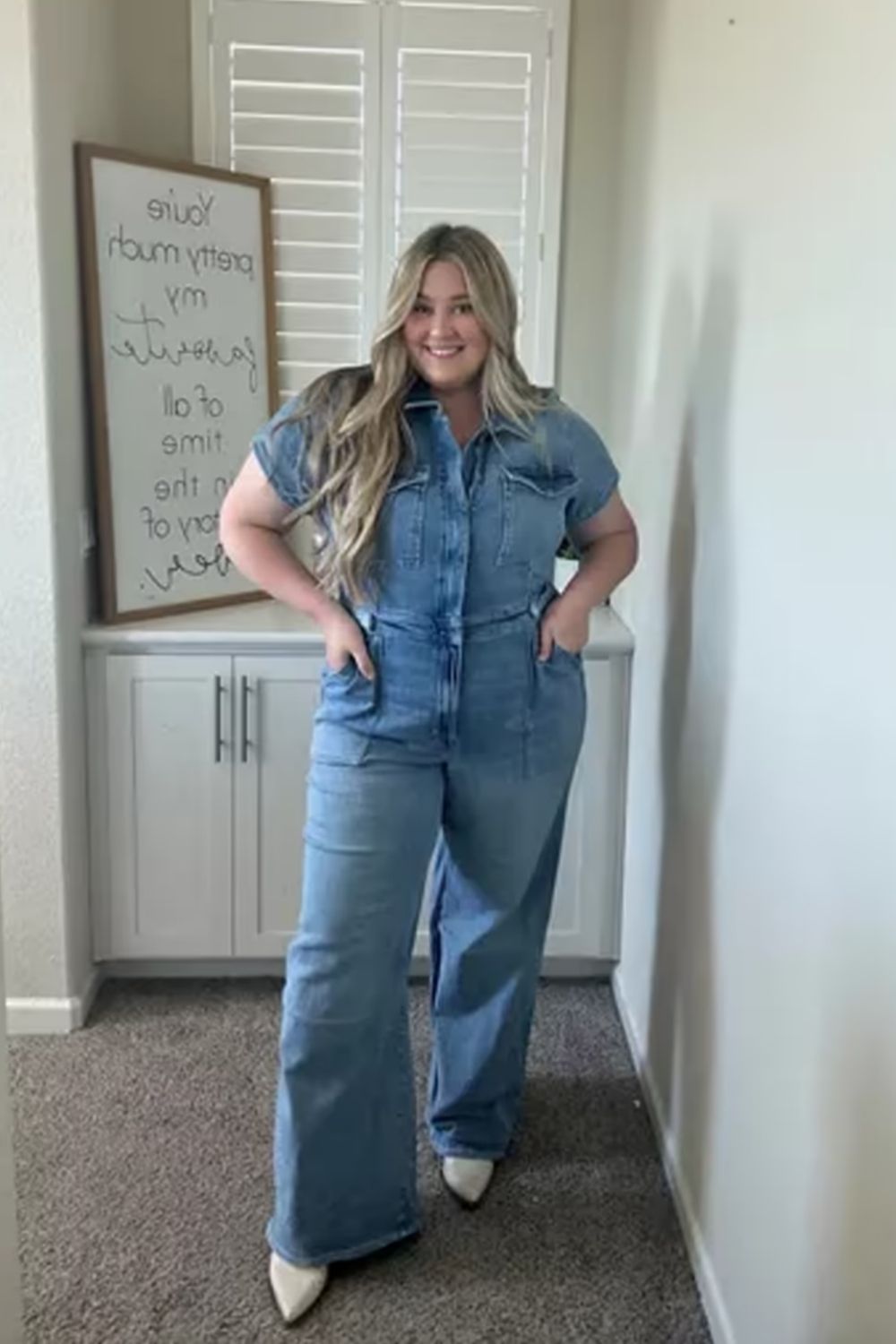 This outfit showcases a single denim jumpsuit that creates a coherent, sleek look, evoking a sense of effortless style. Additionally, the light wash of the denim paired with simple, white pointed-toe flats gives a casual yet polished vibe, suitable for various daytime outings.
Cow-print cardigan, black top, denim shorts, hat, black boots.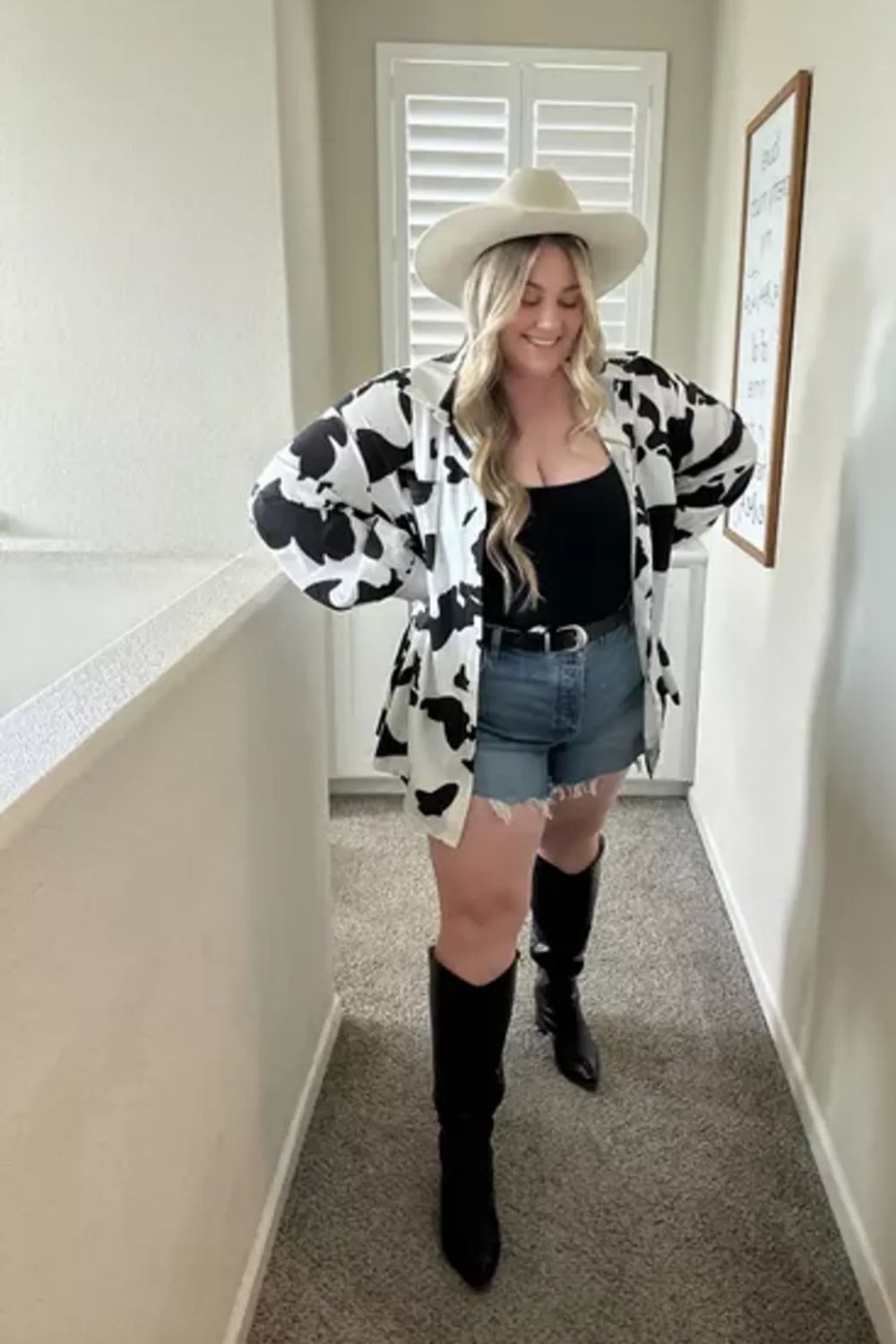 The oversized cow-print cardigan offers a bold and playful statement piece, adding a striking contrast to the simple black top and denim shorts underneath. The ensemble is smartly accessorized with a stylish hat and black boots which streamline the look, making it chic and coordinated.
Classic button-down shirt, distressed denim, sneakers.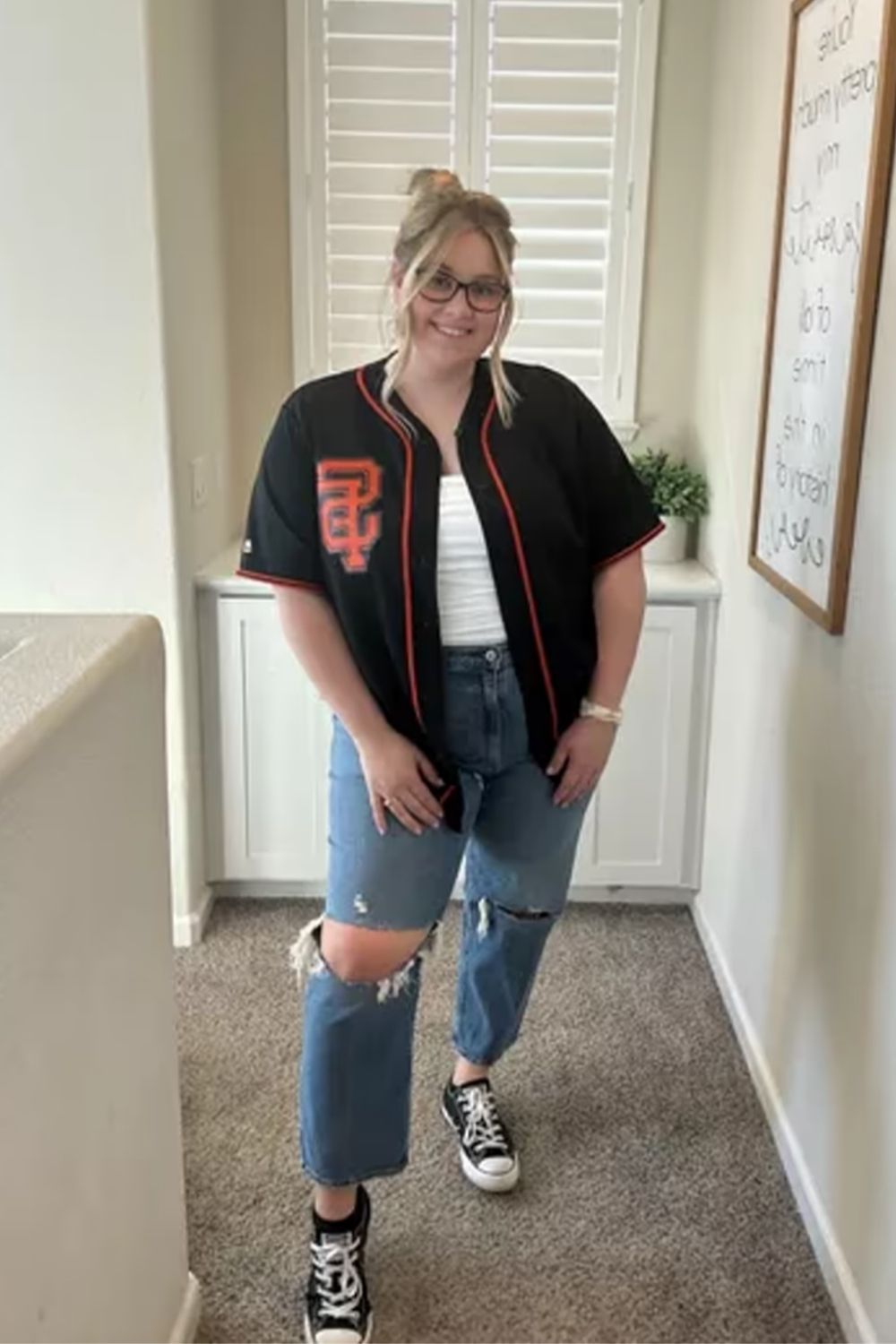 The outfit strikes a stylish balance with a sporty yet casual appeal, integrating a classic button-down shirt with distressed denim for a relaxed, comfortable vibe. The coordinated color scheme between the shirt and sneakers adds a cohesive and trendy touch to the ensemble.
Distressed denim, structured black jacket, white boots.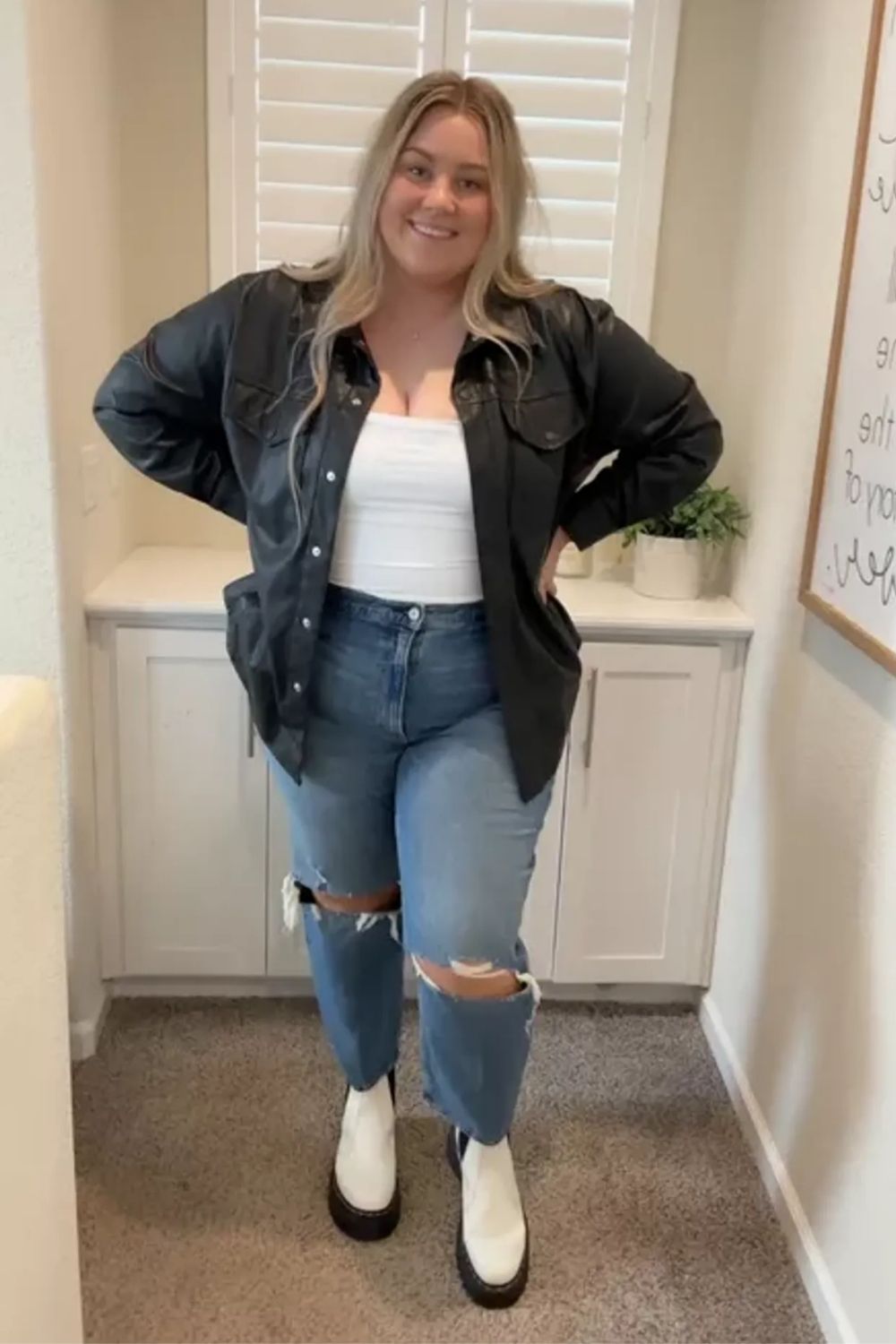 This outfit smartly balances casual and trendy elements, with the distressed denim adding a laid-back feel while the structured black jacket and white boots provide a polished contrast. The high-waisted jeans and fitted white top accentuate the silhouette, creating a flattering and effortlessly stylish look.
Sleek black top, shorts, over-the-knee boots.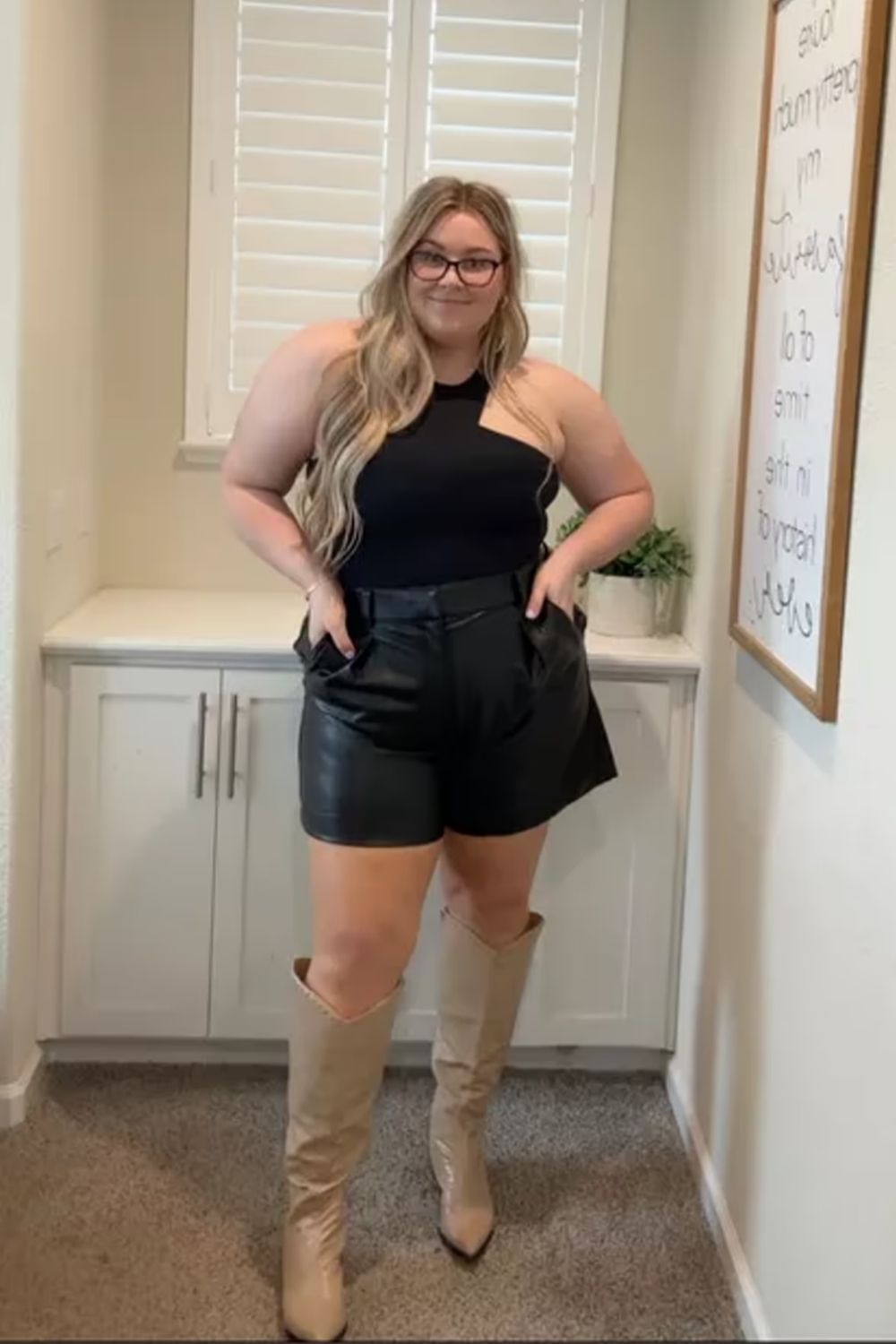 The outfit presents a chic, balanced look with a sleek black top and shorts ensemble that flatters the figure, while the over-the-knee boots elongate the legs and add an elegant, trendy touch to the overall aesthetic.
Sheer polka dot top, black skirt, boots.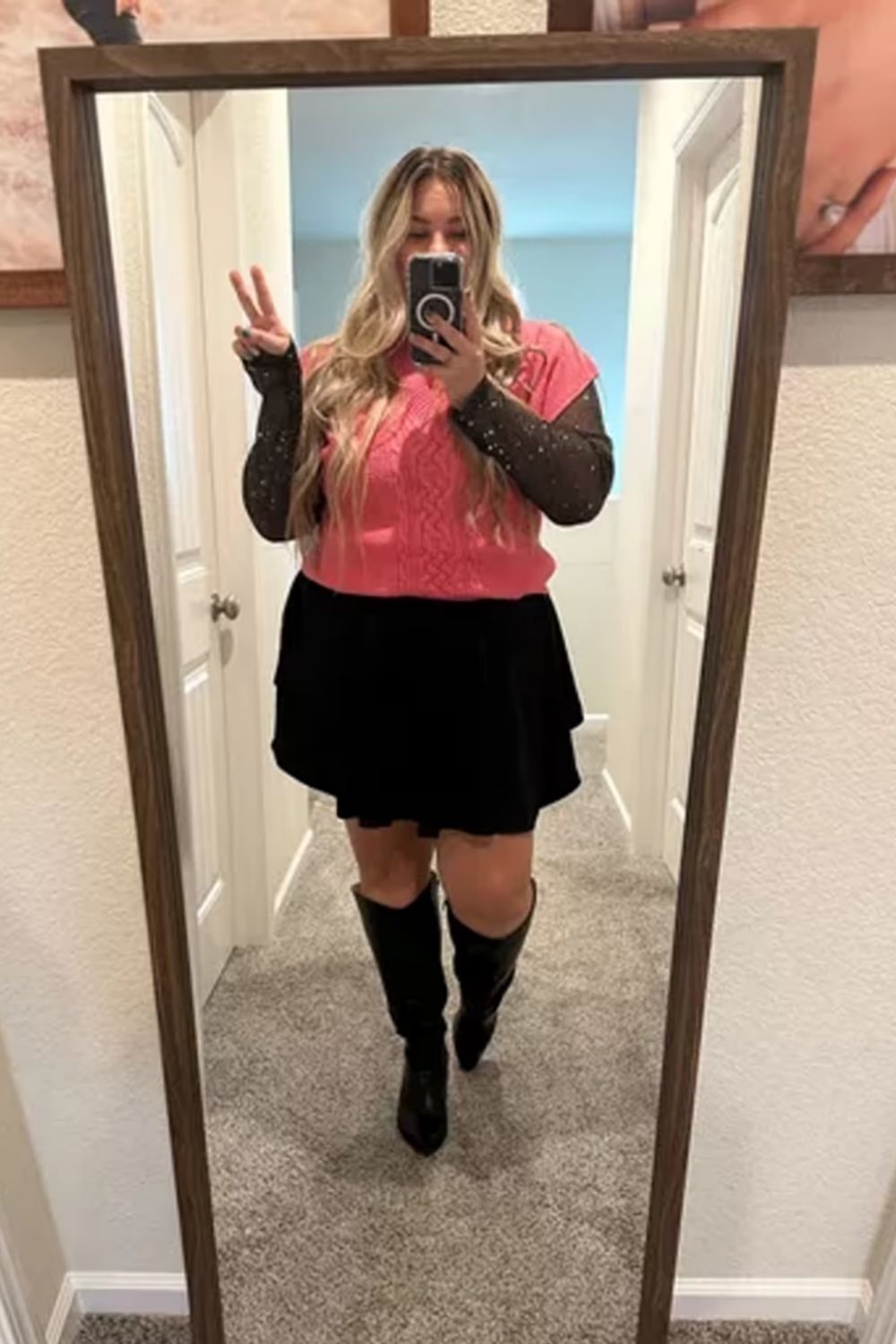 The outfit displays a playful and contemporary mix of textures with a sheer polka dot top adding a touch of whimsy, while the black skirt and boots create a classic and cohesive look that elongates the silhouette.
Bold red top, high-waisted black skirt, knee-high boots.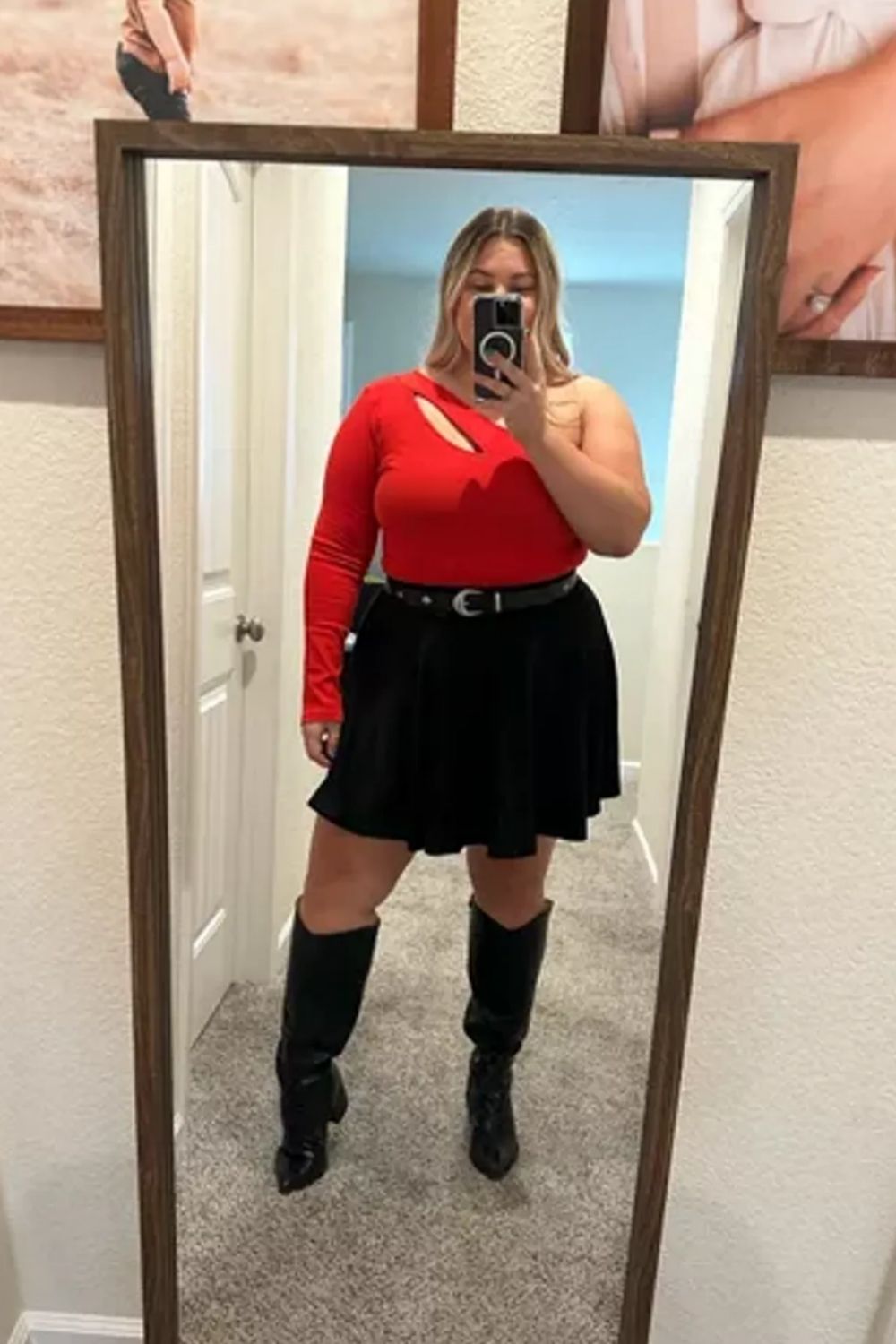 The outfit presents a bold color choice with the red top, which adds a pop of vibrancy and draws attention to the upper body, while the high-waisted black skirt and knee-high boots provide a sleek, streamlined look that elongates the legs. Overall, the ensemble balances color and proportion effectively, creating a stylish and cohesive appearance.
Sheer sleeves, monochrome black palette, high-waisted pants, boots.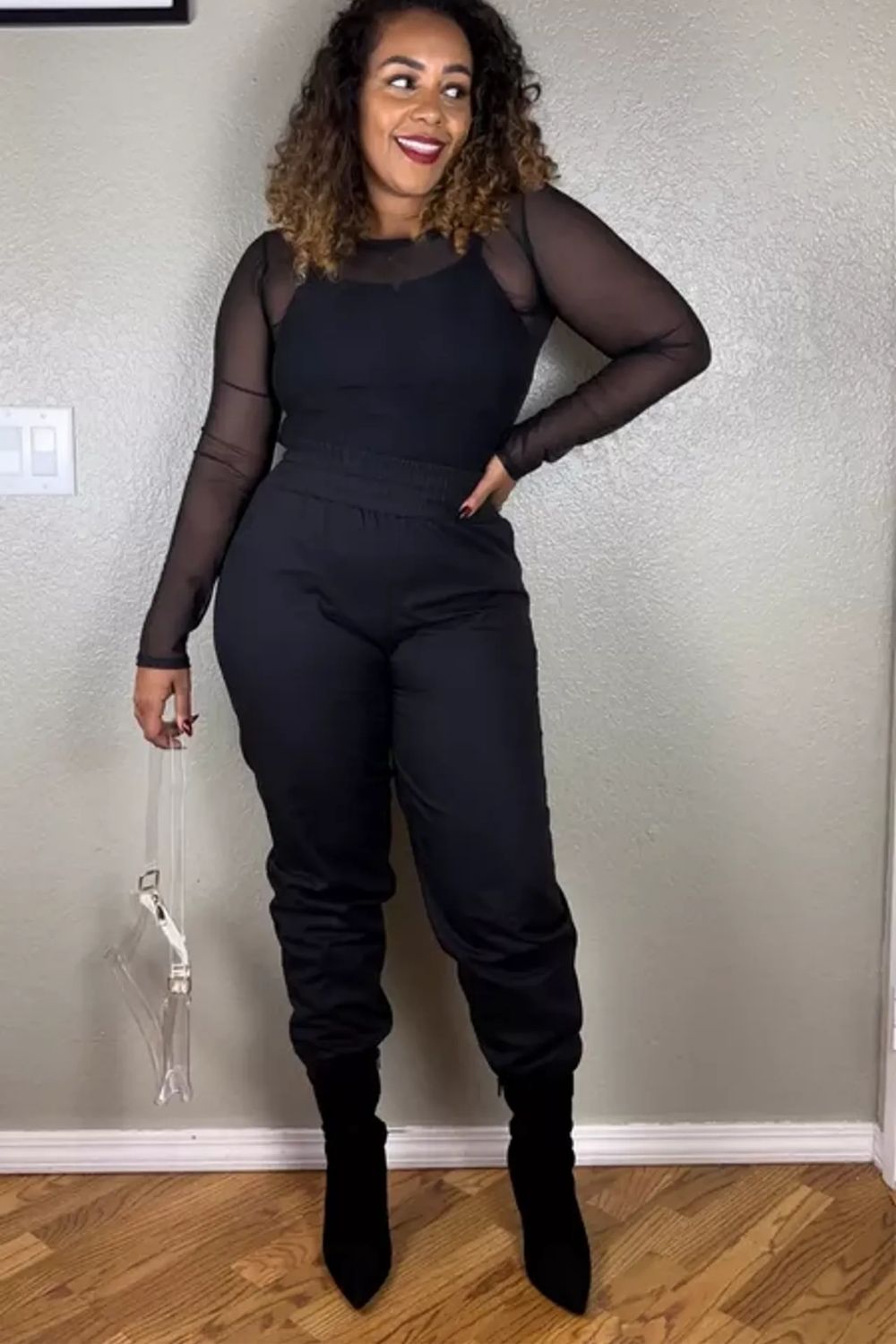 The outfit presents a chic and modern style with its sheer sleeves adding a touch of sophistication while the monochrome black palette creates a seamless and elongating effect, making it a versatile choice for various occasions. The high-waisted pants paired with boots further enhance the streamlined silhouette.
Graphic tee, black pants, red and white sneakers.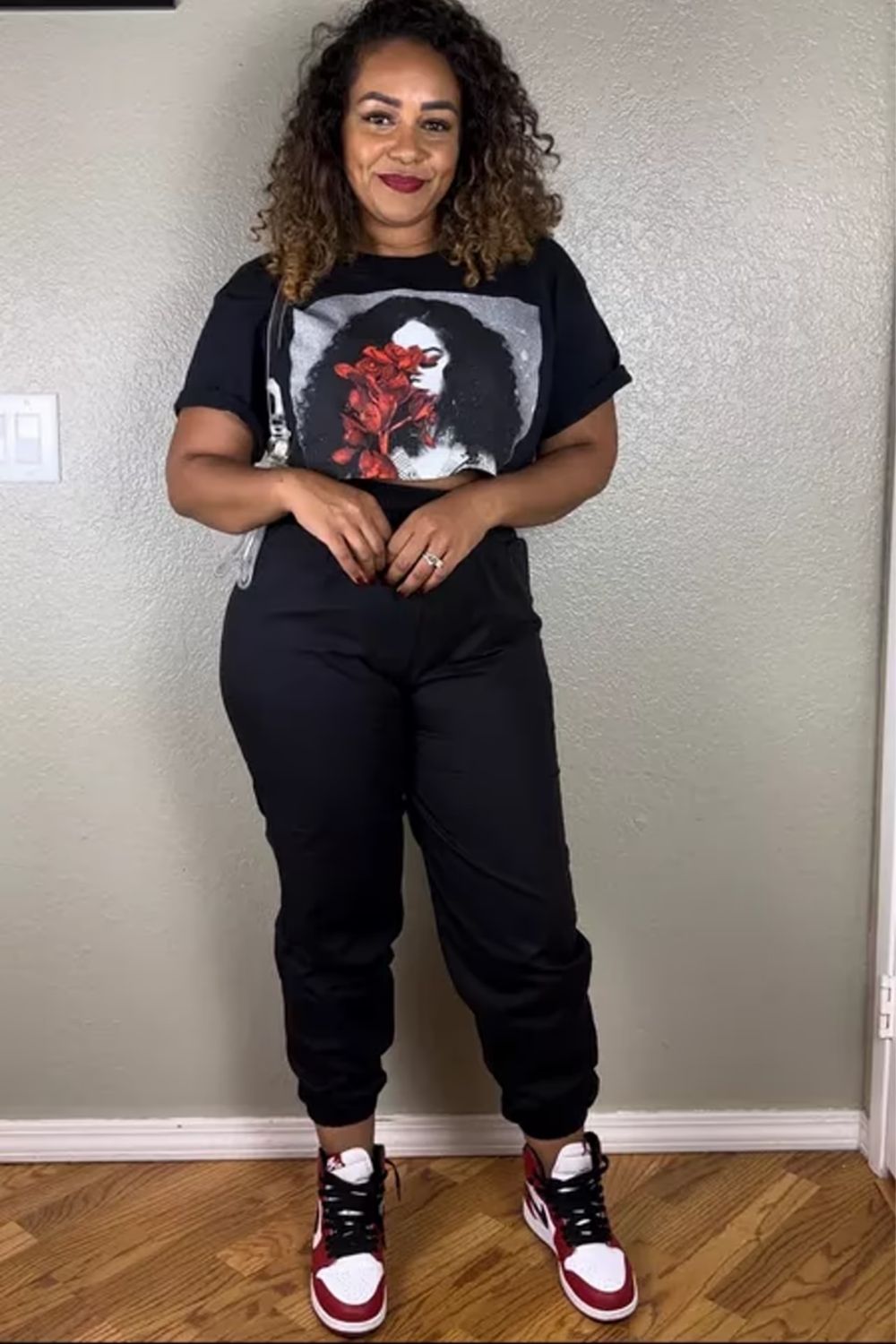 The outfit showcases a casual yet chic style, with the graphic tee adding a pop of interest paired with classic black pants, while the red and white sneakers inject a playful yet coordinated burst of color to complete the look. The overall ensemble strikes a comfortable balance between relaxed and trendy, making it versatile for various casual settings.
Monochromatic black palette, pop of color from the clutch, wide-leg pants.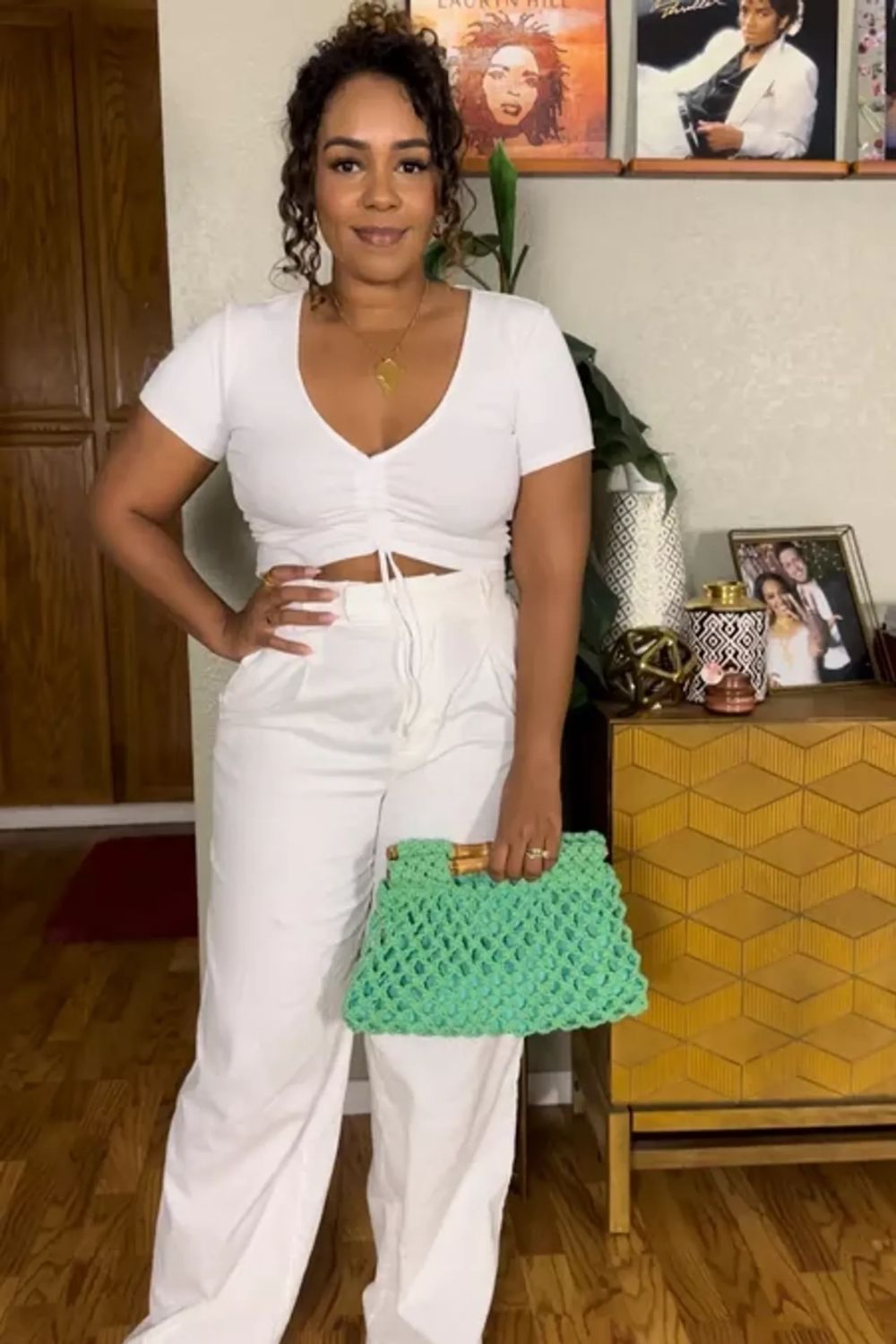 The ensemble presents a crisp, monochromatic look that is both elegant and timeless, while the pop of color from the clutch adds a playful touch to the overall sophistication. The outfit's fitted top paired with wide-leg pants creates a balanced silhouette, flattering the figure and offering a chic, modern aesthetic.
Coordinated color palette, textured details, form-fitting silhouette, sunglasses, necklace.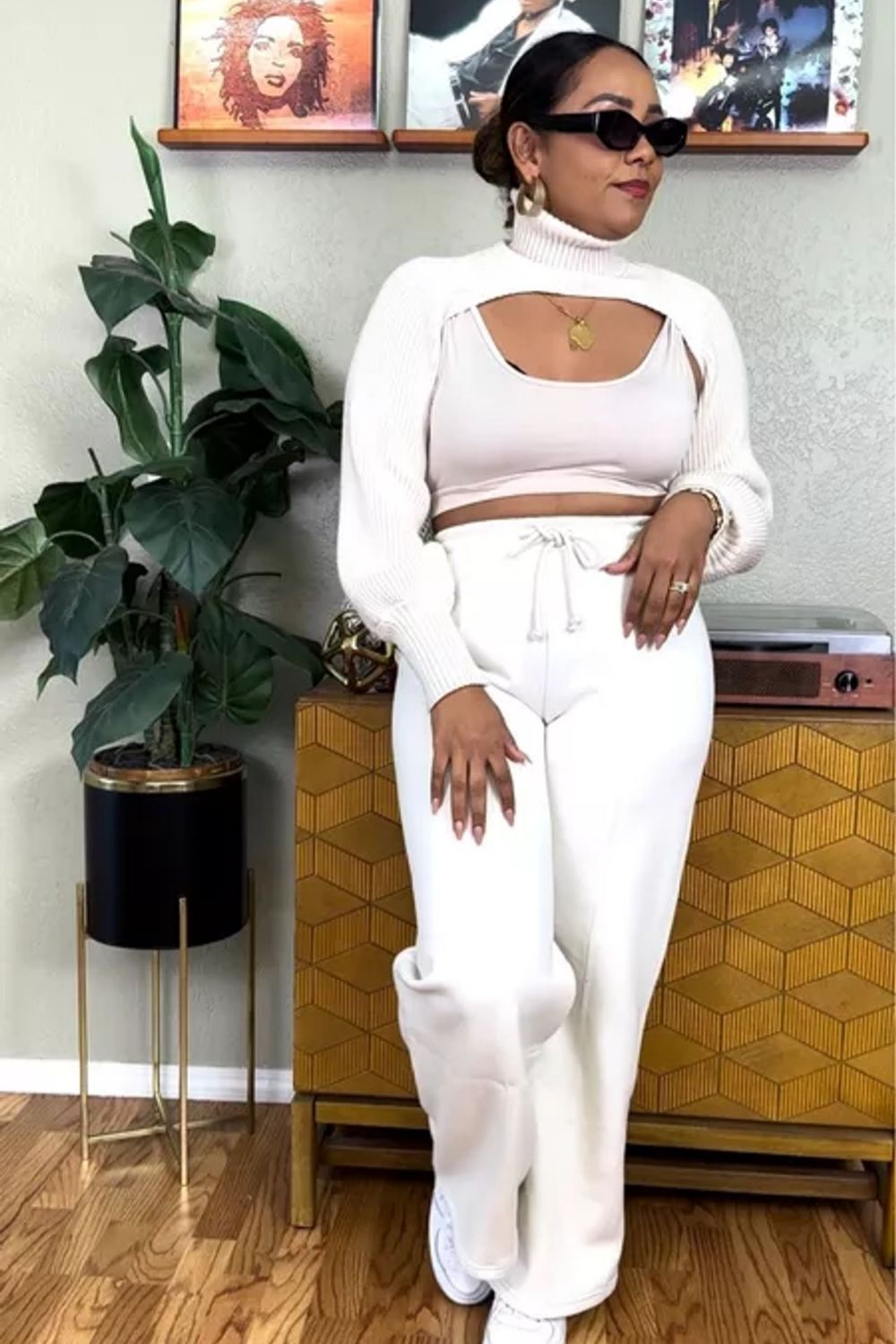 The outfit showcases a well-coordinated color palette that creates an elegant and modern look, while the textured details and form-fitting silhouette accentuate the body shape gracefully. Accessory choices, like the sunglasses and necklace, add a touch of sophistication, making the ensemble suitable for both casual and chic occasions.
Monochromatic black palette, leather jacket, all-black ensemble.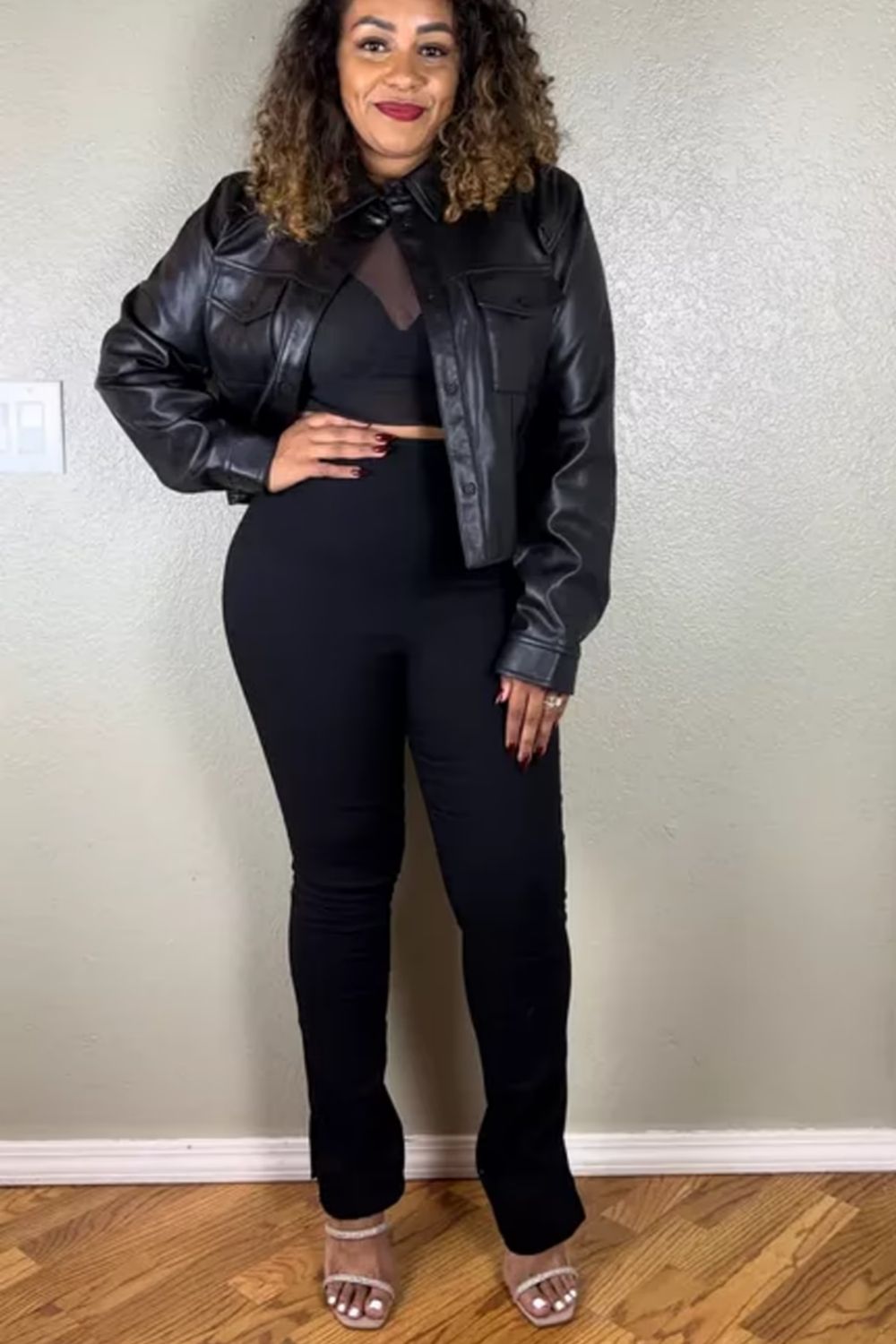 The outfit showcases a chic monochromatic palette which creates a streamlined and sophisticated look. The leather jacket adds texture and an edgy contrast to the sleekness of the all-black ensemble underneath, enhancing the overall style.
Neutral color palette, high-waisted trousers, fitted top.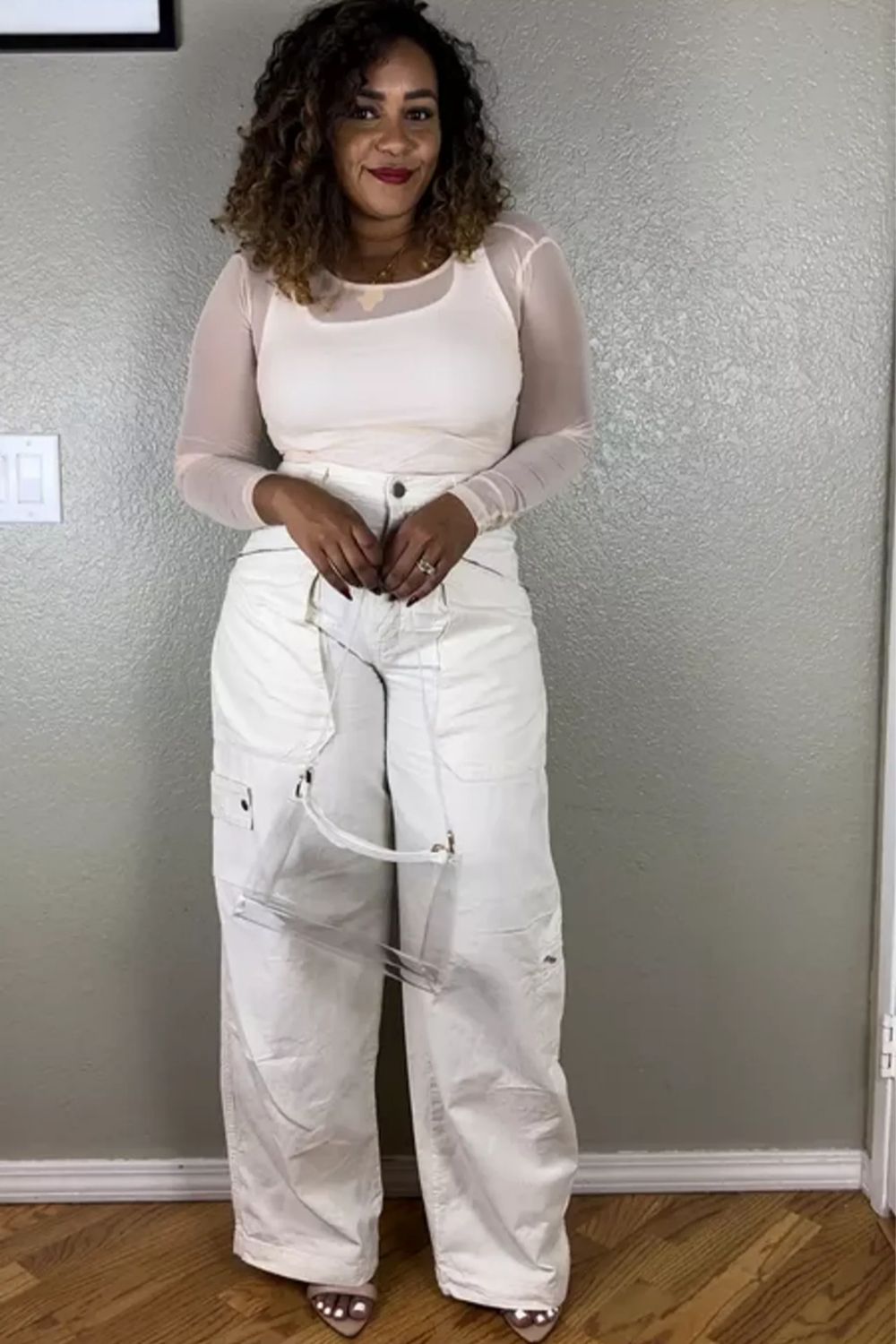 The ensemble exudes a chic and modern vibe with its neutral color palette that is both versatile and on-trend. The high-waisted trousers paired with a fitted top create a flattering silhouette that balances structure and femininity.