Magic Of Clothes is an independent reader-supported blog. We may earn commissions from every qualifying purchase made through our links, at no additional cost to you.
Corduroy blazers are enjoying a comeback these days, both in the corporate world as well as the world of fashion. But a lot of things have changed between the 90s and now, so styling these blazers isn't as simple as it used to be.
For example, if you wear a sports jacket that has an elbow patch on it (something that was prevalent earlier), you will be committing a horrible fashion mistake.
So in this guide, I will be going over the different ways in which one can wear a corduroy blazer, along with a few tips and tricks to help you look stylish and more presentable.
How to Style a Corduroy Blazer?
A corduroy blazer needs to be worn appropriately because vintage clothing can often received very mixed reactions. There are some who love it, and some who can't stand it.
Here are the three primary ways to style a corduroy blazer.
1. Dressy look
This is the outfit that you can wear to work, formal parties, and business brunches. It focuses on the texture of corduroy and makes your blazer the statement piece of the outfit.
Pair a neutral blazer with an all-black look. Go for tailored dress pants that have a very slight break, and as for footwear, a pair of oxfords will not do anyone harm. Layer the blazer over a black shirt that fits you right.
The all-black look will focus all the attention on your blazer, so make sure that it is tailored according to the shape of your torso. My personal favorite is a green corduroy blazer, as I have noticed that earth tones make the texture of corduroy "pop".
Complete your look with a dressy watch that has black detailing, and a pocket square (that's also preferably black).
2. Smart Casual
This is the outfit that you would want to wear to a dinner date or a family get-together. The blazer makes it smart, but it is still casual enough that you will not be considered uptight for dressing up.
Go for a blazer that has a bit more color to it – something like a navy or a royal blue. The fit can be slightly relaxed, but make sure that you don't look sloppy.
Pair the blazer with some khaki chinos for dressing down the outfit. Wear a simple white shirt under the blazer. As for footwear, a pair of loafers in chocolate brown would take the outfit to the next level.
Accessorize with a pair of sunglasses (but don't wear them indoors, that will make you look like a douchebag) and a nice watch. You can even add a couple of simple rings to make the outfit spicier.
3. Fashion Forward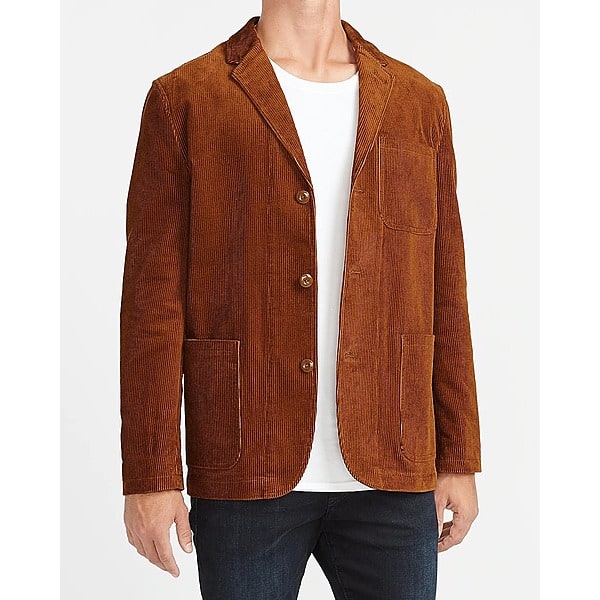 This is the outfit that's really trending right now. It is a callback to the 80s and the 90s, and the aesthetic vintage vibe that it gives off is what makes people attracted to it.
Pick a neutral-colored blazer. My favorite colors for corduroy blazers are olive and navy, but you can go with pretty much anything. Pair them with a basic white pocket tee.
Go for a pair of relaxed-fit trousers in beige or light grey. Don't be afraid to size up here. After all, we're emulating the 90s here, a decade that was known for its crazy fits.
Tuck the tee in for a more retro look, and push up the sleeves of your blazer to make the outfit ultra-casual. For footwear, depending on your personal taste, you can go for some thick chunky sneakers or some classic Derbys.
Feel free to accessorize like crazy. I would recommend you wear at least 2-3 rings, a bracelet, and a nice chain to complete the outfit. Avoid a watch if possible, as a timepiece does not really go with the vibe of this look.
Are Corduroy Blazers out of Style?
No corduroy blazers aren't out of style. The retro trend in fashion has actually brought back corduroy blazers in style, and they are being worn by more and more young people.
Fashion moves in 30-year cycles. In the early to mid-80s, it was very fashionable to wear blazers made out of corduroy. Now that we're at the end of this cycle, corduroy blazers are coming back into circulation.
And in my opinion, you shouldn't really care about what's in style and what's not. Wear what you like, not what the fashion trends happen to dictate.
The ability to bring your own unique identity and preference into your fashion; that's the real MagicOfClothes.
Corduroy Blazer Buying Guide
There are a few things that you need to know before buying corduroy blazers. Just going over the next couple of paragraphs will go a long way in helping you look stylish, so please read carefully.
Best colors for corduroy blazers
The best colors for corduroy tend to be neutral colors. Beige, navy, grey, and olive are usually great for a first blazer.
Deeper and darker earth tones look especially great on corduroy blazers. I'm talking about colors such as chocolate brown and forest green here. Trust me, if you can find a good quality chocolate brown blazer that fits you well, don't let the piece go.
Avoid brighter colors such as red, orange, and pink. Black also looks a bit odd in corduroy and tends to get dirty relatively quickly, so be aware of that.
Stay away from elbow patches
Some things are better left in the 90s. Elbow patches are those some things.
Elbow patches are small pieces of leather or pleather material that are stuck to the elbow region of a jacket to ensure that it is properly protected.
But the material that is used to make a corduroy jacket has improved by a huge margin in the past 30 years. There is no need for any further protection at the elbows.
In this day and age, elbow patches just seem tacky. There are tons of corduroy pieces out there without them, so you don't need to worry about running out of options.
How should a Corduroy Blazer Fit?
A corduroy jacket should be snug on the chest, and its shoulder should line up with your natural shoulder. The jacket should come down to the middle of your zipper, and its sleeves should end at your wrist.
The rules of fitting when it comes to corduroy blazers are not that different from regular sports jackets. Therefore, it would be best to get one tailored on the basis of a suit jacket that you already have and love.
This method will ensure proper fitting. If you are buying an off-the-rack corduroy jacket, focus the most on getting the right fit at the shoulder point. Everything else can be dealt with by a quality tailor.
Final Remarks
Corduroy blazers are very versatile and are enjoying a moment in today's fashion world. But styling them can be a bit tricky because you don't want to look like your grandpa wearing corduroy.
There are basically three ways to style a corduroy blazer:
Dressy
Fashion Forward
Smart Casual
Stick to the tips mentioned in this article and your fits are going to be *fire*.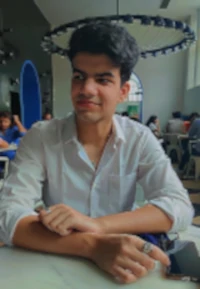 My name is Alex Higson and I am the founder of Magic Of Clothes. I have worked in the fashion industry for many years, and clothes and style are a huge part of my life.