Magic Of Clothes is an independent reader-supported blog. We may earn commissions from every qualifying purchase made through our links, at no additional cost to you.
If you're considering shopping at Aritzia, it's important to be aware that the sizing may run small.
Aritzia is a well-known Canadian clothing brand that is famous for its high-quality and stylish fashion pieces. The company has both physical stores and an online presence.
The brand was founded in the 1980s and has gone on to become a popular choice for women of all ages. Some of their most popular items include dresses, skirts, jeans, and tops. 
But there is one huge problem at Aritzia.
Their sizing is off the chart ridonculous (and yes, I know that ridonculous is not a word). It is not uniform at all, and while some garments run small, others run too large.
In this article, I will try to make heads and tails of Aritzia's sizing issues, and recommend you the size that you should buy at the brand.
How Does Aritzia Clothing Fit?
Dresses, tops, and swimwear run small at Aritzia, while their pants run a bit large.
However, this is not all. Even in individual categories, there can be inconsistencies in sizing. For example, their bodysuits (which come in the category of tops), are true to size, and their Effortless collection runs small.
In my opinion, this inconsistency in sizing is due to the lack of a quality check. While their materials and construction are still amazing, I'm sure Aritzia fancies itself as the next Shein.
Their clothing tends to be on the more expensive side, but they cater to women of all ages so that's a positive.
Aritzia is a great place to shop for fashionable clothing, but it's important to keep in mind that the fit varies from piece to piece.
Always try on clothing whenever possible and consider ordering a size up if you are completely unsure about the fit. Remember, a garment can be made smaller, but it's really difficult to make it larger.
Additionally, Aritzia offers free returns, so you can easily return any items that don't fit properly.
What size should you get at Aritzia?
Depending on the style of clothing, you may want to size up or down. For example, if you're looking for a fitted dress, you may want to size down. However, if you're buying a pair of Wilfred jeans, you may want to size up. 
If you're unsure about what size to get, it is always best to go with a larger size rather than a smaller one. This will ensure that you have enough room to move around comfortably and that your clothes won't be too tight.
In general, it's always best to try on clothing before purchasing to ensure the best fit. You can also consult the Aritzia size chart (given below) for more guidance. 
Which Aritzia Items Run Small?
| Aritzia Clothing | Sizing |
| --- | --- |
| Tops and Shirts | Run small. |
| Dresses | Run small. |
| Swimwear | Run small. |
| Pants | Run big. |
Shirts
Aritzia tops tend to run small, so it is recommended that you size up when ordering. But their bodysuits are true to size, so you can go for your actual size in them.
This brand's shirts are also known for being very fitted, so if you're looking for a more relaxed fit, you may want to consider ordering a size up as well. 
Their shirts are also cut to flatter a range of body types. The material of the shirts is often quite thin, so it is best to layer them with a tank top or camisole underneath. 
Dresses
Aritzia dresses tend to run small, but they can also fit true to size. They are the main culprits of inconsistent sizing.
I've ordered various dresses from their website for my clients, and while most have run small, a couple have also been true to size.
Therefore, I would tell you to pay really close attention to the size chart before making a purchase.
Swimwear
Aritzia swimwear generally runs small. If you are between sizes, I recommend sizing up.
But the diversity of their swimwear collection truly makes up for it. I don't think any other lifestyle brand pays as much attention to swimwear as they do, and to be honest, it shows.
The quality of their swimwear pieces is really good. Thumbs up from my side!
Pants
There is no definitive answer to this question, as Aritzia jeans can vary in size depending on the style and fit.
Their Effortless pants run small. However, their Wilfred pants run a bit large, and it is advisable to go one size down if you are in-between sizes. 
Their leggings are a tad bit tighter than I would like, so you can also size up in them. Overall, Aritzia trousers are well-made and offer a great fit, and you'll be happy with your purchase no matter which size you choose.
Aritzia Size Chart For Women
All measurements are in inches.
Tops and Dresses
| Size | 2XS | XS | S | M | L | XL | XXL |
| --- | --- | --- | --- | --- | --- | --- | --- |
| Bust | 30.5 | 32-33 | 34-35 | 36-37 | 38.5-39.75 | 40.5-42 | 43.5-45 |
| Waist | 22.5 | 24-25 | 26-27 | 28-29 | 30.5-31.75 | 33.25-35 | 36.75-38.5 |
| Hip | 32.5 | 34-35 | 36-37 | 38-39 | 40.5-41.75 | 42.5-44 | 45.5-47 |
Jeans and Bottoms
| Size | 00 | 0 | 2 | 4 | 6 | 8 | 10 | 12 | 14 | 16 |
| --- | --- | --- | --- | --- | --- | --- | --- | --- | --- | --- |
| Bust | 30.5 | 32 | 33 | 34 | 35 | 36 | 37.5 | 39 | 40.5 | 42 |
| Waist | 22.5 | 24 | 25 | 26 | 27 | 28 | 29.75 | 31.5 | 33.25 | 35 |
| Hip | 32.5 | 34 | 35 | 36 | 37 | 38 | 39.5 | 41 | 42.5 | 44 |
Does Aritzia make plus-size clothing?
The answer is unfortunately no. While Aritzia does offer some items in sizes XS-XXL, it doesn't carry a dedicated plus-size line.
However, that doesn't mean that there aren't ways to shop Aritzia if you're plus size.
One way to shop Aritzia if you're plus size is to look for items that are listed as "One Size." While this doesn't necessarily mean that the item will fit everyone, it does mean that it's likely to be a bit more forgiving in terms of size.
Additionally, many of Aritzia's items are made from stretchy materials, which can also help to accommodate a range of sizes.
If you're set on finding specific items from Aritzia's collection, you can always try shopping secondhand. Sites like Poshmark and thredUP offer a great selection of gently used Aritzia pieces, including some that may not be available in stores anymore.
And of course, you can always try shopping at Aritzia's regular line in a bigger size. While it's not guaranteed to fit perfectly, it's always worth a try!
Final Remarks
Although Aritzia is a popular retailer, there have been some complaints about the company in recent years. In particular, many customers have complained that the clothing runs small.
This is an issue that has been raised multiple times on social media and online forums, so I decided to clear up the matter once and for all.
Here's a quick recap of the article.
Aritizia's sizing is pretty inconsistent across categories. While most of their clothing runs small, certain pieces from their Wilfred collection run large.
Happy shopping!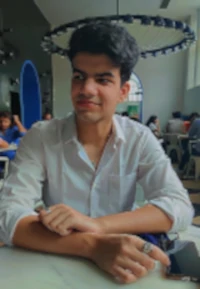 My name is Alex Higson and I am the founder of Magic Of Clothes. I have worked in the fashion industry for many years, and clothes and style are a huge part of my life.