It's extremely difficult to find cute gym clothing for us plus-size girlies. Either the clothes look hideous or they don't fit the body properly.
But don't worry, because I have done some research and come up with 25 outfits that are going to make you look amazing at your next workout.
The days of bland workout gear for curvier bodies are over. We're diving into a world where style meets sweat, showcasing 25 plus-size gym outfits that'll have you looking and feeling amazing on the treadmill or lifting those weights.
What to wear to the gym For Plus Size Girls
From curve-hugging leggings that sculpt and support to trendy tank tops that make a statement, we've got the lowdown on gym outfits that not only flatter your figure but also make you the star of the workout show.
Pastel green leggings, neutral cropped top.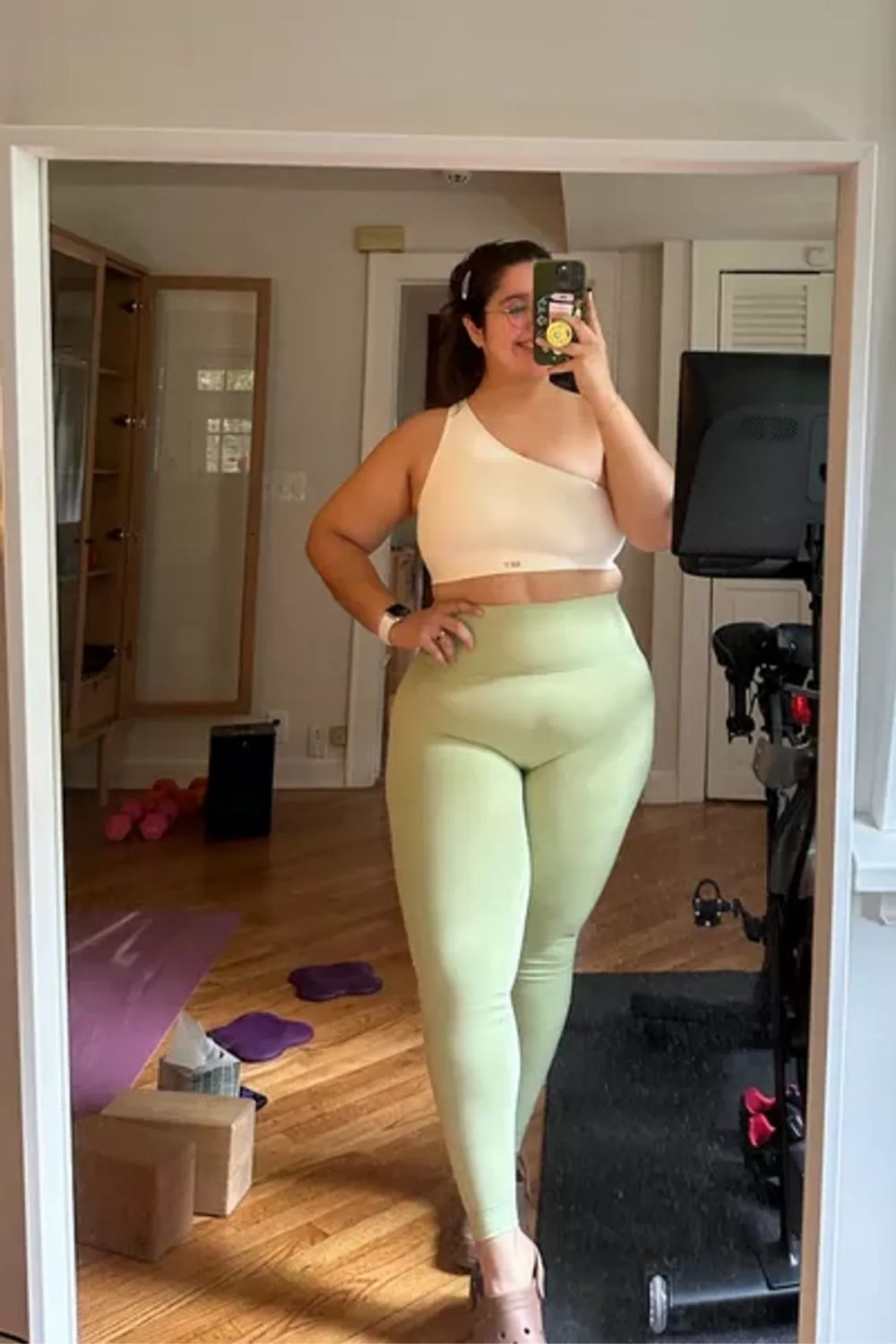 The outfit features a harmonious color palette with a pastel green bottom and a neutral top, giving it a fresh and cohesive look. The high-waisted leggings and cropped top combo accentuate the figure while offering a balanced blend of comfort and style.
Form-fitting activewear, supportive sneakers, vibrant red top.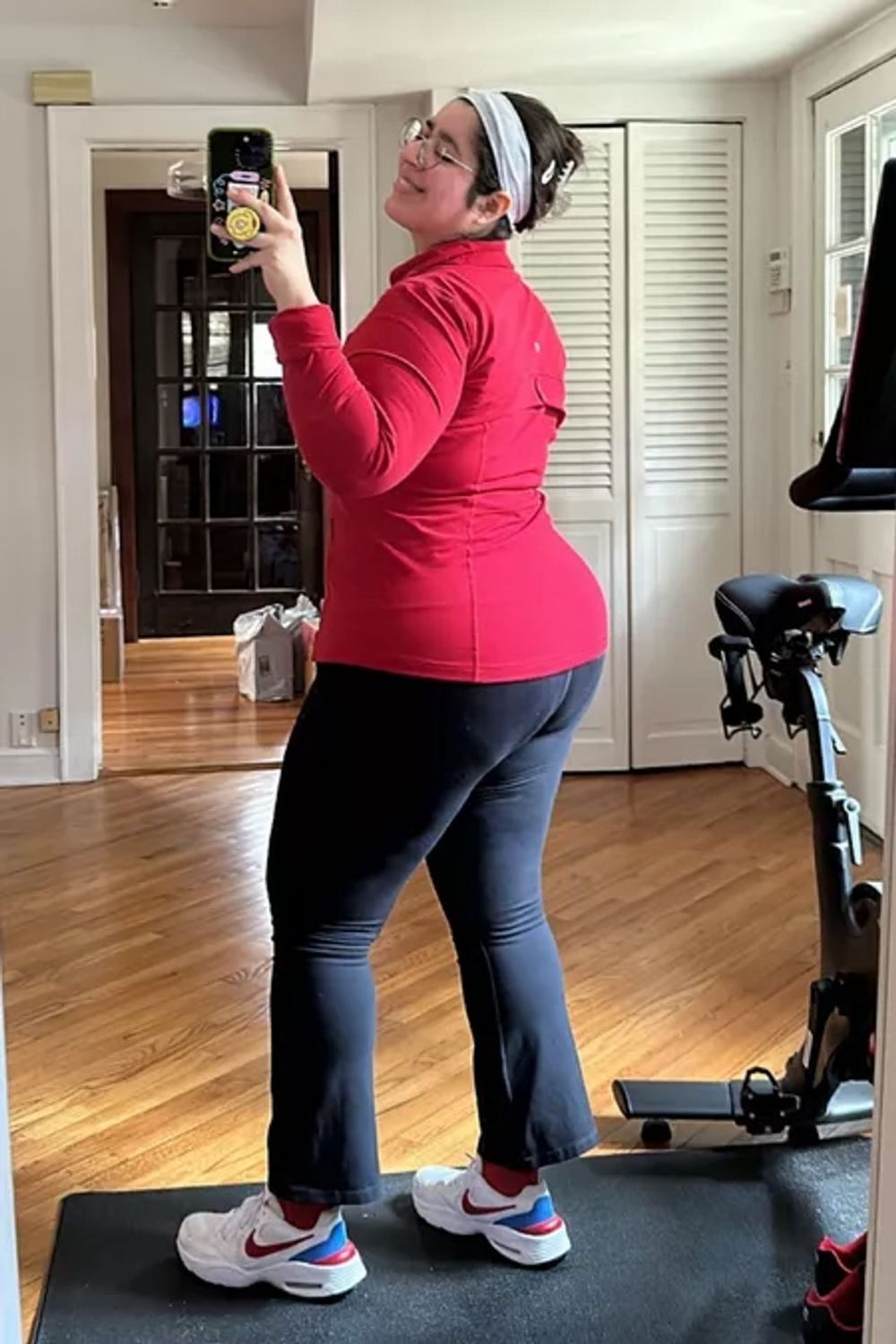 The outfit is practical and comfortable, ideal for a workout session with its form-fitting activewear and supportive sneakers, while the pop of red in the top adds a vibrant and energetic touch to the ensemble.
Bold pink activewear, relaxed fit, breathable fabric.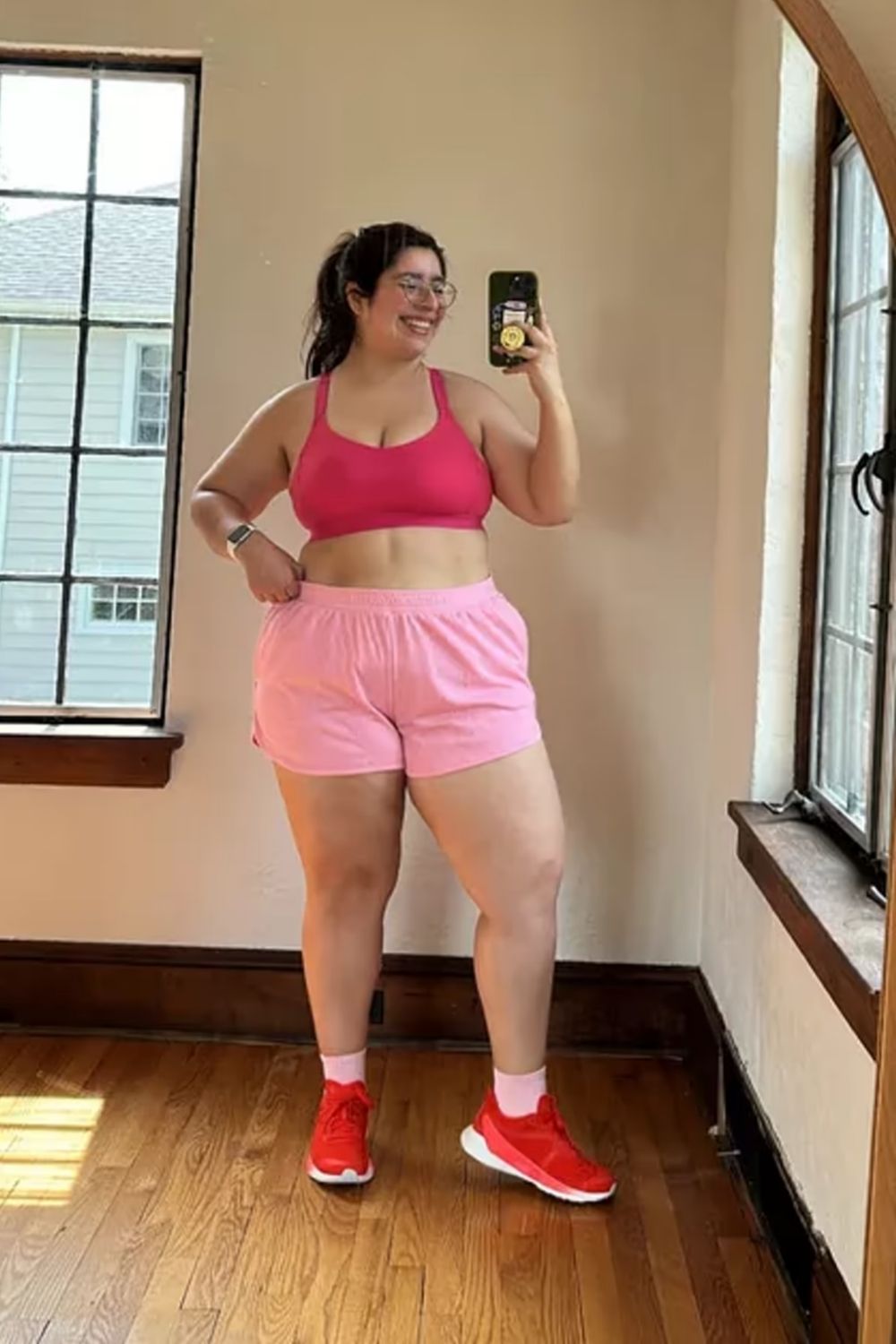 The outfit exudes a vibrant and confident energy with a bold pink color that makes a cheerful statement. It also appears comfortable and functional, ideal for workout sessions or casual activities, with its relaxed fit and breathable fabric.
Vibrant, monochromatic jacket, leggings ensemble.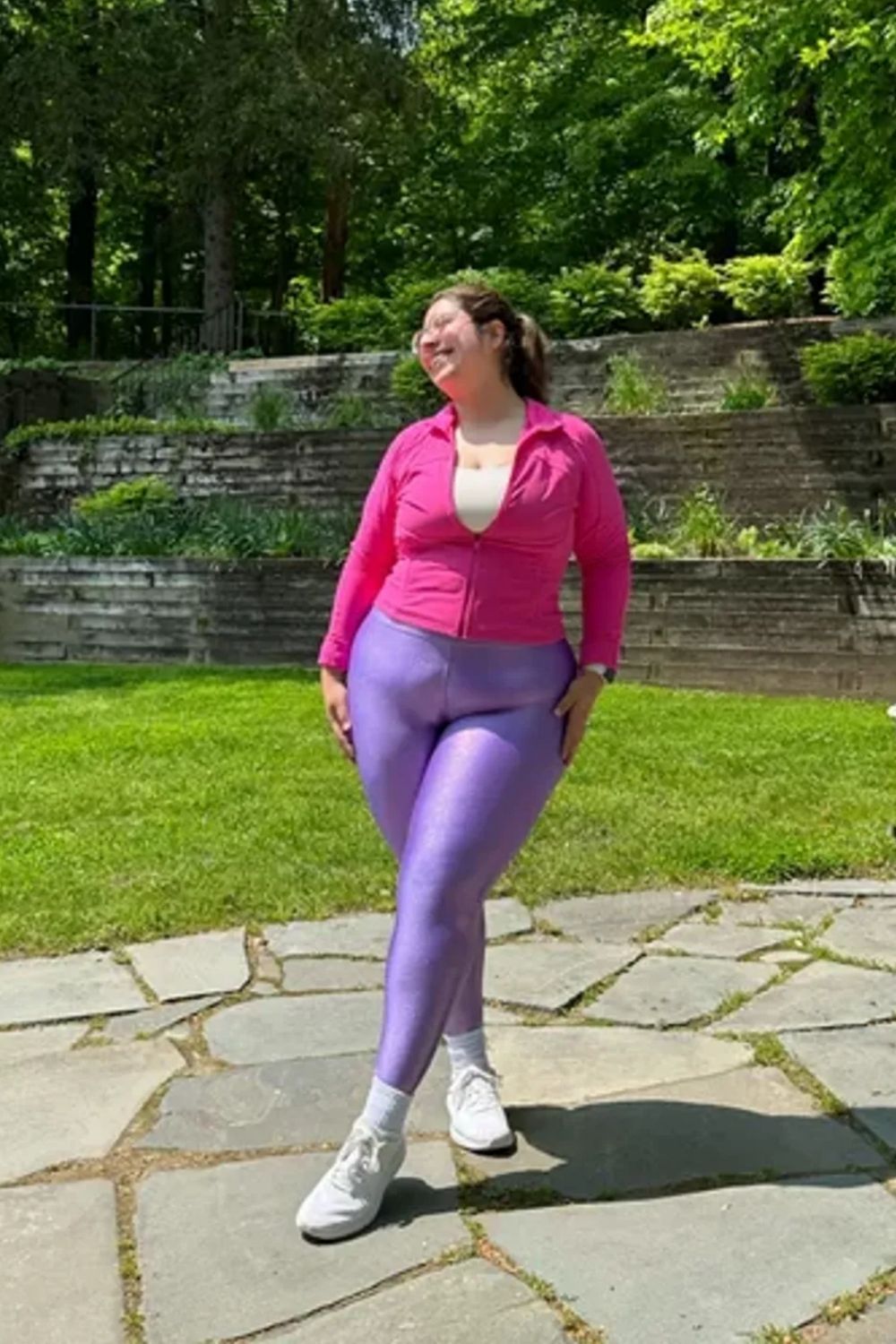 The vibrant, monochromatic palette of the outfit creates a bold and cohesive look, while the fit accentuates the figure, inspiring confidence and ease of movement. The combination of the jacket and leggings is on-trend, offering a mix of comfort and style suitable for an active lifestyle.
Bright orange two-piece, modern, sporty aesthetic.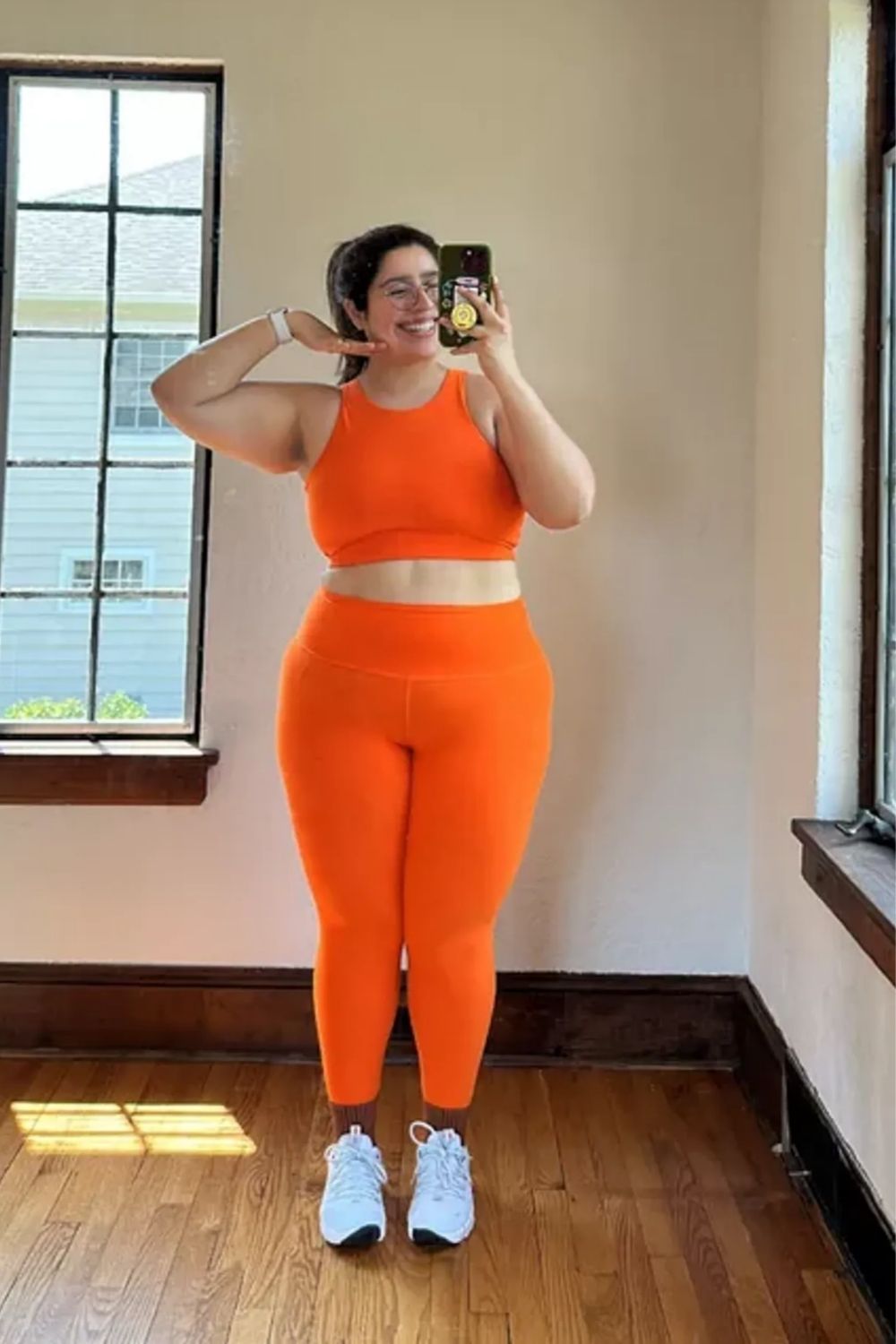 The bright orange hue of the outfit is bold and eye-catching, emanating a fun and energetic vibe. The coordinated two-piece ensemble exhibits a modern, sporty aesthetic that is both stylish and comfortable, promoting ease of movement and a confident demeanor.
Form-fitting silhouette, bold colors, earthy tones.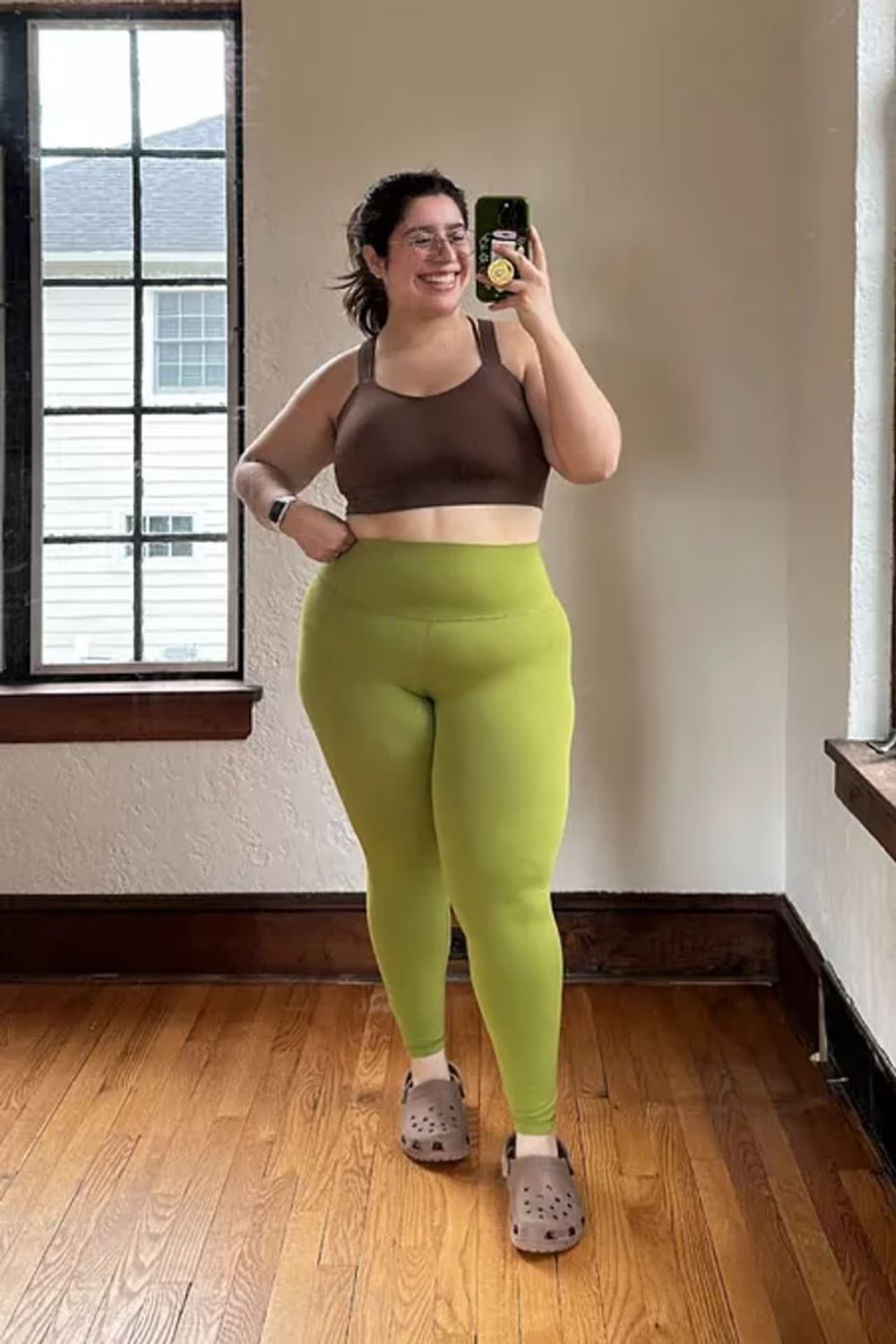 The outfit exudes comfort and confidence with its form-fitting silhouette and bold color choice. The earthy tones of the top balance the vibrancy of the leggings, making for a harmonious and energetic look.
Solid lavender form-fitting outfit.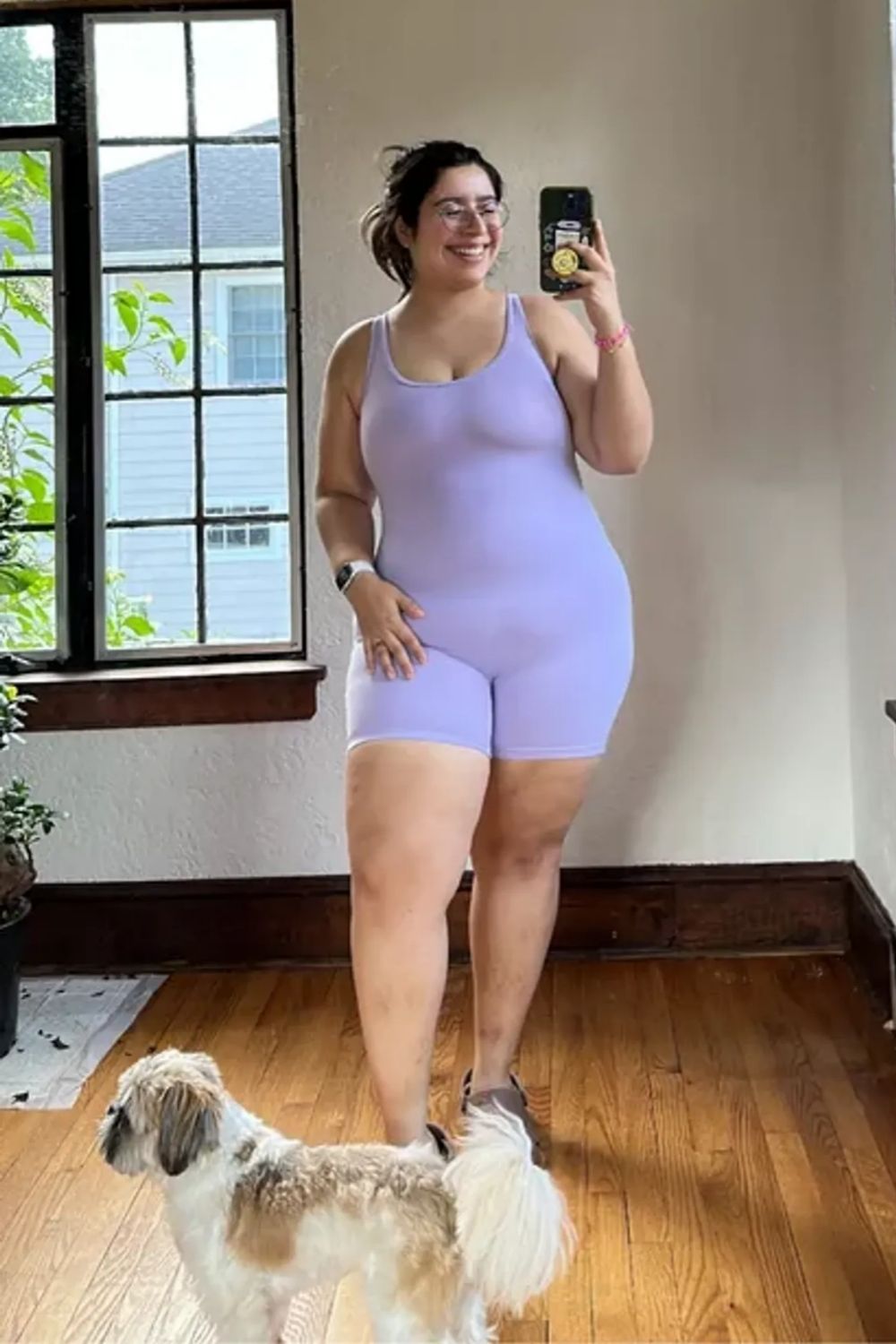 The outfit's solid lavender color presents a fresh and modern feel, while its form-fitting design accentuates the wearer's curves, promoting body confidence and comfort. The simplicity of the style offers versatility for accessorizing and adapting to different casual occasions or workouts.
Soft pastel monochromatic ensemble.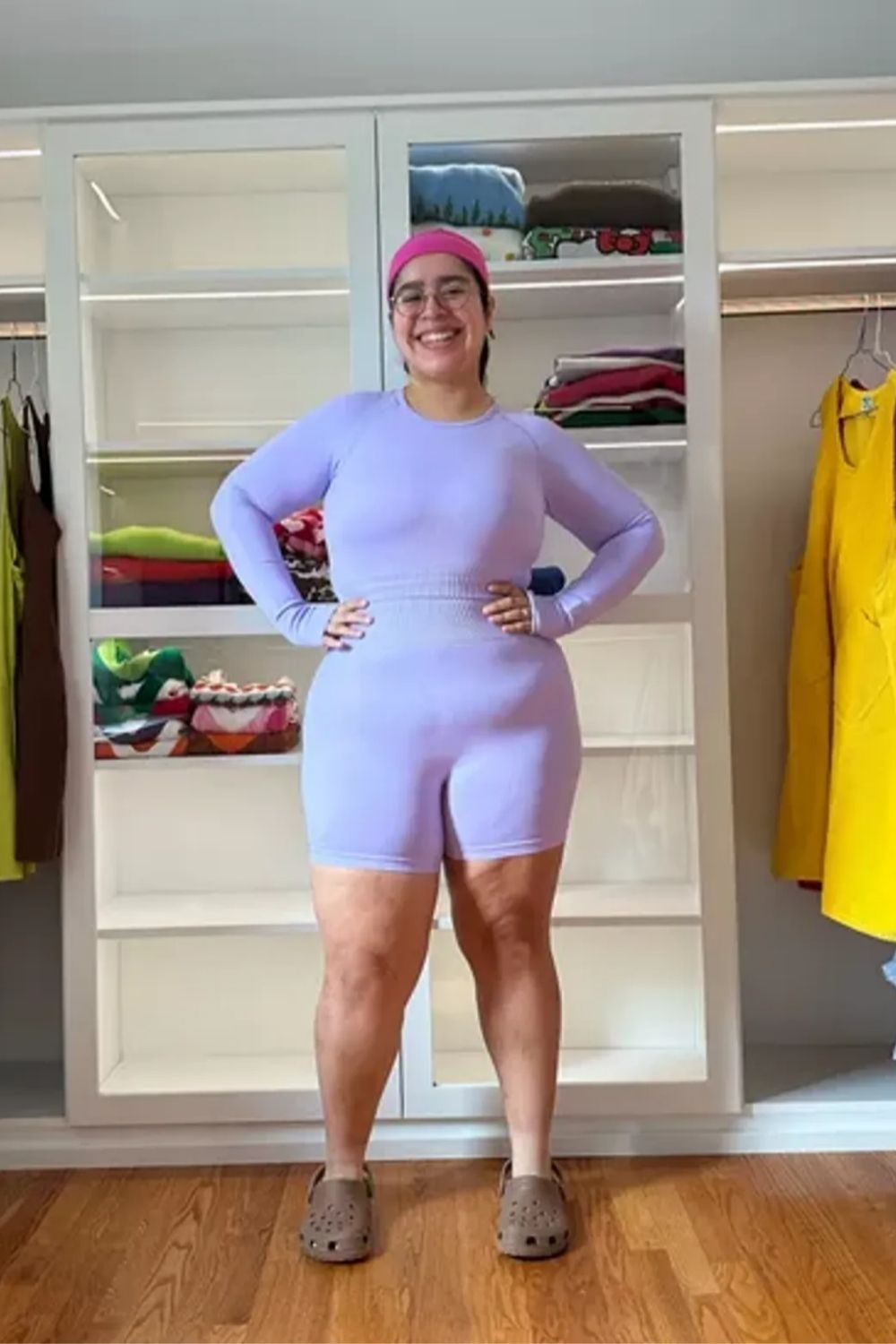 The outfit is a stylish monochromatic ensemble that creates a sleek, streamlined silhouette, and the choice of a soft pastel color is on-trend and flatters the skin tone. The fit is comfortable and sporty, which works well for a casual, chic look.
On-trend monochromatic look, soft pastel color.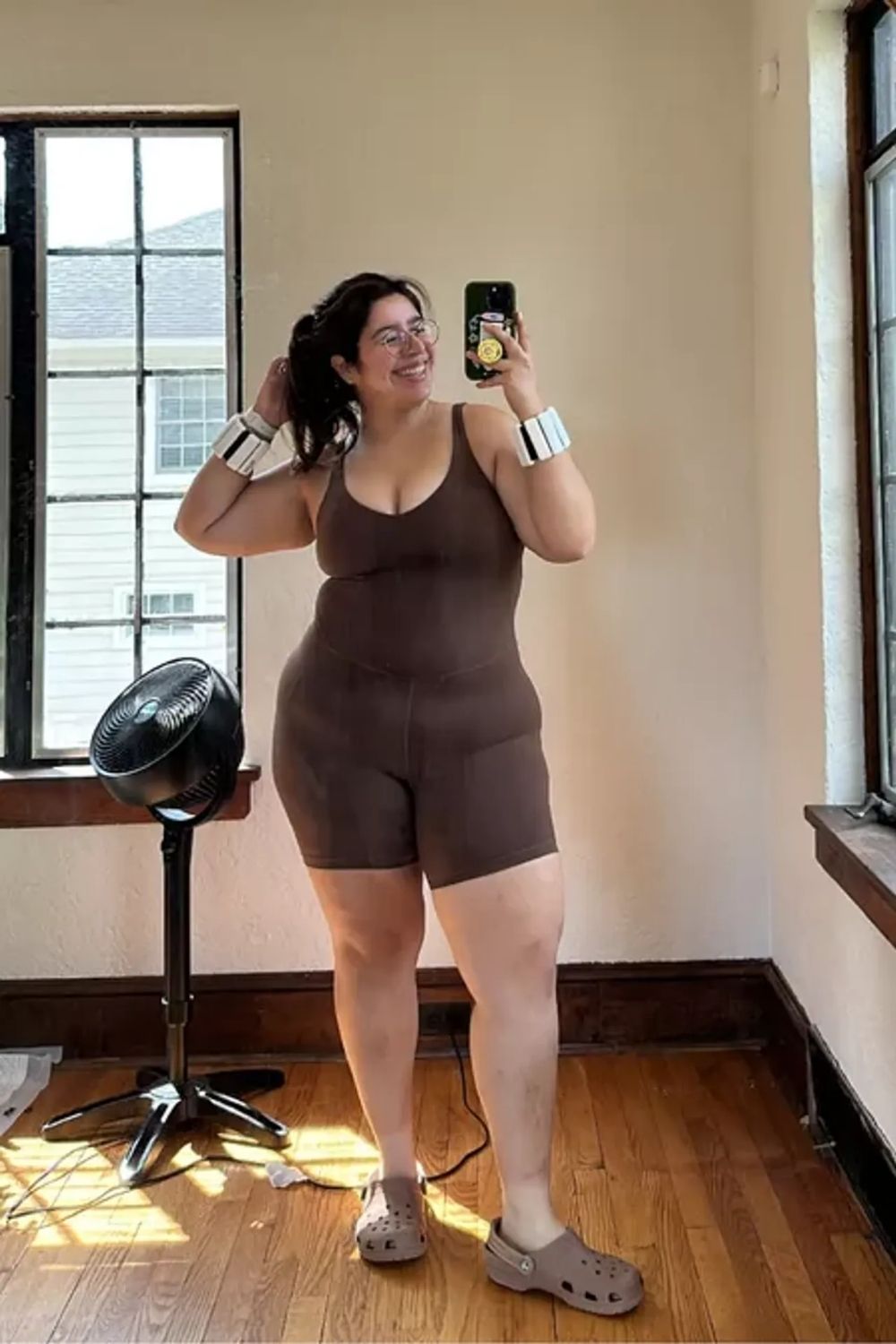 This outfit showcases a monochromatic look that's very on-trend, creating a streamlined and sophisticated silhouette. The simplicity of the design allows for accessories to stand out, adding a personal touch to the style.
Stylish pink sweatshirt, fitted leggings, patterned sneakers.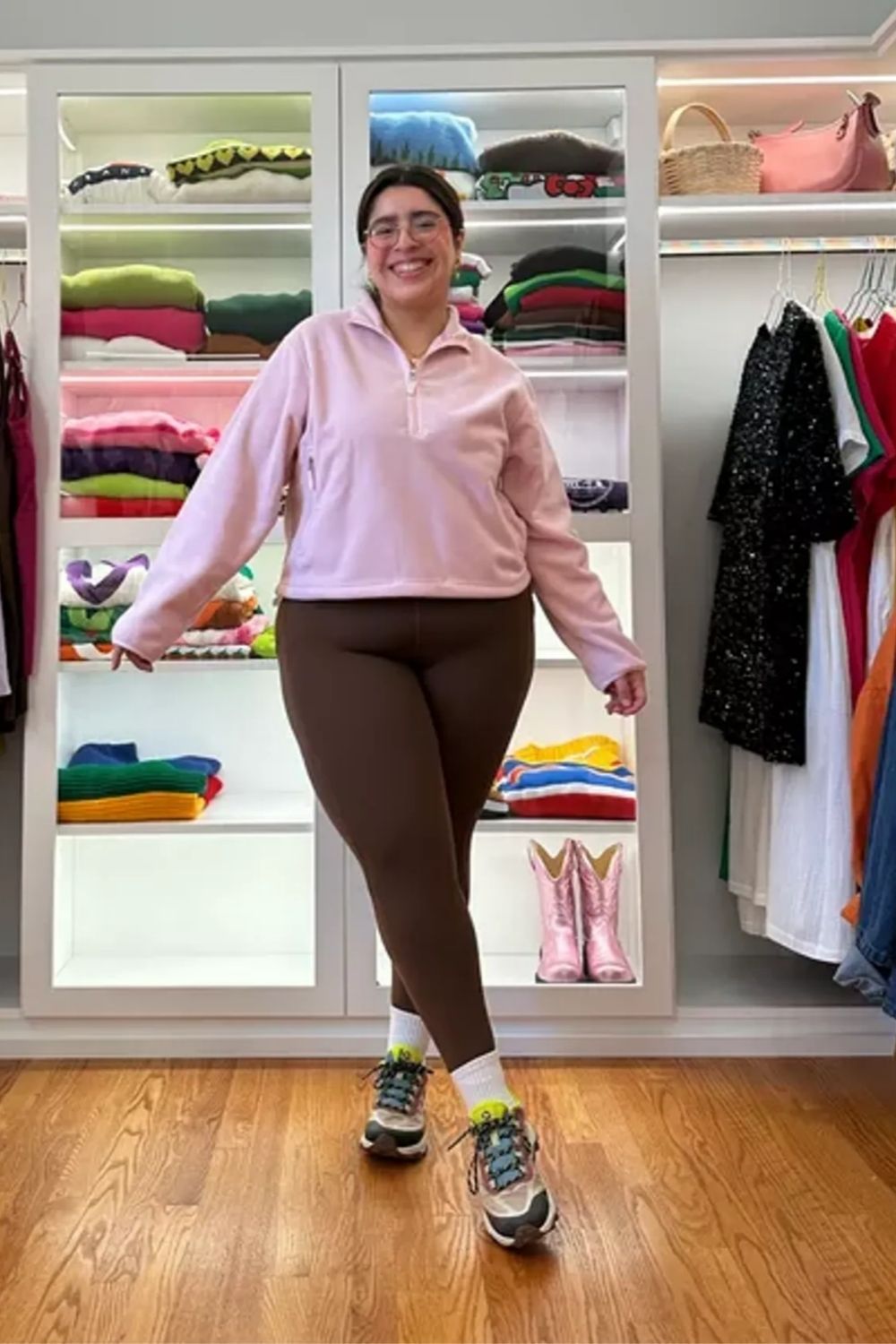 The outfit embraces a comfortable yet stylish aesthetic, with the soft pastel pink sweatshirt adding a pop of gentle color and the fitted leggings offering a sleek, active look. The choice of chunky, patterned sneakers provides a trendy, statement finish that balances comfort with contemporary fashion flair.
Coordinated monochrome palette, crop top, leggings, sneakers.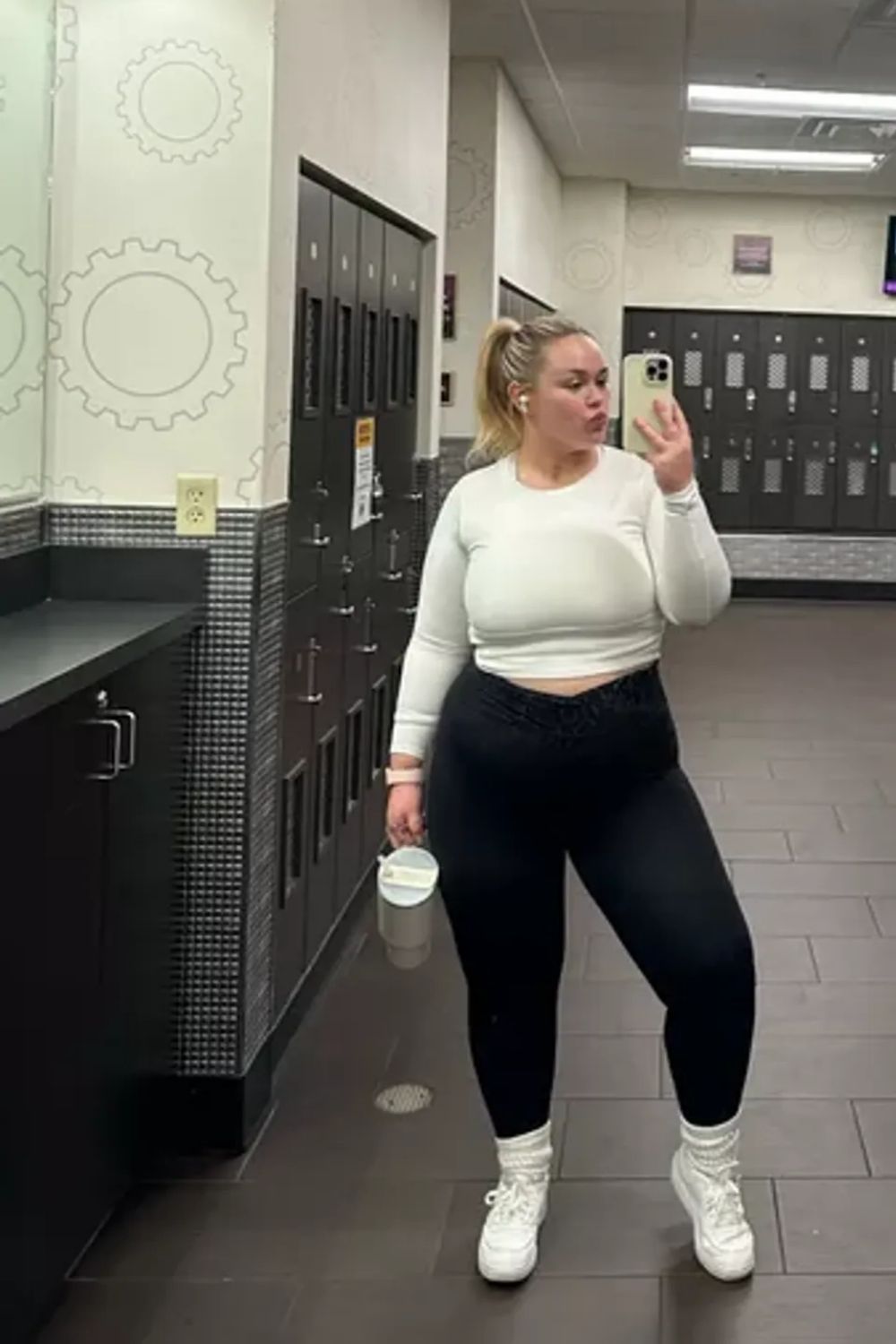 The outfit showcases a well-coordinated monochrome palette, creating a sleek and unified look. The long-sleeved crop top paired with high-waisted leggings emphasizes a balanced silhouette, while the white sneakers add a fresh and sporty touch suitable for an active lifestyle.
Sleek, monochromatic ensemble, body confidence, ease of movement.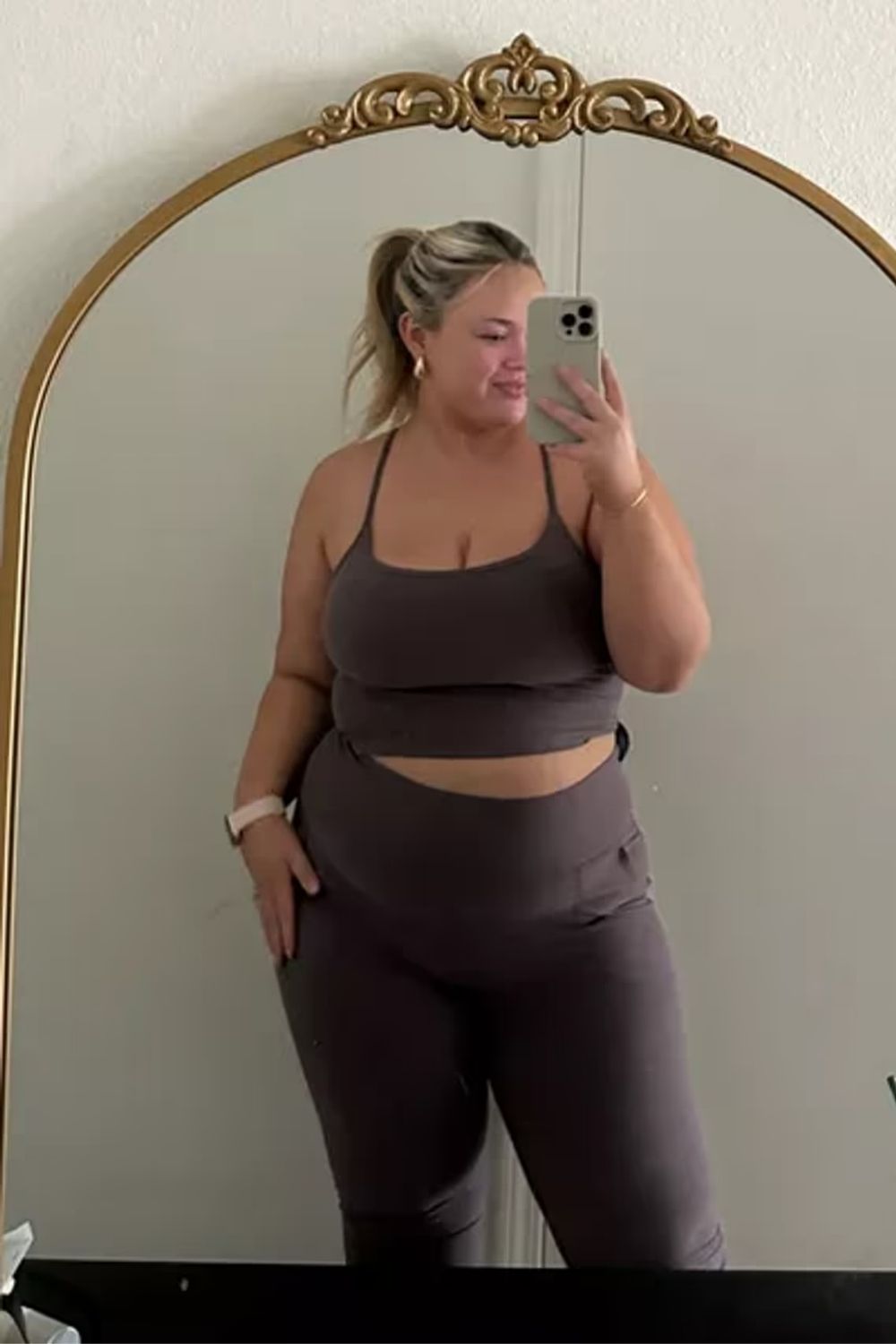 The coordinated color scheme of this outfit creates a sleek and monochromatic look which is both trendy and flattering. The fit is comfortable and stylish, promoting body confidence and ease of movement.
Monochromatic look, flattering fit, stylish accessories.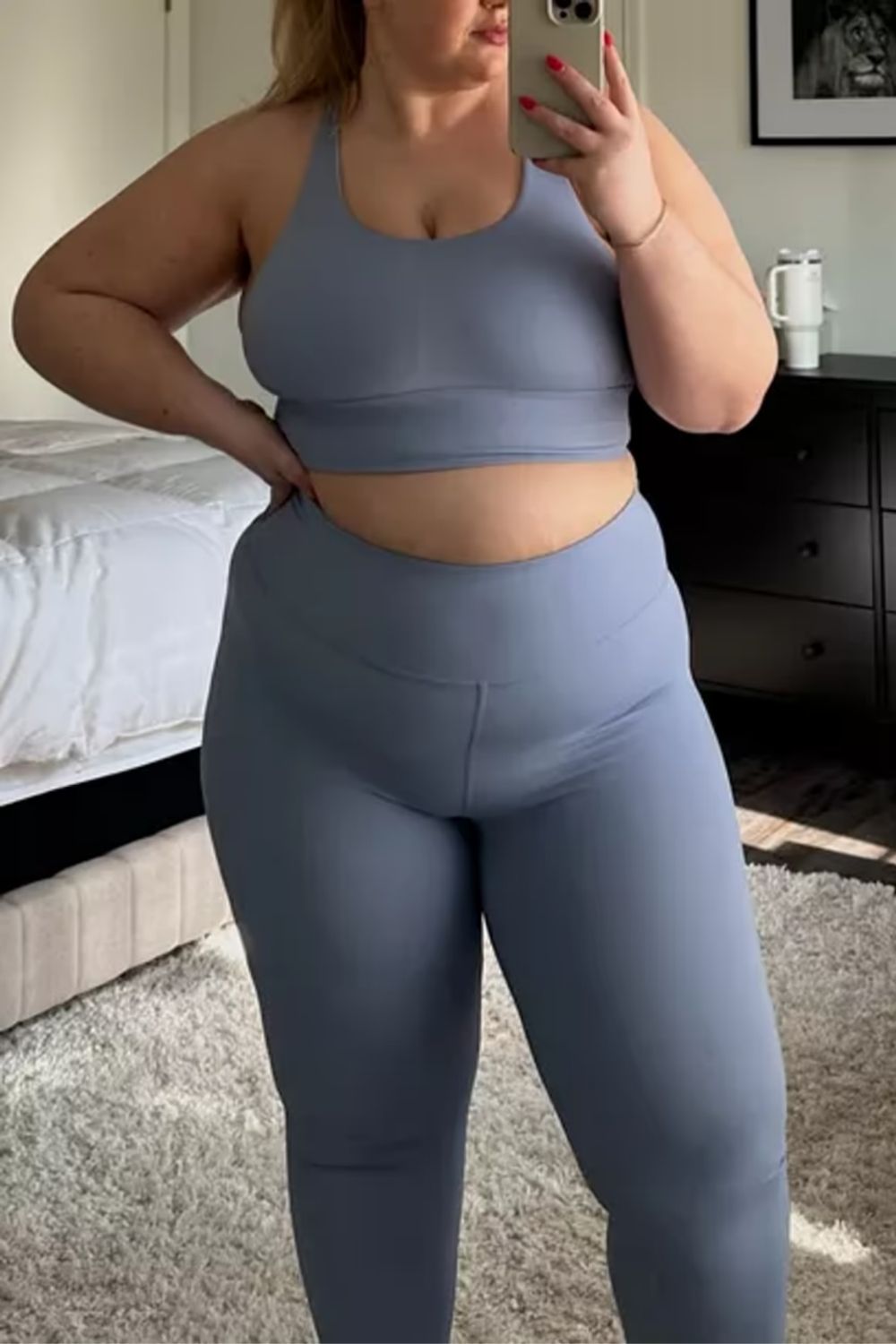 This outfit features a monochromatic color scheme that creates a sleek and streamlined look. The fit appears supportive and comfortable, accentuating the body's shape while offering a sense of ease and movement.
Streamlined monochromatic ensemble, supportive, comfortable fit.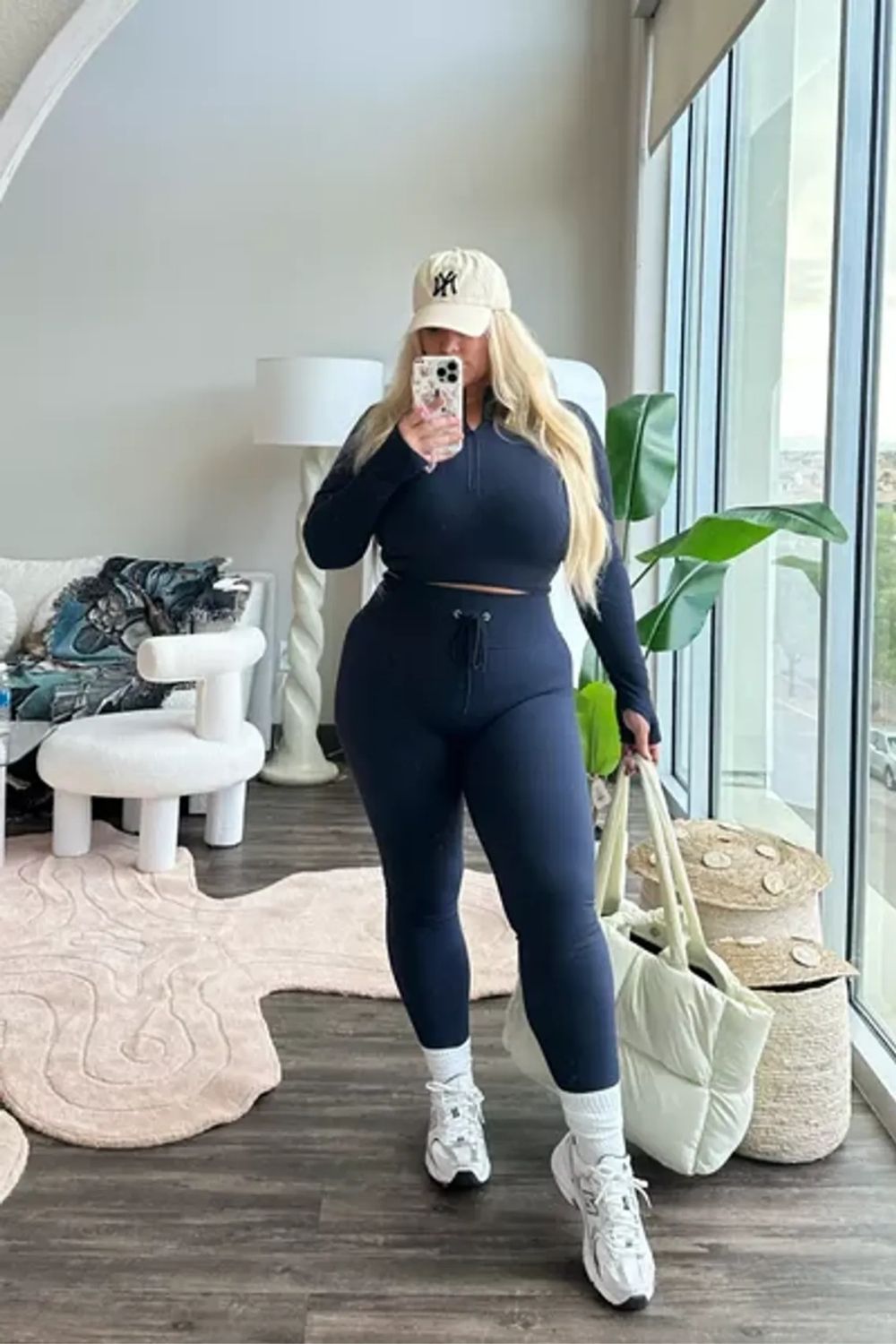 This sleek, monochromatic ensemble creates a streamlined silhouette, highlighting the figure with a flattering fit. The simplicity is balanced by the stylish choice of accessories, which adds a touch of sophistication while also offering practicality for a casual outing.
Sleek, monochromatic outfit, stylish accessories, sophisticated, practical look.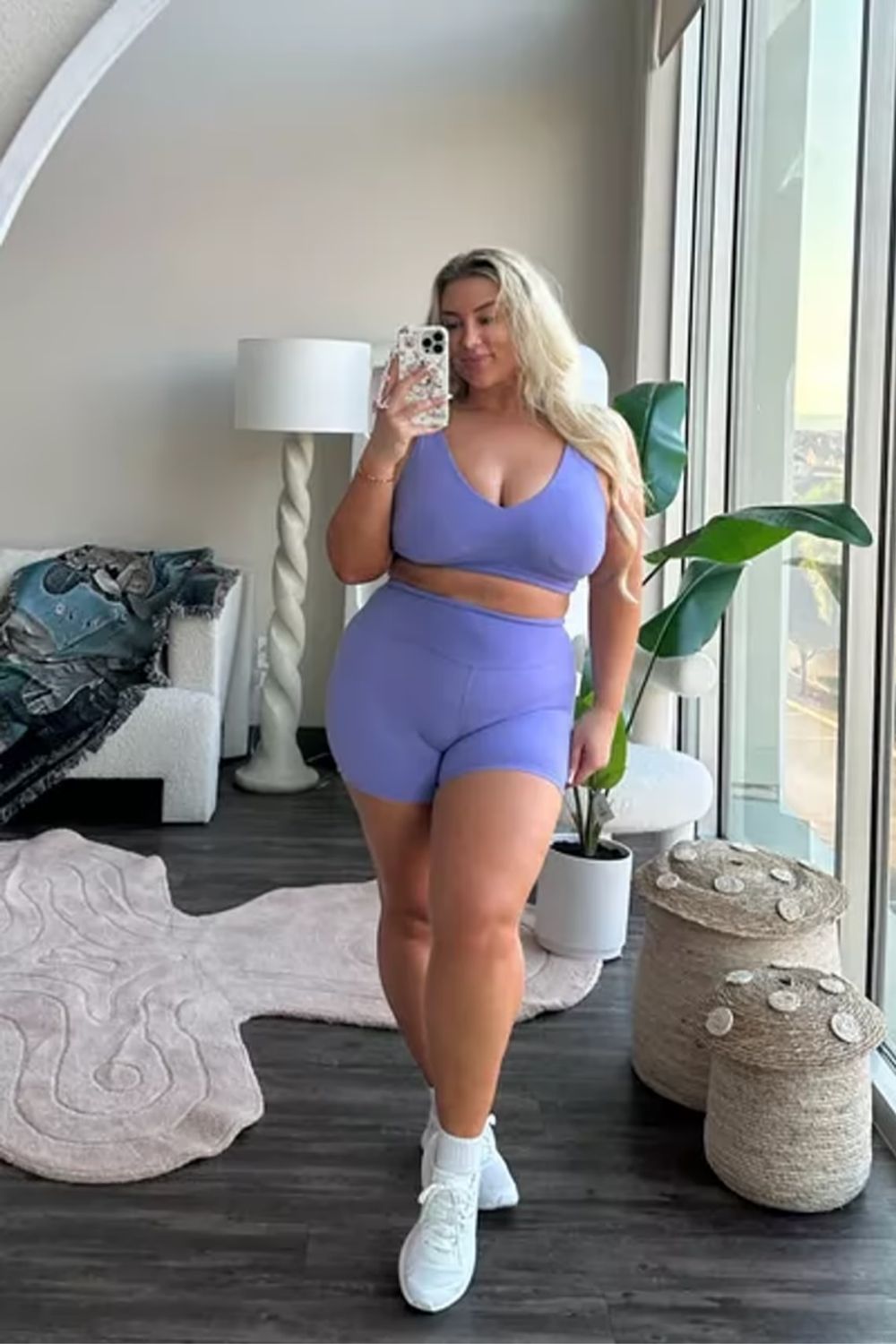 The outfit features a cohesive color palette that is both calming and stylish, and the form-fitting design flatters the figure while offering a sporty, modern vibe. The choice of simple white sneakers adds a casual, practical touch that completes the look.
Green leggings, neutral tones, sporty vibe, fitted silhouette, sneakers.
The outfit showcases a well-coordinated color palette, with the green leggings offering a pop of color against the neutral tones of the top and cap. Additionally, the fitted silhouette of both the top and leggings highlights the figure while maintaining a casual and sporty vibe with the sneakers.
Sporty chic monochromatic ensemble, baseball cap, sneakers, urban edge.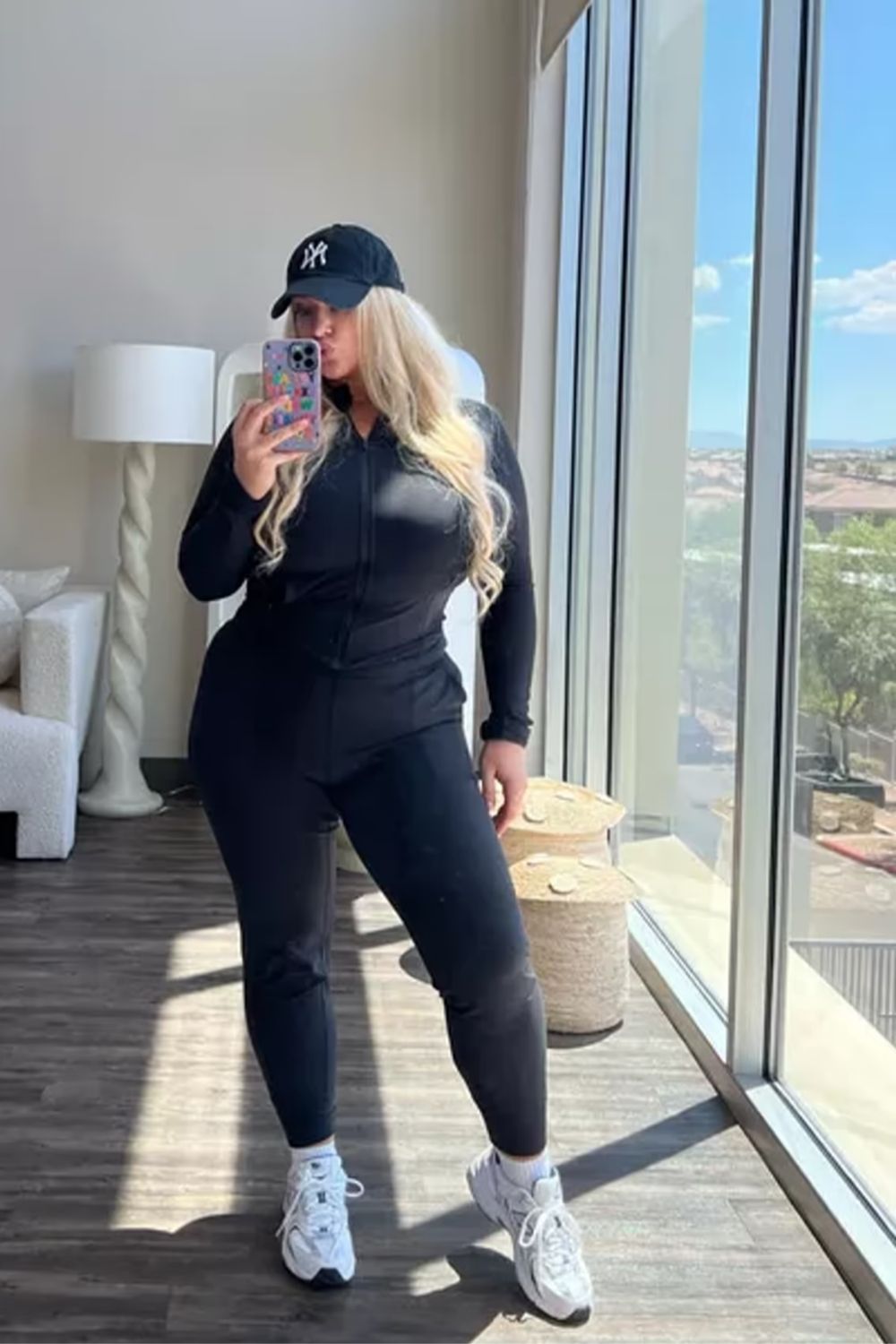 The outfit exudes sporty chic with a monochromatic theme, creating a sleek, unified look that's both stylish and functional. The addition of a classic baseball cap and sneakers adds an effortless, urban edge while maintaining comfort.
Cohesive color palette, high-waisted leggings, crop top, balanced silhouette.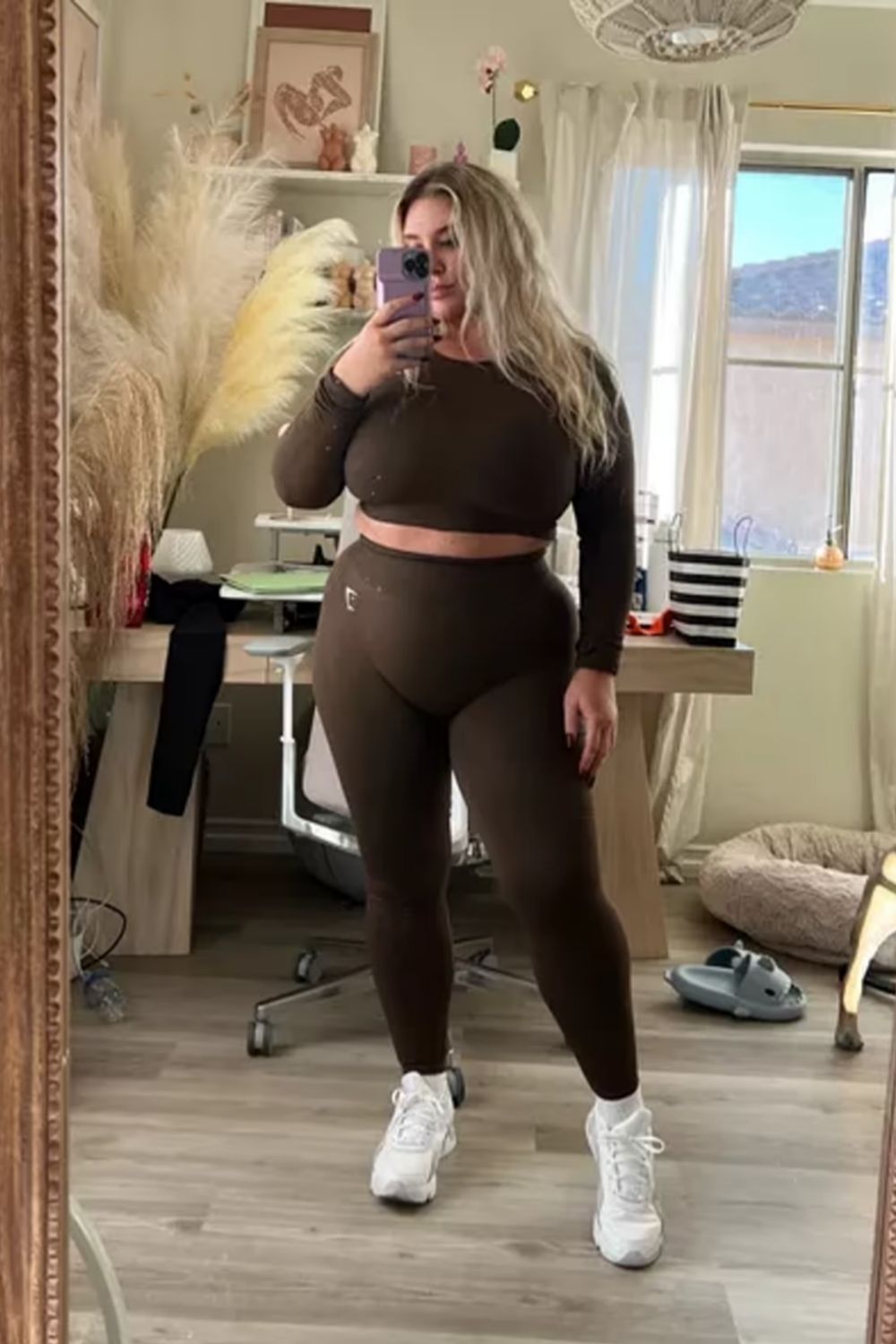 The outfit features a cohesive color palette that provides a streamlined and flattering look, and the high-waisted leggings paired with a crop top create a balanced silhouette that is both stylish and comfortable for everyday wear.
Trendy tie-dye pattern, fitted leggings, top, white sneakers.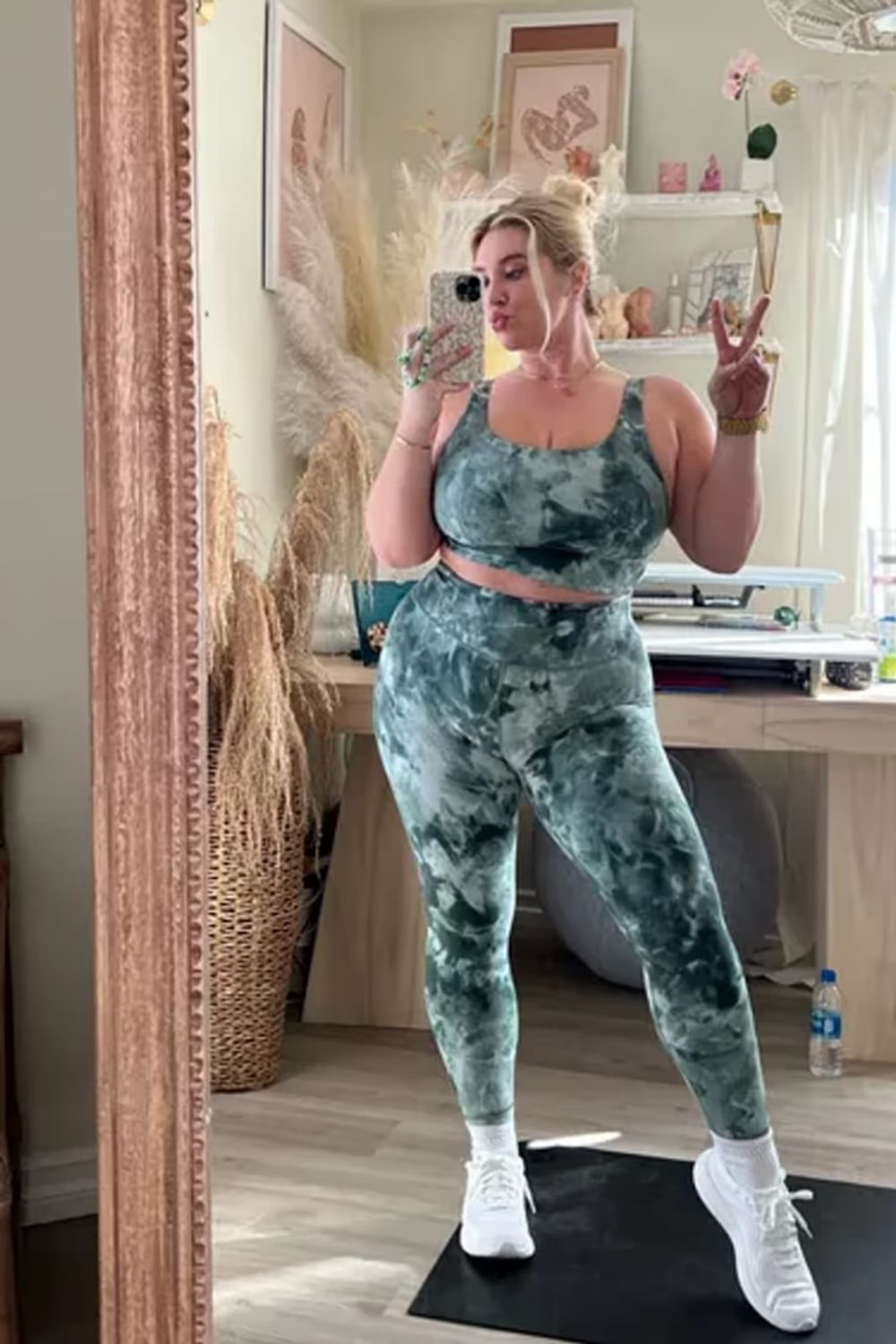 The outfit features a trendy tie-dye pattern that adds a playful and vibrant touch, while the fitted silhouette showcases the wearer's figure confidently. Paired with classic white sneakers, it strikes a balance between comfort and style, perfect for a casual yet fashionable look.
Vibrant mint green crop top, shorts set, cohesive, trendy look.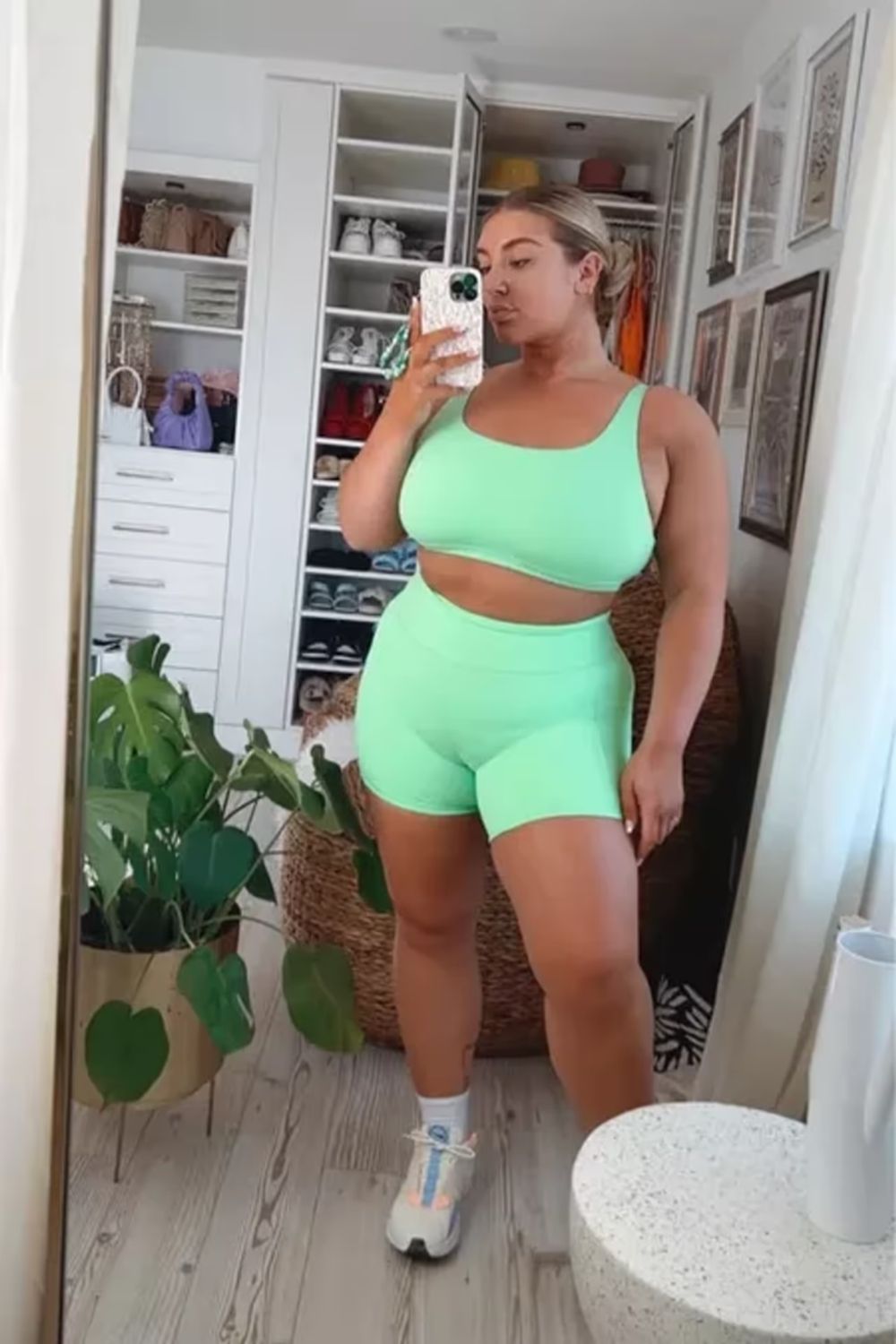 The outfit's vibrant mint green hue is fresh and on-trend, adding a pop of color that complements the wearer's complexion while the matching sporty crop top and shorts set showcases a trendy, cohesive look that is both stylish and comfortable for casual wear or workouts.
Monochromatic ensemble, white accents, practical, sporty aesthetic, high-waist.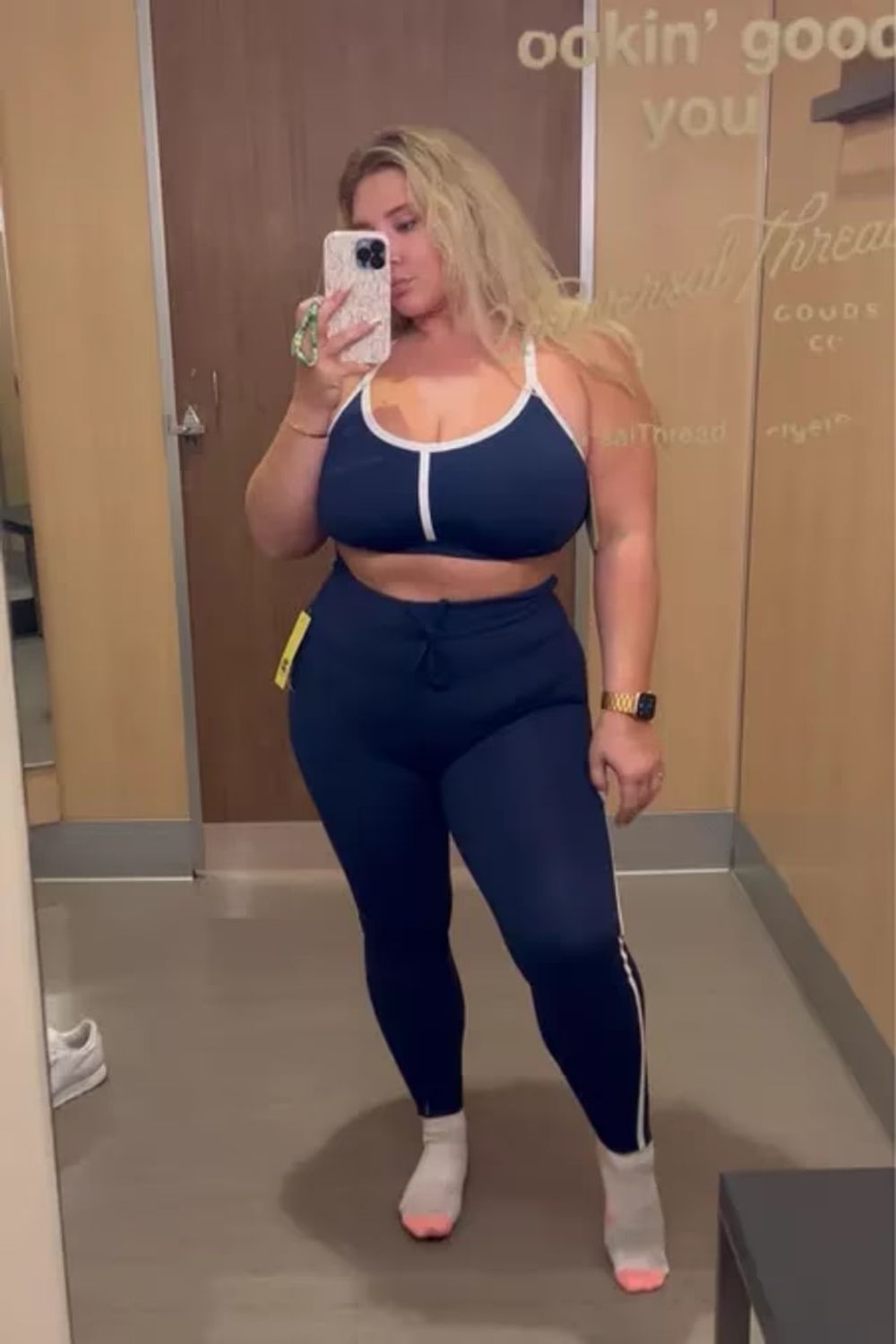 This outfit showcases practicality and style with a well-fitted, monochromatic ensemble that is accented with a splash of white, giving it a crisp, sporty look. The high-waist gives a flattering silhouette, while the side stripes elongate the legs, enhancing the overall sporty aesthetic.
Flattering denim dress, cinched waist, comfort, chic style.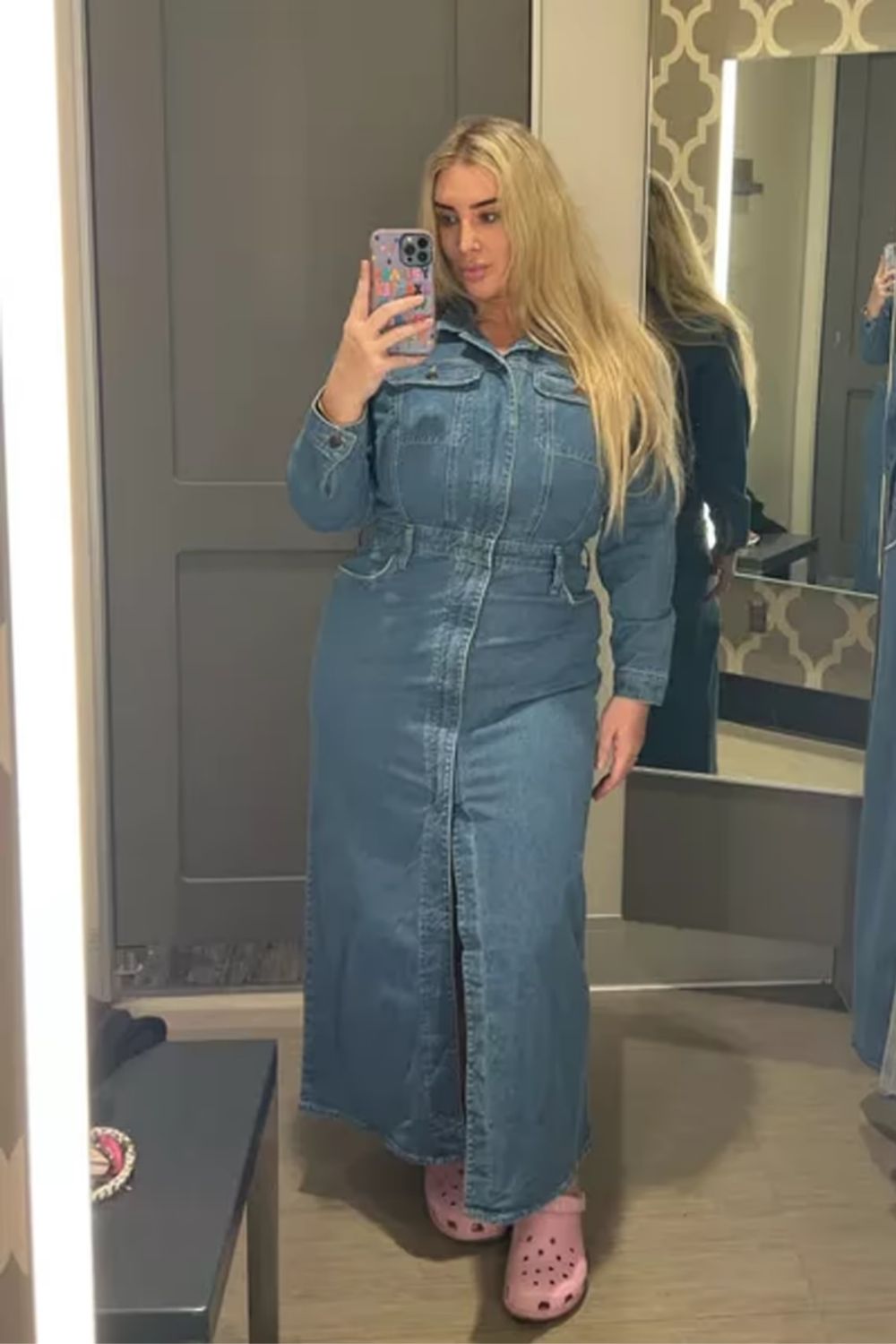 The denim dress offers a flattering silhouette with a cinched waist and streamlined shape, providing both comfort and style. Its full-length design paired with minimalist accessories creates a chic and effortless look, making it a versatile choice for various occasions.
Cohesive color palette, pattern, form-fitting activewear, active lifestyle.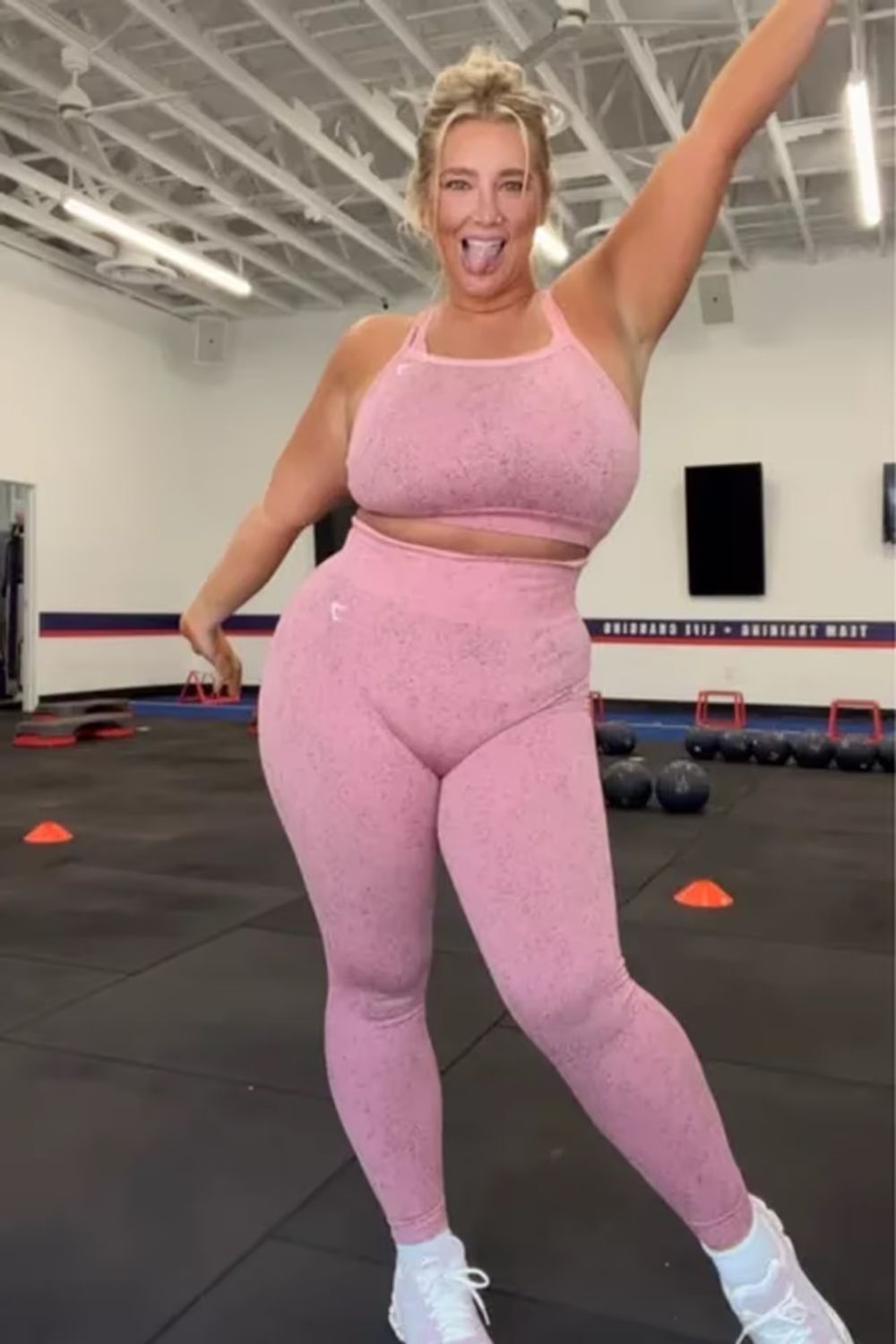 The outfit features a cohesive color palette and pattern that creates a streamlined and visually appealing look. Its form-fitting design highlights the wearer's shape while offering support and flexibility, ideal for an active lifestyle or workout.
Monochromatic, streamlined look, snug fit, high-waisted leggings, matching crop top.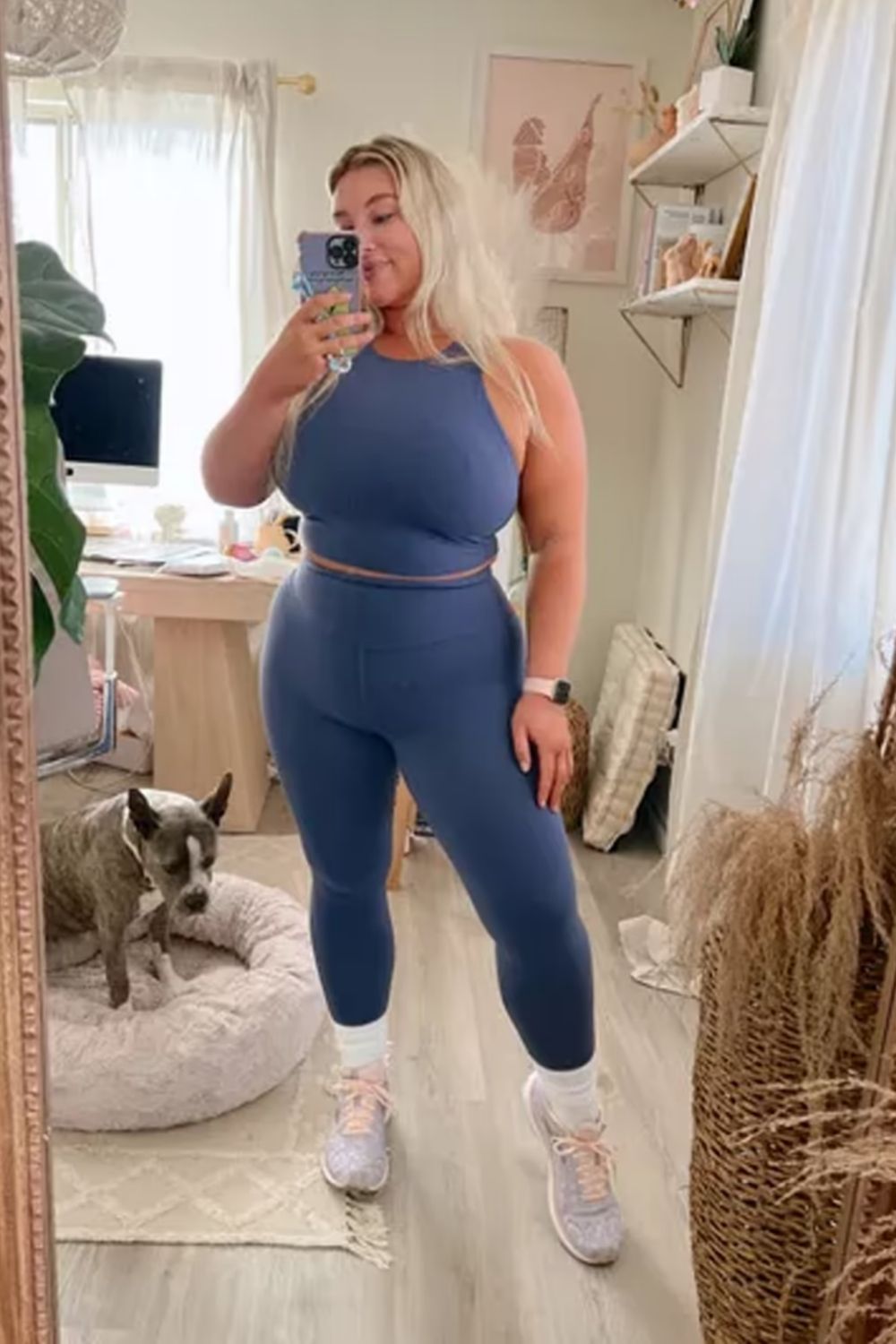 The outfit offers a monochromatic and streamlined look with a snug fit that highlights the body's silhouette, while the high-waisted leggings and matching crop top provide a modern and athletic aesthetic suitable for an active lifestyle.
Slimming monochromatic ensemble, vibrant shoes, playful touch.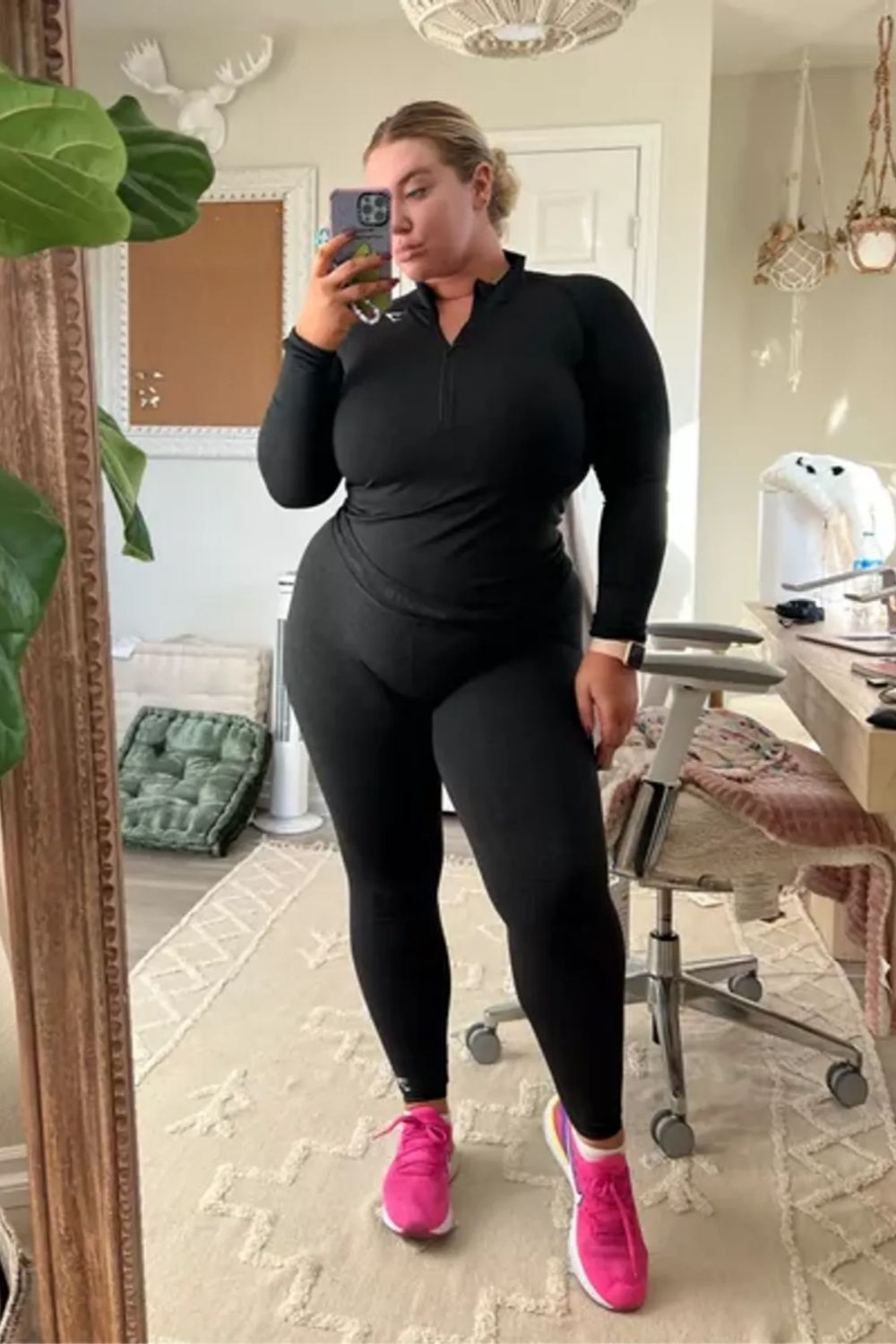 The outfit provides a sleek silhouette with a monochromatic color scheme, offering a slimming effect and versatile style. The vibrant shoes add a pop of color, creating a focal point and adding a playful touch to the overall look.
Practical, stylish, fitted white tank top, high-waisted lilac leggings, white sneakers.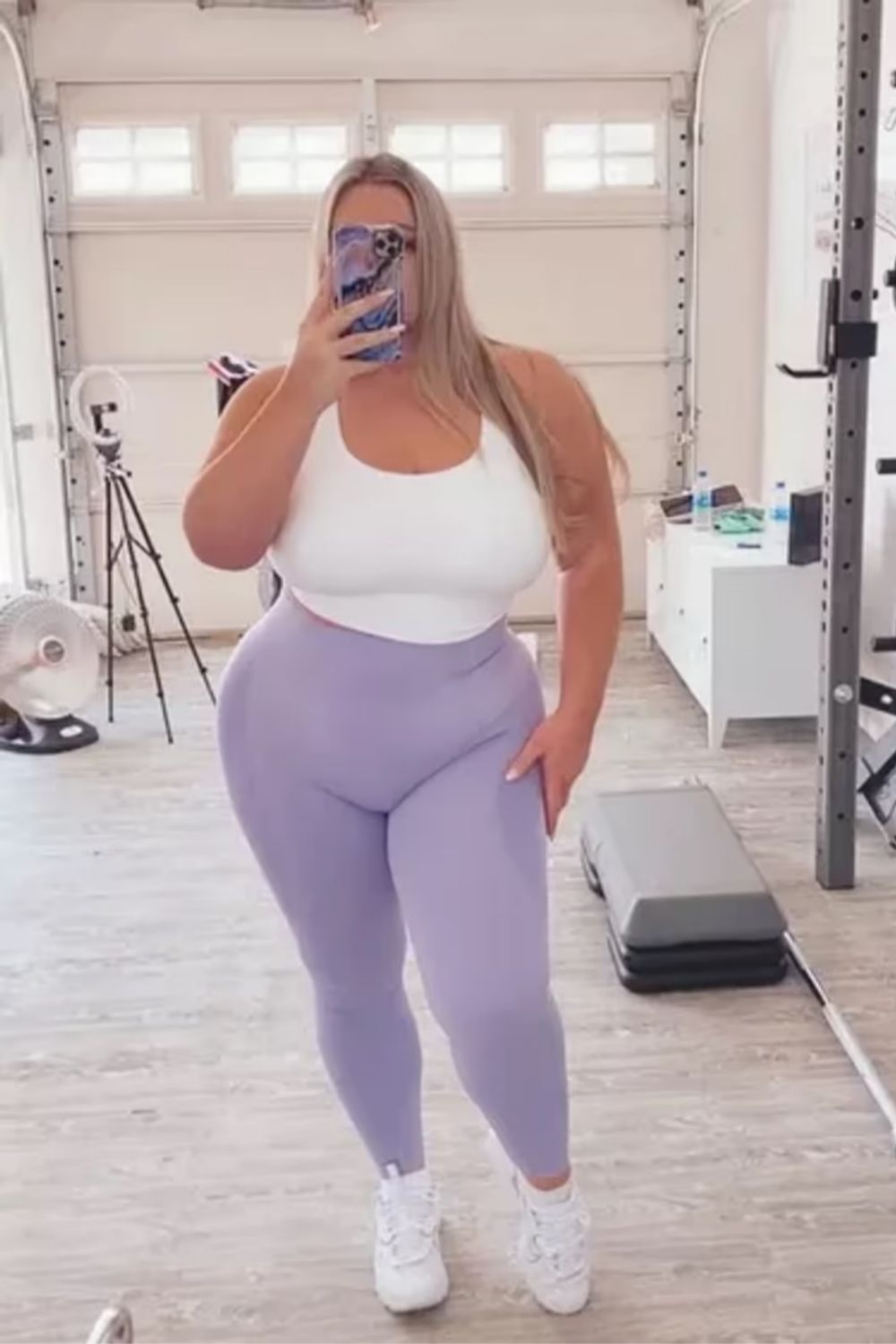 This outfit is practical and stylish, featuring a well-fitted white tank top that enhances the wearers' upper body, paired with high-waisted lilac leggings that accentuate the curves and offer a pop of color. The ensemble is completed with crisp white sneakers, perfect for a chic, sporty look suitable for both a workout session and casual wear.
Conclusion
To sum it up, our journey into plus-size gym fashion has been all about celebrating your style, boosting confidence, and showing that the gym is your personal runway. From curve-loving leggings to statement-making tops, these 25 outfits are here to make you feel amazing during every workout.
Fashion is for every body, and the gym is your place to shine, no matter your size. So, let these outfits be your go-to for expressing your style and rocking your fitness journey. Keep slaying – you're a fashion star, and the gym is your stage!