This is our comparison of the two biggest men's leather jacket brands – Schott vs. AllSaints.
I've had the pleasure of working in leather jacket design and manufacturing, so I will be using that experience to help you make a better choice about which brand to go for, depending on your needs.
Schott, a prominent American brand founded in 1913, boasts their heritage of crafting high-quality outerwear. They are especially renowned for their Perfecto leather jackets, which have played an influential role in vintage Americana and biker aesthetics.
Meanwhile, AllSaints, established in London in 1994, has garnered a reputation for its contemporary designs, refined craftsmanship, and meticulous attention to detail in creating luxurious wardrobe essentials.
👉 For the purpose of this blog post, we will be comparing the Schott 618 to the AllSaints Conroy jacket, as these both are the flagship models of these companies.
By pitting the best against the best, we'll get a clearer picture about which brand you should actually go for.
Fitting
The number one factor when making a leather jacket purchase is the fit. No matter how amazing the quality is, if you get a jacket with a poor fit, it is not going to look good on you.
Schott Perfecto runs true to size. This jacket leans more towards a boxy fit, NOT RELAXED. It still has a slim structure, but the design is such that is allows you to layer up as well. It is more of a vintage fit.
Leather jackets from AllSaints have more of a fashion-forward fit. They tend to be slightly slimmer and longer than Schott jackets. Their collection is divided into two categories – slim and regular.
The jackets which are in the regular category, such as the Bronto, tend to be a bit boxy and roomy. The jackets from the slim category tend to be a bit tighter and overall closer to the body. Examples of these types are the Milo and the Rigg.
Winner: It's a tie! 🔥
Materials
The material of your jacket is going to determine how long it lasts, and that's why you should pay a lot of attention to it.
Schott uses heavyweight, 1.4 mm thick cowhide leather sourced from the United States for their jackets, which contributes to the durability and longevity of their products. The leather is full grain, and the inner lining is a warm wool material that provides insulation but also flexibility for transitional weather.
While, AllSaints also uses 100% genuine leather, but it is not full grain. Their lining is made out of recycled polyester, and the materials are sourced from India. But still, specially for this price point, the quality is actually quite decent.
Winner: Schott NYC 🔥
Design and Style Details
The next important factor to consider is the actual construction of the jacket, which includes both the craftsmanship and the design choices.
Schott's bi-swing back panels and underarm footballs for better movement are some design elements that set this jacket apart from other biker jackets in terms of style. The coin pocket and the belt are classic features that add both utility and style to the Perfecto.
AllSaints pays more attention to the style elements of a jacket. Therefore, you would find great quality hardware on their products, alongwith a smooth finish. The brand knows its audience, and therefore it puts fashion over function.
Winner: For motorcyclists, Schott NYC and for fashionistas, AllSaints 🔥
Convenience
Because the fit of a leather jacket is difficult to nail in the first go, the ease of purchase and returns also matter a lot.
Schott has a no questions asked 30 day return and exchange policy. Their customer service is also very prompt, and they actually will guide you about what jacket would best meet your needs.
AllSaints gives free standard delivery on all orders, and if you live in the UK, you can do free returns within 28 days of purchase. This facility is not available for American customers.
Winner: Schott NYC 🔥
Pricing
Price-wise, there can be significant differences between these two brands.
Schott's jackets typically come with a higher price tag due to their use of premium materials and American-made manufacturing process. Their range starts from $900, and can go up to $1500.
AllSaints, while still a high-end brand, is often more affordable in comparison. Their range starts from 200 pounds ($240) and goes up to 1000 pounds ($1200). If you are shopping during a sale, you can get their jackets for even cheaper.
Winner: AllSaints 🔥
Customer Reviews
I also scoured the internet for other reviews of both these brands, just to make sure that my experience with them was not a one-off thing.
Customer reviews for both Schott and AllSaints were generally favorable.
👉 Here's what customers said about Schott.
When giving a review of Schott Perfecto, people in general praised the shipping speed and the material quality.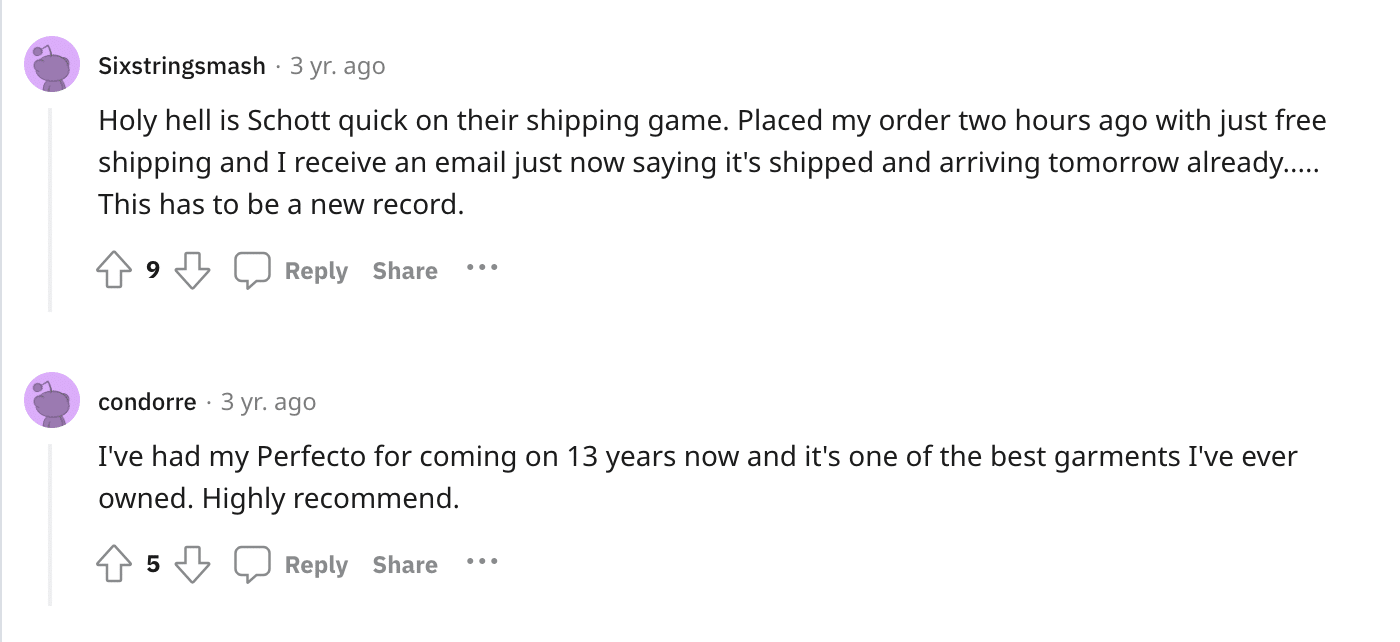 One con was that people were a bit confused about what all the different models meant at Schott, and a couple of people raised concern about Schott's sizing.
👉 Here's what some customers said about AllSaints.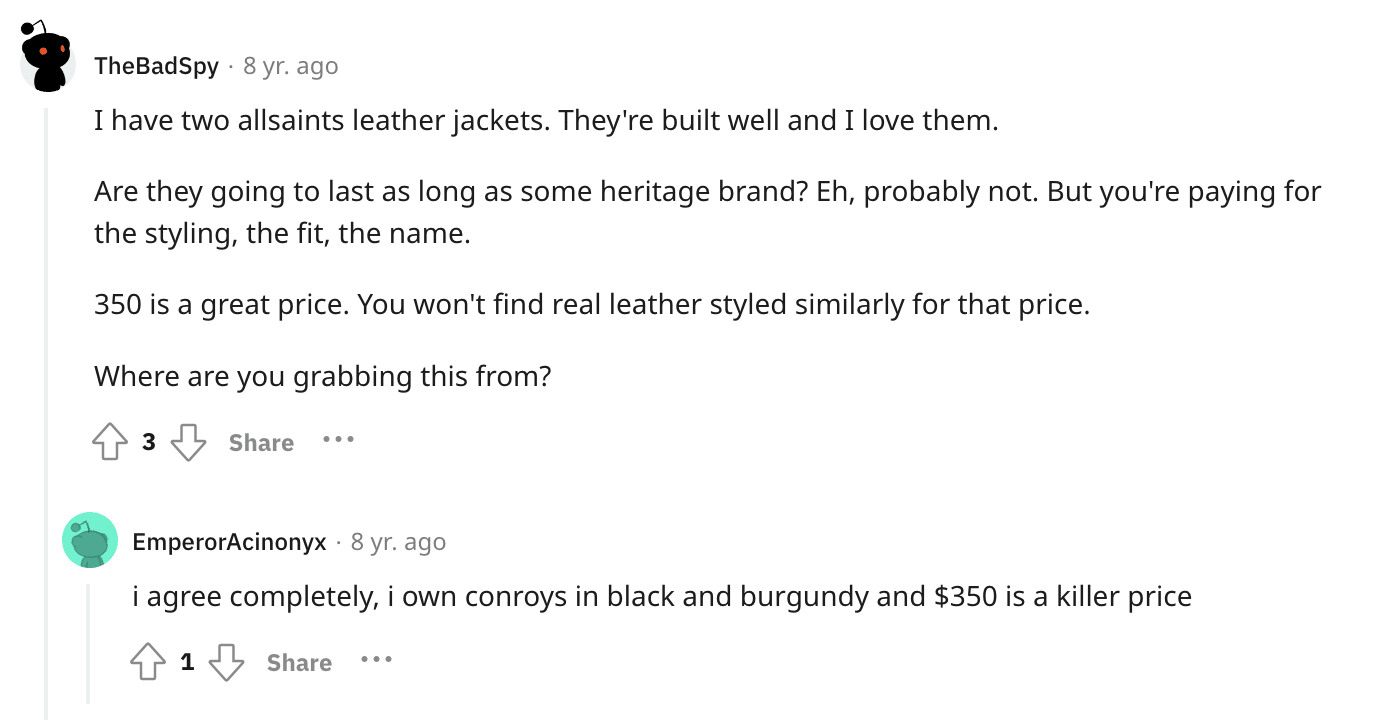 The only con that I found was some people did not appreciate the wrinkles that formed on the jacket. But just to be clear, this never happened with my Conroy and I've had it for years.
Our Recommendation 🔥
After carefully analyzing the available information, it is evident that both Schott and Allsaints offer great leather jackets. So which jacket should you go for?
The Schott Perfecto is a better value for money. While the AllSaints Conroy is great for the price point, Schott's jackets are better fitting, made with high-quality materials, and are extremely convenient to buy. They also have favorable customer reviews and a legacy behind the brand.
Even if your budget is only $500, I would recommend you to save up for some time and go with the Schott 618.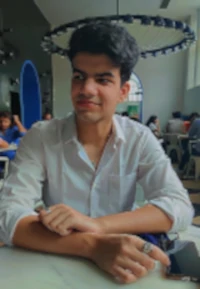 My name is Alex Higson and I am the founder of Magic Of Clothes. I have worked in the fashion industry for many years, and clothes and style are a huge part of my life.