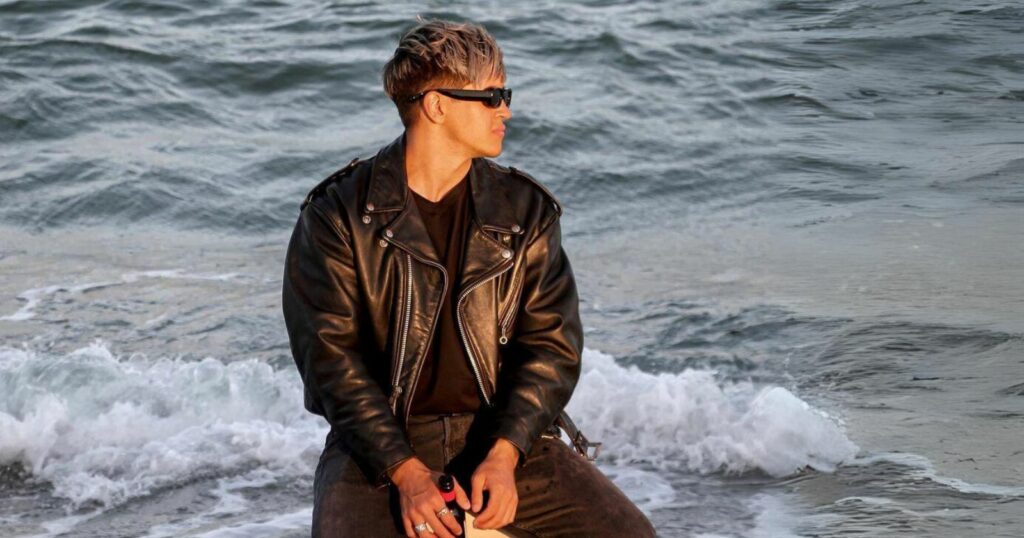 Over the years, many have critiqued and questioned whether a Schott Perfecto is worth the investment. But there are also some people who swear by its quality.
In this review, I will test all the claims that this New York-based brand makes about its jackets.
Bottom line: My problem with motorcycle jackets has always been restricted movement, but the Perfecto 618's bi-swing back panels allow for a more comfortable range of motion.
The stiff steer hide full-grain leather is ideal for the fall and winter, and its durability ensures that the jacket will last for a long, long time.
As a leather expert, I have always admired the craftsmanship and attention to detail found in Schott Perfecto jackets. This iconic piece of outerwear has long been associated with the rebellious spirit of motorcyclists and rock stars alike.
But before diving into the specifics of the jacket, it's essential to grasp the significance of the brand behind this modern classic.
History of the Schott Perfecto
Invented by Irving Schott in 1928, the Schott Perfecto has a long history and strong connection to both motorcycle riders and popular culture. The jacket is synonymous with legends such as Marlon Brando, James Dean, and Bruce Springsteen.
It gained widespread recognition when it was famously worn by Marlon Brando in the 1953 movie, "The Wild One".
This film portrayed a rebellious motorcycle gang, with Brando's character, Johnny Strabler, sporting the jacket as a symbol of defiance and attitude. The iconic image of Brando in the jacket led to a surge in popularity.
In the years that followed, the Perfecto was embraced by other movie stars, including James Dean, who further solidified the jacket's connection to the rebellious image of the time. Even punk bands like the Ramones adopted the aesthetic in the late 1970s, adding to its cultural significance.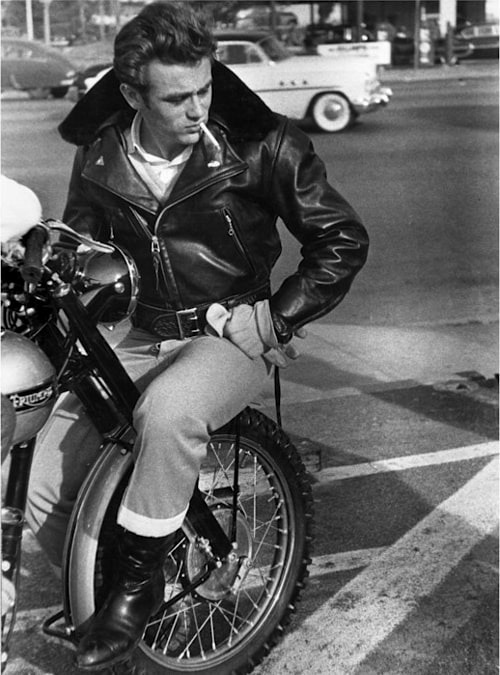 The Perfecto is made from thick, durable leather, designed to protect motorcycle riders from the elements and potential injuries in case of accidents. Its asymmetrical zipper and belted waist not only serve a practical purpose but also contribute to its distinctive look.
Today, the jacket has evolved into numerous variations, each with its unique characteristics, while still carrying the spirit and essence of the original design.
Popular Perfecto Models and Varieties
| | | | | |
| --- | --- | --- | --- | --- |
| Model Number | Material | Stiffness | Weight | Shine |
| 118 | Naked Cowhide | Medium Stiff | Heavy Weight | Matte |
| 618 | Steerhide | Stiff | Heavy Weight | Matte |
| 613 | Steerhide | Stiff | Heavy Weight | Matte |
| 626 | Lightweight Cowhide | Soft | Light Weight | Shiny |
| 519 | Naked Pebbled Cowhide | Soft | Medium Weight | Pebbled |
| PER22 | Buffalo | Medium | Medium Weight | Light Gloss |
An overview of different models of Schott Perfecto
---
I have had the opportunity to try out various Schott jackets and compare them to provide insights for those looking for the best model.
618
The 618 uses heavy steerhide leather, and provides excellent protection. It has a snug fit which ensures that the jacket wraps comfortably around the body.
The jacket features a signature asymmetrical front zipper and a large lapel collar with snaps, adding to its timeless design. One notable characteristic of the 618 is its slightly shorter length, which sits just above the waist. This is great for layering.
613
The 613 is similar in design to the 618 but offers a few distinct differences. This jacket comes in heavier horsehide leather, which lends a rugged, sturdy feel. Additionally, the jacket has bi-swing back panels for a better range of motion, making it suitable for riding enthusiasts. What sets the 613 apart from the 618 is its slightly slimmer fit, making it perfect for those who prefer a more tailored appearance.
118
The 118 is a lighter-weight cowhide leather compared to the other models, making it more comfortable for daily wear. Its relaxed fit allows for easy layering, without compromising on style. I noticed that the 118's design is more versatile, with its clean lines and minimalist aesthetic that easily transitions from casual to dressier occasions.
NOTE: Schott also does regular updates to its catalog to bring out new models. Some of the other Perfecto variations that I've loved are the 626, 519, and the PER22.
Our Review: Schott Perfecto 618
When you think Perfecto, you think of the 618.
It is considered the quintessential biker jacket. Therefore, for the purposes of this review, I tried out the 618 version (which I honestly think is the best).
👉 PS: If all these jackets look the same and you just want the best one, I recommend that you go with the 618.
The jacket is available in two different variations – the regular 618, which is made from steerhide, and the 618HH, which is made from horsehide. So, which one of the two should you get?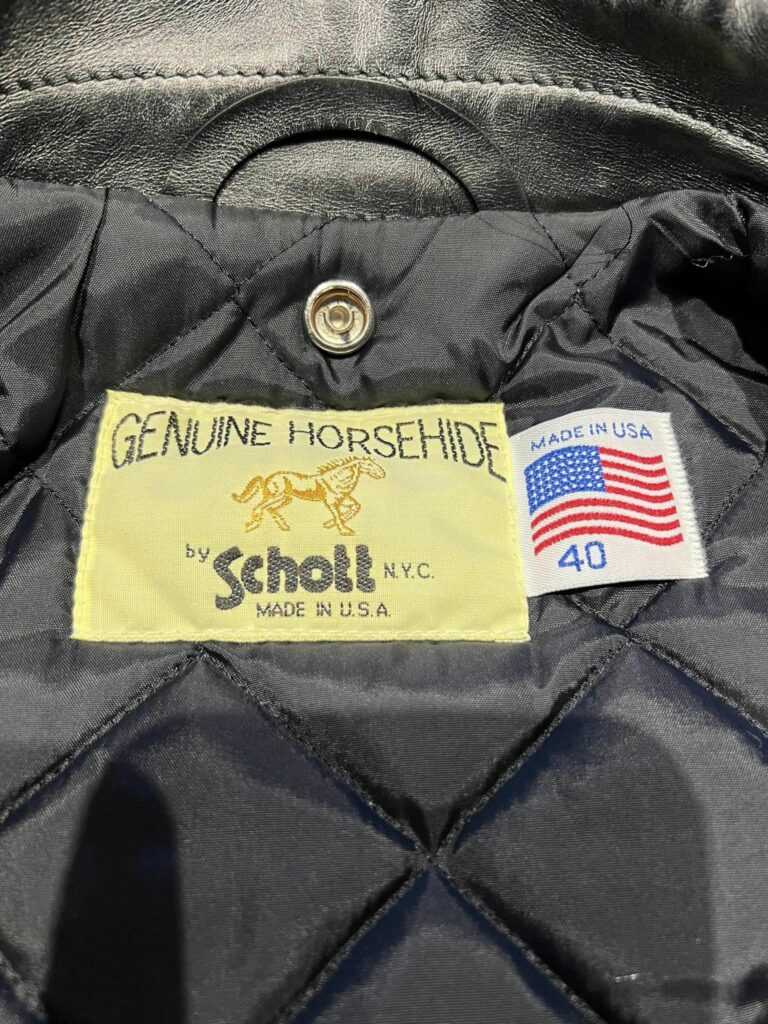 Here's a nice rule of thumb 👉 If you actually plan to ride on a motorcycle wearing your jacket, I recommend that you get the horsehide version (618HH). If you are just looking for a leather jacket for fashion purposes, I recommend the steer hide version (618).
The Schott Perfecto is designed with functionality in mind. These jackets include asymmetrical zip front closures, snap-down lapel collars, zippered sleeve cuffs, and a waist belt to ensure a secure and comfortable fit while riding.
Additionally, they have multiple pockets for storage, both inside and out, with a mix of zippered and snap-closure options for easy access and safekeeping of personal items.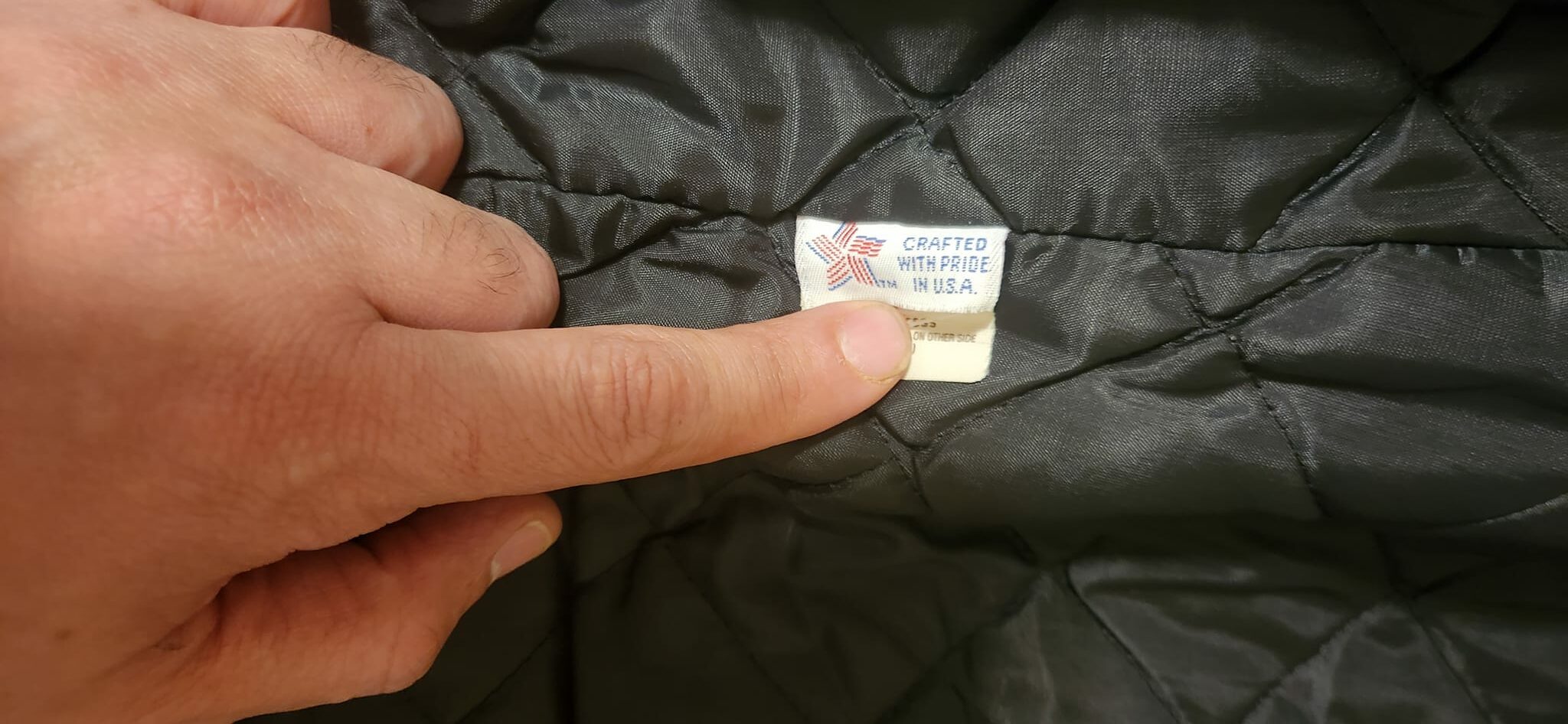 All Schott jackets are manufactured in the US, and the brand has a reputation for producing apparel that is functional first and stylish second. Therefore, in the next section, we will cover the material, construction, and durability of the Perfecto in detail.
Material and Construction
The first thing I noticed about the jacket was the superior quality of its leather. I've been in the leather jacket game, for a long time, and trust me when I say that at this price point, you aren't going to get a better bang for your buck.
Constructed from heavy cowhide, this jacket promises to withstand the test of time. The weight alone serves as a testament to its durability, with a size S weighing in at an impressive 3.2 kg.
The heavyweight cowhide (1.4 mm thick) used in the making of the Schott Perfecto jacket is not only sturdy but also soft to the touch. In fact, the breaking-in process for this jacket was a pleasure and allowed the leather to form to my body.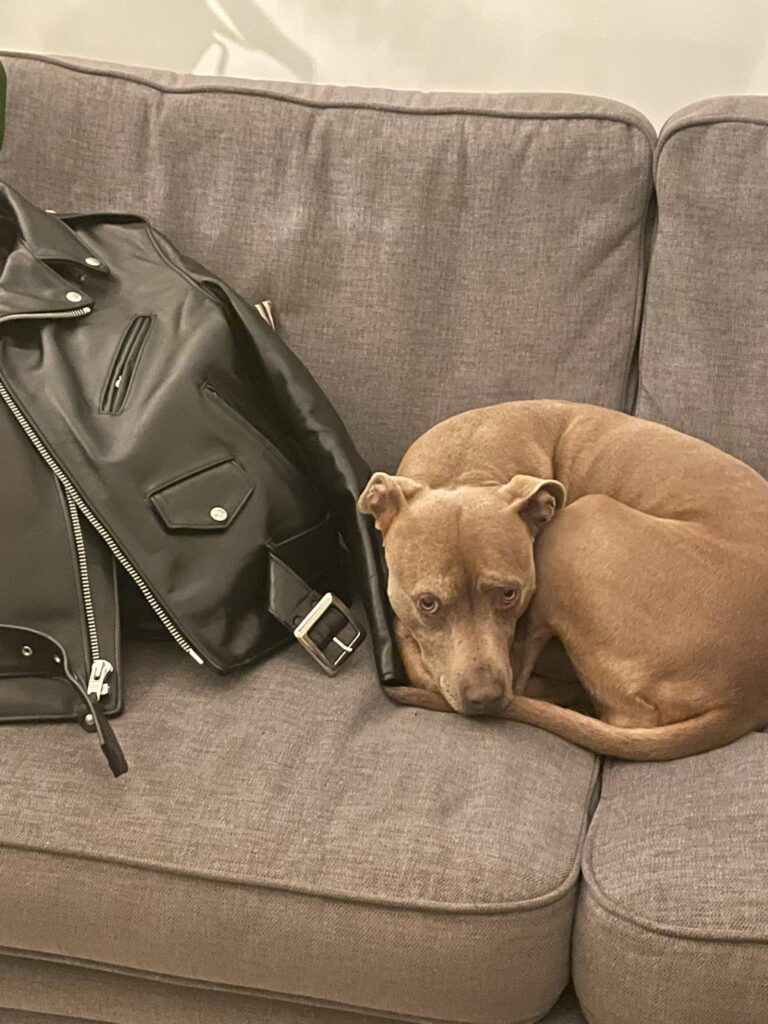 In addition to the cowhide, Schott Perfecto jackets have been known to be constructed from premium materials such as horsehide and steerhide. These different leathers may have slight variations in texture and finish, but they all contribute to the jacket's overall quality, durability, and style.
Another notable aspect of the jacket is its full-grain construction, ensuring that the leather retains its natural appearance and strength. This type of construction is common in high-end leather jackets and is highly sought after due to its superior durability and natural grain pattern.
When it comes to the inner lining, the Schott Perfecto opts for a traditional, warm wool material. This provides a well-insulated layer suitable for wear during colder seasons while still offering the flexibility to dress down during spring and fall.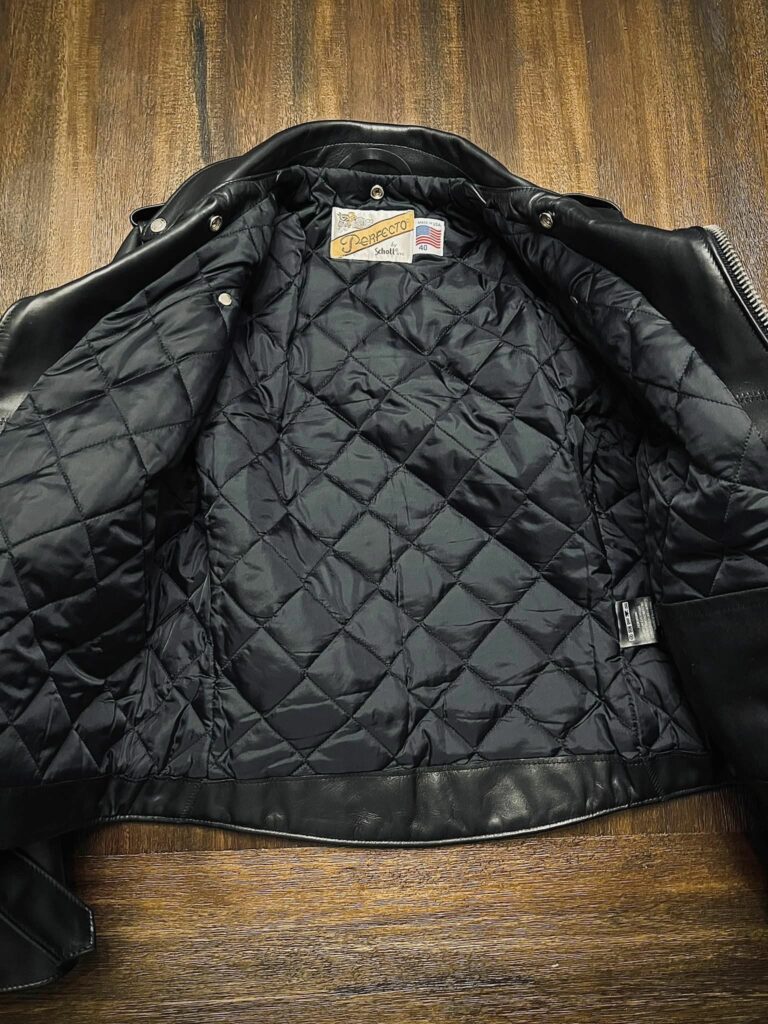 It is extremely evident to my experienced eye that this jacket is built with premium materials and attention to detail.
Design and Style Details
The jacket is made of heavyweight 3 to 3.5-oz US-sourced steerhide leather, ensuring durability and a distinctive matte finish. The coin pocket and the belt are classic features that add both utility and style to the Perfecto.
A careful examination of the zippers and snaps shows the quality and precision that go into the construction of every piece.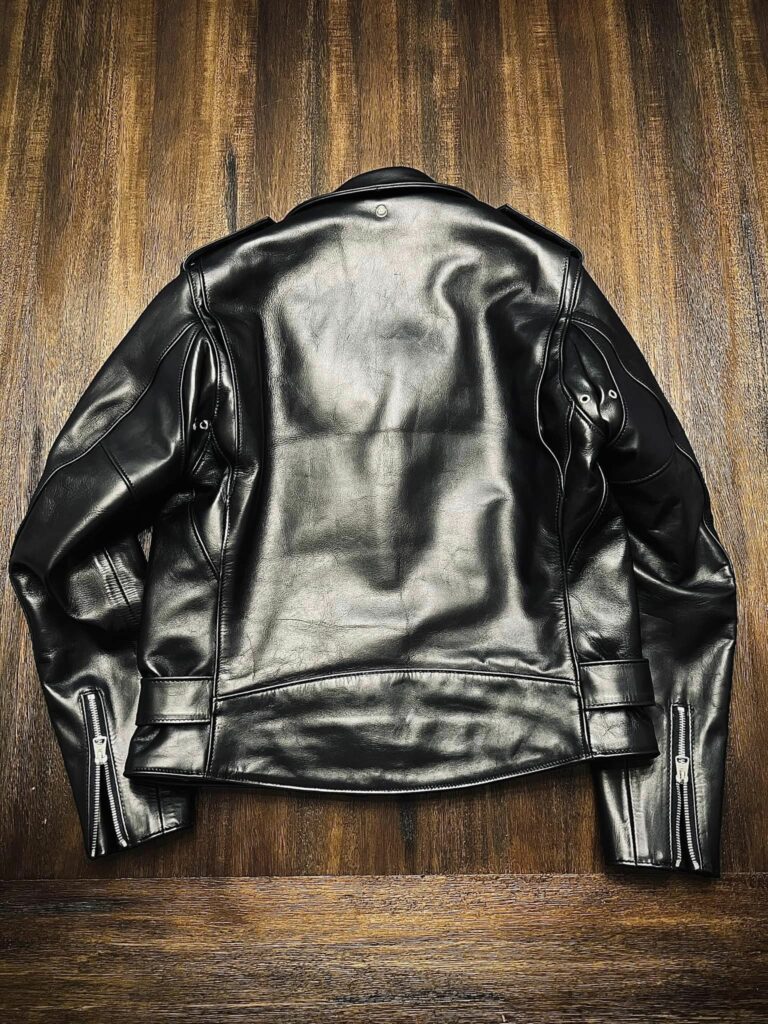 Reinforcing the shoulders and upper back are epaulets and a bi-swing back design. These features not only enhance the jacket's visual appeal but also provide added comfort and a greater range of motion.
The belt buckle is sturdy and polished, giving the jacket a slightly more refined look compared to some other motorcycle jackets on the market.
The lancer front and one-star design are unique elements that set this jacket apart from other biker jackets in terms of style. Schott also offers options for distressing the leather, adding a lived-in and rugged appearance to the jacket if desired.
Fit and Sizing
This jacket leans more towards a boxy fit, which accommodates different body types. Now, most influencers on the internet would tell you to go for a slim fit, but they have clearly not worn a Perfecto before.
If you go for too slim a fit, then you would not be able to layer under your jacket. And remember, the 618 is boxy, NOT RELAXED. It still has a slim structure, but allows you to layer up. In the picture below, I am wearing a thin sweater underneath the jacket.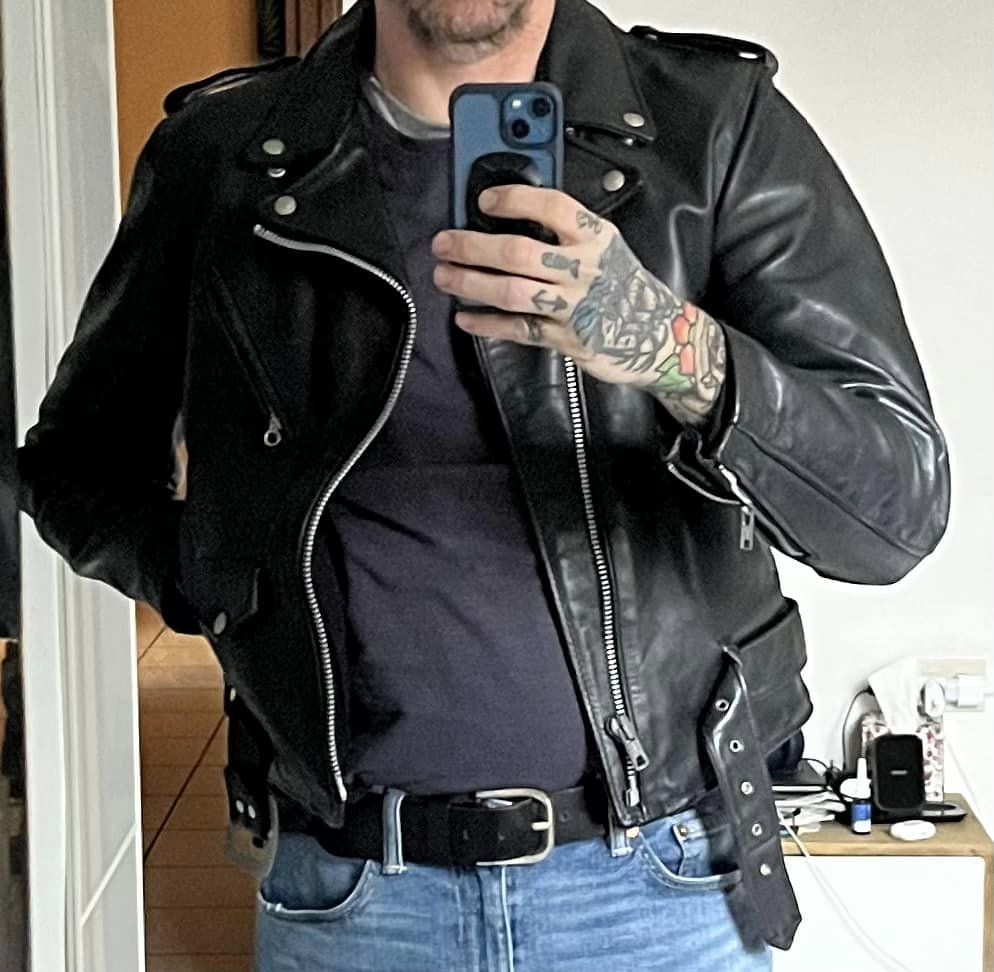 The jacket has been designed to offer ample space in the armholes without compromising on style.
They manage to achieve this, by using a sewing technique called underarm footballs, which allows freedom of movement to the motorcycle rider.
👉 Schott Perfecto runs true to size. For example, if you typically wear a medium, you would most likely require a medium here as well. However, if you're in between sizes, I would suggest going up to the larger size to accommodate for the boxy cut.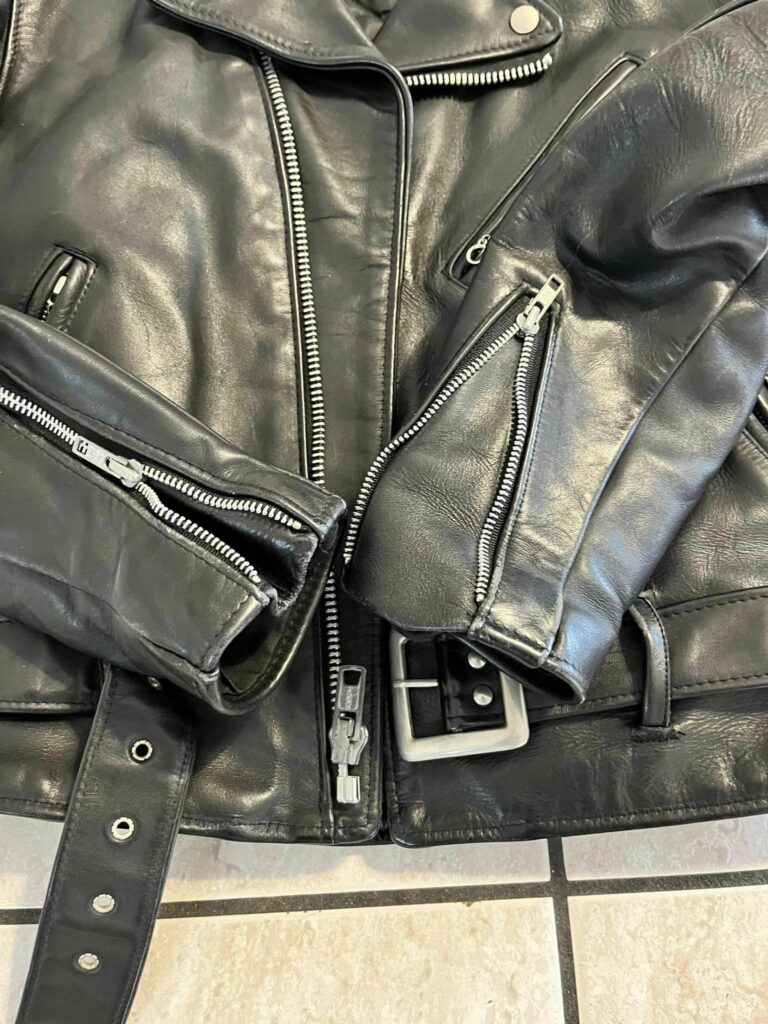 Sleeve length is another critical factor to consider while purchasing a jacket. The sleeves on the 618 tend to run on the longer side, which is characteristic of many motorcycle jackets. This feature ensures that your wrists remain covered when riding or in motion while also providing a stylish appearance in everyday wear.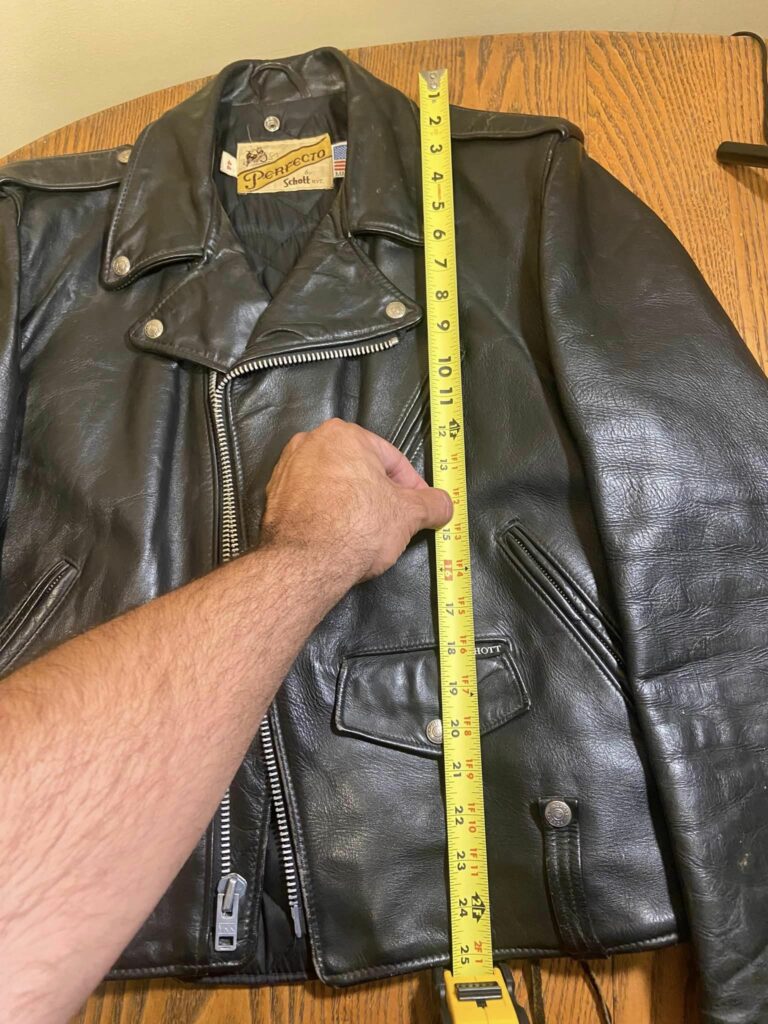 Because of their high-quality steer hide leather, the jacket will consistently mold to your body shape over time. While the jacket may initially feel snug, the leather will gradually stretch and adapt to your body contours, ensuring a personalized and comfortable fit. This is called the breaking-in of a jacket.
Is Buying a Perfecto worth it?
At around $900-950 (depending on the model that you go for), the Perfecto is certainly a premium-priced leather jacket.
There are also other cheaper comparable brands to Schott, such as AllSaints. However, when you consider the quality craftsmanship, durability, and heritage behind this iconic style, the price tag starts to make sense.
Here's why investing in a Schott Perfecto is worth it:
1. Timeless Design – The jacket's asymmetrical zipper, snap lapels and belted waist have remained virtually unchanged since the 1950s. This timeless "biker" look retains its edge and style decades later. It is a long-term wardrobe investment that won't ever go out of fashion.
2. Built to Last – Constructed from heavyweight steerhide leather and reinforced with strong stitching, Schott designs their jackets to withstand years of rugged use. With proper care, your jacket will develop a character all its own and last a lifetime.
3. Made in USA – Unlike most apparel today, Schott jackets are proudly made in America at the family-owned factory in New Jersey. You're paying for expert quality craftsmanship, not outsourced cheap labor.
4. Versatile Style – The jacket transitions seamlessly from casual to formal wear. Pair it with jeans and tees for an edgy rocker vibe or layer over a suit to project confidence. The styling possibilities are endless.
So while the upfront cost is significant, the Perfecto delivers substantial value through its enduring design, rugged durability, made-in-USA quality, and versatility. Owning this timeless icon is an investment in yourself that pays dividends for years to come.
Proper Care and Maintenance
In the case of the Perfecto, I recommend using a gentle leather cleaner to remove dirt and stains.
Avoid harsh chemicals, as they can harm the leather's natural oils and cause it to dry out, leading to damage and reduced durability. For best results, test the cleaner on a small, inconspicuous area before applying it to the entire jacket.
After cleaning your jacket, it's important to nourish the leather by applying a high-quality leather conditioner. This will help maintain its softness and prevent it from drying out. It also restores the leather's natural oils which may have been stripped away during the cleaning process.
Lastly, when not in use, store your jacket in a well-ventilated area away from direct sunlight and extreme temperatures. A breathable garment bag will help preserve the leather from accumulating dust and unwanted odors while still allowing for suitable air circulation.
Final Remarks
After extensively reviewing the iconic Schott Perfecto 618, it's clear why this jacket has attained legendary status over the past century. The superior craftsmanship, durable materials, and timeless "biker" aesthetics make it a sound investment for any wardrobe.
While the initial cost may seem high, you must remember that a leather jacket is built to last decades, not just seasons. With proper care and maintenance, it will only look better with age as the leather molds to your shape.
If you are convinced about the value of owning an authentic Perfecto, I suggest that you act fast while supplies last. Given the handmade construction and availability of hides, Schott NYC often faces production constraints. Here's a link that will directly take you to the 618's product page.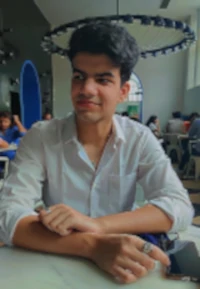 My name is Alex Higson and I am the founder of Magic Of Clothes. I have worked in the fashion industry for many years, and clothes and style are a huge part of my life.