Urban Outfitters' clothes run small in almost all of their clothing categories. It would be advisable to size up if you are buying from their website.
The brand has been around since 1970. They have made a name for themselves in the casual clothing segment, and their collections have been getting better and better lately.
However, their sizing has been a severe problem, leading to a lot of problems for customers.
In this article, I will demystify Urban Outfitters sizing, and tell you exactly what size you need to buy when shopping from this brand.
But if you directly want to shop the ongoing sale at the brand, the link below will take you to a list of all their products that are currently selling for UNDER $25.
How do Urban Outfitters Clothes Fit?
Urban Outfitters clothing runs smaller than other brands. They do not follow the standard US sizing system.
From what my experience has been with them so far, their tops, bottoms, and dresses run small and need sizing up. You must be careful about picking the right size to avoid unnecessary exchanges and returns.
Urban Outfitters also uses materials that have less stretch. These are high-quality fabrics, but using them makes it necessary to size down for a more flattering fit.
Here's what I recommend. Take a look at the official Urban Outfitters size chart. Compare your measurements, see which size range you fall under based on them, and simply go one size up.
So if you are an S in other similar brands like PacSun, you can easily fit in size L or M at Urban Outfitters. But that doesn't mean that you shouldn't be aware of the size chart.
An exception to this rule of thumb is shoes. Urban Outfitters shoes are more or less true to size. There is no need to size up since they follow the standard US sizing system.
Quick Tip 👉 Sometimes the Urban Outfitters website shows discounts on products only after going through the clearance section and not if you directly go to the product page. Thus, make sure that you always check for your product in the sale section on the Urban Outfitters website.
Which Urban Outfitters Clothes Run Small?
| | |
| --- | --- |
| Urban Outfitters Clothes | Sizing |
| Tops | Runs small |
| Jeans | Runs small |
| Dresses | Runs small |
| Shoes | True-to-size |
Tops
Tops from Urban Outfitters run small. They can be around one or two sizes small depending on the fit and body type.
You will definitely not fit into your average size if you have a heavy bust.
Jeans
From jeans to trousers, all bottoms run small at the waist.
Their mom jeans tend to be true to size at the waist. But when buying literally any other fit of jeans and trousers, you should size up.
Dresses
Urban Outfitters dresses run small. People need to size up when buying dresses from this brand.
I have two dresses from them, and I typically buy the L size even though I'm an M in other brands.
You can also refer to the fit of the dress and then make a call.
Shoes
Urban Outfitters shoes are an exception to their sizing woes because they fit pretty well. They mostly follow regular US sizing patterns, so there is no need to size up or down when making a purchase from their website.
Urban Outfitters Size Chart For Women
Size (Alpha)
XS
S
M
L
XL
Size (Numeric)
0
1/2
3/4
5/6
7/8
9/10
11/12
14
Bust
32
34
36
38
40
42
Natural Waist
24
25
26
27
28
29
31 1/2
33
34
Hips
34
35
36
37
38
39
41 1/2
43
44
Urban Outfitters Size Chart men
| Size (Alpha) | XS | S | M | L | XL | XXL |
| --- | --- | --- | --- | --- | --- | --- |
| Chest | 34 – 36 | 36 – 38 | 38 – 40 | 40 – 43 | 43 – 46 | 46 – 49 |
| Sleeve Length | 31 – 31.75 | 31.75 – 32.5 | 32.5 – 33.5 | 33.5 – 34.5 | 34.5 – 35.5 | 35.5 – 36.5 |
| Natural Waist | 27.5 – 29.5 | 29.5 – 31.5 | 31.5 – 33.5 | 33.5 – 36.5 | 36.5 – 39.5 | 39.5 – 42.5 |
| Hips | 33.5 – 35.5 | 35.5 – 37.5 | 37.5 – 39.5 | 39.5 – 42.5 | 42.5 – 45.5 | 45.5 – 48.5 |
Do Urban Outfitters Make Plus Size Clothing?
Urban Outfitters doesn't make plus-size clothing. Their clothes only go up to size 12, while some styles come in size 14.
This brand continues to turn a blind eye toward plus-size customers.
Interestingly, they have included plus-size models in their campaigns. Still, even the model said she doesn't fit into their clothes. The company has taken responsibility and has claimed to be working on it.
Given their sizing issues, it is unfortunate that they don't have a plus-size line. I hope the management team behind Urban Outfitters will step up soon and take action to add an exclusive plus-size line.
Final Remarks
As you already know, Urban Outfitters has some mad sizing issues. They also do not have adequate plus sizes, which is a big shame.
Here's a quick recap of what I've covered here.
Urban Outfitters makes clothes smaller than standard US sizing. It would be best to size to get a comfortable fit.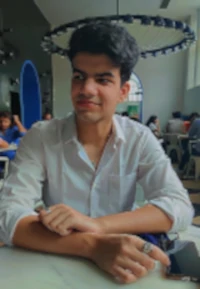 My name is Alex Higson and I am the founder of Magic Of Clothes. I have worked in the fashion industry for many years, and clothes and style are a huge part of my life.