Magic Of Clothes is an independent reader-supported blog. We may earn commissions from every qualifying purchase made through our links, at no additional cost to you.
Say hello to the new trend of the year – Varsity Jackets.
Or is it the letterman jacket? Or maybe the baseball jacket? Wait, don't all of these look the same?
Exactly. Due to the common appearance of these jackets, most people (even in the fashion industry) use these terms interchangeably.
Here is a small table to illustrate the differences and similarities between varsity jackets, letterman jackets, and baseball jackets.
| Basis | Varsity Jackets | Letterman Jackets | Baseball Jackets |
| --- | --- | --- | --- |
| Originally worn by | University sports teams | High school seniors | Baseball players |
| Sleeves | Leather Sleeves | Leather Sleeves | Cotton Sleeves |
| Collar | Ribbed Collar | Ribbed Collar | Spread Collar |
| Length | Regular | Regular | Cropped |
| Graphic | Team name at back | Alphabet at front | Team name at back |
Note: There is a small caveat here. The jackets that are actually worn while playing baseball do not have a spread collar, but the baseball jackets that are made for fashion and styling purposes do. So don't come at me with pitchforks.
In this article, I will be going over these key differences between the three jacket types and recommending which one you should pick depending on your unique use case.
Are Letterman Jackets and Varsity Jackets the Same Thing?
While letterman jackets and varsity jackets may be different in the prints that they have, their structure and silhouette are essentially the same.
Okay, I know that there is a lot of confusion in the fashion world regarding this topic, so let me explain it better.
In simple terms, a jacket becomes a letterman jacket when it is worn by a high school senior and it also becomes a varsity jacket when worn by a college-level athlete.
But the jacket design in both cases is the same, albeit with different prints (one has a letter on the front, one has the name of a sports team on the back).
Also, if you are buying a varsity jacket for fashion purposes, instead of receiving it from your school or university, then there is practically no difference between a varsity jacket and a letterman jacket.
Some stores are going to use one name while others are going to use a different moniker.
What Is A Baseball Jacket?
A baseball jacket is a cropped jacket with spread or ribbed collars, that also has a button closure.
There are two further categories of baseball jackets:
Actual Sports Jackets – These are meant to be worn in the playing field. They usually have ribbed collars.
Fashion Jackets – These are lifestyle jackets that aren't meant to be worn during sports. They tend to have spread collars.
Baseball jackets are often called the younger cousin of the varsity jacket because of the similarity between the two.
These jackets are typically worn in casual situations, often being paired with jeans and cargo pants.
Since 2021, they've been enjoying a resurgence in popularity due to the fact that major stars and influencers are rocking them.
What are Baseball Jackets made of?
While most baseball jackets are fully made from wool, some are made from a combination of wool and leather.
In case of a combination, the sleeve region is usually made from leather while the body is made from lambswool or merino wool.
Most jackets, however, don't have a distinction between the material of the sleeves and the material of the body, with both being made from some type of high-quality wool.
Which One Should You Get?
Sale
Aelfric Eden Baseball Jacket
Features - Button closure leather patchwork baseball jacket, classic and stylish, patch...
Warm Jackets - The buttons on the varsity jacket are of high quality, not easy to loose or...
How to wear - Lightweight and modern design outwear for spring, fall and cold winter, can...
Any Occasion - This long sleeve jacket is suitable for casual wear, dates, school,...
If you're buying a jacket for fashion purposes, I recommend that you go for a baseball jacket over a letterman or varsity jacket.
There are two main reasons for this.
Firstly, baseball jackets are way less mainstream than varsity jackets, which means that wearing them is going to make you stand out much more, especially in the current fashion trend of aesthetic style where everyone and their mother is wearing a varsity jacket.
The second reason is the spread collar of a baseball jacket.
In my experience, the ribbed collars of varsities make layering very difficult, especially if you are venturing out of streetwear with your outfit.
The spread collar removes this problem and makes layering much easier. A button-up shirt under a varsity jacket may look weird, but the same shirt will look great under a baseball jacket.
Final Remarks
In this article, I tried to clear all confusion regarding varsity jackets, letterman jackets, and baseball jackets.
The fact of the matter is that all three are enjoying a great resurgence right now, due to the rise of aesthetic fashion for men. So hop on the ride and get yourself a Pinterest-worthy outfit.
Here's a quick summary of the article.
Varsity jackets and letterman jackets are structurally the same. The only major difference is that one is worn by college athletes and one is worn by high school seniors.
Baseball jackets, on the other hand, are a lot different from the two due to their signature spread collar and cropped length.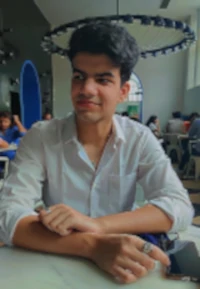 My name is Alex Higson and I am the founder of Magic Of Clothes. I have worked in the fashion industry for many years, and clothes and style are a huge part of my life.