Magic Of Clothes is an independent reader-supported blog. We may earn commissions from every qualifying purchase made through our links, at no additional cost to you.
As a sneaker enthusiast, I know that choosing the right color for your Converse can be a daunting task. With so many options available, it can be hard to know which color will best fit your style.
Then there is also the question of collabs and designs, which also come in a bunch of different colorways. Should you get the latest Converse x DRKSHDW in pink or should you go for the Converse x NOTRE in brown? Well, in my opinion, you first need to get your basic Converse colors before going for these flashy collabs.
That's why I've put together a list of the best Converse colors that are versatile and go with everything.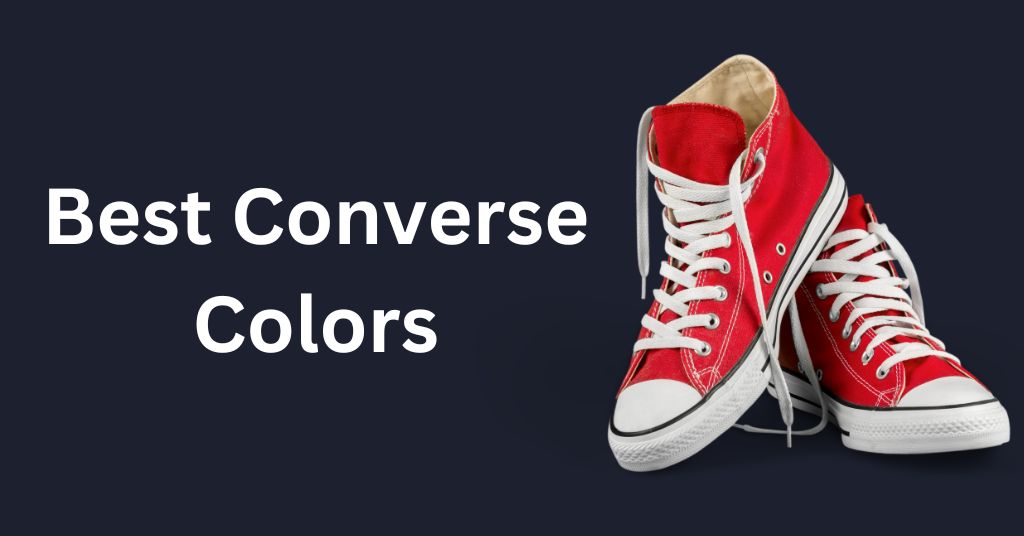 Top 5 Best Converse Colors
Here are my top 5 best Converse colors.
1. Classic Black
There's a reason why black is considered a classic color for Converse shoes. It's versatile, goes with almost any outfit, and looks great on both high-top and low-top styles. Plus, it's easy to keep clean. I don't have to constantly worry about my shoes getting dirty when I have Black Converse shoes.
Additionally, even Black shoes can be customized later when solid colors have bored you already. I love pairing my black Converse with jeans and a t-shirt for a casual, yet stylish look.
2. Optical White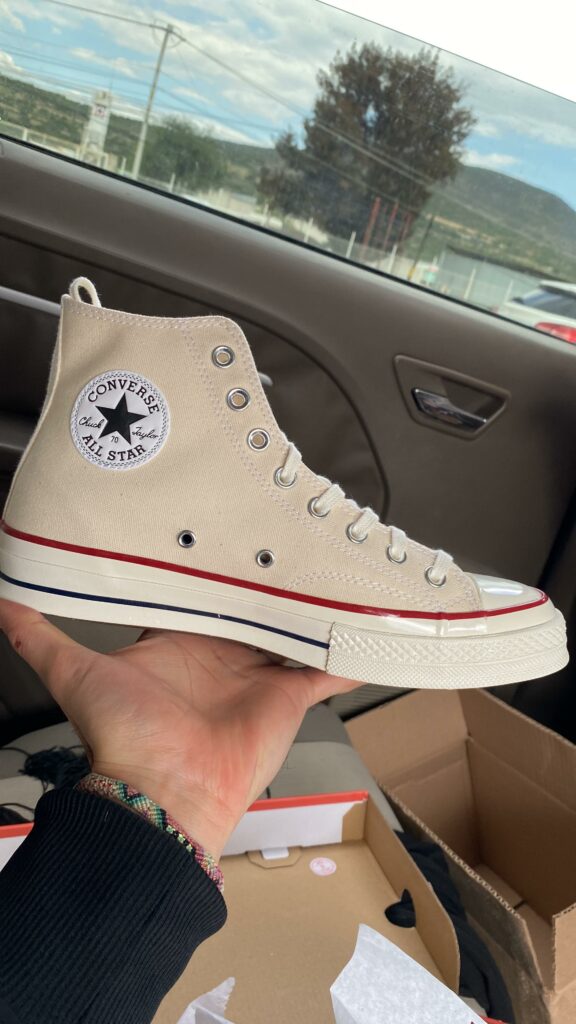 If you're looking for a clean and crisp look, you can't go wrong with optical white Converse shoes. They're perfect for summer and can be paired with shorts, skirts, or even a sundress.
Everyone prefers this color in Converse shoes due to its versatile nature. White shoes go well with every outfit style and look fresh, so they are suitable for most occasions.
Just be sure to keep them clean, as they can show dirt easily.
3. Navy Blue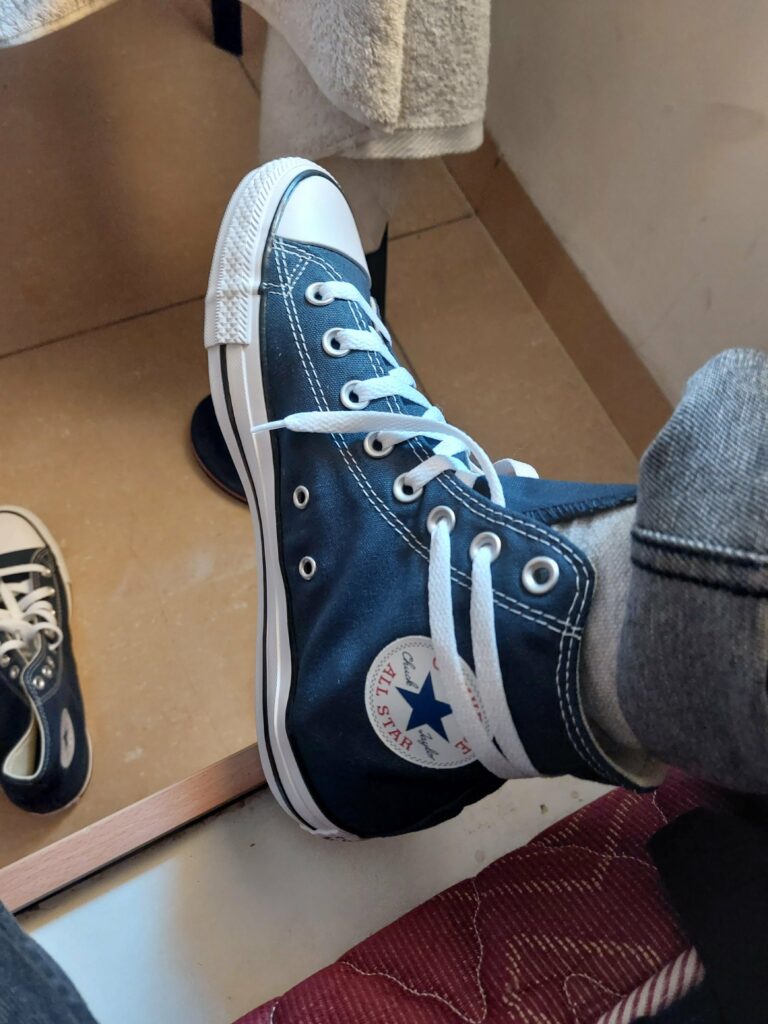 Navy blue is a great alternative to black if you're looking for a darker color. It's still versatile and can be paired with a variety of outfits, but adds a bit of color to your shoe collection. Navy blue Converse shoes look great with denim and can even be dressed up with a blazer.
Or if you are more of the casual kind, you can just put on some linen pants and a light top and wear these blue shoes to look summer ready.
4. Charcoal Gray
Charcoal gray is a great option if you want something that's not as harsh as black, but still goes with everything. These shoes look great with both light and dark denim and can be dressed up or down.
And because this color is not as popular as white, black, or navy, you will definitely end up standing out from the crowd.
5. Burgundy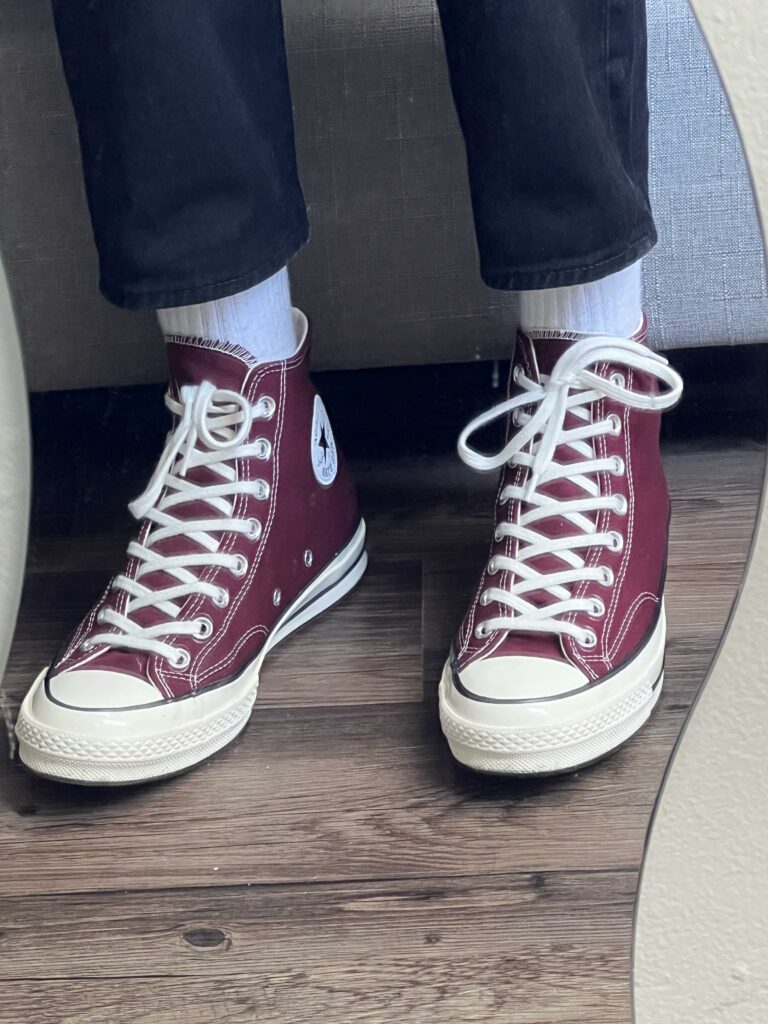 For a pop of color, burgundy Converse shoes are a great option. They add a bit of personality to your shoe collection and can be paired with a variety of outfits. I love pairing my burgundy Converse with black jeans and a white t-shirt for a stylish and edgy look.
Overall, these are my top 5 best Converse colors. Of course, everyone has their own personal preference, but these colors are versatile, stylish, and can be worn with a variety of outfits.
Honorable Mentions
While some colors may be more popular than others, there are a few honorable mentions that deserve recognition.
1. Red
Red is a bold and vibrant color that can make a statement. While it may not be as versatile as other colors, it can add a pop of color to any outfit. The Converse Chuck Taylor All Star High Top in Red is a classic choice. The bright red canvas upper and white rubber sole make for a timeless look.
2. Pink
Pink is a fun and playful color that can add a touch of femininity to any outfit. The Converse Chuck Taylor All Star Low Top in Pink is a great option. The light pink canvas upper and white rubber sole make for a subtle yet stylish look. This color is perfect for spring and summer.
3. Green
Green is an earthy and natural color that can add a sense of calmness to any outfit. The Converse Chuck Taylor All Star Low Top in Green is a great choice. The olive green canvas upper and white rubber sole make for a trendy and stylish look. This color is perfect for fall and winter.
While these colors may not be as popular as others, they still deserve recognition for their unique and stylish qualities. Whether you prefer bold and vibrant colors or subtle and natural tones, there is a Converse color for everyone.
Special Editions
I always look forward to the special editions that the company releases. These limited-edition sneakers are the perfect way to add some personality to your shoe collection. In this section, I'll be highlighting some of the most exciting special editions that Converse has released.
Collaborations with Designers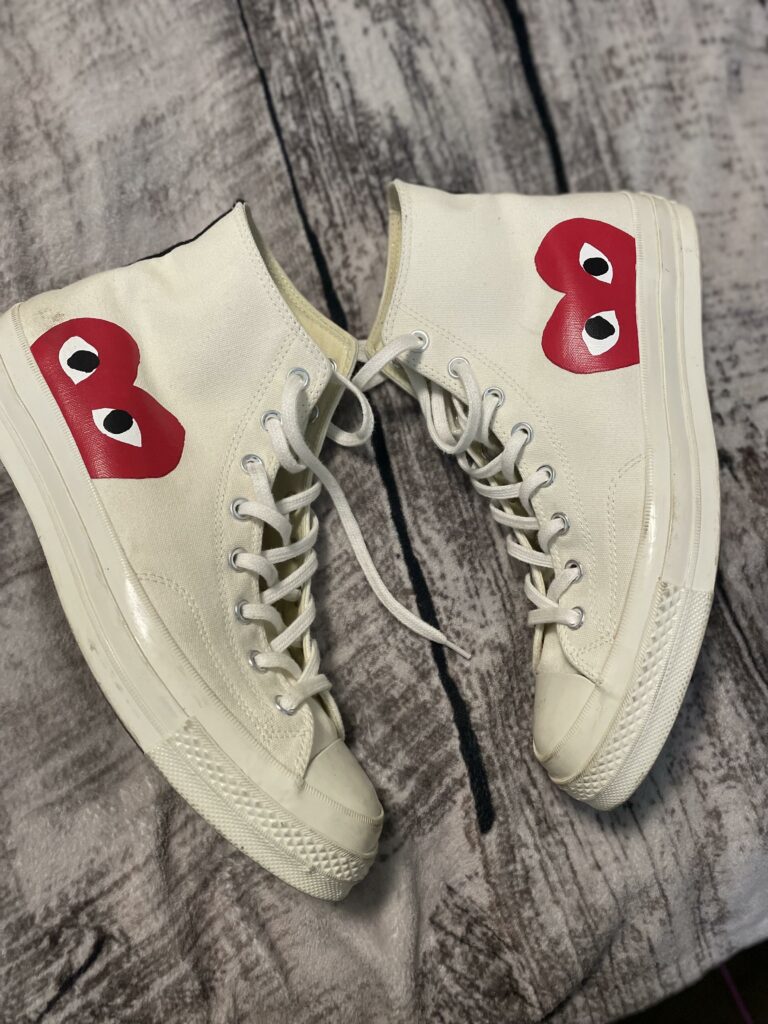 One of my personal favorites is the Converse x CDG Play Chuck 70. This collaboration with Japanese fashion label Comme des Garçons features the iconic CDG heart logo on a classic Chuck 70 silhouette. The sneakers are available in both black and white, and the heart logo adds a playful touch to an otherwise simple design.
Another collaboration that I'm excited about is the Converse x TURBODRK collection. This collaboration with artist and designer TURBODRK features bold, colorful designs on classic Converse silhouettes. The collection includes a laceless Chuck 70 and a bucket hat, both of which are sure to turn heads.
Limited Edition Colors
In addition to collaborating with designers, Converse also releases limited edition colors of their classic sneakers. These limited-edition colors are often inspired by current fashion trends or seasonal colors. One recent release that caught my eye is the Lemon Chrome Chuck Taylor All-Star. This bright yellow color is perfect for summer and adds a pop of color to any outfit.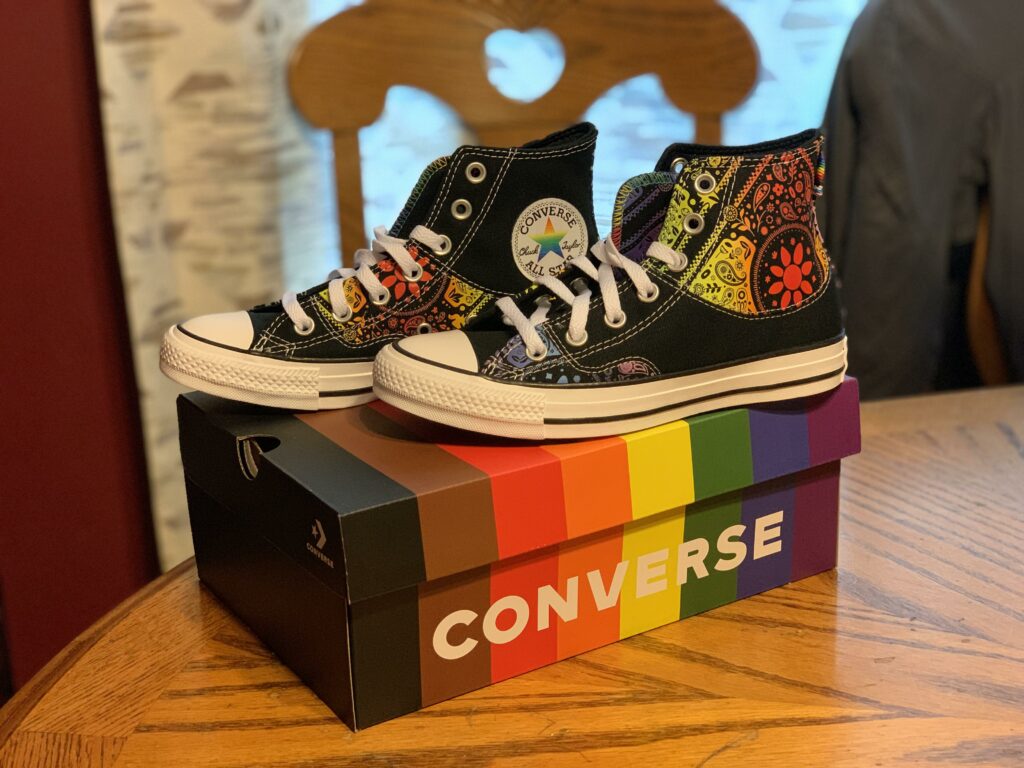 Another limited edition color that I love is the Pride Chuck 70. This sneaker features a rainbow stripe on the midsole and a rainbow patch on the heel, making it the perfect way to show your support for the LGBTQ+ community. Plus, a portion of the proceeds from the sale of each pair of Pride Chucks goes to the It Gets Better Project, a nonprofit organization that supports LGBTQ+ youth.
Customizing Your Converse
I love customizing my Converse. There are a variety of ways to make your Converse unique and personalized. Here are some techniques that I have tried and tested:
DIY Techniques
If you are a hands-on person, you can customize your Converse by yourself. Here are some DIY techniques that you can try:
Painting: You can paint your Converse with acrylic paint or fabric paint. You can use stencils or freehand to create your design. Make sure to use a sealant to protect your design from wear and tear.
Dyeing: You can dye your Converse with fabric dye. You can create a gradient effect by using different shades of dye. Make sure to follow the instructions on the dye package.
Adding accessories: You can add accessories to your Converse to make them unique. You can add studs, spikes, or patches. You can use fabric glue or a sewing machine to attach them.
Customization Services
If you don't have the time or skills to customize your Converse, you can use customization services. Here are some customization services that you can use:
Converse By You: Converse By You is a customization service provided by Converse. You can choose your sneaker, color, print, and laces to make your mark. You can also add your name or a message to your Converse.
Independent artists: There are independent artists who specialize in customizing Converse. You can find them on social media or online marketplaces. You can commission them to create a design for you. If you want me to make a separate blog post about my favorite shoe artists, just let me know!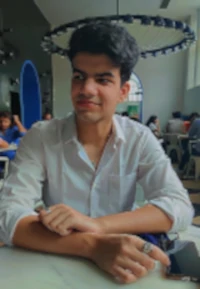 My name is Alex Higson and I am the founder of Magic Of Clothes. I have worked in the fashion industry for many years, and clothes and style are a huge part of my life.