Magic Of Clothes is an independent reader-supported blog. We may earn commissions from every qualifying purchase made through our links, at no additional cost to you.
Now that the summer is here, it's officially time to bow down to the greatest summer fabric known to man – Linen.
And to top it off, let's combine it with the garment that is synonymous with the summer – shorts.
Linen shorts are comfortable, breathable, and most importantly, they keep you cool. They will also help you in standing out in a sea of dudes wearing cotton shorts.
Besides, linen shorts are pretty inexpensive. If you get them off of Amazon, they are probably going to be similar in price, if not cheaper, to cotton shorts.
So without further ado, here are the best linen shorts for men.
Top 5 Linen Shorts In The Market
| | | |
| --- | --- | --- |
| Linen Shorts Brand | Fit | Best For |
| Cubavera | Regular | Best for Everyone |
| 28 Palms | Slim | Best in terms of breathability |
| Yeokou | Relaxed | Best budget option |
| Calvin Klein | Slim | Best for gym dudes |
| Mountain Khakis | Relaxed | Best for older men |
The best linen shorts for men.
---
Cubavera's linen shorts are probably the highest quality of any on this list.
Linen is known to be a stiff fabric, but somehow these shorts end up feeling pretty soft and comfy.
The fit is labeled as regular but they run slightly large, so that's something to be aware of. I would recommend you to size down in these.
The additional pockets come in really handy, especially if you are going hiking or camping.
I really dislike cargo shorts where the pockets are made in such a way that they seem bloated, but this is not the case with these Cubavera shorts.
Although they are cargos, the pockets are still pretty slim; and the slimmer aesthetic makes the piece more versatile too.
It's available in 3 different colors that all look great, so pick the one you like the most and run with it.
---
If your vibe is more inclined towards street-style and casual fits, and you are looking for a budget pair of linen shorts; Yeokou has got you covered.
Their shorts are super-relaxed and have an elastic waistband with a drawstring closure. These are advertised as beach shorts, although you can wear them when you lounging around the house too.
I spent a summer in Florida a few years ago, and something like this would have been absolutely great for me to chill around in.
And they are pretty versatile too if you are into baggier silhouettes. The material feels really nice against the skin, and the quality is great considering how inexpensive they are.
Although the directions say hand-wash only, I machine-washed them multiple times and they seem to hold up just fine.
---
If you are looking for the best pair of shorts in terms of coolness and breathability, look no further than the 28 Palms drawstring linen shorts.
28 Palms is a renowned brand when it comes to summer clothing. You can think of them as being in the same space that "Tommy Bahamas" occupies.
I bought their drawstring shorts in white, and boy oh boy was I impressed. They are super lightweight and breathable, and didn't seem to get dirty easily.
Since I bought them in white, the shorts were super versatile and went well with most tops.
My only gripe would be that they are probably a little too cool if you live in someplace like New York as I do. But I grew up in Florida, and people over there would kill to get shorts so breathable.
Also, if you are above 6'2, I recommend that you skip this pair. Their inseam is slightly on the smaller side, and this can cause a problem for bigger dudes.
---
If you are above the age of 40, the Mountain Khakis blended shorts are probably the best choice for you.
Everything about them screams classic and old-school. In fact, the first place where I wore them was a golf course, because that's the vibe they give to me.
These are available in a bunch of different colors and patterns, but because of the vibe I was getting, I decided to go old school. I bought them in "Gun Metal" color.
The fit of these shorts is on point, and they end 2-4 inches above the knees, which is the sweet spot when it comes to shorts.
They do not shrink in the wash or in the dryer. I tested this first hand and was surprised because most linen garments end up shrinking if improperly washed.
I am a size 31, which means that I have to mostly settle for 32 size shorts and tailor them. Mountain Khakis also offer a size 31, a fact which pleasantly surprised me.
---
I love Calvin Klein's shorts, but I hadn't yet tried a linen one, so I picked up this bad boy from their recent sale.
The shorts are excellent in terms of feel and have a nice stretch to them due to the presence of elastane. In fact, they were so stretchy that I was able to comfortably hit some squats wearing them.
The sizing is pretty accurate, so no need to go one size up or one size down. Even if you have thick thighs, there is plenty of room in the leg for you to be comfortable.
In fact, this pair of shorts is probably the best on the entire list if you have thicker thighs or if you are a man who likes his squats.
I recommend that you buy these in black. Wearing black in the summer is difficult due to the amount of heat this color retains, but these shorts are so cool that they even out that factor.
So if you love black (like me), this is probably the only way you can wear it in the summer.
---
Linen Shorts Buying Guide
What kind of inseam should you look for in a pair of linen shorts?
Most linen shorts have an inseam somewhere between 6″ and 14″. The perfect inseam length for you would depend on your height.
If you are a taller guy (6ft+), go for an inseam that's more than 10″. An inch here or there is fine, but make sure that you are not going for something too small like a pair of linen shorts with a 6″ inseam.
If you are a smaller guy (below 5'4) go for an inseam that's less than 10″. Again, you don't need to panic if you get a marginally longer pair of linen shorts, but just try and get something under 10″.
If you are of average height (5'4-6'0), anything between 8″ and 12″ is going to be fine for you.
What is the best fit for linen shorts?
Traditionally speaking, linen shorts are slim throughout the body and are supposed to end up just above the knee.
However, the fit of the garment comes down to how you are going to wear it. If you are more into street style, then a relaxed and elongated pair of linen shorts might be perfect for you.
If you are more of a menswear guy, a sleek and slim pair of chino shorts that end up a couple of inches above your knee will be just the right thing for you.
Are blends better than pure linen?
Both pure linen and blended linen have their advantages and disadvantages.
Linen blends add stretchiness to the shorts, which makes them more comfortable. They also add durability to the garment.
In fact, one of the biggest advantages of using linen blends is that they do not wrinkle all that much, compared to linen shorts, which wrinkle a lot.
Pure linen is great because of the breathability it provides and makes sure that you stay cool on the warmest summer days.
How long does a pair of linen shorts last?
A quality pair of linen shorts lasts a minimum of three years.
All these brands that I have mentioned on this list have passed this test. So you don't need to worry about quality if you are going with any of these options.
And if you take proper care of your shorts, they can last a lot longer than 3 years too. In fact, I have a pair of linen shorts that I bought from 28 palms almost 6 years ago.
They look brand new even today.
What are the best colors for linen shorts?
If you are buying your first pair of linen shorts, I would recommend you to go with classic colors such as beige, grey, and off-white.
They look great, are easy to style, and work with practically everything in your wardrobe.
But if you have your basics covered or want something a little more exciting, you can go for pastel colors like baby blue and baby pink.
These look great on linen shorts and compliment the "lightness" and "breeziness" of the shorts.
Conclusion
If you are looking for a pair of linen shorts, look no further than the five that I have mentioned, because they cover a wide range of aesthetics and sensibilities.
I have tried tens of linen shorts, and these ones are literally the best of the best. Here's a quick rundown of the list for you.
Overall best – Cubavera.
The best for people with bigger thighs – Calvin Klein.
Best in terms of breathability – 28 Palms.
Best for older men – Mountain Khakis.
The best Budget Pick – Yeokou.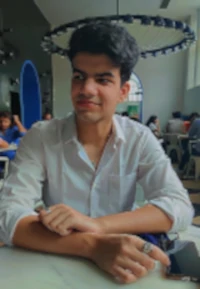 My name is Alex Higson and I am the founder of Magic Of Clothes. I have worked in the fashion industry for many years, and clothes and style are a huge part of my life.