Gildan is generally pretty spot on in terms of its size. While their 'Youth' collection t-shirts might run a little big, a few of their products have an awkward fit, so it is better to size up according to your preference.
Gildan is a wholesale blank apparel brand and the world's most prominent clothing manufacturer. Their products range from sweaters and fleece wear to activewear, screen-printed by various companies with their designs and logos.
Gildan supplies branded and private-label athletic, casual, and dress socks to retail companies across the United States.
In this article, we will take a detailed look at their sizing. But if you directly want to take a look at Gildan products currently on sale, you can click on the link below.
How Does Gildan Clothing Fit?
Gildan runs true to size across nearly all of its products. So chances are that you don't have to worry about the measure as a whole, but you might need to pay attention to how it fits on YOU.
While Gidan sizing charts run consistently throughout their products, there might be specific issues one might face individually.
While a few of their oversized t-shirts and tops have extremely ill-fitted tailoring, some might also shrink a little even after taking care of your wash cycles.
In general, most Gildan shirts and hoodies fit true to size, but it can vary a bit depending on what type of hoodie or sweatshirt you choose. So while there might be enough flexibility between sizes, chances are some run smaller on your limbs despite being true to size. 
They have a breezy 30 days return/exchange policy across all their products if they do not satisfy you the way you expected them to. So feel free to get a couple of sizes of the item to select the one that suits you best.
Refer to the size chart
To make sure you select the correct size, take your measurements and compare them by clicking on the size chart button on this page.
Which Gildan Items Run Small?
| Clothing | Gildan Sizing |
| --- | --- |
| T-Shirts | Runs large. |
| Sweatshirts | True to size. |
| Fleecewear | True to size. |
| Sweatpants | Runs true to size. |
T-Shirts
Gildan offers a large variety of t-shirts and tops on its website at very affordable prices, all of which run about half a size larger than other brands.
Their Youth T-shirt range has a wide spectrum of sizes from XS to 6XL, so there is enough flexibility between each size and a pretty solid range among them.
While some may say that these shirts run a little bigger than expected, they also drape better than other brands, so it does not look awkwardly big or anything. They provide a flattering street-smart fit which only adds to the charm of a plain solid colored tee.
Sweatshirts
Sweatshirts from Gildan are pretty true to size but have a bizarre fit.
Not sure if it's tailored for that kind of look, but while the sweatshirt might fit you perfectly on the shoulders and chest with enough extra space, the length of the sleeves or the torso stops at an awkward spot.
These are also prone to shrinkage faster than other items. So consider sizing up if the length of the sleeves and the possible shrinkage is an issue for you too.
Fleecewear
The fleece from the brand fits pretty true to size except for the sleeve length and the torso length.
The fit of this item is a little confusing in that you can not decide if they run small or large without dissecting the whole fit.
While they may run true to size, some items might feel chunky on the arms, so keep that in mind if you plan to size up for better layering. Also, if the length is an issue, try going up a size.
Sweatpants
Gildan bottoms might run a little small if you are curvier on your butt. Otherwise, they are true to size.
It is sold as a unisex item. However, it sits tight on the hips and runs long on the legs. So if you are below 5'3″, these might not be your bottoms.
Gildan Size Chart For Men
| Size | Chest (in Inches) |
| --- | --- |
| S | 34″-36″ |
| M | 38″-40″ |
| L | 42″-44″ |
| XL | 46″-48″ |
| 2XL | 50″-52″ |
Gildan Size Chart For Women
| Size | Chest (in Inches) |
| --- | --- |
| S | 32″ |
| M | 34″ |
| L | 37″ |
| XL | 39″ |
| 2XL | 44″ |
Does Gildan Make Plus-Size Clothing?
No, Gildan does not make plus-size clothing, and only a handful of its products run up to 6XL.
Gildan does not offer a separate collection for its plus-size customers. However, they have a wide range on their size charts that may be a little more inclusive than most other brands around the fashion world.
While most of their products only run up to 3XL, a handful of them run from XS to 6XL, roughly 64-66″.
Final Remarks
Gildan is one of the biggest clothing manufacturers in the world.
The use of high-quality fabric, elaborate techniques, and plain unbranded solid colored tees might be just be the reason why. However, in a fast-changing world, one can only hope for them to incorporate a wide range of size options across their products.
Here is a quick recap of the article:
Does Gildan run small? No, Gildan fits true to size. However, some of their items may be a little ill-fitted, so you might feel the need to size up. Due to these disparities in their sizing guide, you need to pay close attention to it to buy the perfect fit.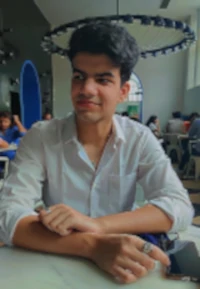 My name is Alex Higson and I am the founder of Magic Of Clothes. I have worked in the fashion industry for many years, and clothes and style are a huge part of my life.