Magic Of Clothes is an independent reader-supported blog. We may earn commissions from every qualifying purchase made through our links, at no additional cost to you.
Pretty Little Thing clothing tends to run one size small. Thus, in order to get the perfect fit, sizing up is necessary.
This brand has really taken the fashion world by storm in the past couple of years, and rightly so, as it has managed to provide quality clothing at extremely affordable prices.
But their sizing system can be a complete mess at times. Therefore, in this article, I will try to break down the sizing system at Pretty Little Thing so that you don't have to face the inconvenience of returns and refunds.
How does Pretty Little Thing Fit?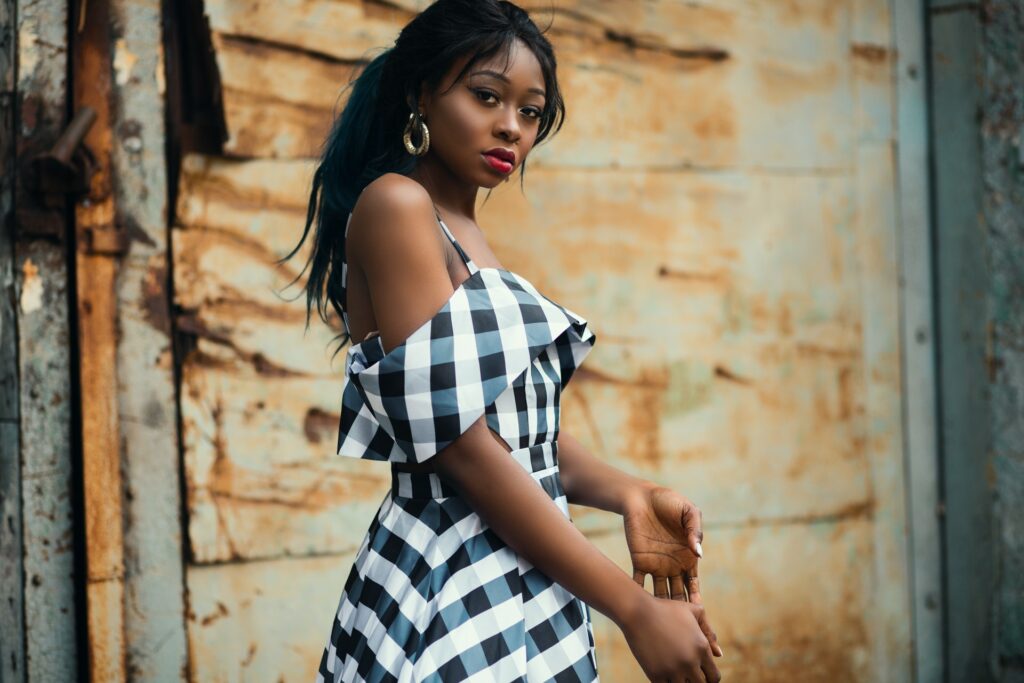 Pretty Little Thing is not true to size for most of the garments it sells, and thus it can fit a bit tight if you don't size up.
So, why has the brand not been able to solve its sizing problems?
While only the people behind Pretty Little Thing may know the answer to this question, in my opinion, it has got to do with the brand's UK origins.
UK sizing, in general, runs a bit small when compared to its American counterpart, and because converting the sizes isn't as simple as changing the label, Pretty Little Thing tends to run small.
So, what size should you buy when shopping from their website?
Here's what I recommend 🔎. Take a look at the official size chart on the Pretty Little Thing website, and compare your body measurements with it. Just go for one size larger than what the chart recommends, and you will be good to go.
This rule of thumb has helped me a LOT when shopping from this brand.
Let me clear things up with a small example. Let's say that PLT made a dress in a size L for its UK audiences. It cannot just mark it as an M in the US, because the actual sizing lies somewhere between a US "M" and a US "L".
That's why you need to pay close attention to the size chart so that you know the actual measurements of the product. This will help you in finding the right size for your body type.
Quick Tip 👉 Sometimes the Pretty Little Thing website shows discounts on products only after going through the clearance section and not if you directly go to the product page. Thus, make sure that you always check for your product in the sale section on the Pretty Little Thing website.
What size should you get?
Every brand has different sizing standards, so using the size chart can help you determine which size will fit you best. It's always a good idea to measure yourself and compare your measurements to the size chart provided on the website to ensure the most accurate fit.
It's also helpful to check the product descriptions for any specific sizing information and to read customer reviews to see how the clothing fits others. If you are still unsure about the size, you can reach out to their customer service for further assistance.
Keep in mind that everyone's body is different, and it's important to prioritize comfort and fit over a number on the label. Don't be discouraged if you need to purchase a size that is different than what you normally wear. The most important thing is to feel confident and comfortable in your clothes.
Which Pretty Little Thing Items Run Small?
| Pretty Little Thing Clothing | Sizing |
| --- | --- |
| Dresses | Half a size small. |
| Tops | Half a size small. |
| Jeans and Bottoms | True to size. |
| Heels and Shoes | Run big. |
Dresses
The dresses at Pretty Little Thing run about half a size small. Therefore if are in between sizes, you must size up.
There are a lot of measurements that need to be just right in order to make a dress look great, but Pretty Little Thing just falls short of the mark, especially in the bust area.
Don't get me wrong, the dresses are absolutely drool-worthy. The only problem is that you are going to need to size up to look drool-worthy in them.
Tops
The tops at Pretty Little Thing, just like their dresses, run about half a size small. Not a major problem if you like tight-fitting clothing, but if you don't, you can just size up.
The trendy designs and overall great quality of this brand are offset by this minor problem. But luckily, they have built a size finder that does decently in finding your size most of the time.
All you need to do is just enter your height and measurements into it, and it will spit out a perfect size for you.
Jeans
The wide range of jeans and bottoms available at Pretty Little Thing run true to size. Therefore you don't have to size up or down when purchasing from this brand.
They have tons of different cuts for us curvy folk too, and they actually managed to make a pair of jeans that fits all three important parts of your legs – the waist, the hips, and the thighs.
Thus, I've lately been purchasing all my jeans from them, and they are holding up pretty nicely (no pun intended).
Heels
Finally, the holy grail for which Pretty Little things is known- their heels.
Their heels run about half a size to one size large depending on the individual product. But you can find out the exact measurements of all their heels by looking at the size chart given with each product.
In most cases, however, you will need to size down in order to get the fit just right.
Pretty Little Thing Size Chart For Women
| | | | | | |
| --- | --- | --- | --- | --- | --- |
| SIZE | XS | S | M | L | XL |
| UK | 4 | 6-8 | 10-12 | 14-16 | 18 |
| EU | 4 | 6-8 | 10-12 | 14-16 | 18 |
| USA/CA | 0 | 2-4 | 6-8 | 10-12 | 14 |
| AUS | 4 | 6-8 | 10-12 | 14-16 | 18 |
| FR | 32 | 34-36 | 38-40 | 42-44 | 46 |
| BUST | 30.9 | 31.8-33.8 | 35.8-37.7 | 39.7-41.7 | 44 |
| WAIST | 23.8 | 24.8-26.7 | 28.7-30.7 | 32.6-34.6 | 37 |
| LOW HIP | 34 | 35-37 | 38.9-40.9 | 42.9-44.8 | 47.2 |
Additional sizes such as tall and plus are available on their website.
Does Pretty Little Thing Make Plus-Size Clothing?
Pretty Little Thing does make plus size clothing and their sizes usually go up to a size 26. However, the entire collection runs a little bit small.
While the number of sizes that they offer is great (I have very rarely seen a famous mainstream brand offer a size 26), the brand needs to work a bit more into figuring out their sizing.
Most garments in the plus size collection run one size small instead of being true to size. Therefore, sizing up is a must in order to get the perfect fit.
Final Remarks
Pretty Little Thing has been taking the fashion world on a storm for quite some time now. So, naturally, I had to include it in my sizing review series. I hope this article helps you whenever you are next purchasing your favorite dress from their website.
So, before I go, here's a quick recap.
Does Pretty Little Thing run small? Yes, most clothing at Pretty Little Thing runs small, and sizing up is a must. The reason behind their sizing issues is that their clothing was originally made for the UK population, following UK sizes, and they don't particularly translate well to the US sizing system.