Uniqlo clothing tends to run small when compared to competitors like Zara and HM. Therefore, for most garments at Uniqlo, you would need to size up.
Uniqlo offers a variety of sizes, ranging from XXS to XXL in Women's styles, XXS to 3XL in Men's styles, and 70 cm to 110 cm in Babies' styles.
The Japanese origins of Uniqlo can be said to be a reason for the size issues, but Uniqlo has worked a lot in order to set up a completely unique sizing system for the United States. I will explore the Uniqlo sizing model in this article, but if you directly want to shop their ongoing sale, you can click on the button below for the best prices.
Is Uniqlo True to Size?
No, Uniqlo clothing is not true to size. If you're buying Uniqlo clothing, it is recommended that you size up.
Most garments from this brand tend to run just a tad bit small. Not enough to cause discomfort, but there can arise a difficulty after the clothes have been through a few wash cycles.
If you prefer a looser, more relaxed fit or are unsure about the sizing of a particular item, it might be a good idea to size up. This is even more true for unisex or collaboration pieces.
Here's what I recommend. Go to a page on Uniqlo's website that has a size chart button, such as this one. Now, at the right, you will see a small link that says Size Chart/Compare.
Now, compare your measurements with the size chart, and simply go one size bigger than what their size chart recommends, especially if you are in-between sizes.
The only exception to this rule of thumb are jackets and dresses, because they run true to size on the Uniqlo website.
Uniqlo originates from Japan, where clothing sizes tend to run smaller than Western sizes. The brand has expanded globally, offering its customers a range of sizes from XXS to 3XL. However, their sizing still reflects a more Japanese approach to fit and dimensions.
Well, the sizing issues at Uniqlo aren't massive, but a problem can arise due to shrinkage. Most garments tend to shrink a bit in the wash anyway, but the added snugness of the Uniqlo clothing makes it quite unwearable after a few washes unless you get the correct sizing.
However, if you get the right product in the right size, Uniqlo clothing is known to last for a fairly long time compared to its fast-fashion competitors.
One more thing 👉 Sometimes, the Uniqlo website shows product discounts only after going through the sales section and not if you directly go to the product page. Thus, make sure that you always check for your product in the clearance section.
Which Uniqlo Items Run Small?
| Uniqlo Clothing | Sizing |
| --- | --- |
| Shirts | Fits a bit small. Size up. |
| Jeans | Fit very snug. Size up, if necessary. |
| Jackets | Fit true to size. |
| Sweatshirts and Hoodies | Fit very small. Size up. |
| Dresses | True to size. |
Here is a complete breakdown of the different garments available at Uniqlo and what size should you get them in:
Shirts
The shirts and t-shirts from Uniqlo tend to fit very snug for the average American. Therefore, it can be said that they run small.
This holds true for all the different kinds of shirts that Uniqlo offers. Thus, if you are planning to buy a Uniqlo shirt, I would recommend that you size up by one size in order to get that perfect fit.
This information holds true for the women's section as well, so you would want to size up when shopping from the women's section of Uniqlo too.
Jeans
Uniqlo jeans suffer from the same problem that their tops section does. They are just a tad bit smaller than what the sizing label displays. But some fits of the Uniqlo men's selection, such as the relaxed fit denim is standard, true to size affair.
This however is a problem of the men's section only. And even then, it's not that big of a deal as you can just go one size up to get a better fit.
Jackets
Uniqlo jackets are pretty much true to size for most people. The size chart will help you in finding out the detailed measurements of the jacket, but in my opinion, you should not size up or down when buying a Uniqlo jacket as they do not run small.
The same goes for the women's section too, you should not go one size up or one size down when buying a jacket from the women's section at Uniqlo.
Sweatshirts and hoodies
The hoodies and sweatshirts offered by Uniqlo tend to run small. They are also prone to shrinkage, and therefore it is recommended to size up when buying a Uniqlo sweatshirt.
Compared to the rest of the fast-fashion brands such as HM and Zara, Uniqlo makes their hoodies really slim. So there really is no point in going for your actual size, as the piece is just not going to fit you after some time.
Uniqlo Size Chart (in inches)
| | | | | | | | |
| --- | --- | --- | --- | --- | --- | --- | --- |
| SIZE | XXS | XS | S | M | L | XL | XXL |
| BODY LENGTH BACK | 22 5/6 | 23 5/8 | 24 2/5 | 25 1/5 | 26 | 26 7/9 | 27 5/9 |
| SHOULDER WIDTH | 14 1/6 | 14 4/7 | 15 | 15 3/4 | 16 1/7 | 16 1/2 | 17 |
| BODY WIDTH | 17 1/3 | 18 1/9 | 19 2/7 | 20 1/2 | 21 2/3 | 22 5/6 | 24 |
| SLEEVE LENGTH | 24 | 24 3/5 | 24 4/5 | 25 1/5 | 25 1/5 | 25 1/5 | 25 1/5 |
Is Uniqlo sizing the same in every country?
No, Uniqlo sizing is not the same in every country. For example, there is no XXS size in Japan, but you can easily find it in the US.
There are a lot of differences in sizing in the US and the EU too. So, what's the solution?
You just have to check out the size guide of the product that you are buying.
Uniqlo has worked a lot to simplify its sizing system for each location. Take advantage of this and get the garment that fits you perfectly.
Does Uniqlo Make Plus-Size Clothing?
Yes, Uniqlo makes plus-size clothing. It has a separate big and tall range that goes up to 3XL.
The sizing, unlike some other stores, is actually plus size. The fit on most materials is great and it doesn't look like you are wearing a tent, which is something that most customers look for.
The collection is not as big as you would want from a global brand (no pun intended), but still, something is much better than nothing.
You can avail yourself of the plus sizes at Uniqlo for both men and women at the official Uniqlo website as well as a large number of offline stores.
Do Uniqlo Clothes Shrink?
Uniqlo clothes generally do not shrink a lot. Shrinkage is around 10% after a few wash cycles.
But it all really depends on the material and how you wash it. Certain materials, like pure cotton, can shrink much more easily than synthetic materials like nylon and polyester.
Here are some helpful tips you can follow to maintain the quality and longevity of your clothes.
Uniqlo recommends washing dark-colored products separately and using a laundry net for items that wrinkle easily to prevent shape loss.
Dissolve the detergent in water before adding your clothes to the wash, as pouring it directly on the fabric may cause color fade or color run. Also, avoid using enzyme-based detergents on outerwear, as this can break down the garment's natural oils and reduce insulation performance.
For down outerwear, use a neutral detergent when washing and rinse thoroughly with clean water two to three times to ensure all detergent is removed from the fabric. After washing, tumble dry your outerwear on a low setting and, if possible, place it inside out to maintain its shape and appearance.
Remember that washing less frequently is not only beneficial to your clothes but also more environmentally friendly.
By following these washing and care tips, you can ensure your Uniqlo garments remain in excellent condition for longer, and you can enjoy wearing them for seasons to come.
Final Remarks
That's everything you need to know about the sizing system at Uniqlo. It can sometimes get complicated due to the wide variety of fits available at the storefront, but I hope that this article helped in simplifying the process for you.
So here's the final answer.
Do Uniqlo clothes run small? Yes, most Uniqlo clothes tend to run a bit small and tight. That's why it is recommended to size up when purchasing from this brand.
If you have any more sizing questions, you can check out the sizing information available on their website. Remember to switch to the region that you're located in, because Uniqlo sizing is not uniform.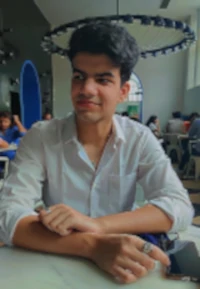 My name is Alex Higson and I am the founder of Magic Of Clothes. I have worked in the fashion industry for many years, and clothes and style are a huge part of my life.