Denim jackets are practically a wardrobe essential these days. Their cowboy image and the association with the wild west is long gone, but a jean jacket still makes you look like an absolute stud.
The perfect transition piece, denim jackets are great for the spring and fall seasons. And if you live in someplace like Arizona, you can wear denim jackets even in the harshest of the winter days.
But as with most pieces of clothing, the fit is extremely important. And in most cases, an off-the-rack denim jacket is not going to fit you perfectly.
Therefore, it is important to talk about tailoring a denim jacket. In this article, I will be talking about the various alterations you can and cannot do to a denim jacket, along with the cost of these alterations.
Can Denim Jackets be Altered?
Denim jackets can be altered. However, due to the thick nature of denim fabric and the topstitching thread that its seams use, the tailoring process is going to be quite difficult. And as a result, it is probably going to cost you more than what you originally paid for your jacket.
Although denim is made from cotton, there is a wide difference between the weight of both these fabrics. Denim is a lot thicker and requires the use of special threads and needles to make that aren't going to be available at your local seamstress.
Another problem that arises with tailoring a denim jacket is the number of bells and whistles it has. A trucker jacket has a bunch of pockets and buttons that make tailoring extremely difficult for even experienced professionals.
If a denim jacket is faded in parts (by design or by accident), then any form of tailoring is going to alter the look of the jacket and it is going to make the faded regions look weird. Thus, we come to a conclusion.
Can a denim jacket be tailored? Yes.
Should a denim jacket be tailored? Not really, unless the piece has sentimental value for you and you don't mind paying exorbitant prices to a dedicated denim specialist.
Given the fact that almost all major brands have their own version of a denim jacket, finding a jacket that fits you well is just a matter of knowing where to look.
Cost of Tailoring a Denim Jacket
| | |
| --- | --- |
| Part of the Denim Jacket | Cost of tailoring |
| Shortening the sleeves | $40 |
| Tapering the sleeves | $50 |
| Slimming the body | $75 |
| Changing buttons | $5 |
| Shortening the length of the jacket | $65 |
| Making adjustments to the shoulder | $90 |
| Total cost of tailoring a Denim Jacket | $325 |
Tailoring a denim jacket can cost anywhere between $5 and $325 depending on the number and type of alterations you want.
However, these numbers are just rough estimates. The skill level of your seamstress and her specialization, your location, and the thickness of your denim jacket can also make this price skyrocket.
Basically, treat these numbers as a reference point only. In case of any doubts or discrepancies, communicate with your tailor.
Can Denim Jackets be Tailored at Home?
Denim jackets cannot be tailored at home unless you have professional sewing machinery and heavy-duty threads to perform the tailoring process.
As I said in the previous section, making alterations to a denim jacket is not that easy. There are too many variables to consider, but even before that, you need to have dedicated sewing equipment to deal with a heavy fabric such as denim.
A pair of scissors, a needle, and some thread is just not going to cut it.
What you'll need is a sewing machine that is for professionals, thick thread that can be used to make seams, and a needle that is strong enough to pierce through denim. If you do not have access to these items, your denim jacket cannot be tailored at home.
Can Levi's Jackets be Tailored?
Levi's is a brand that is synonymous with denim jackets. Therefore, it is important to answer the tailoring question about Levi's jackets too.
Levi's denim jackets can be tailored, but like with other denim jackets, this is going to be a complicated procedure.
And considering the fact that Levi's has a lot of different cuts and fits for its denim jackets, I think it would be much better to just opt for a different model. That is probably going to cost you as much as making alterations to your jacket, and the jacket is going to look much better.
Can a Denim Shirt be Tailored?
Denim shirts can definitely be tailored. Unlike jean jackets, denim shirts are made from a thinner material and thus are much easier to alter.
While the fabric of a denim jacket is thick and heavy, a denim shirt uses fabric that is lightweight and thin in nature. This means that normal sewing needles are also able to pierce the fabric, which makes a denim shirt pretty easy to alter at home.
Apart from this, a denim shirt also has little to no fade on it. Nor does it have any other bells and whistles such as thick pockets and side tabs. This simplicity in its construction makes it possible for any tailor to make adjustments to a denim shirt.
And as a result, the cost of tailoring a denim shirt is pretty cheap, especially in comparison with the cost of tailoring a denim jacket.
Final Remarks
While it is possible to tailor a denim jacket, but I still recommend you avoid it. The main reason for this is the extra costs that you would be facing by going to a tailor specializing in denim.
Because tailoring a denim jacket is a difficult task, you are going to be paying a lot of money for even smaller adjustments such as shortening the sleeves or slimming the body.
However, it does not mean that all hope is lost for your denim jacket. You can still do two things to salvage it –
Wear it as an oversized denim jacket (this is a hot trend right now).
Shrink the denim jacket and make it smaller.
Clicking on these links would take you to the two dedicated articles I have about these topics. By going through them, you can easily figure out what to do with your baggy denim jacket.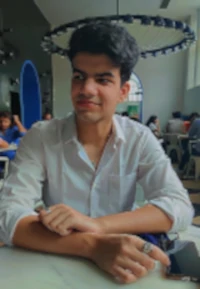 My name is Alex Higson and I am the founder of Magic Of Clothes. I have worked in the fashion industry for many years, and clothes and style are a huge part of my life.