Magic Of Clothes is an independent reader-supported blog. We may earn commissions from every qualifying purchase made through our links, at no additional cost to you.
Wearing an oversized denim jacket shouldn't be this complicated.
Since the revival of 90s fashion, men's oversized jackets have seen a huge comeback. Being spotted on popular celebrities such as Kanye West and Ryan Gosling has definitely helped too.
But sadly, there is not a lot of information about styling oversized jackets on the internet, especially for men. Therefore, I decided to create this guide where I can talk about the variety of ways in which you can wear an oversized jacket.
Based on my experiences as a fashion designer and stylist for the past 13 years, this guide contains some tips and tricks that you might find useful, along with a few style mistakes that you should definitely avoid.
How To Wear An Oversized Denim Jacket?
Oversized denim jackets may not be the most versatile piece in your wardrobe, but they can still be worn in a variety of different ways.
Ranging from aesthetics as different as loungewear and workwear, I have covered 4 different ways to style a denim jacket.
Even if you don't have the same pieces, try to figure out the "why" of the outfit and the process of styling it. This is going to improve your style by a huge margin.
Here are the looks you can go for with an oversized denim jacket. Feel free to get inspired by these photos and create your own looks.
1. The cropped black denim jacket
I love wearing my oversized jackets cropped. This ensures the best of both worlds – I still get to rock the oversized fit without looking sloppy.
And it doesn't really get better than a black cropped oversized jacket. Insanely versatile, this piece can be worn over hoodies, longline tees, regular shirts, flannels, tank tops, and what not.
My favorite way to style this piece involves keeping things simple. Go achromatic and let the jacket speak for itself. A charcoal or light grey jeans with a white t-shirt provide the right base for this outfit. As for shoes, go for black military boots to keep the edgy vibe.
2. Embrace color with a pastel denim jacket
If it's good enough for Ryan Gosling, it's good enough for you.
Pastel denim jackets are surprisingly easy to style. They look great and embrace the oversized vibe of the outfit beautifully.
Go for colors such as baby blue, baby pink, and mint green. Let the jacket be the star of the outfit and keep the rest of the pieces simple and basic. Greys, blacks, and whites are the way to go.
A cool hat can add a pop of color and complete the outfit, however, avoid matching it with the color of the jacket. That can look a bit tacky.
3. Go full streetwear with a cool back print
Oversized denim jackets are synonymous with streetwear at this point. And they are also a bit overdone, in my opinion (no pun intended).
To freshen things up, go for a jacket that has a super cool back print. In the picture, you can see my custom Vegeta jacket (I am a big DBZ fanboy). If the graphic has a pop of color, that's even better.
Choose a graphic that you love – something that's bold and eye-catching. Treat the jacket as a statement piece and wear it over an all-black outfit to help it pop even more. Add a few rings to complete the outfit.
4. Layer the jacket over a hoodie
And finally, the most classic way of wearing an oversized denim jacket is layering it over a hoodie.
I like to play around with my silhouettes to make this look more interesting. I suggest you go for skinny or slim jeans, a well-fitting hoodie, and a pair of lace-up boots that look sleek.
Adding an oversized jacket to this fairly sleek look will result in an interesting contrast of styles and silhouettes. Throw on a cap and you would be ready with a basic outfit that you can wear daily without thinking a lot.
Style Mistakes To Avoid
It is much more important to know what not to do than what to do. And this rule is also true in the world of style and fashion.
It is very simple to destroy an outfit's appeal by making any of the following mistakes with your oversized denim jacket.
1. Wearing oversized denim jackets to a formal occasion
No matter how much you love your jacket, you should be aware that oversized jackets are definitely casual pieces of clothing and should not be worn to formal occasions such as business meetings and dinner parties.
Heck, even normal denim jackets are considered casual. So make sure that the dress code allows oversized jackets in the first place.
2. Going for jackets that are too baggy
Even in the world of oversized clothing, there is something such as too baggy jackets. If your denim jacket looks like it was bought for someone 8 sizes bigger than you, then chances are that it is just too baggy.
3. Going for jackets that are too long
Similar to the last point, there is also something such as a jacket that is too long. This is the main reason that I advocate people to buy denim jackets that are oversized by design, rather than going up a size on a normal jacket.
When a jacket is designed to be oversized, the length of the jacket is still going to come down to the waist, which is not the case with sizing up on regular jackets.
4. Not using accessories
Clothes make the man, but accessories make the outfit. Oversized denim jackets are casual by nature, so you can accessorize them freely without worrying about going overboard.
I like to wear my oversized jacket with a few rings, a chain, and a bracelet or a bulky watch. An oversized denim jacket without accessories just looks… off.
Final Remarks
Oversized denim jackets are a big trend in men's fashion right now. And despite what all the influencers out there say, trends aren't bad.
They give you the opportunity to step out of your comfort box, to try new pieces of clothing, and most importantly, they allow you to look like a million bucks.
The gradual move away from the slimmer silhouettes is going to get bigger and bigger over time. The slim-skinny trend lasted for a decade, so be assured that oversized denim jackets are not going anywhere.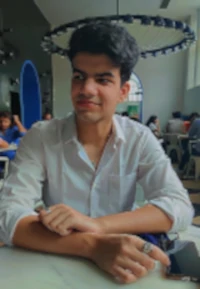 My name is Alex Higson and I am the founder of Magic Of Clothes. I have worked in the fashion industry for many years, and clothes and style are a huge part of my life.