Magic Of Clothes is an independent reader-supported blog. We may earn commissions from every qualifying purchase made through our links, at no additional cost to you.
Kenzo generally runs true to its size, but you must follow its size guide closely.
Kenzo is a French luxury clothing brand known for its Asian influence on traditional European styles. As a brand that speaks of luxury and comfort, Kenzo has managed to set a benchmark with its style.
While Kenzo runs true to its size, as is mentioned on its website, a few of its items might be a little off the scale, which I will discuss in this article and help you find the right fit.
Since their return policy is pretty flexible, you can always be sure that you'll find the right.
Let's begin!
How Does Kenzo Clothing Fit?
Kenzo mostly runs true to its size and has a pretty detailed size guide on its website. 
While buying at Kenzo, remember that European sizing runs slightly smaller than US sizing. So even though a size 8 in the US is a size 38 in European size charts, chances are that it still runs on the smaller side and you may need to size up.
So all you need to do is follow the size chart, and you'll be alright.
Kenzo is relatively consistent with the set measures for the sizing guide compared to its American peers. It does not vary from product to product, despite the tricky European measurements that US buyers may have trouble understanding.
Pants and dresses have a comfortable fit, but their shoes run about half a size small, so you always need to size up for a comfortable fit.
Kenzo sweatshirts and hoodies seem slimmer, so it is up to you to go for your true size or size up. Tees and shirts are true to size.
Here's one more tip.
It's a little-known secret, but sometimes you can find incredible discounts on certain items that aren't reflected on the product page. So, next time you're shopping for new clothes, be sure to take a look in the clearance section for some amazing deals.
Sometimes third-party retailers may also sell Kenzo products, albeit at a cheaper price. One website that I love in this regard is Farfetch. By taking a look at the Kenzo collection on Farfetch, you might end up saving quite a lot of money.
Which Kenzo Items Run Small?
| Kenzo Clothing | Sizing |
| --- | --- |
| Jackets and Coats | True to size |
| Jeans and Trousers | True to size |
| Tops and Shirts | Run small |
| Shoes | Run small |
Jackets and Coats
Kenzo has a limited but fantastic collection of coats and jackets for both men and women, which generally fit true to size.
For a slim-fit jacket, you could go a size bigger in case you are looking for a more relaxed fit and do not want the jacket's material sticking like a second skin.
Jeans and Trousers
Kenzo jeans and trousers are true to size. Their trousers have a snug fit but still have room for movement around the crotch.
However, if you are scrolling through their streetwear collection, you need to go for a smaller size.
Tops and Shirts
If you look at Kenzo sweaters, you have to always size up, despite what their website says. The sweaters seem to fit smaller than other items by the brand.
Their tops and shirts are comfortable, running slim on the waist. So you can size up if you want that oversized fit.
Shoes
While the website says they are true to size, I found Kenzo shoes to be about half a size smaller than I expected.
So, if you wear a 38(EU), buying a size 39(EU) is a better and more comfortable choice for your toes.
Kenzo Size Chart For Men
All measurements are in centimeters.
| | | | | |
| --- | --- | --- | --- | --- |
| KENZO | Shoulder Width | Chest | Waist | Length |
| XS | 44 | 100 | 100 | 71 |
| S | 46 | 104 | 104 | 72 |
| M | 48 | 108 | 108 | 73 |
| L | 50 | 112 | 112 | 75 |
| XL | 53 | 118 | 118 | 77 |
| XXL | 56 | 124 | 124 | 79 |
Kenzo Size Chart For Women
| | | | | |
| --- | --- | --- | --- | --- |
| KENZO | KENZO (FR) | UK | IT | US |
| XS | 34 | 6 | 38 | 2 |
| S | 36 | 8 | 40 | 4 |
| M | 38 | 10 | 42 | 6 |
| L | 40-42 | 12-14 | 44-46 | 8-10 |
| XL | 44-46 | 16-18 | 48-50 | 12-14 |
Does Kenzo Make Plus-Size Clothing?
No, Kenzo does not offer plus-size clothing.
It is disappointing that most Kenzo products run only up to XXL, some even lower than that.
While tees run up to XXL, sweaters and tops only have XL options. On the other hand, pants and trousers for men run up to XXL, but most women's trousers only run up to XL.
It is shocking to see a luxury brand known for its intricate design shy from the plus size market, but hopefully they will start making changes to their collection in order to serve a more diverse customerbase.
You can use the link below to get the deals of the day at Kenzo.
Final Remarks
As a luxury brand, Kenzo has established itself well in the fashion world for its designs and cuts, following the trends and often setting them too.
They have stood out as one of the most serious Parisian fashion brands.
However, for a brand that has been a leader within the fashion industry for nearly half a decade, the absence of inclusivity is a little disappointing. In a fast-changing world, one can only hope for them to broaden their target audience by incorporating more size options.
Here's a quick recap of what has been discussed in this article so far:
Does Kenzo run small? Most Kenzo products run true to size. Their streetwear is generally half a size bigger. It is essential to pay close attention to their size guide in order to get the best fit.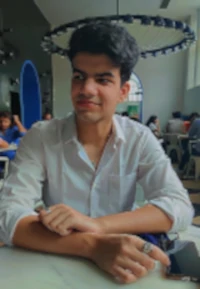 My name is Alex Higson and I am the founder of Magic Of Clothes. I have worked in the fashion industry for many years, and clothes and style are a huge part of my life.