Magic Of Clothes is an independent reader-supported blog. We may earn commissions from every qualifying purchase made through our links, at no additional cost to you.
As the summer rolls around, you will inevitably have to go to an outdoor summer wedding.
And if you make the mistake of wearing a worsted wool suit, you would have to spend the entire wedding wiping sweat from different regions of your body. Which is embarrassing.
That's where linen suits come in.
Practically a necessity for the warmer months, linen suits help you maintain the formality of the wedding while keeping you cool in the process.
They are lightweight, breathable, and are slowly being accepted as a great alternative to the cotton suit.
But there's a proper way to go about wearing a linen suit. You have to make sure you are choosing the right colors, the right fit, and most importantly, styling it in a way that doesn't make you look sloppy or unkempt.
Wearing A Linen Suit To A Wedding
Linen suits can be worn to weddings that are a bit more on the relaxed side of things. These include summer daytime weddings, beach weddings, outdoor weddings, and so on. They cannot be worn to black-tie events.
There are a few things that you need to keep in mind when you decide to rock a linen suit at a wedding:
Take a look at the dress code
The most important thing, before you even start thinking about linen suits, is to take a look at the dress code for the wedding.
Most of the time this information is mentioned in the invitation, but if it's not, call them up to confirm about the same.
If they say it's black-tie only, then I am sorry to say this but you can't wear linen suits. Anything else, however, is fair game.
If, for some reason, you don't get any information about the dress code at all, then you will have to take a look at the venue to determine formality.
For example, if it's a beach wedding, then you can definitely wear a linen suit. If the wedding is happening inside a church during nighttime, it might be more difficult to get away wearing linen suiting.
Buy the right linen suit
Not all linen suits can be worn to a wedding. Remember, we want the linen suit to be more on the formal side of things. This formality is mainly dependent on two factors.
Color of the suit
Go for colors such as beige, tan, and off-white when buying a linen suit. These are great neutral colors that will ensure the versatility of the suit, and they are all light colors that look great during daytime events.
Avoid any bright colors or super-saturated colors. Also avoid black, if possible. If it's an evening event, you can go for navy too.
If you are feeling a bit more adventurous, and the wedding is at a very casual venue (such as a beach), you can get away with pastel colors too.
I actually met my wife at a wedding where I was wearing a baby blue linen suit, so they do seem to work with the ladies 🙂
Fit of the suit
The suit should be tailored in such a way that it fits perfectly on your body. The main areas to keep an eye on are the shoulders, the sleeve length, and the length of the trousers.
A wedding is a formal event at the end of the day, so you don't want something that's too tight or something that's three sizes too big.
Linen suits should be slightly more roomier than wool suits, because linen is not a stretchy fabric. Having that extra space will actually help you in moving around.
There are tons of articles on the internet about how a suit should fit, but not a lot that talk about linen suits in particular.
That's why I decided to write a dedicated guide on this topic. Here's the link if you are interested.
How to style a linen suit for a wedding?
Styling linen suits isn't rocket science. When you break it down to the basics, it's just like styling any other suit.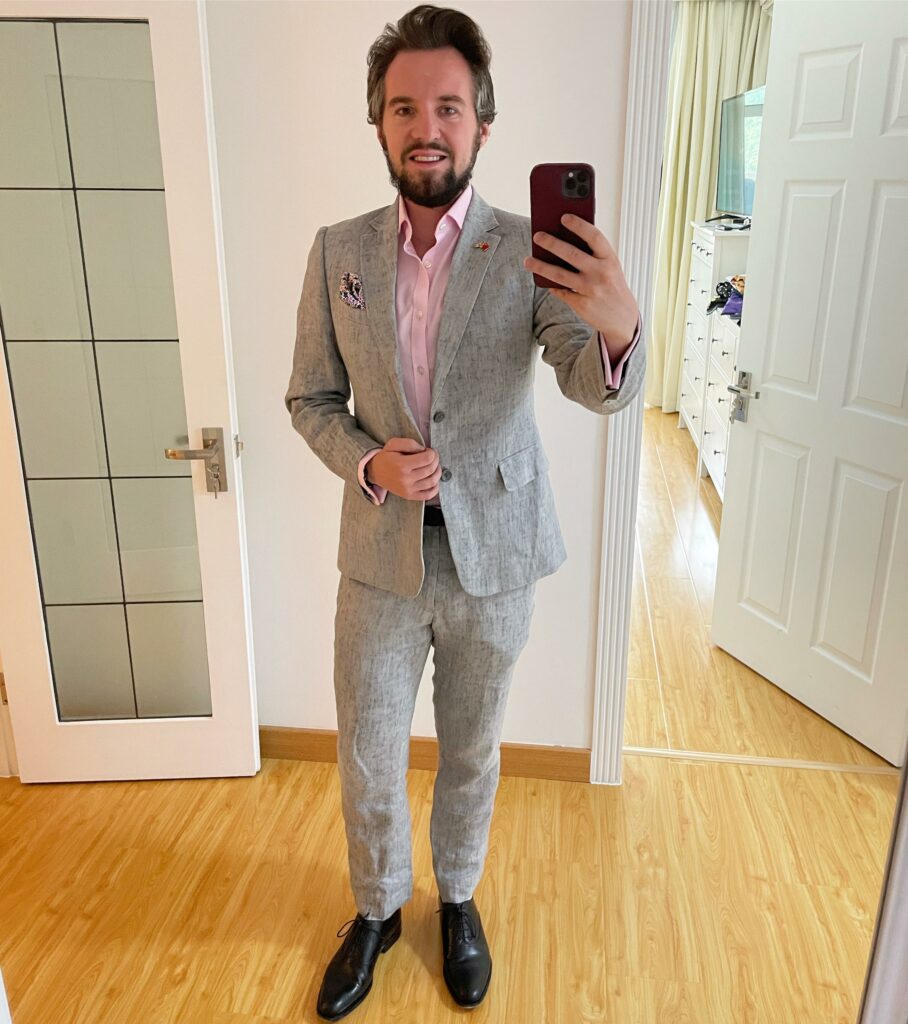 There are some things that you need to make sure and a few mistakes that you need to avoid. Here's everything you need to know about styling a linen suit for a wedding.
Avoid the color black if possible. Wearing black would make you more susceptible to the heat, and it doesn't generally look good on linen.
Ditch the tie. If you are a bit bold, you can replace it with a bowtie, but it is not at all necessary.
Wear classic oxfords on your feet (preferably in brown or black), and make sure that their color matches the belt that you wear.
Go for a light colored shirt for an overall breezy look.
Add a colorful pocket square to the outfit to really hone in on the summer wedding vibes.
If you follow these basic rules and select the right suit as prescribed in the previous section, you will have a tough time keeping track of all the compliments that you receive.
Are linen suits too casual for a wedding?
No, linen suits are perfect for a wedding. They are often a necessity when it comes to summer weddings and beach weddings. The only time they will be too casual is if the wedding is a black-tie affair.
That's why you need to pay really close attention to the dress code mentioned on the invitation. You really don't want to be the only guy who is wearing beige suiting in a sea of black tuxedos.
Besides, the fit and color of the suit also matter when talking about the formality scale. A bright neon oversized linen suit is going to be way too casual for a wedding, while a well-fitted light grey suit is going to be perfectly fine.
And the last piece of this puzzle is styling.
Even the most well-fitted suit will look casual if wear a tank top underneath it and pair it with running shoes.
NOTE: However, wearing a linen suit to a winter wedding is not really practical. So try to avoid that.
Final Remarks
Linen suits can be worn to casual weddings, such as beach weddings, outdoor weddings, and daytime weddings. They work particularly well in the summer and keep you sweat-free and cool. However, linen suits cannot be worn to black-tie events.
For a few years now linen suits have become the norm at summer weddings instead of an exception.
I understand that you may be a bit nervous to wear it if it's your first time, but I am here to help you in the process.
If you don't know which linen suit is going to be the right fit for you, I decided to create a buying guide specifically for this purpose. Check it out to see a bunch of options in this space.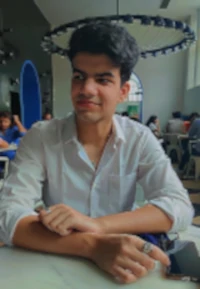 My name is Alex Higson and I am the founder of Magic Of Clothes. I have worked in the fashion industry for many years, and clothes and style are a huge part of my life.