Polo shirts are back, and they are more stylish than ever before.
The polo has always been a mix of sorts. It is a mix of business clothing and casual clothing. It's a mix of formal and informal. Heck, the shirt is literally a mix of a button-down and a t-shirt!
Despite sailing in two boats, the polo shirt has been a staple of men's clothing for more than 60 years. Sure styles have changed and outfits have become irrelevant, but the polo still marches on regardless.
In this article, I will be answering the question of the style validity of the polo shirt, and exactly what things you need to make sure in order to be called a style king.
Are Polo Shirts still in Style?
Polo shirts are a wardrobe essential; which means that they never go out of style. They are a classic piece that has been stylish for decades and is going to continue to be stylish for the next few decades.
Read: My Three Favorite Polo Shirts (that are available on Amazon!)
Most garments can be divided into two categories – Trendy and Classic.
Trendy clothing, as the name suggests, follows the whims of fashion trends.
You might see them everywhere one season and nowhere the next. A perfect example would be the fad of skinny jeans and how it occupied the fashion world, before (thankfully) dying down.
On the other hand, classic pieces are timeless. They were stylish in the 1950s and they are still stylish. An example is the classic polo shirt.
However, there are still things that you can do in order to increase the style quotient of your polo shirt, to keep it in line with current fashion trends and sentiments.
Polo Shirt Style Tips
Here are a few tips that you can follow in order to make sure that you are wearing your polo shirt as stylishly as you possibly can.
Don't wear striped polo shirts. They make you look like a sitcom character from the 90s, and not in a good way. Go for a solid color instead.
Ribbed or cuffed sleeves are great. They help in creating a natural taper around your biceps, which makes you look more muscular.
Avoid a floppy collar. If there is something that can bring down the style value of a polo shirt in a second, it's a floppy collar. Get rid of it.
Nail the fit. As with any other piece of clothing, your polo shirt's entire appeal depends on how well it fits you. Important areas to pay attention to are the chest, shoulder, and biceps.
Are Long Sleeves Polos in Style?
Long sleeves polo shirts are also in style, perhaps even more so than their short-sleeved counterpart.
Long-sleeved polos.. the often ignored older brother of the classic half-sleeved polo shirt.
These polo shirts are on the rise too, and more and more fashion brands are rushing to bring out exciting designs on them. Even polo-collared sweaters are having a moment right now, with all the fashion magazines raving about them.
Do People Wear Polo Shirts Anymore?
Most people have multiple polo shirts instead of one and they regularly wear them all. So don't worry, you are not going to stand out or look out of touch wearing a polo.
If you have any doubt, just take a look at what the fast-fashion stores are offering. They are not able to keep up with the demand for polos, because people are buying them in such a huge quantity.
Heck, polo shirts are considered a unisex item by most fashion experts.
Therefore, it is not a fashion faux pas to wear a polo now. You can go about beginning your collection right from home due to the high number of quality brands that sell polo shirts online.
This brings us to an interesting question.
How many Polo Shirts should a Man Own?
A man should own 3 to 5 quality polo shirts in his wardrobe. Their color should neutral and they should have minimum branding for increased versatility.
This is a good number to get you started on your path to these collared t-shirts. While of course, you can go crazy and buy 20 different polo shirts, it is not really needed.
What really matters here is the color of your polo shirts. That is what is ultimately going to determine the look of your shirt. I have already talked about the best colors for polos in the past, so I am not going to cover that here.
When should a Polo Shirt be Worn?
A polo shirt can be worn in a lot of different types of situations, ranging from extremely casual to ultra-professional.
This inherent versatility of a polo shirt comes from its ambiguous placement on the clothing formality scale. Since it is literally a mixture of a collared shirt and a t-shirt, you can wear it in place of both these items, which covers a wide range of events.
However, in my opinion, a polo shirt looks its best in business casual situations. That's where it really shines, especially if you style it the right way.
But that's not all. There are tons of other events and situations where you can wear a polo shirt without looking out of place, underdressed, or overdressed. That's the real superpower of this garment.
Heck, you can even wear a polo shirt to a wedding. And if that doesn't convince you of this garment's versatility, I don't know what will.
Final Remarks
In this article, I covered the stylishness of polo shirts and gave you a few tips and tricks to make them look even better. Because no matter how you feel about it, the polo shirt isn't going anywhere.
Read: Do Polo Shirts Shrink? (And What You Need To Do About It)
So, now that we've established that polo shirts are in style, it's time to talk about some other garments too. Lucky for you, there are plenty of other articles on this website that are going to help you with all your style needs. Go check them out!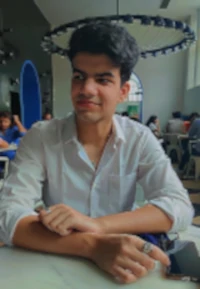 My name is Alex Higson and I am the founder of Magic Of Clothes. I have worked in the fashion industry for many years, and clothes and style are a huge part of my life.